What makes an influencer actually influential? Is it a multimillion-person following? A string of flashy brand partnerships? The ability to reach more than twice as many people as watch Fox News, CNN and MSNBC combined with a single social media post?
20-year-old James Charles ticks all those boxes. And yet, the kind of success he's attained — a success that happened rapidly over the course of only a few years, and that has turned a person into a one-man brand — has shown to be paradoxically fragile and resilient at the same time.
Back in May, after fellow beauty influencer Tati Westbrook released a viral video laced with damaging accusations, Charles went from being one of the most powerful beauty influencers in the world to someone whose YouTube subscriber count was in free fall, as more than 3 million people deserted him en masse — the swiftest drop in history.
But in October, when we first meet him at a photo and video shoot, he is beaming with excitement.
"I want to make sure my fans are looking up to somebody that is making good choices, and is learning from their mistakes," Charles says, while skillfully applying blue eyeshadow. He isn't oblivious to his own influence and the privilege that comes with it. Despite some recent setbacks, Charles currently commands a following of more than 15 million on Instagram along with over 16 million subscribers to his YouTube channel, the latter of which has also received 1.7 billion combined views and counting. (And, it's worth noting, at over 16 million, his YouTube subscriber count today is roughly the same as it was in April, a month before the controversy, which means he has now recovered all of the subscribers he lost six months ago.) Along with millions of subscribers and followers come lucrative deals and opportunities; according to an article in the BBC, Charles is worth an estimated $12 million, making him more successful than many of Hollywood's young actors and musicians.
"The privilege is real," he says. "I'm really grateful to have a platform and a job where I can support myself, my friends, family and my team that works for me."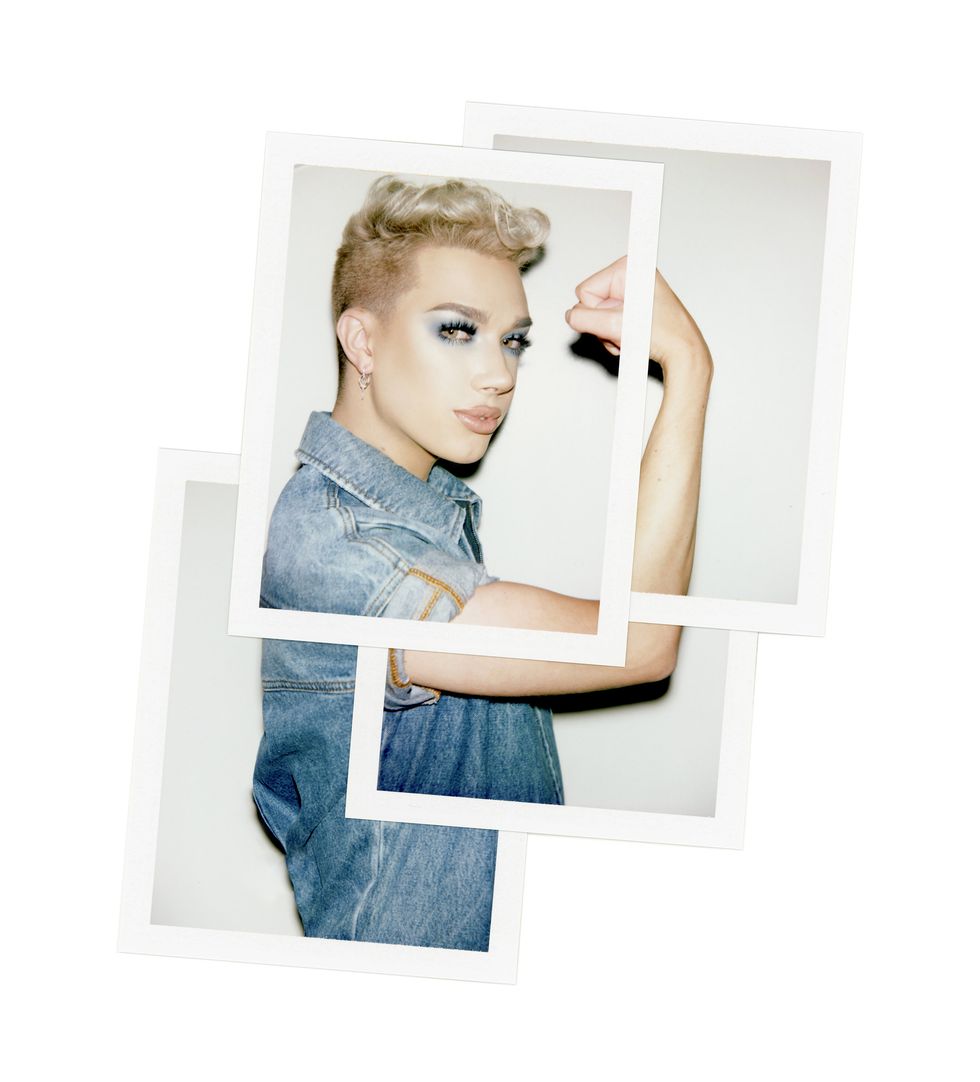 Jumpsuit: Fendi, Earrings: James' own
Charles, who grew up in upstate New York, launched his YouTube channel in 2015; not even a year later, he was tapped to become the first male spokesmodel for CoverGirl, an experience Charles describes as "an iconic and cool moment that literally will go down in history." That trailblazing contract launched Charles into global stardom. He was 17 years old.
While steadily building his brand and online following, Charles hit another milestone this past May when the YouTuber was invited to attend the Metropolitan Museum of Art's annual Costume Institute Gala, the premier fashion event of the year.
But four days later came the damning video. In 43 minutes, Westbrook publicly cut ties with Charles and accused him of betraying her by promoting a competitor's product at Coachella instead of her own. She also alleged that he had tried to "coerce" a straight waiter into hooking up with him at a restaurant. "You are using your fame, your power, your money, to play with people's emotions," Westbrook says in her now-viral video. "You're threatening to ruin them. You're threatening to embarrass them, and you're doing that to have them behave sexually in your favor, even if they're straight."
Things really took off after many others joined the fray, including pop star Zara Larsson, who claimed that Charles "slid" into her boyfriend's DMs. The whole situation began to loosely mirror the #MeToo movement, with several people releasing their own alleged screenshots of Charles sending them "inappropriate" DMs, accusing him of "tricking" and harassing straight men into "being gay."
"The whole situation was scary for the LGBTQ+ community and paints a really bad picture of gay men."
But at a time when LGBTQ+ rights are under attack — with examples like Trump's transgender military ban and business owners refusing service to gay customers, citing that homosexuality is against "their religion" — conflating sexuality with sexual harassment is more dangerous than ever.
"What that statement implies is that gay men are all predatory, which is disgusting, not true and very dangerous to put out there," Charles says, pointing to the inherent homophobia in implying that sexuality could somehow be manipulated. "The whole situation was scary for the LGBTQ+ community and paints a really bad picture of gay men."
Amidst these accusations came videos of fans burning up Charles' makeup palettes and setting up livestreams that tracked his subscriber count dropping in real time.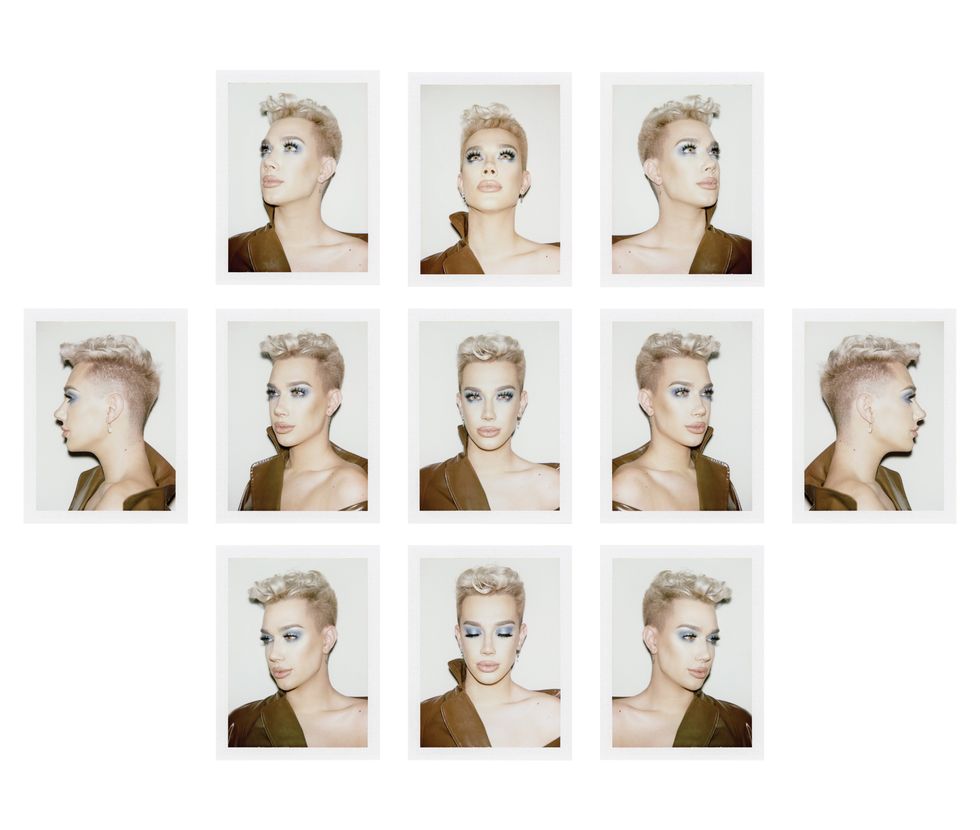 Dress: Nanushka, Earring: James' own
A little over a week later, Charles posted his own confessional video titled "No More Lies" in an attempt to salvage his reputation. Apologizing to Westbrook, he went on to refute her version of the events, presenting screenshots of a conversation with the waiter in question that seemed to confirm he was bisexual.
"The reality is that the 'hook-up' was completely consensual," Charles says. The fling "told me that he was bisexual and later on told the world he was bisexual. There's nothing wrong with that."
The video became pivotal in restoring his reputation in the weeks that followed, and support from friends and fellow influencers like Nikita Dragun, Logan Paul, and even Paris Hilton, who came to his defense, also helped redeem some of the lost faith.
Today, six months later, Charles has bounced back by most measures, not only regaining his lost subscribers and followers but also launching his second palette with Morphe. But, he shares, there are plenty of aftereffects from the episode that still linger. "I'm not mentally in a place where I want to be," he admits. "What's even harder to swallow is that it's been six months since all the drama happened. I thought by this time I'd be completely good — back to normal, if you will — and that's not the case."
The YouTuber says he's also more cautious when it comes to romance, adding that he isn't necessarily "looking" to date at the moment and, when he does meet people, he's constantly looking out for "red flags."
"I've gotten really good at seeing those early on," he says. "You just never know what people's true intentions are. With my job, there are so many blessings but a lot of people see them as an opportunity for themselves to either come up, get financial gain, get followers or attention or take me down with them, which has been attempted. I'm just careful...and lonely."
Along with taking a harder look at his dating life, Charles has also spent the past several months reflecting on "cancel culture." Even though the episode in May wasn't his first brush with controversy (back when he was 17, for instance, he received a barrage of criticism for tweeting that he hoped he wouldn't catch Ebola while on a school trip to Africa), the fight with Westbrook occurred during a time when many people are reassessing the merits of our collective taste for takedowns. One major question Charles' experiences have raised is: When does holding someone accountable cross the line and turn into harassment and bullying?
"We're quickly getting to a point where cyberbullying, hating and cancel culture is getting stronger," Charles says. "I can say firsthand, they got to me. I was so grateful to be surrounded by close friends and family that were checking on me all day long, every single day, in the middle of the night, every 10 minutes to make sure I didn't do something that I could never take back."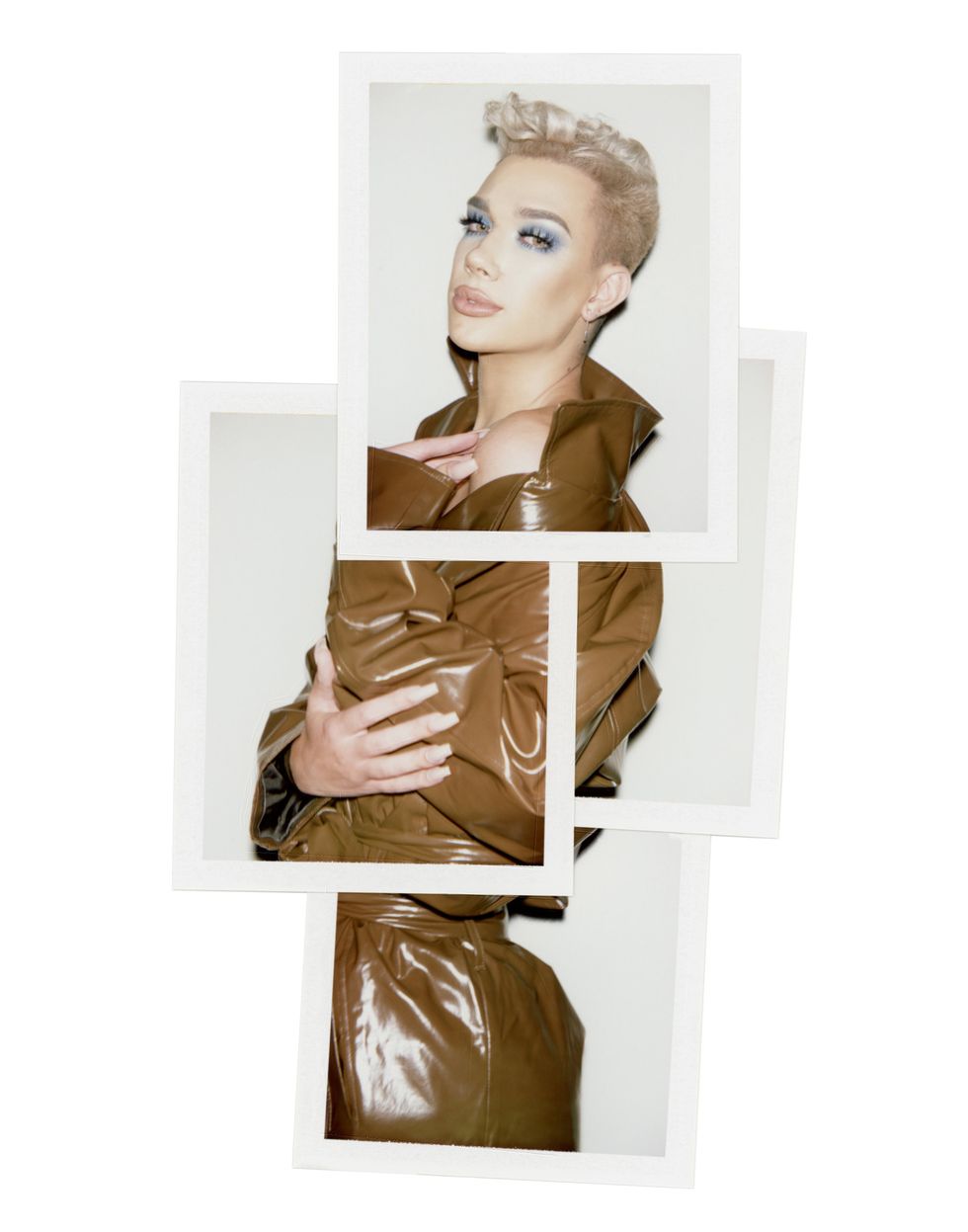 Dress: Nanushka, Earring: James' own
James' temporary "cancelation" illustrates an ongoing shift in the fame cycle. Just as the success of influencers like him is no longer tied to traditional platforms (i.e., Hollywood, print or digital media), so too have their scandals become detached from these old-school stakeholders. Whereas celebrities used to find themselves caught in the crosshairs of paparazzi shooting for gossip magazines (and, later, blogs), now influencers like Charles more frequently come under fire directly from their fans — or "stans" — who can make or break someone with a single tweet, a single YouTube video or a single Instagram post.
But unlike traditional "gatekeepers," who, at least in theory (if not always in practice), relied on reporting, fact-checking and evidence before publishing accusations, stans often play fast and loose online, and there are fewer guardrails to prevent unproven allegations from going viral. Similarly, in the chaos of the Internet, there are no editorial boards that discuss what is or is not newsworthy, what claims or controversies merit bringing to light to meet our disapproval. And so, as more people on social media adopt a "no tolerance" attitude when it comes to behavior that seems to fall outside a prescribed moral norm, James' experience brings up important questions about outrage culture and whether the public backlash and vitriol he faced was misplaced.
With actual neo-Nazis, xenophobes and misogynists prowling the Internet (and the streets), do we need to reexamine the scale — and intent — behind many of the transgressions we've been quick to vilify?
"We're quickly getting to a point where cyberbullying, hating and cancel culture is getting stronger."
If there's one thing to take from Charles' very public trials and tribulations, it's perhaps examining our very impetus in wanting to "cancel" someone. And, as we forge a path for a wider discourse around mental health, it's even more critical to evaluate our own hypocrisy in fueling a no-tolerance culture.
"I could've easily continued to fuel the fire and thrown back a million other accusations," Charles says, reflecting on his now-viral apology video. "We chose to keep it to the facts and really work on addressing the issues at hand with my fanbase that I knew I needed to clear up, rather than just creating more fight. Everybody was just gonna go down. The online community, especially in the beauty space, is already suffering a lot in terms of drama. The last thing I wanted to do was add to that."
But just as his downfall seemed to encapsulate a very 2019 form of celebrity drama, so too has his comeback. While the media certainly covered the incident, their role was arguably overshadowed by that of the fans. And whereas paparazzi, gossip bloggers and celebrity magazine editors typically have a largely dispassionate relationship with the stars they cover, motivated to photograph and report on breakdowns, downfalls and scandals because those kinds of stories get clicks and make money, in today's celebrity ecosystem, these new gatekeepers — fans — often have none of that emotional distance.
Fans of influencers like Charles have often idolized the influencer to a point where they are truly heartbroken when their star makes a problematic tweet or fails to live up to what they imagine he's like in real life. He has, after all, become a part of their own daily lives; for young people whose lives online and offline are symbiotic, their relationship with Charles can feel just as authentic as those they have with people they interact with IRL.
This emotional connection helps explain why Charles experienced a meteoric resurrection, going from being "canceled" and unfollowed by three million subscribers to being forgiven and given another shot within six months. It helped that we latch onto extremes more than ever — obsessing over someone's extreme downfall one moment, then completely forgiving them in the next. This pendulum also benefits from the rapid pace of the Internet, where a scandal like this is quickly replaced with other pop-culture sagas.
Looking ahead, Charles is focused on promoting his new Morphe mini palette, which he describes as an elevated twist on the colorful original.
"If I am sitting here until I'm 70 years old, blending my eyeshadow and filming tutorials, please, somebody unplug my camera and kick me out," he says, adding that he'd like to explore singing along with "tour opportunities, filming bigger-scale projects or production."
As for whether his followers would support non-beauty endeavors, Charles is confident that they would.
"I feel like my followers, hopefully at this point, are here because they love me."