Bbymutha (Brittnee Moore) has already captured the hearts of a hardcore fan base without even releasing a debut studio album (Christine is due out sometime in the near future, though the clear release date is yet to be announced). Her persona is as appealing as her backstory — born in Chattanooga, Tennessee to a pair of high school students, the 28-year-old rapper and iconoclast is, as her stage name implies, a mother herself, to two sets of twins born seven years apart. With heavy hints of Southern trap and hip-hop, (she's credited artists Gucci Mane, Trina and La Chat as major influences), her sound is as genre-defying as it is woman-positive.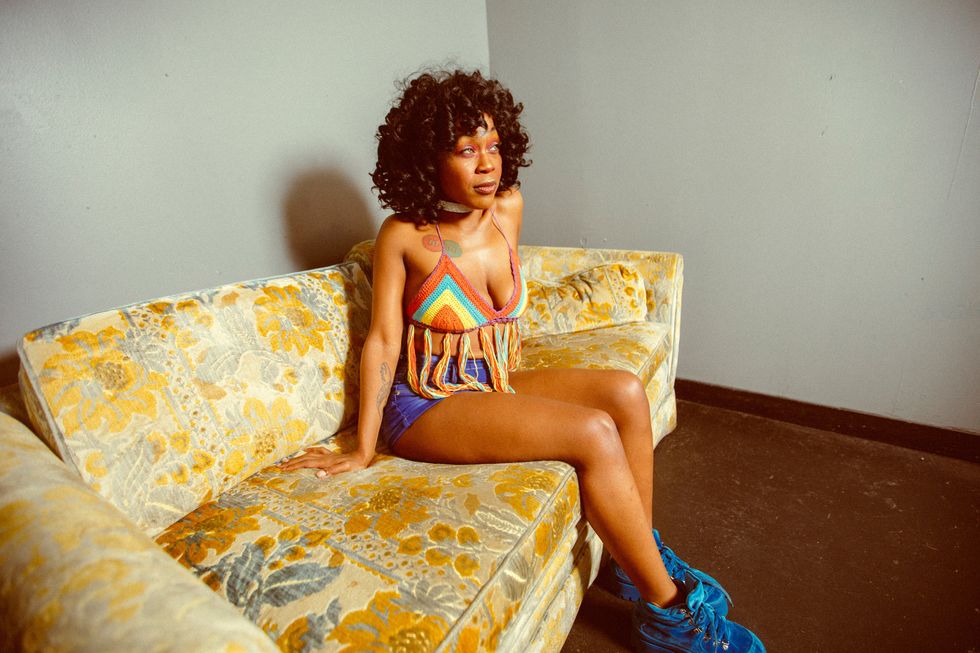 Defying her religious upbringing, in the Bbymutha universe (a.k.a., The Mutha Land), women are allowed to be (if not downright celebrated for being) sexual, vulgar, ambitious and savvy (her very first track was called "Slut.") She's also turned a lifestyle society might deem unwise if not downright impossible — being a self-professed stay-at-home-mom who earns her living as an artist — into a veritable goal. By her very existence, Bbymutha is a champion of the people without ever having to say so. And she makes it all look so damn fun.
We caught up with the artist following a hometown show, presented in collaboration with Red Bull Music, about how she found her creative voice and what's to come:
You really first got your start making your own clothes and having such a unique sense of style. What about fashion appeals to you?
I think that clothing is the funnest way to express yourself creatively through color and mood. It's the most free form of creative expression and that's why I like it.
You've said you grew up in a pretty religious and sheltered house. How did you find your style and your taste within that world?
My creativity has always been there. My mom paints, my dad is a barber — i've always been around creativity. I liked to draw back in elementary school — I would draw wedding dresses and draw out floor plans for my future house. And then from there I got into music and then got into rap. The end of middle school and into high school is really when I got deep into my personal style. You know, being poor, you have to be able to finesse your creativity. I have always been creative and made cool stuff for myself, and I've never been someone who likes whatever everyone else likes as well. I kind of created my own world when it comes to clothes and fashion and stuff.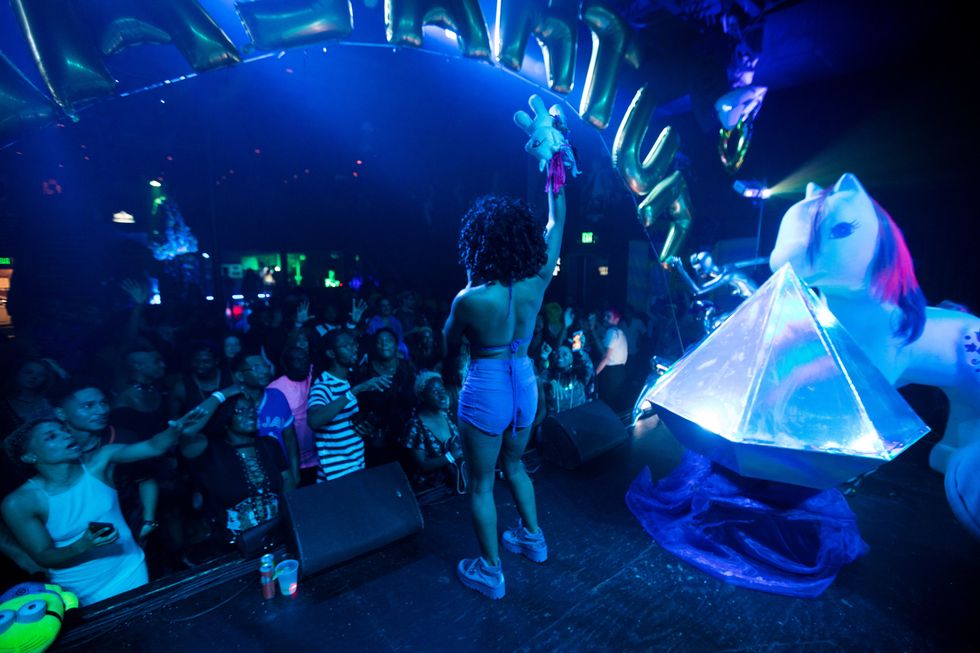 When you were growing up did you have friends that were in the same things as you?
I've never had friends that were into the same stuff as me. We might've liked the same music or had the same taste in boys but other than that, no. I wanted people to accept me for who I am and just try to find pieces of them inside of me. It makes for better friendship. You learn a lot from people who you don't necessarily agree with all the time.
Despite its drawbacks, the Internet has been such an amazing place for artists to find like-minded people and find an audience for their work.
I started making music i've been on the internet. It's just always been the way I've been able to share my music with other people. I do have social media to thank for helping me find DJs and other like minded artists.
Do you respond to your fans on social media?

I respond to everyone. Anyone who has something to say to me, I give them an answer back. If you're nice to me, I'm nice to you. If you're rude to me, I'm rude to you.
Do you ever feel like there will be a point where you don't respond anymore because it will become too much?
I don't know. I guess it depends on what kind of mood I'm in. If someone says something mean and if I feel like it's worth responding to, I will, but it depends. I do get tired of it now. If you don't like another person — why are you on their page bothering them? I would never go straight to that someone's page and be like, "Hey your fucking music sucks." Someone took the time to create something that they wanted to create and we should leave it at that.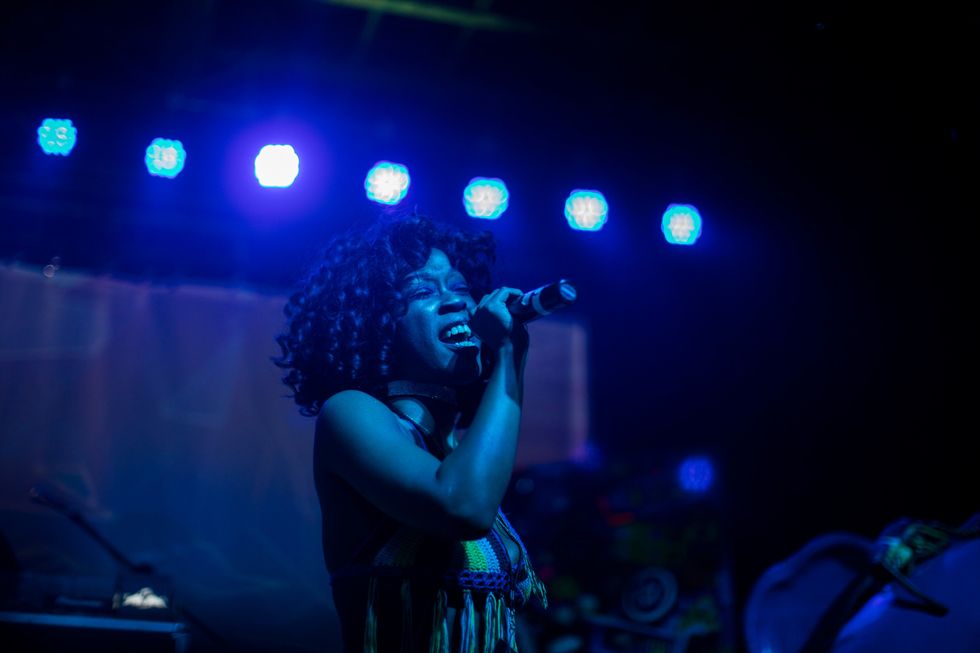 People expect an artist to not only be politically perfect, but to have a clear unadulterated message and it seemed like in your case people wanted to label you quickly as a mom rapping about being a mom.
In interviews when people want to ask about my family, it's cool because I do have a family, but that's not the only part of me and all I do. That was the whole point of me being who I am — for people to understand that there is more than one facet of being a woman with children.

One strong message your lyrics do have is to not let a man mess with you or bring you down. How or when did you get to that place of self-assurance when dealing with relationships?
I feel like I developed that early. Like I've said, I've never been the type of person who likes everything that everyone likes or felt the need to conform to people that fucking bully you and try to make you an outcast. I had to develop that at an early stage, because my mom wasn't really giving me advice. I don't think she got it, and my dad... I never felt comfortable talking to my dad about anything. From an early age, I really had to get a grip on the fact that not everyone is going to like me and that at the end of the day, it's really not worth it to be like anyone else.
As far as dating and in relationships, I had to go through a lot of shit to realize that it's just like, 'Damn that's not worth it either, to change yourself to be satisfactory to some nigga. That shit always puts me in the worst place. I'm the happiest when I'm single, and then I get into these little flings with these boys and it's cute and so I be with them, but I end up feeling like I have to do a lot to keep them around because I'm thinking that's what you're supposed to do in a relationship — you're supposed to keep your other person happy. But what I've learned is that if a person cares about you, you don't have to do that much. So that's where the confidence comes from, even in relationships — it's just life experience.
"That's where the confidence comes from, even in relationships — it's just life experience."
Are you making new music?
I am working on an album that I am about to drop soon. It will be my first album, I've only been dropping EP's and stuff like that. The album will be called Christine.
Is there anything else you can tell us about it?
I wanted to tell a story about the relationships that I've been in, in the past. This is like a movie, and we're going to go through three different relationships I was in and break those relationships down, and then at the end of each relationship, I end up murdering the guy. The girl in the story is a serial killer that escapes from hell and was dating the devil, and when she left hell she started to date these men and they were doing her wrong. She ended up making right with the devil because she realized that no one will love her like he did. It's really the coolest thing I've ever done.
How did you come up with the concept of the devil?
I always just liked that kind of imagery. I knew that it would piss my parents off, and I like to fuck with them.
Do they ever listen to your music?

I think they do, but it's not out of support, it's more like oh let me see what she's talking about. My mom will listen to it and then she'll call and ask what my problem is with the church and why I hate God so much.
What's it been like to blow up outside of your community?
It's fun just because of the simple fact that everything that I have done has been organic. I've never really had to go out of my way to make stuff happen for myself. I've been doing shows overseas for like three years now; it's been a slow process but it's been progress. I've never moved backwards, always forwards. It's so easy to compare yourself to what other people got going on, but I try to stop doing that so much and focus on myself.
What's your vision for your future self?
I want a record label, I want a hair salon, I want book stores or even libraries — that would be cool. I want a big farm with a big mansion to have artist retreats for me and my friends, once or twice a month where we have big parties. Those are some of the things i want for myself.
Photos by Lindsey Grace Whiddon / Red Bull Content Pool
You May Also Like