Within the highly saturated genre that is pop, therein lies a hidden gem: Sabrina Teitelbaum — better known as queer alt-pop star, BAUM.
A New York City native now living in LA, her music has been featured in places ranging from from Spotify's Out Now and Young & Free playlists to Target's "No Body Like You" campaign. But what has she been up to since her debut EP, Ungodly?
While it may have seemed like a quiet year for fans, it was rather tumultuous for BAUM, who dealt with the loss of a loved one only three weeks into 2019. She kept working, though, and released her first single since 2018's debut EP Ungodly. The track, titled "Fuckboy," was the upbeat, fuck-you-I-do-what-I-want anthem we needed to kick off a summer of alt-pop. Accompanied by a colorful video that visually evoked the likes of HAIM or Maggie Rogers and makeup looks the girls on Euphoria would've fawned over, "Fuckboy" garnered special acclaim for its unapologetic defiance of gendered-stereotypes surrounding women in relationships. BAUM practically took "damsel in distress" trope and threw it out the window. In her own words: "It's cool cause I'm a fuckboy too."
Now, BAUM is back with another single (summer's not over yet)! Premiering below, "Bad Kid" shows a side of BAUM we haven't quite seen before. Lyrically consistent with her sincere and open nature, "Bad Kid" reflects a level of refreshing emotional maturity seldom heard in mainstream pop music.
Set i a beautiful yet desolate Icelandic landscape, the music video, directed by Marcella Cytrynowicz, personifies BAUM's own feelings of isolation and loneliness. Wide angle shots and subtle camera shakes transport the viewer into an arctic tundra where the weight of her words breakthrough the mid-tempo beat and swell into an impassioned hook. She sings: "I was a bad kid, but you were batshit and now I'm sorry I was a savage," reflecting a personal dissonance we can all relate to on some level.
PAPER had the chance to chat with the rising star. From her childhood love affair with music to being an independent artist, BAUM opened up about it all including what "Bad Kid" is really all about. Read the interview below and watch the video for "Bad Kid" below:
Can you talk a little bit about how you got into music?
I don't come from a musical family, but there was always something playing in my house. I think the first time I had that moment of "Oh, I want to do this with my life" was the first time I saw a big show at Madison Square Garden. It was the Rolling Stones' A Bigger Bang tour and I just caught that bug instantly and lost my shit. I think I was 7.
You've been writing music since you were 7 or 8 years old. What kinds of things were you writing about then and what role do you think that has played in your development as an artist?

I don't know if I would really call it writing, but I was doing stuff like putting new lyrics to Madonna songs and making rhymes. That process had a lot to do with how I make music now. I learned a lot of fundamental stuff just by trying to recreate songs I loved and put my own spin on them. I sort of figured out my style that way.
You've said that lyricism is a big thing for you and you try to be as honest as possible, even when it's embarrassing. Can you talk about what's going through your mind when you are in the songwriting process?

When I'm writing I try not to think about the potential effects of people hearing the song. Sometimes it's hard to not be like "Is this person going to know this is about them," or "Are people going to like this," etc. But I try to just make music for myself in the moment. A lot of the writing is very simply about my life and I feel like watering down or obscuring details makes the song less powerful. It can definitely be challenging to release music that's deeply personal, like the new single for example, but making it is really cathartic and is worth it. I feel like I'm doing something right if I'm scared to release a song.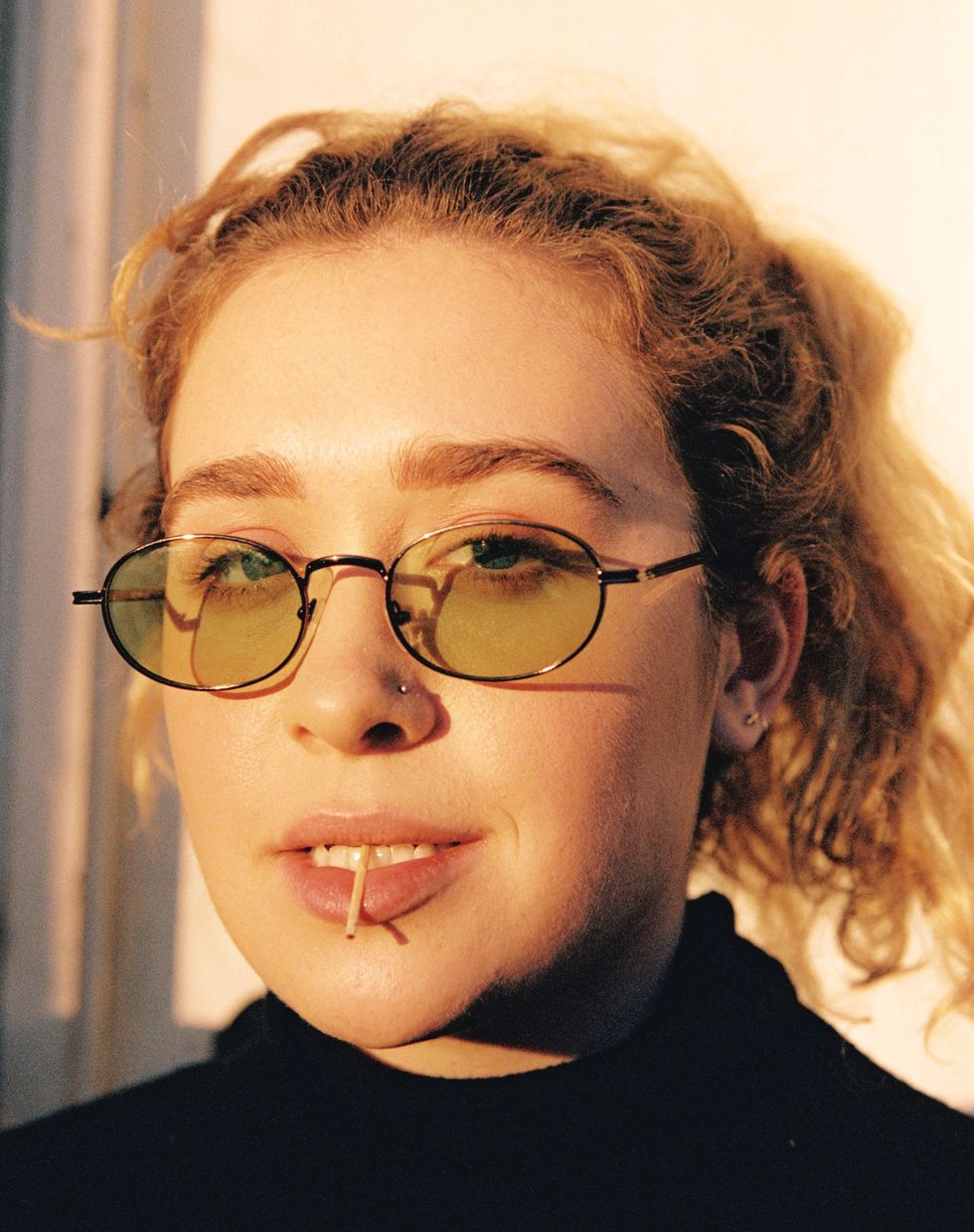 Your new single "Bad Kid" deals with loss and coping with grief. What inspired you to write the song?
And how did the video come together?
"Bad Kid" is mostly about regret to me. It's about wishing you could have a simple and clean cut ending to a relationship. I think before I ever lost anyone in my life, I always imagined that there would be absolute closure with death. In the movies, it's always like someone is on their deathbed and they're able to say goodbye and make up for all the shit that happened. This song is just about realizing that that's not always possible. To be honest, there's not really one universal message that I would want people to take away from this song; it's just a piece of my truth that I needed to get off my chest, and I hope that people find it beautiful or sad and can feel less alone if they're going through a similar thing.
The video with Marcella was so much fun to shoot. I really, really love working with her. We wanted to capture the loneliness of going through grief and how it really is like a physical journey. I think that Marcella captured that really well and I love the end product.
Like "Fuckboy," you're releasing "Bad Kid" independently. Would you consider signing with a label?
I really like having the freedom to release music and change things up whenever I want, but I would love to eventually partner with the right people when the time is right. At the moment, I'm just working on new music everyday and trying to finish something cohesive.
Which artists would you like to collaborate with and why?

So, so many. I want to work with artists who I love and admire, but are slightly different from me. I'm a massive 1975 fan, so working with them would be a dream. Caroline Polacheck is amazing and I've been listening to her new music nonstop. Joji, Daniel Caesar, Julia Michaels. I have a very long list but I'll stop there.
Sign Up for the Morning PAPER