Emerging synth-pop artist Alex Black has had several iterations of his persona during his decade-plus-long artistic career. Previously, he has had forays into punk rock, DIY performance art, and trippy lo-fi. Now the queer singer-songwriter, who has received co-signs from Sam Sparro and Grizzly Bear's Ed Droste, is ready for his pop star close-up.
Black released his solo debut EP, the well-crafted Baby last year, and it features irresistible melodies, confessional songwriting, and a heavy sampling of French cold wave, Italo disco, and the darker, more metallic shades of synthesized pop.
As such, for his first Xavier Hamel-directed video from the project, "Gutter Streets," Black pulled loose inspiration from German new wave cinema and Duran Duran's stylized looks and choreography from "The Chauffeur." From that starting point, Hamel and Black created a queer version to "give it [the narrative of 'The Chauffeur'] some agency." "Gutter Streets," then, with a cast including "Daddy Issues" platform founder Oly Innes, becomes a visual moodboard of muted pastel colors, erotic visions of queer sexuality and identity, and ultimately, a commentary on the innate human desire for self-destruction, a Freudian theory commonly known as the "death drive."
"The death drive is usually thought of as this toxic negative force, but so much of my growth as a person and an artist has come as a result of my self-destructive tendencies towards addiction and self-loathing," Black says. "The death drive isn't just negative. And there's something very queer and powerful about that to me."
PAPER premieres the gritty, sensual clip for "Gutter Streets" below, and chats more with Black about this phase of his career, and more.
Let's talk about the video, I love the concept, which is this cool '80s glow. What can you tell me about how you came up with that? The song sort of has that vibe too, so were you in a nostalgic place when you made it?
I got to go there with the director, Xavier, who I know from CalArts, where we both did Master's programs. We basically just sat down because he liked the song, and we started comparing notes about what we were into in terms of music videos, some of our favorite stuff. And we realized we're both obsessed with Duran Duran's music video for "The Chauffeur."
What more can you say about it and how it inspired "Gutter Streets?"
Oh, it's stunning and beautiful. It's this sexy, brutalist, Sapphic thing where these two beautiful super models are getting ready, and you don't really know what's happening. Then, they meet in a parking structure and the big reveal is that the male chauffeur turns out to be a woman. Then they all do this very beautiful Sapphic dance and it's amazing. As beautiful as it is and as much as we love it, it's very much like the straight male gaze of lesbian sexuality, and we [Xavier and I] didn't necessarily love that aspect of it. So, we wanted to reimagine it from a queer perspective, where the queer people have agency instead of just being objects of this straight male gaze.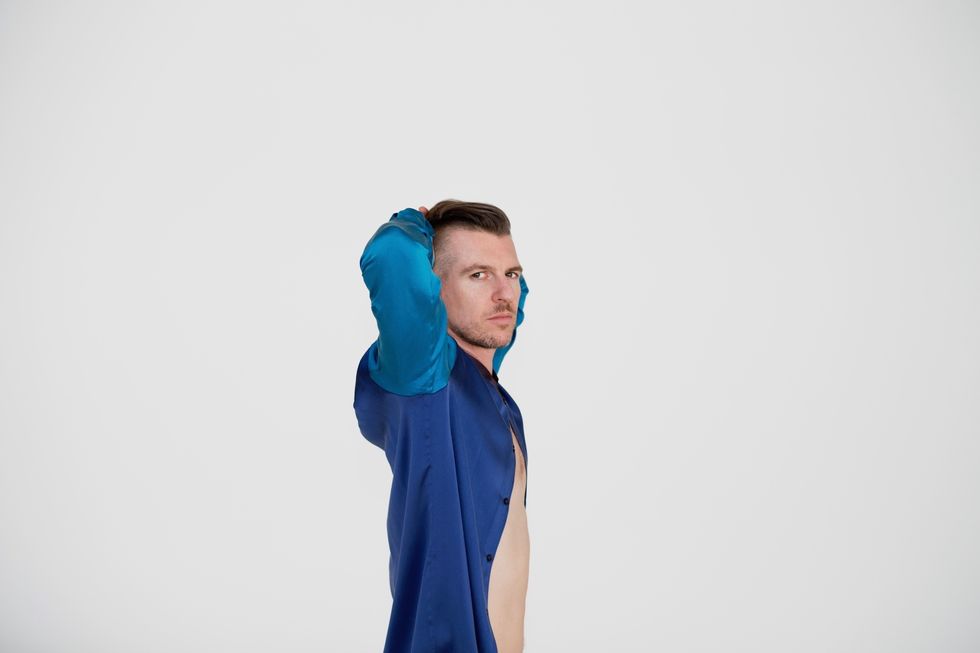 What can you tell us about your performance background before this?
I've been recording and performing for the last decade, I've played in some bands. I was in a post-punk band called
WEAVE!
where I was actually the drummer. We did a lot of touring and playing shows and whatnot. Then I had some kind of more performance art-y music projects, where I was mostly performing in galleries and DIY spaces here in the city. Also, I was performing as Nadia Comăneci for a little while. She was the first female gymnast to ever score a perfect 10. I was a gymnast when I was growing up so I was obsessed with her. I'd do the ribbon dance and a little balance beam routine, while singing. It was more like performance art.
Wow!
Then I performed as Softness, also. That was me and another friend. I've been releasing stuff kind of quietly via SoundCloud the last couple years, but for this EP
Baby
I kind of did a wide release on Spotify and Apple Music and all the other platforms, that's kind of like my first official EP as a solo artist.
How are you feeling about that?
Um, I'm feeling good about it! It took me a really long time, it took about 5 years start to finish just to get that EP, those six songs, ready. Mostly because I work full time and I have to kind of fight to carve out time to do music stuff these days. So, now that the EP's done, you know, it was a huge learning curve and learning process and I think the next one will come out much more quickly and much easier.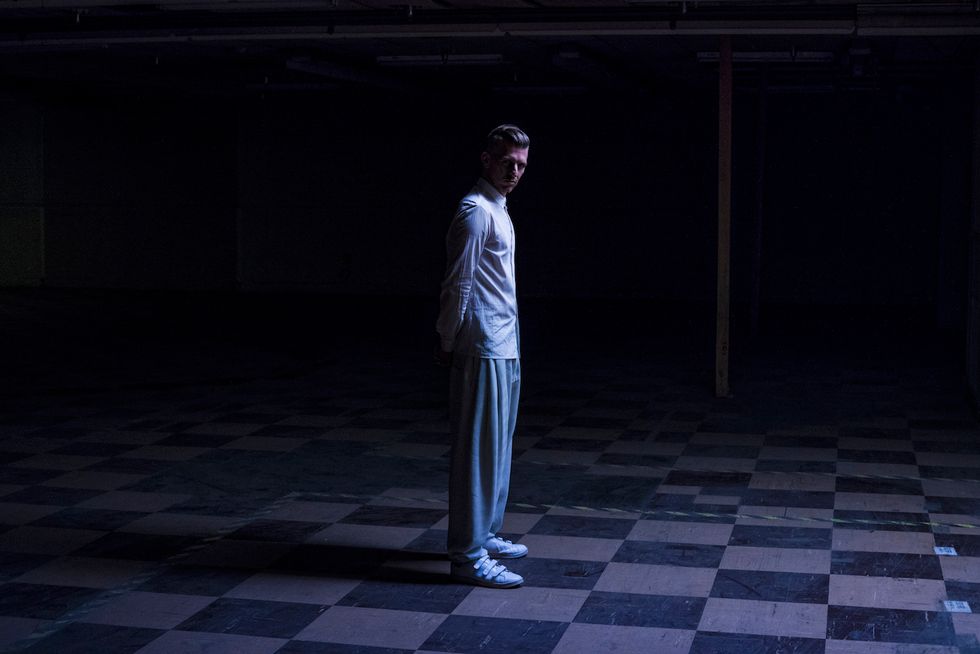 Would you say that we're getting "Alex Black the Pop Star," or "Alex Black the Performance Artist" plus, like, all of your experience? Where do you feel like you're at in terms of what you're wanting to show and what you're wanting to say as an artist?
I think this is definitely a pop project. It's less performance art, and it's just more straight-up synth pop, electronic pop. Definitely like, alt pop stuff. It's kind of like this dusty, nostalgic kind of homage to the more obscure '80s genres that I've been more obsessed with for the last 10 years. Like Belgian new beat, French cold wave, German new wave, Italo disco. More niche '80s genres, I've been so obsessed with those the past decade, and the project is sort of like the product of that kind of musical exploration and discovery. I think for my next EP or album I'm going to change it up, I want to change the sound up a little bit.
Photography: Sam Sparro