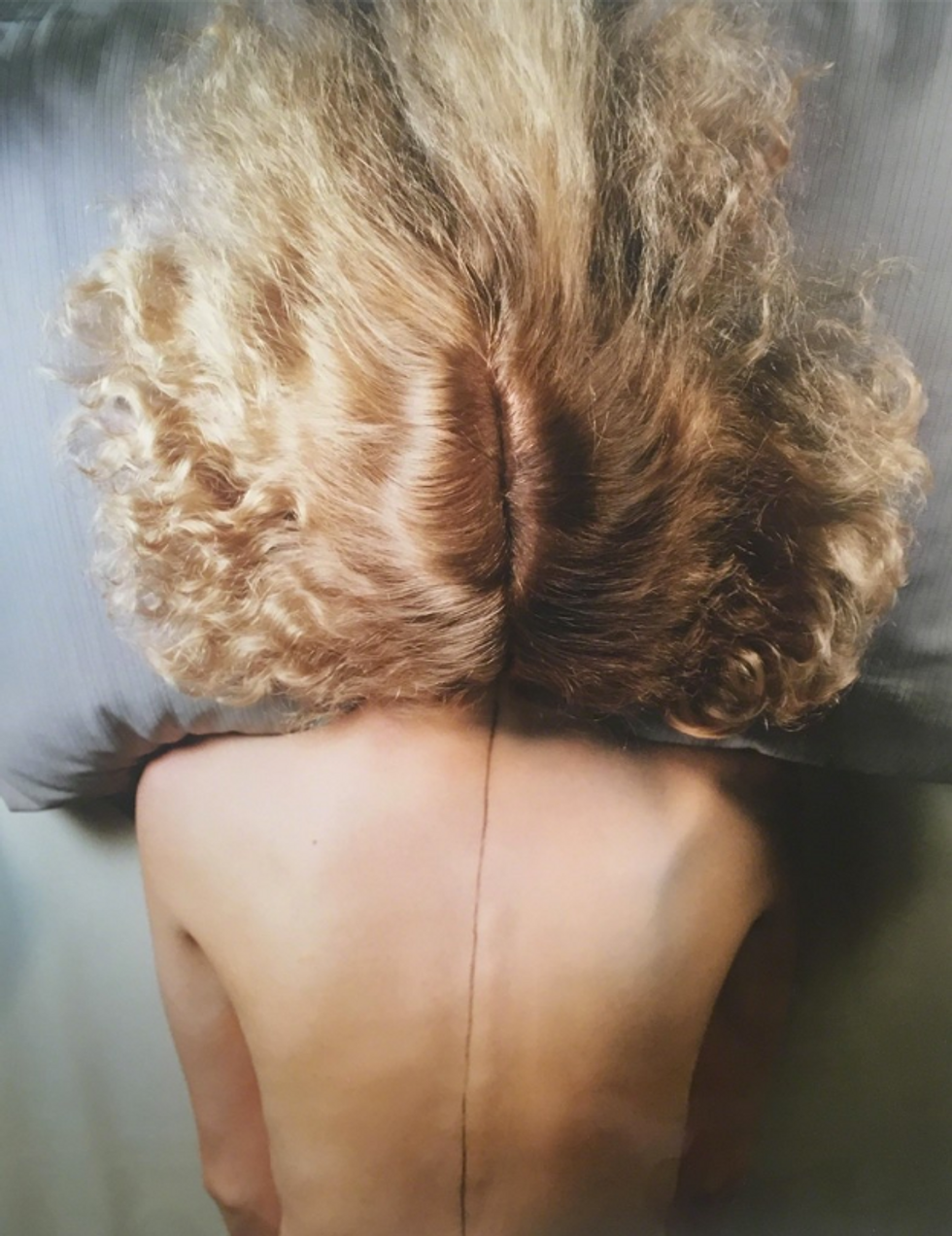 Jo Ann Callis, Woman with Blond Hair, 1977. Via Artsy
May 18 is your last chance to bid in the "Choice Works 2017" silent auction benefitting Planned Parenthood. Artsy has the complete rundown of over 45 works on offer by artists including Alex Katz, Christo, James Nares, Marilyn Minter, Richard Prince and Walter Robinson. Or you can go to the closing party at Sargent's Daughters (179 East Broadway), May 18, 6:30 to 8:30 p.m., and check out the works and make a final bid. RSVP to Gabrielle@companyagenda.com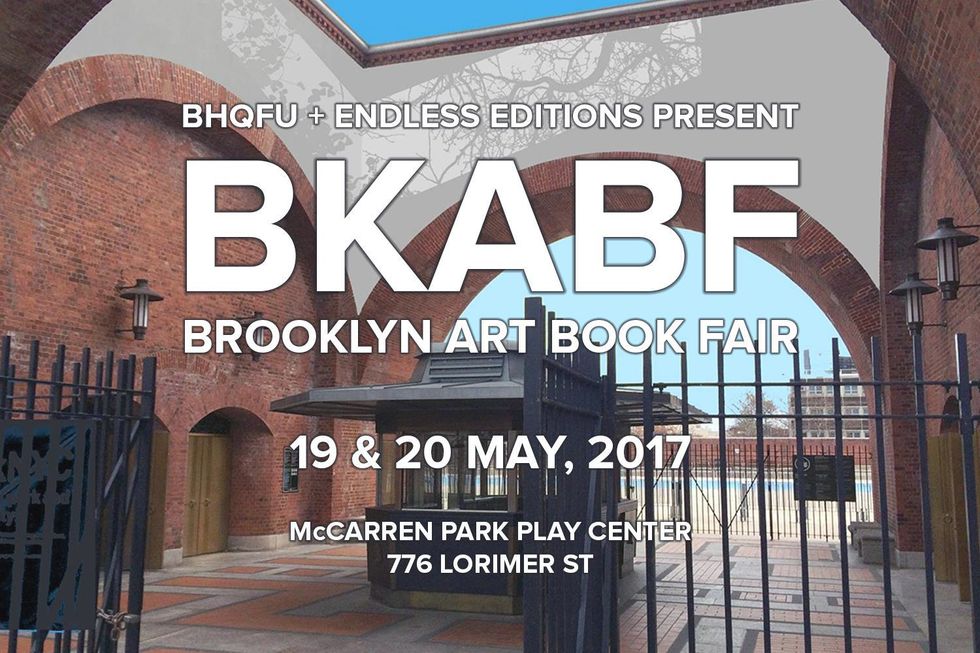 The Brooklyn Art Book Fair — hosted by Bruce High Quality Foundation University & Endless Editions — opens with a sneak preview on Friday evening, May 19, 7 to 9 p.m., and then runs all day Saturday, noon to 6 p.m., at the McCarren Park Pool (776 Lorimer Street, Brooklyn). On Friday night there are several performances including Zebadiah Keneally at 8 p.m., plus an afterparty at Night of Joy (667 Lorimer Street, Brooklyn) that starts at 9:45 p.m. Look for over 30 exhibitors plus readings, live drawing, puppets etc. It's all free and open to the public.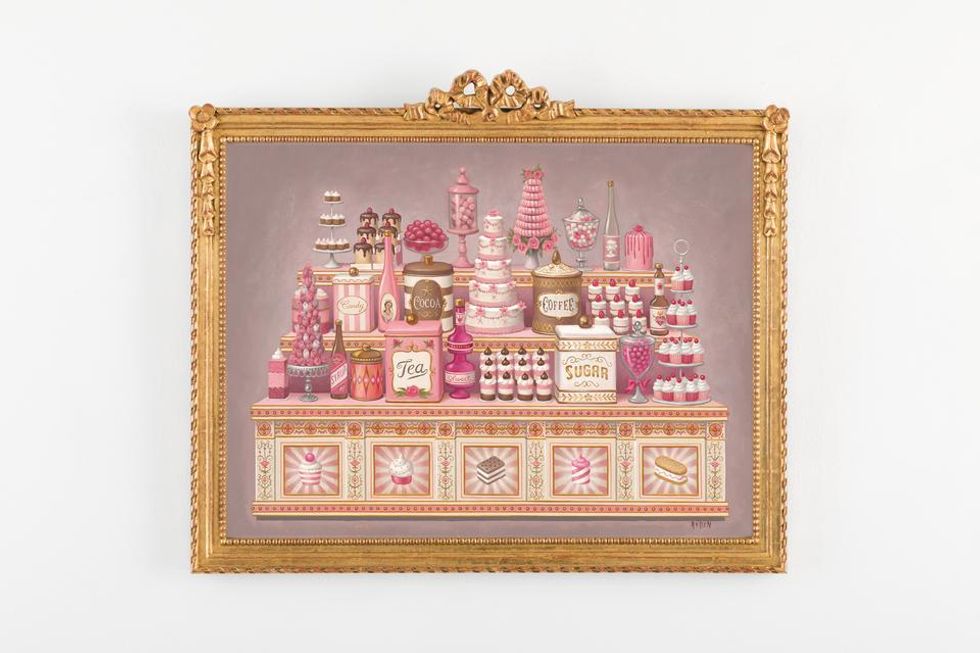 Mark Ryden, Dessert Counter, 2016. Via Paul Kasmin Gallery
Paul Kasmin Gallery (515 West 27th Street) opens "Mark Ryden: The Art of Whipped Cream" on Saturday, May 20, 4 to 6 p.m. The exhibition includes drawings and paintings created for the American Ballet Theatre's "Whipped Cream," premiering May 22 at the Metropolitan Opera House. The Portland-based artist has been with Kasmin since 2009. On view until July 21.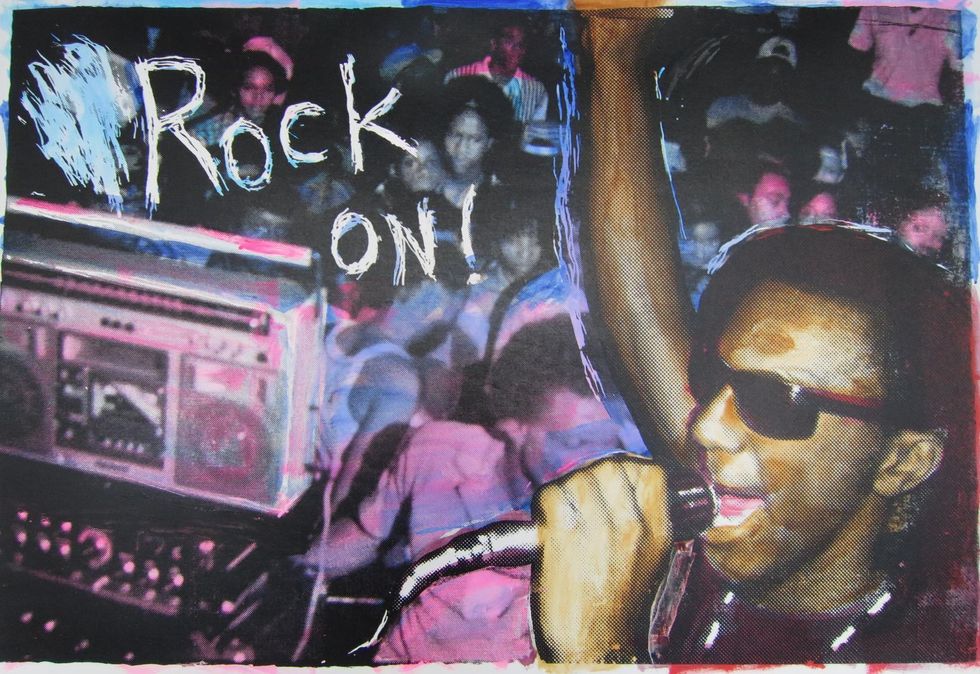 Charlie Ahearn, "Rock On (BusyBee) (Mauve/Pink)" 2017. Via P.P.O.W.
P.P.O.W. (535 West 22nd Street) opens "Scratch Ecstasy," an exhibition of new works by Charlie Ahearn on May 18, 6 to 8 p.m., and on view until June 24. Ahearn has been documenting the rise of hip hop in NYC since the 70s and directed the iconic 1983 film "Wild Style." This show features a new series of silkscreen paintings and videos.
On May 19, 7:30 p.m., The Kitchen (512 West 19th Street) holds a benefit evening featuring Simone and Amedeo Pace of Blonde Redhead (with special guest Michael Leonhart) performing original music to a selection of experimental short films selected by Molly Surno of Cinema 16. And there's an afterparty from 9 to 11 p.m., with the Paces spinning classic Italo disco. Tickets are HERE.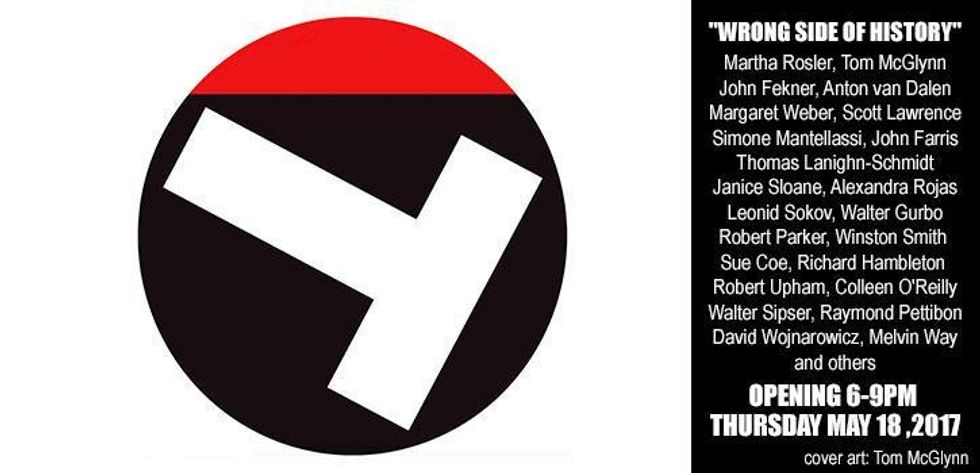 Bullet Space (292 East Third Street, LES) opens a group show, "Wrong Side of History" on May 18, 6 to 9 p.m., and on view until June 18. This "act of resistance" includes work by Sue Coe, Raymond Pettibon, David Wojnarowicz, Colleen O'Reilly, Martha Rosler and many others. Also check out the gallery's ongoing archaeological dig and basement installation.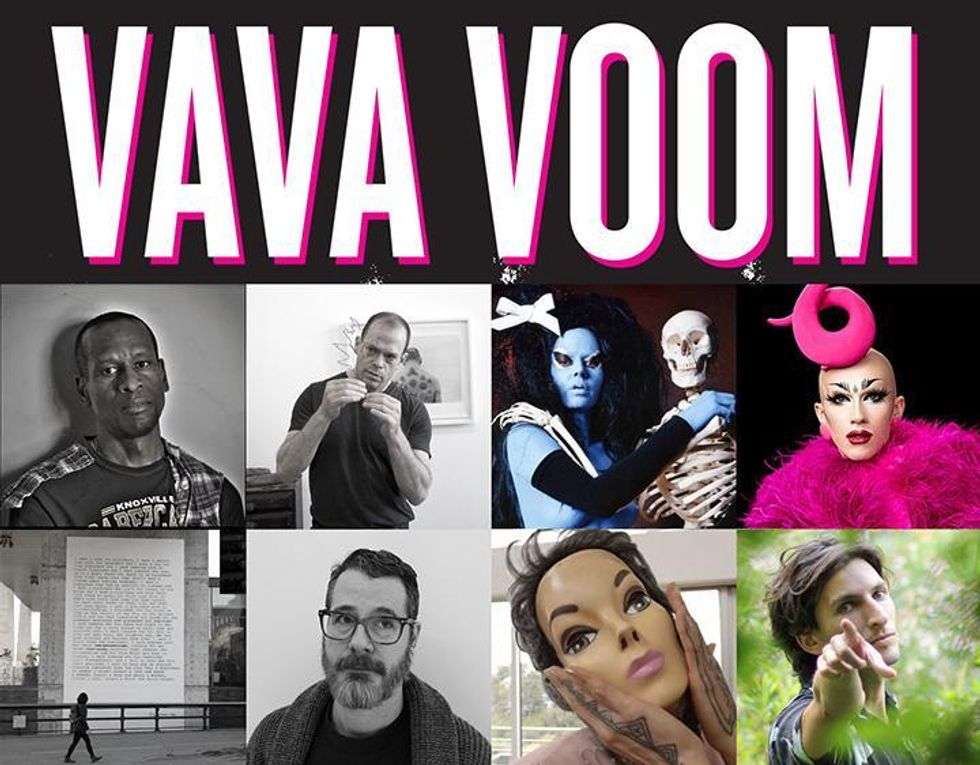 Celebrate the 12th Annual Visual Aids Vanguard Awards at "VAVA VOOM" — a night of art, performance and activism — on Monday, May 22, 6:30 to 10 p.m., at ThreeSixty° (10 Desbrosses Street). The night honors Zoe Leonard, Eric Rhein, Sur Rodney (Sur) and Brice Brown and includes an art auction, a raffle and performances by Kembra Pfahler and The Girls of Karen Black, Narcissister and Sasha Velour, along with a DJ set from Ryan McNamara. Tickets are HERE.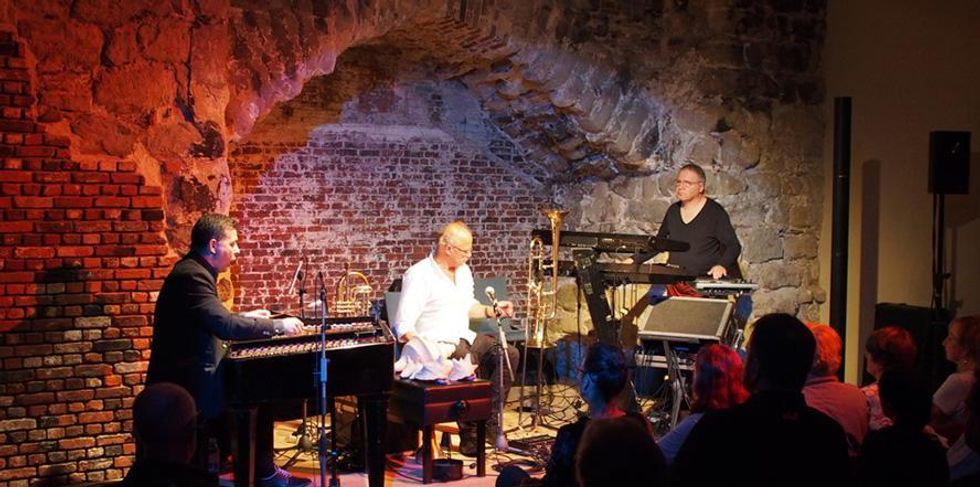 Big night of experimental music and multimedia-sound-art on May 22, 7 p.m., at (Le) Poisson Rouge (158 Bleecker Street) with a trio of Hungarian artists performing a work called "Moment's Notice." Miklos Lukacs, Laszlo Goz and Gyorgy Kurtag Jr. will "build a spiritual bridge between the experimentalism of the 1920s and the freedom of artistic expression brought about by the end of socialism." Tickets are HERE.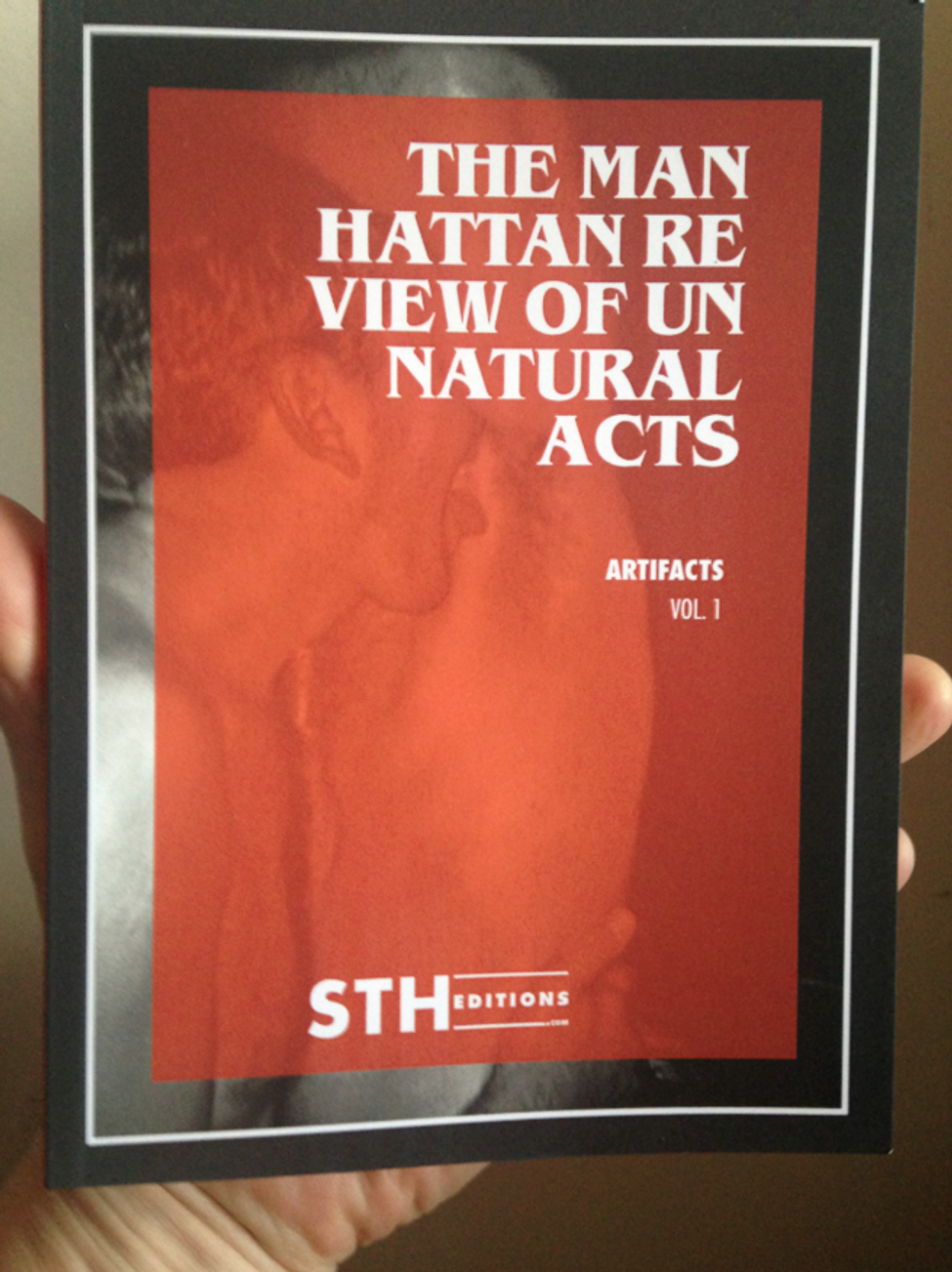 Printed Matter (231 Eleventh Avenue) hosts a launch party for new publications and limited editions from contributors to S.T.H. (The Manhattan Review of Unnatural Acts) on Saturday, May 20, 5 to 7 p.m. On the night, there's live performance, art and video by Slava Mogutin, Eric Bergrin, Ryan Foerster, Ross Menuez (Salvor) and Billy Miller.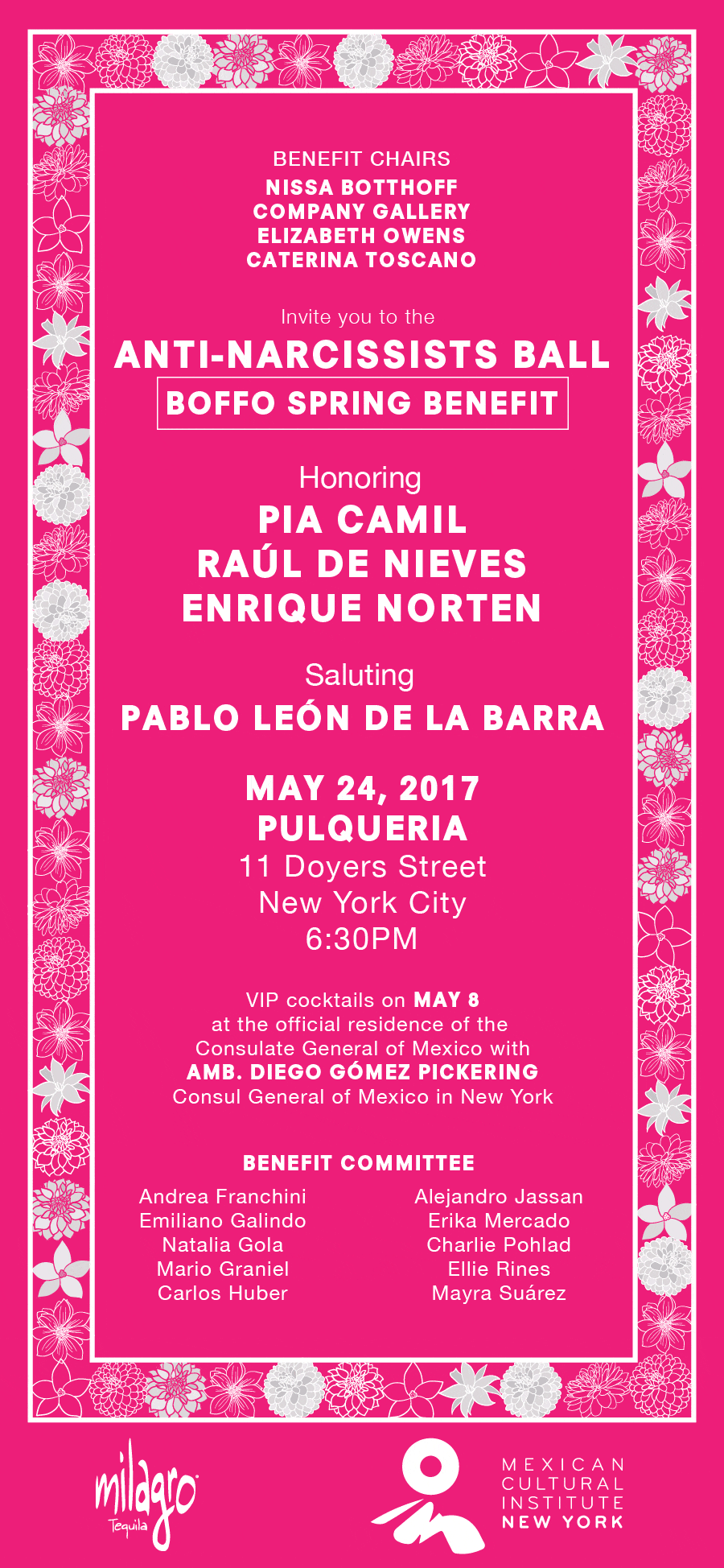 BOFFO's spring benefit, formerly know as "The Narcissists Ball," is now "The Anti-Narcissists Ball" and this year they celebrate the contributions that creative Mexicans have made to popular culture. The event at Pulqueria (11 Doyers Street) on May 24, 6:30 p.m., honors Pia Camil, Raul de Nieves, Enrique Norten and Pablo Leon de la Barra. Tickets are HERE. NO WALLS!
Fort Gansevoort (5 Ninth Avenue) opens "Fabulism" — the first NYC solo show in over 10 years by UK-born, LA-based artist Anthony James — on Thursday, May 18, 6 to 9 p.m., and on view until July 8. The exhibition reflects his interest in the literary theory of magical realism and includes older works, as well as a new series of "Shields" in steel and bronze. Lauri Firstenberg curated the show with LA production company there-there.

Chashama (266 West 37th Street) has an ongoing exhibition of photos taken in-and-around "The Garment District" by Payal Parikh on view in their storefront window until June 11. With efforts underway to move the district to Sunset Park in Brooklyn, the NYC-based photographer will document the people who have worked there for decades. This is her first solo show.
Splash photo by Charlie Ahearns, Dota Rock (Bam Yellow), 2017.