Another year, another opportunity for MTV to violently flail around screaming "We're still Music Television! We still like to focus on music! Check out our very relevant music award show!" After a tepid outing last year — boosted only by the brilliant idea to split up Rihanna's Video Vanguard Award performance into four separate ones (each with its own theme), and by MTV's other brilliant decision to give Beyoncé another 15-minute span, this time to perform half the songs from her magnum opus Lemonade — it could only get better, right? Well, maybe.
To start things off, last month, MTV announced that Katy Perry would act as host for this year's festivities. After a few years without a proper host (with a brief one-year break in 2015 when Miley Cyrus took over), Katy Perry made for an interesting choice. Given her current album promo campaign, where she has dedicated herself to being a voice for activism, her role could have been either great or super corny. In the end, it was the latter. While her earnestness showed, there was something severely lacking — mainly, a true sense of comedy. As she joked about Fyre Festival four months after the "luxury" music festival was worthy of headlines or acted in a skit where she asked Fred Armisen to gift her the "future of music" which is actually just a Ed Sheeeran (by way of TLC) chord, it was clear that the pop star was at least somewhat out of her element.
Nevertheless, the show must go on — and for three hours, it did. While some moments were much more memorable than others (I'm still crying about the appearance from Heather Heyer's mother, Susan Bro, to announce the launch of the Heather Heyer Foundation), the entire show was worthy of as much discussion as any other cultural event presented on this large of a scale. So without further ado, here are the highlights from last night's 2017 VMAs: the good, the bad, and the huh?
The Good:

Kendrick Lamar's Burns Down the Stage
Kendrick Lamar is King. If you didn't know as much before, you definitely do now. After last night's show-opening (and, for that matter, show-closing—since nothing else would top it for the rest of the night) number, the Compton kid officially wrote his name next to the greats. Given that it's Kendrick, there's no surprise that the performance was couched in pro-Black politics, but its appeal was larger than its political outreach. This was pure spectacle. I mean, he set a man on fire on stage! And then people climbed a wall...that was on fire! I mean, fire! Everywhere!

P!nk Takes a Stance for Gender Fluidity During Acceptance Speech
When P!nk came onto stage after her career-spanning performance to accept her Michael Jackson Video Vanguard Award, she took a second to tell a quick story about a time when her daughter (who was sitting in the front row) asked her why she looked like a boy with long hair. After quickly citing some "androgynous rockstars" like Michael Jackson, David Bowie, Freddie Mercury, Prince, Annie Lennox, and Janis Joplin that she believes are beautiful, P!nk dedicated the rest of her speech to people who don't conform to the norms of gender, making sure to let them know that they're all beautiful.
Fifth Harmony Shades Camila Cabello
It was one of those things that happened so quickly you could have easily missed it the first time. When the cameras shifted over to Fifth Harmony for their performance of "Angel" and "Down" with Gucci Mane, there were five members standing on the raised platform. Weird, since the fifth member of their harmony left the group at the end of last year. But then, in a blink of an eye, you see it. As they begin to sing, the center member falls off the platform and the real performance begins. It's the ultimate shade and you know Camila was left somewhere seething. Brilliant.
(If you need to see that on a loop, have no fear, for GIPHY is here.)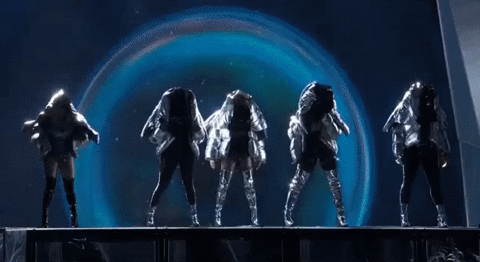 The Bad:
Ed Sheeran Beating Kendrick Lamar (Or Anyone Else) for Artist of the Year
Kendrick Lamar won 6 awards out of 8 nominations including Video of the Year "Humble" while Ed Sheeran won Artiste of the Year. #VMAs pic.twitter.com/uDNrhMoHMP
— VIEWSCHANNEL (@viewschannel) August 28, 2017
Sure, "Shape of You" was (okay, is) huge. But does Ed Sheeran have to win everything? DAMN. is still huge too, so why shouldn't Kendrick Lama have won Artist of the Year? Melodrama is best pop release of 2017 so far, so what about Lorde? Even Ariana Grande, whose benefit concert for the people killed during her Manchester concert was big enough to get her Honorary Citizenship in the city, would have been a better choice. But I digress.
Nicki Minaj's Non-Attempt at Lip-Syncing During "Swish Swish"
After taking all the spotlight by quite literally hosting the whole shindig, Katy Perry made sure all eyes ended on her too by taking the closing spot for the show with what was expected to be (judging from the bonkers accompanying music video that conveniently dropped a few days before) a spectacle. Though her bedazzled basketball corset was an eyesore, her performance didn't offend. In fact, it was Nicki Minaj who ended up offending, with an unsuccessful lip sync to a pre-recorded "live" track. (Trust me, I've been watching RuPaul's Drag Race since its first season and I can spot a lip sync from a mile away. This one wasn't even particularly well-executed. We'll call it a "Valentina during Greedy" and not a "Sasha Velour during So Emotional.")
Ed Sheeran Ruins "XO Tour Llif3" For Us All

MTV's decision to put Ed Sheeran on immediately after Kendrick Lamar was reason enough to cringe but their decision to pair Sheeran with Lil Uzi Vert was...well. Everything was okay, at first, when Lil Uzi performed a new verse for Ed's hit single — a welcome addition to an otherwise pretty unbearable song. But then, the beat switched to the familiar tune of Uzi's "XO Tour Llif3" and Ed launched into his own rendition of the chorus. I couldn't take it and I don't think I'll ever be able to listen to the words "I don't really care if you cry" anymore. Clearly Ed doesn't care if I cry because I'm crying uncontrollably right now. My favorite song is ruined.
The...Huh?
Lorde Does a Silent Interpretative Dance to "Homemade Dynamite"
Okay, so I know she had a valid excuse. According to her Twitter, Lorde, our New Zealand Princess, had been struck violently ill with the flu but chose to take the stage anyway. Instead of singing through what was assuredly a very scratchy throat, she settled on being carried around the stage by her dancers and jumping into the air while a literal casette tape player played a recording of "Homemade Dynamite." There was no attempt at lip syncing — just Ella Yelich-O'Connor and the open stage. She also wore a very fun silver foil party dress over a pair of light grey sweatpants and classic Adidas trainers. By no means was the performance bad, just very odd. Performance art, as they say. It was as if Sia choreographed The Knife's Shaking the Habitual tour.

Taylor Swift Drops Bonkers "Look What You Made Me Do" Music Video
Okay, I couldn't put this video in "The Bad" section because, truthfully, it isn't necessarily bad. No, it's not. Bizarre? Yes. Reductive? Absolutely! But simply put, the production value of this totally crazy visual is way too high for it to be"bad" in any real way. After being introduced over the intercom by an unnamed person (a move definitely orchestrated by host Katy Perry), the video received its "world premiere" during the height of the show, à la Kanye West's "Fade" from last year. The whole thing is fascinating in that so-crazy-you-can't-look-away way, but it would be nothing without its insane ending, during which Swift (who was, naturally, not in attendance last night) stands next to all of her former personas to criticize herself for "always playing the victim." Classic move.
P!nk's Video Vanguard Award Performance
Admittedly, this may stem more from my firm stance that P!nk was, overall, an odd pick for a Video Vanguard Award winner in 2017, but something about her performance seemed quite subdued — and that's not an adjective you'd usually want to hear about anything related to the VMAs. Coming off Rihanna's quadruple showing from last year, P!nk's nine minute shindig left much to be desired. I mean, where were the acrobatics...at least? Sure, we joke about the fact that she does that routine all the time. But it's more interesting to see someone fly across the stage tied up in ribbons than it is to see them carried through the air while riding shotgun in a suspended car. *shrug*
Honorable Mention: Cardi B Dazzles During the Pre-Show
Just like last NYFW belonged to Cardi B, last night's VMAs belonged to her as well. Though the New York native, whose first official single "Bodak Yellow" is currently sitting at #3 on Billboard's Hot 100 chart, didn't perform at the main ceremony, she made her presence known. From slaying the red carpet in a gorgeous caped white pantsuit to killing her performance in those insane thigh high boots from Saint Laurent with a matching bodysuit and jacket, Cardi had arrived to West Coast with all her East Coast swagger. Then, there was her introduction for the Demi Lovato performance, during which she gave a loving shoutout to our favorite activist athlete. "Colin Kaepernick, as long as you kneel with us, we're going to be standing for you, baby! Ow!"
Then, of course, there is the existence of this GIF. Thank you, Cardi B. Thank you so much.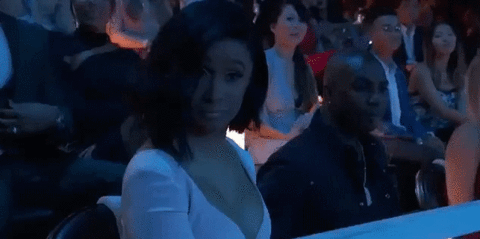 Splash photo via Getty Images