Tolulope (Tolu) Aremu had worked at Chromat for five seasons when she was offered the chance to take the lead on a design of her very own, creating the signature look that the brand would present at New York Fashion Week for Black Panther: Welcome to Wakanda.
The Wakanda event was held at Industria Studios during NYFW, and was the end product of Disney and Marvel approaching seven designers and asking them to create a look inspired by the groundbreaking film's ethereal alternate world. For Chromat, a historically diverse, body positive and empowering brand, the match was a no brainer. But instead of designing the garment herself, Chromat founder Becca McCharen-Tran tasked her former intern and current employee Aremu, who is an immigrant and of Nigerian heritage.
Related | How to Become a #ChromatBabe
Upon receiving the news, Aremu, a senior at Pratt preparing for the debut of her first collection, was ecstatic. What she hadn't banked on was the reception the look she created — a gorgeous orange-and-blue futuristic gown and headpiece with clear references to Chromat's architectural past — would garner: praise from Black Panther stars Lupita Nyong'o and Danai Gurira, who gushed over the dress and posed alongside it at the Welcome to Wakanda event.
We sat down with the emerging designer to learn about making the gown a reality, drawing inspiration from her mother, and channeling rage into something beautiful.
PAPER: So you were approached to design this look by Becca McCharen-Tran...
And my first thought was, "Awesome." I heard African drums beating in the background. I immediately thought of my African superhero Chromat Babe: my mom. And growing up in a Nigerian household, she always had Ankara all around the house. Ankara is a Nigerian textile with a bold print and pattern on it. You can use it for anything. And when you get married you have a wedding Ankara — everyone has that.
So I wanted to put Ankara in this look, and once we saw the film — it's incredible, I saw it about three weeks ago — there's a lot of technology in the movie, so we added neoprene and bonding to the design, and then to bring it all together to be a true Chromat Babe look, we added the caging and the headpiece, to pay homage to the original Chromat Babe, which draws from Becca's background in architecture.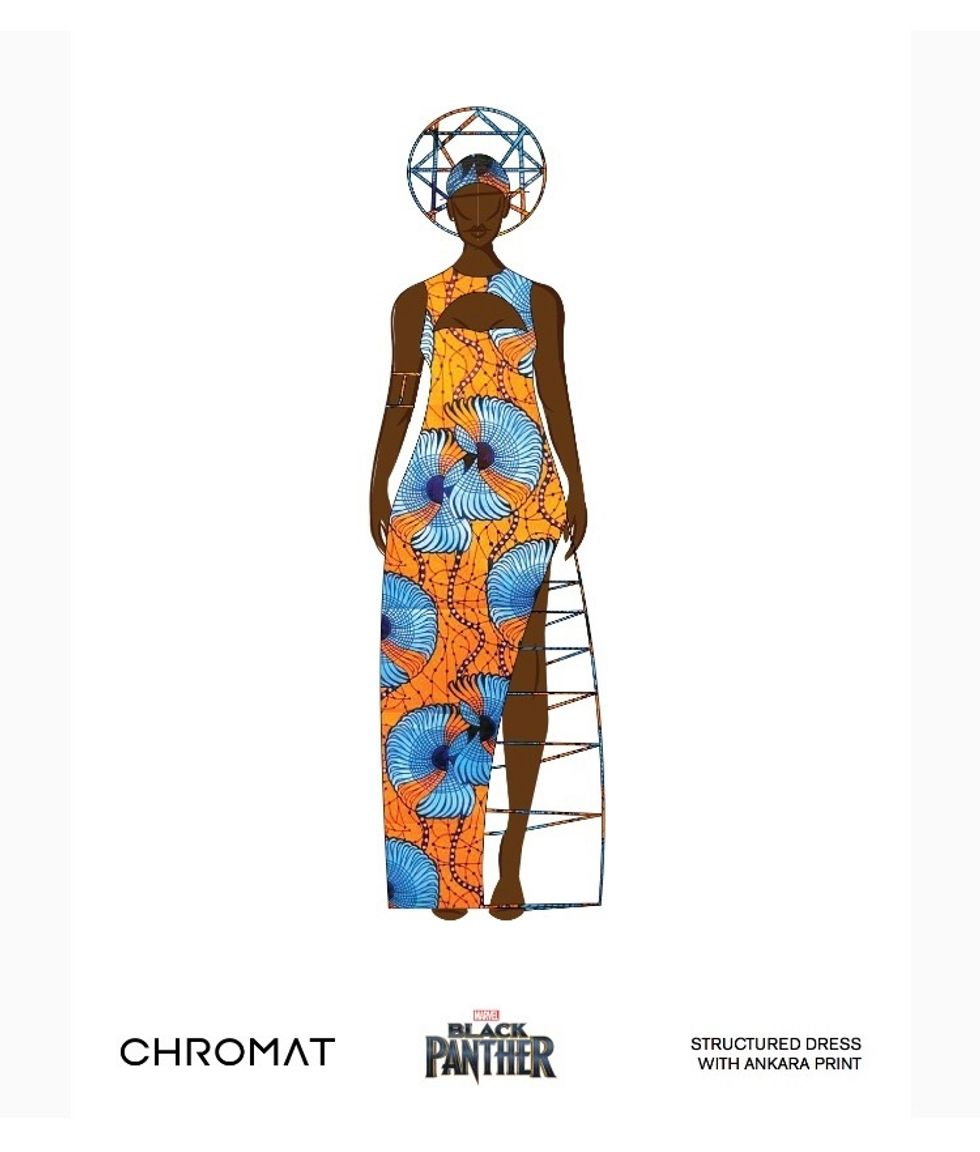 Aremu's sketch for the "Welcome to Wakanda" gown
You're saying "we," but ultimately it was your design?
I designed it, but I designed it off my heritage, as well as looking at past Chromat shows. So it still fits in the realm of Chromat. I sewed it and designed it, and Becca sewed it, as well. Basically we had a week to make the dress after the design was approved. And the last day I worked for, like, 25 hours straight. I woke up at 6 AM, worked from 7 AM until 7 AM, and then I dropped the dress off, went home, took a nap for two hours, beat the face, did press for two hours, came home, got my hair cut, ate dinner, and then I went to the event. By the end of the night I was running on straight adrenaline.
Your parents were at the Black Panther event — how did your mom respond?
It was a secret — I didn't want to tell her about it beforehand. And she's the driving factor of how we got the Ankara from Nigeria. So when we finally brought them in the event space... I was telling them the story behind it, and my mom started to cry. It was very cute. She loved it. Best Daughter Award. She didn't want to mess up her makeup, so she was like, "Why didn't you tell me this earlier? My makeup is going to mess up!"
Related | Chromat's Diverse NYFW Cast is Ready to Escape
What was the reception like? Lupita was there...
Yeah, they all bawled. She loved it. Meeting your role model — not just seeing them, but having them be right there. It's crazy. She looked unreal. She's so gorgeous.
It was crazy. It was surreal, because when I dropped it off that morning I was so delirious. You know when you work so hard on something, you're like, "I can't even look at this. Just take it. I'm so tired." And then I put it out of my head, and when I came back to do press, everything was all set up, and there were people just surrounding my look. And they didn't know I had made it, so I was just looking at all these people staring at my dress. I don't know if I caught everyone looking at it at this one specific time I walked in... but people were taking pictures, and I was just sipping water, thinking, "I dropped this off two hours ago. I'm exhausted." I took a step back, and thought, "Wow." Becca and I kept looking at each other and saying, "Me and you? We did that. What did we do? That, bitch."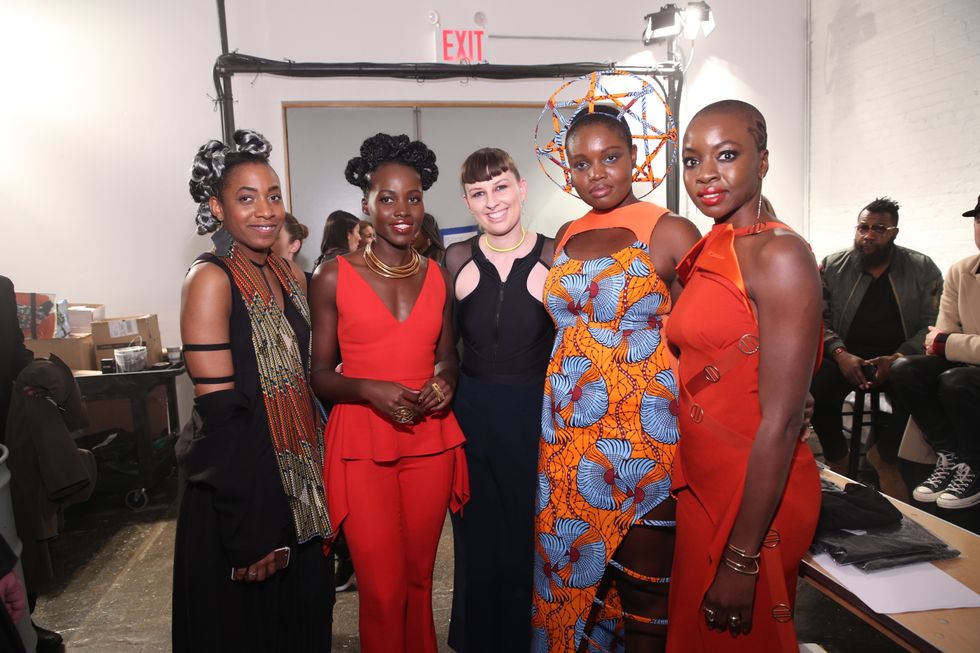 (Left to Right) Aremu, Nyong'o, McCharen-Tran, model Tash Ncube, Gurira

I feel like that's what's cool about Chromat. It's always felt very much like a passion project where everyone is happy to be there, from the models to the designers.
That's very accurate. I was just talking to my brother, who does the casting for Chromat — every time we have a season, it feels like a family. The models, the makeup, the hair, the nails, us, the team... We all come together, and the energy and environment we create, no matter where you put us, we just create this joy that is untouchable. When we were leaving, security guards were coming up to us and saying "Thank you so much. You guys are so much fun." Thanking us for bringing this energy. It's something that's really rare in fashion. I don't think I fully realized until this season how strong our presence is. It's really beautiful. It's such a joy. It makes it not feel like work, but like I'm seeing family.
Is it getting produced at all for retail?
It's getting auctioned off for charity, for Save The Children. I wonder who is going to get it. It will be very cute.
And you're in your final semester at Pratt, and you've got a collection coming out this spring.

Yes. Right now it's basically — I'm filling it with the rage I feel being an immigrant. It's exploring and expressing that rage in a positive way. So it's going to be a combination of denim, and Ankara, and sportswear, and it's very me, in a way. Because why do something else?
Do you want your own label?
Someday. I'd like to join a label to just enjoy it. People forget that the whole thing is if you have a creative passion, you should enjoy it. Working hard, as well as enjoying it. This look for Black Panther was definitely grueling, but the whole time I was enjoying it. I was like, "Let's do it for Wakanda."
Photos Courtesy of Tolu Aremu