Actress Lana Condor's favorite romantic comedy is How to Lose a Guy in Ten Days (she likes The Devil Wears Prada, too, but isn't sure if it counts as a staple of the genre). It's a fitting choice — Condor stars in the new Netflix instant-classic movie To All the Boys I've Loved Before, which also hinges on the rom-com convention of fake relationships blossoming into real ones. But if the takeaway from Kate Hudson's paean to journalism is that you should "frost yourself," To All the Boys is more akin to melting. It is perfect. Just watch it! Or better yet, watch it again. And again. And again!
Based on the bestselling YA novel by Jenny Han, To All the Boys tells the story of Lara Jean Covey, a sweet, introverted teenager who loves The Golden Girls and bodice-ripping romance novels, hates driving, and prefers the company of her sisters to any of the kids at school. She writes love letters as a way of working out her own emotions, but never sends them to the boys in question. So all hell breaks loose when the notes wind up in the mail — including one for her older sister's boyfriend, Josh (Israel Broussard). In an attempt to hide her true feelings, Lara Jean pretends to date lax bro Peter Kavinsky (Noah Centineo), and I cannot type anymore because the film should not be spoiled further, and I also do not want to cry at my desk.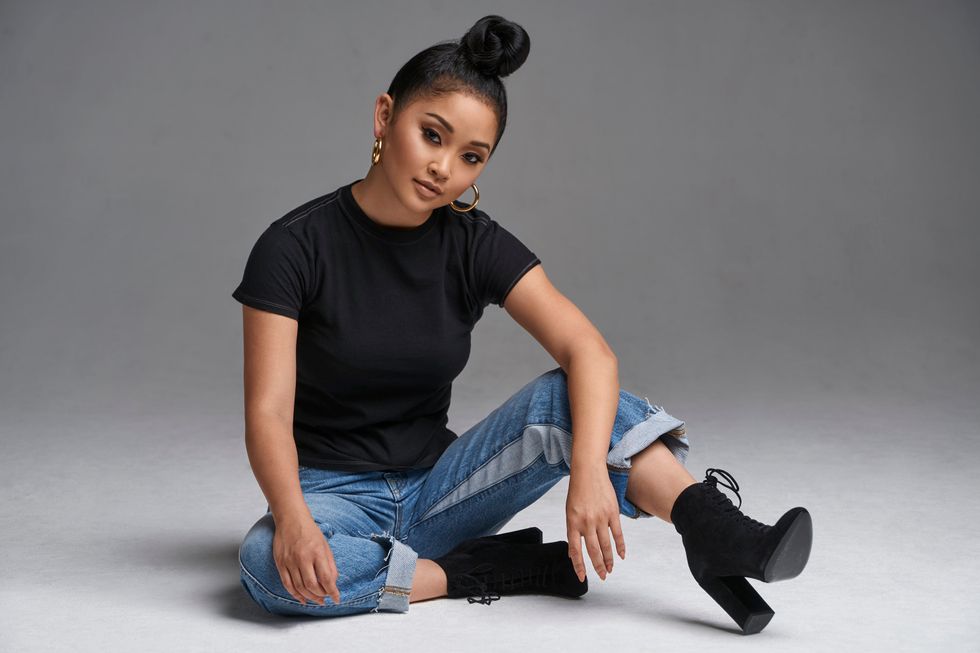 Lana Condor. Photo by The Riker Brothers.
To All the BoysI've Loved Before, a winter rom-com that feels like a particularly snuggly sweater, radiates warmth. It is an heir to John Hughes films that corrects their sins, and a work of art that has lead thousands of women to Google whether the Mark Ruffalo-like Centineo is of the age of consent (he is, thankfully, 22).
"I wanted the part so badly," said Condor. "I wanted it more than anything I've ever wanted in my life." It's easy to see why. She spoke to PAPER about bringing Lara Jean to life, Asian-American representation, working with Centineo, and Sex and the City.
It's obvious why you wanted this part. Anyone would want this part! But tell me why you wanted the part.
I wanted it so badly because I don't often get opportunities to play the lead in a rom-com, so that's really been a dream of mine that I didn't think that I would be fortunate enough to live. It's exciting for me to get a character that's like Lara Jean, a girl next door who is going through a coming of age story that's really universal for everyone.
I don't often get roles that are that colorful. I thought that if I didn't take advantage of this opportunity I wouldn't get one like it again. And then the responsibility of representing is huge, and I love the fact that Lara Jean is such a good role model. I've really wanted the platform to represent more Asian-American roles and actors and actresses, so it was really a dream come true.
That's wonderful. Of course, it's absurd that Asian representation in Hollywood is so limited, but that's why this sweet romantic comedy is groundbreaking.
We shouldn't even be at this place. And, unfortunately, we are. There hasn't been representation — at least at this level for the character, for someone like Lara Jean. We should be way beyond this now, but unfortunately we're not. But I think that hopefully maybe, this past weekend with To All the Boys and Crazy Rich Asians, we've really made a dent.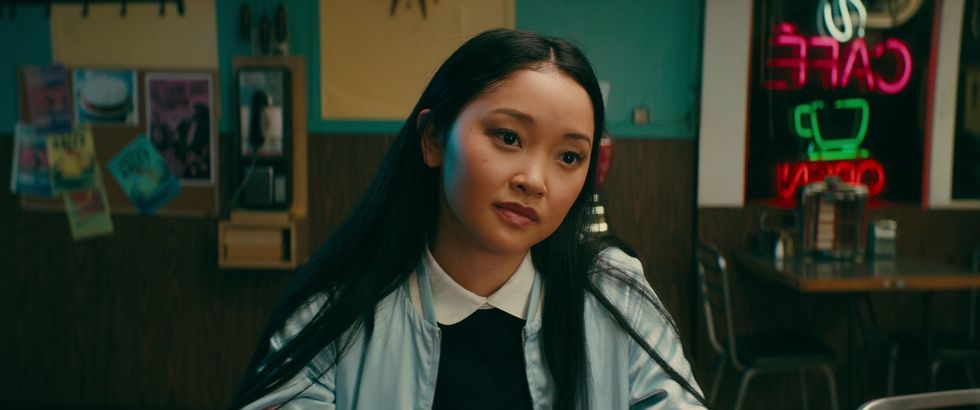 Lana Condor as Lara Jean Covey in To All the Boys I've Loved Before
Jenny Han wrote that most production companies wanted to whitewash To All the Boys.
I had heard that different studios, they loved Jenny's work, they loved the book, but they were like, "Let's make Lara Jean white." And that's so frustrating, because I hate that that's just the default. That people just cannot fathom the lead of a rom-com being anything but that default. So that's so frustrating.
I think that it is really, it comes down to Jenny for being such a strong woman and a strong business woman, staying true to heart and saying no, you've completely missed the mark on that. So yeah, it's unfortunate that people still wanted to do that. It's just simply not necessary, and it would have truly hurt the pre-existing fanbase. They're very supportive of the book and of the movie and they're so loving. If they saw something that they love so much made into this, just not authentic to the source material, that would have been so hurtful to them. And I know they would not have supported it.
It would have been terrible. You were the dream Lara Jean! And Noah Centineo was the dream Peter Kavinsky. What was working with him like? Was there instant chemistry, or was it something you spent time building?
We had pretty instant chemistry, I have to say. When I did a chemistry read with him, it was a no-brainer. I knew instantly. Even when he walked through the door I was like "Yep, this is the guy." And then our chemistry read was one of the best chemistry reads I've ever had with anyone. So we hit it off immediately, and then when we went up to Vancouver, where we shot the movie, we hung out every day, on-set and off-set. He and I get along very, very well. We have a really amazing working relationship. I really hope that we get to see more of them together!
John Corbett, aka turquoise lover Aidan Shaw, plays your dad. Are you a Sex in the City fan?
Oh my gosh, no I wasn't. But I of course knew about Sex in the City, I just had never watched it. And then when I found out John was gonna be in To All the Boys, I thought it was so cool! And everyone was calling him Aidan and all this stuff, so. Now I suppose I should watch! It's funny because I did an indie after To All the Boys, called Summer Night. And there's three members in that cast who've all had John play their dad.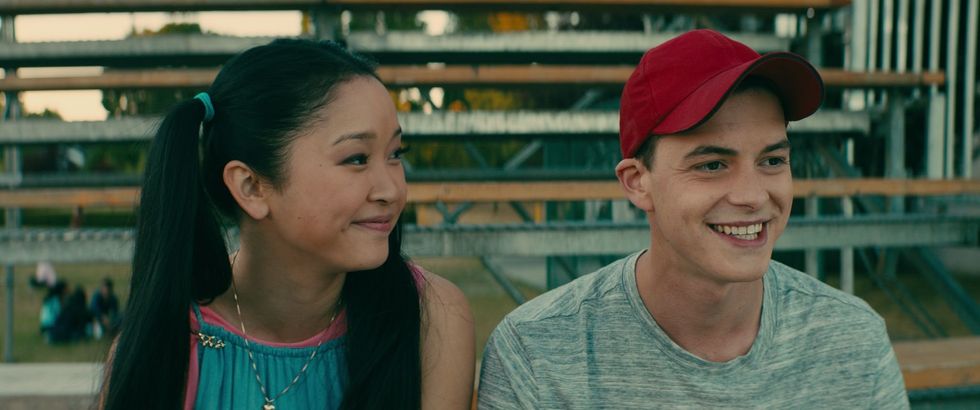 Lana Condor as Lara Jean Covey and Israel Broussard as Josh Sanderson
Both Lara Jean and Peter Kavinsky have some difficulties at home: Lara Jean's mother died, Peter's dad left. The movie portrays their interior lives with a kind of sensitivity that's pretty rare in teen romantic comedies. What did you think about the movie's approach to portraying loss?
I think something that's so beautiful about the movie is that Jenny is writing simplified really complex human emotions. I think that's translated into the movie and I think it's so relatable. Lara Jean losing her mom at a young age, it's a huge part of her identity. But, we're not glorifying that death, it's just something that she unfortunately has to live with. And I think the way that the filmmakers did that was really thoughtful and different.
I was talking to a friend of mine who actually lost their parent, and I was trying to understand what that was like. She said, "I think about it every day, but as time goes on it's just what I live with. But it's still here." And so, I think the movie did a really good job in [showing] that. We're not glorifying the loss, but it's something you have to live with.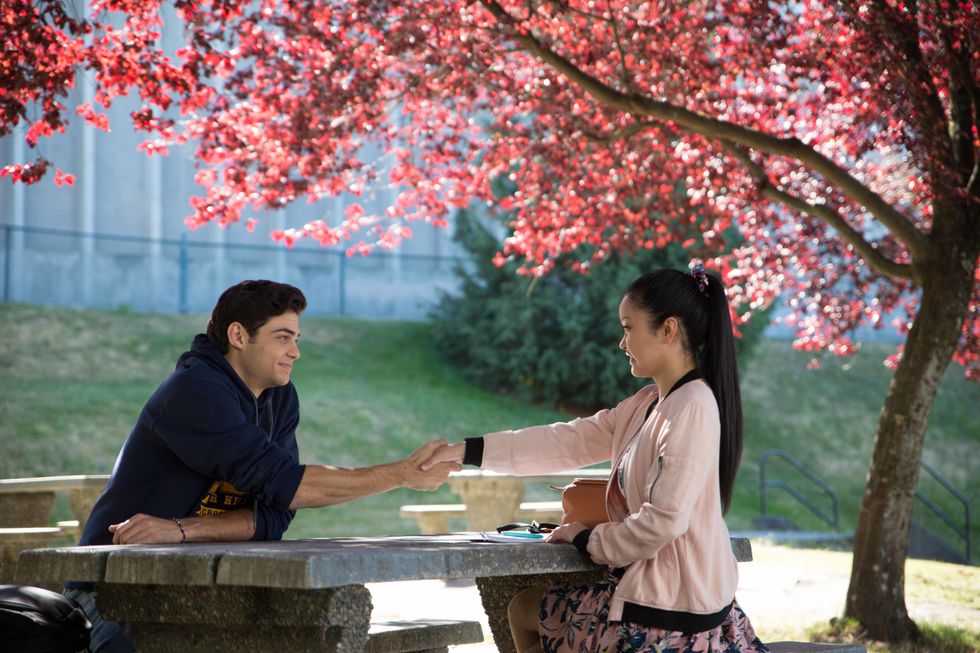 Noah Centineo as Peter Kavinsky and Lana Condor as Lara Jean Covey
Lara Jean and Peter instantly became a canonical rom-com couple. What does your actual boyfriend think of all of it?
You know, he's so supportive. He's just so happy and excited for me and excited for this whole journey. I mean, I suppose you'd have to ask him, but honestly, he's never shown any signs of jealousy. I got a really good guy, that he would be dealing with this so well. But it's true that when you watch rom-coms, it makes it even better when the two leads are together in real life, right? So that's been interesting to kind of watch that fandom unfold. It's been so fun.
Photos courtesy of Netflix and The Riker Brothers
Music
Story by George M. Johnson / Photography by Mason Poole / Styling by Shiona Turini / Hair by Nakia Rachon / Make-up by Rokael Lizama / Creative direction by Andrew Makadsi