I wasn't invited to the Royal Wedding and I can't imagine the stress of having to pick out an outfit that would be photographed and scrutinized not only by the public but by the Queen.
Except that I can.
Because when I got dressed last Friday night, I knew there was some chance I might meet royalty: Meme Queen Tiffany Pollard.
Several weeks ago a friend told me about an upcoming Tiffany Pollard exhibit at the THNK1994 Museum, a pop culture obsessed, Bed-Stuy based gallery launched by an exhibit on the Tonya Harding and Nancy Kerrigan incident. It's since featured everything from art inspired by the Olsen twins hiding from paparazzi to oil paintings of Real Housewives.
Their latest exhibit, David's Dead!, was named after the iconic reality TV moment where Pollard mistakes David Bowie's death for Big Brother UK castmate David Guest's death. The curators contextualized the exhibit to call Pollard "the greatest performance artist of our generation."

The opening gala promised a very special night though there was no explicit mention that Pollard would attend.
I put on a Sandro sweatshirt screen printed with the word EVIL and hoped if Pollard saw it she'd recognize the homage to one of her greatest moments: when she reminded us she was "very sweet and nurturing" but "also like an evil bitch, too."
When I arrived at the THNK1994 Museum cameras were pointed at the door in anticipation; she was coming.
I did a lap around the small, but impressive gallery. I paused in front of a massive collage of stills where Pollard weeped about David Guest's "death;" I snapped a photo in front of a painting of Pollard lying arms crossed on a couch in my favorite of her memes; and I pressed a button on a painting to play a recording of her insane and sinister laughter when Angie Bowie mourned the death of the David who actually died.
I also caught a glimpse living art: Sister Patterson, Pollard's mom and a reality star in her own right. She was sitting upstairs in a makeshift "VIP section," cooling herself with a handheld fan. She was surrounded by a legion of what appeared to be die-hard New York-loving gays: one wore a cut-off tee with Pollard's face; he had a tattoo of her face on his bicep.
It was going to be a night.
There were about 20 people in the gallery entrance when Pollard arrived but the energy of the room was like that of a Beyoncé stadium concert. The energy propelled her to ham for the cameras like she's been doing for all those years and then she spoke, "Brooklyn, New York, I have one thing to say: New York is in the motherfucking houseeeeee!"
About 5 minutes after she walked in, Pollard trekked upstairs to the VIP stairs where an unauthorized fan followed her and a fight broke out. But Pollard was unfazed — she'd seen worse.
She spent the next 20 minutes standing in front of the various works of art posing with the portraits, sometimes guffawing at their ingenuity and other times contextualizing the moment.
I needed to meet her.
I wasn't there to cover the event, but I sensed an opening. Other media outlets were in attendance but it seemed unlikely those talented career journalists had let their brains rot enough to watch Flavor of Love, Flavor of Love Girls: Charm School, I Love New York, New York Goes to Hollywood, and New York Goes to Work, like I had.
I went for it.
"Can I ask you some question for PAPER?"
"I love PAPER!"
I pressed record on my phone and held it to her bosom. When conducting interviews like this, it's typically a struggle to get talent to speak close enough to the phone to transcribe their words over the noise of the crowd. But Pollard leaned into my phone and spoke into it from just an inch away. She didn't want me to miss a word.
"Listen, I can't believe how humbled I am. I didn't even realize how many shows I did until I saw it translated onto the canvas. I feel like a legend."
Translated onto the canvas. Chef's kiss.
I asked what was next and she was vague, only saying that she had so much more coming and to stay tuned.
Related | Next Jenneration: Kylie Jenner Talks Fame, Family and the Future
So I waxed philosophical to get her opinion on the state of reality TV today. How did she feel about the Kardashians and The Bachelor?

"I ain't gonna fault none of these bitches for being out there and making extra dollars but listen: the shit ain't as real as it was when I invented it. These bitches be crying for no reason, pretending for no fucking reason. I left my heart on the damn cutting room floor."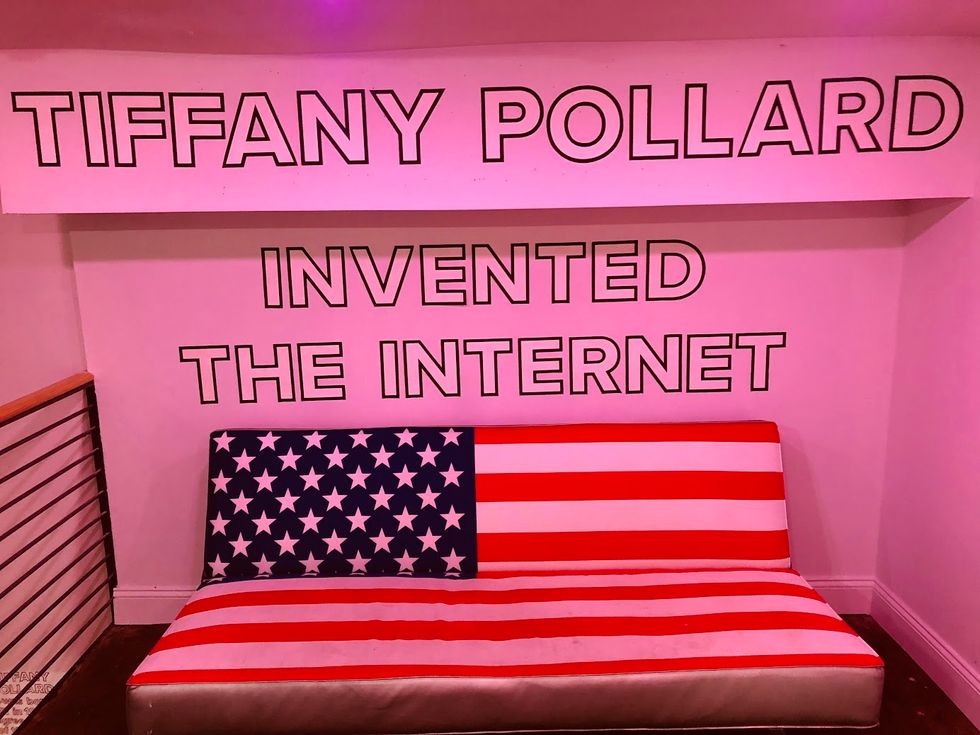 Courtesy of THINK1994 Museum
"So when you cried, it was real?" I clarified.
"Listen, everything I did was real." She paused. "And if you wanna know, yes I did fuck Flav."
I had my scoop.
Towards the end of the night the crowd had gotten enough selfies with Pollard that they headed home.
Pollard went outside of the venue for a smoke. Perhaps sensing the thinning crowd and dimming energy, she started to strut the sidewalk like it was a catwalk. Her butt bounced in her rainbow-striped pantsuit. "People said they can read my lips in this pantsuit," she demurred earlier in the evening.
A neon 7-Eleven sign across the street acted as her backdrop and flashing sirens from an ambulance 30 feet away lit the Instagram stories capturing her. An allegiance of gays yelled, "Yasss, queen, yasss." While a drunk woman continually screamed, "Break the Internet!!!" They almost drowned out the hum of Friday night traffic on the busy overpass above the venue.
Related | How Fashion Nova Changed the Game
Pollard stopped at the corner and yelled out, "Fashion Nova, baby!" telling us the name of her pantsuit's designer as if we were all paparazzi asking who she was wearing. No one had.
It struck me then that this was the perfect metaphor for the state of reality TV (and maybe even pop culture in general). Amongst her noisy but bleak surroundings — the traffic and sirens — Tiffany "New York" Pollard is still a fucking star.
Splash Photo Courtesy of Robert Balkovich