With a number of key designers off the regularly scheduled programming (Proenza Schouler, Rodarte, Zac Posen), there was some apprehension as to what NYFW would bring, what with these significant absences. But never fear, the week proved just as rollicking as ever, from Rihanna's Wild Ride for Fenty x Puma to Ralph's Gearhead Glamorama at his car palace Upstate, there were plenty of exciting twists and turns for any fashion thrill seeker. Whether you were feeling for Raf's Calvin scream queens or Marc's meditative turbans, there was no lack of memorable moments to last through the fashion month. Below our Top 10 of the week and on to London tomorrow!
Raf Riffs on American Horror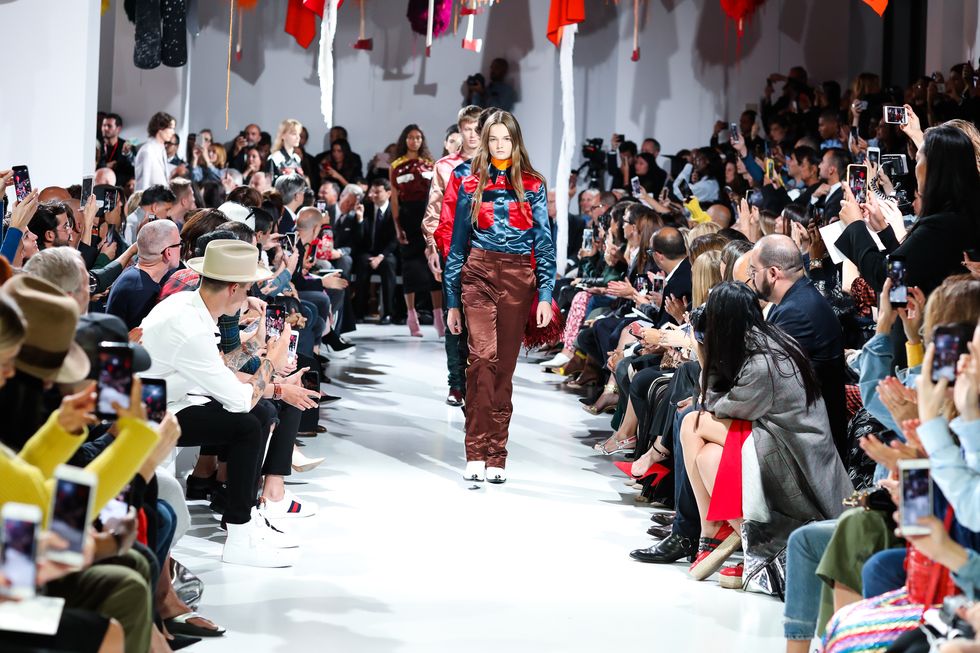 Photo via BFA
For his sophomore show at Calvin Klein, Raf Simons mined the horror and pathos of American popular culture; Warhol, Stephen King, Jason. They were all there in a moody and timely comment on the landscape of the country. The clothes were pretty fab too.
Fucking Fabulous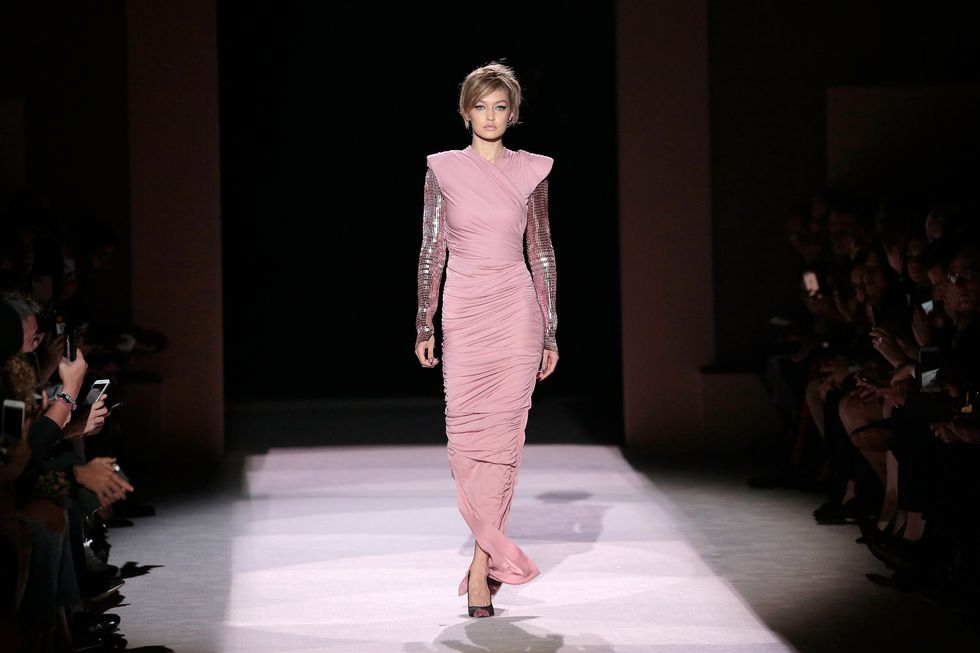 Photo via Getty
For his return to the New York season, Tom Ford opened fashion week with a heady mix of sex, scent and suits. The sex was in the plunging bodysuits and necklines, the scent in his latest fragrance "Fucking Fabulous," and the suits a womenswear interpretation of his signature mens silhouette: strong shoulder, nipped waist, luxe fabrics. The recipe was a glam success and hopefully indicates a more permanent place on the fashion calendar.
Ralph's Garage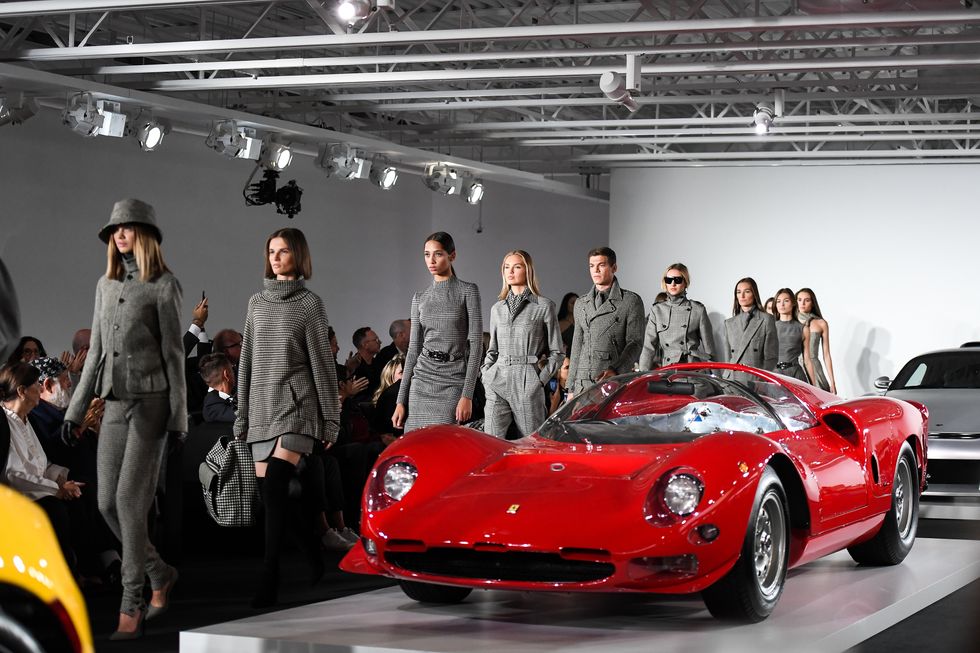 Photo via BFA
Leave it to Ralph Lauren to chauffeur the entire fashion flack in the middle of shows to his Bedford, NY garage for a fashion show and black tie, candle lit dinner. Amidst Porsche's, Bugattis, and Jaguars, Bella Hadid and Kendall Jenner alighted in primary racing colored gowns and oil-slicked suiting. The clothes may not have re-invented the fashion wheel, but who needs new one's when your's as fabulous as Ralph's?

Helmut Required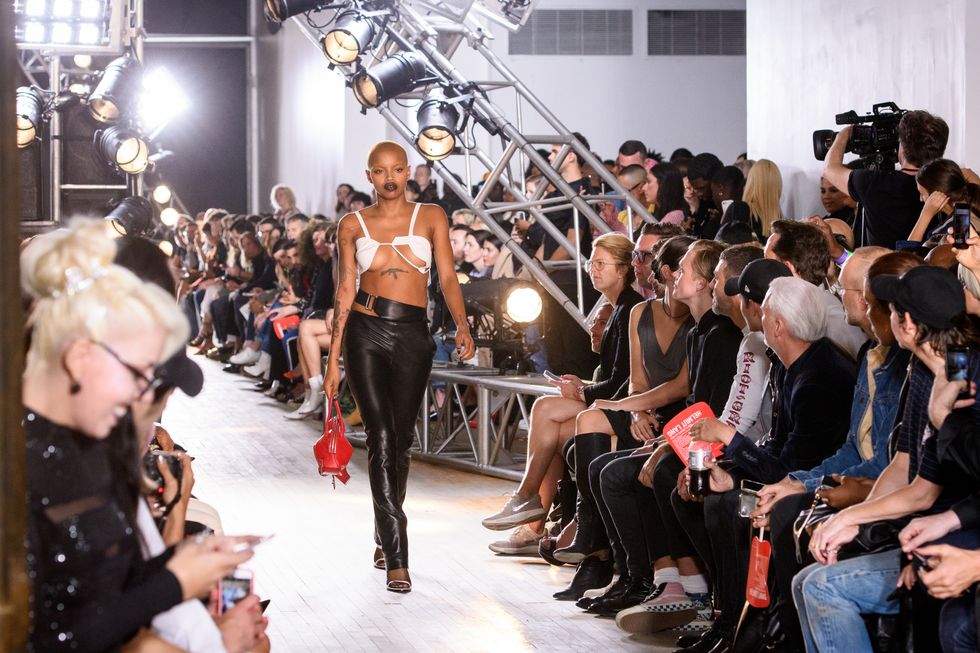 Photo via BFA
The buzz around the new concept for the Helmut Lang brand—an "Editor-in-Residence" with a rotating cast of designers contracted to produce (so far) one-off collections—reached a fever pitch this week with the first runway show since the summer's announcement. With Shayne Oliver, late of Hood By Air, at the helm for this inaugural go-around, the runway show was a fast-paced charge through the sexier side of Helmut. Less a direct reference, though an appearance by Lang stalwart Kirsten Owen was a strong nod, than a channeling of the original designer's energy and ambiguous attitudes toward flesh-baring, pieced together looks, the show fused Oliver's unapologetic and queer fashion POV with Helmut's esoteric but gutsy legacy. The notion that this was not a permanent relationship (Oliver + Helmut) gave the collection, which featured giant bras, Helmut merch tees, and a surfeit of harnesses among the highlights, a freedom that may have otherwise not existed. It was a great airing of the creatively dormant brand and looked hopeful for the progression this revered voice in the fashion pantheon.

Jeremy Scott Turns 20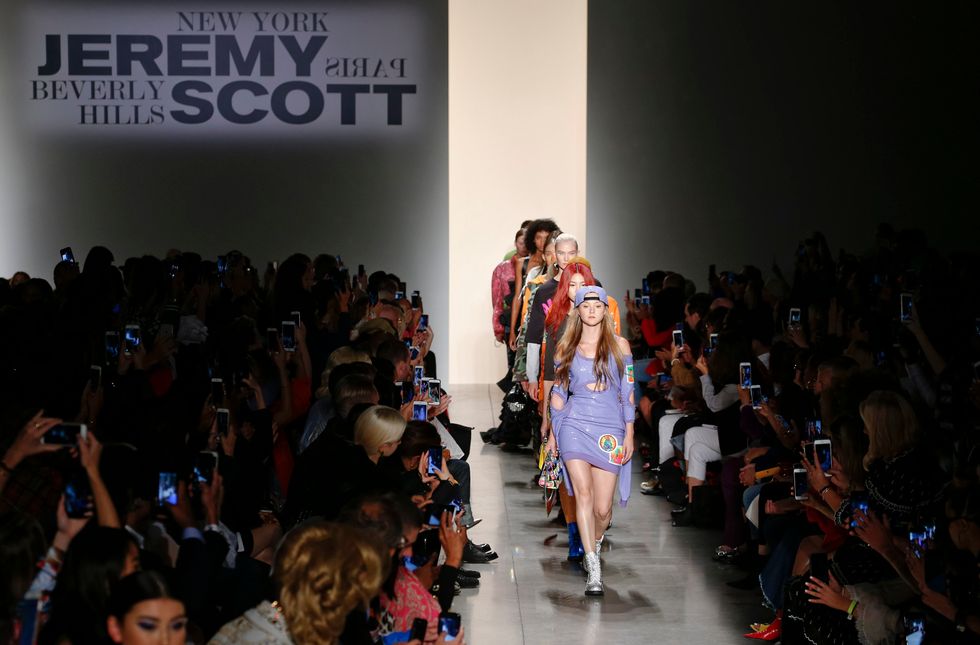 Photo via Getty
Happy Anniversary to the most bananas, DGAF legend around! Jeremy Scott has always brought a bright, necessary irreverence to the runways and thank God for that. It's hard to believe that he has two decades under his neon-studded belt since his runways, out of context, still have the feel of a totally unjaded, fashion-obsessed newcomer. For his big birthday show, he brought together legends like Karlie Kloss, Liberty Ross, Jourdan Dunn, and perhaps his most iconic muse, Devon Aoki. The collection was a visual treat in classic Scott style: cartoon prints, mixed with camo, mixed with silver lurex, mixed with neon python. What more could you ask of fashion's Prince of Pop? Here's to 20 more, JS!

RiRi's Drag Race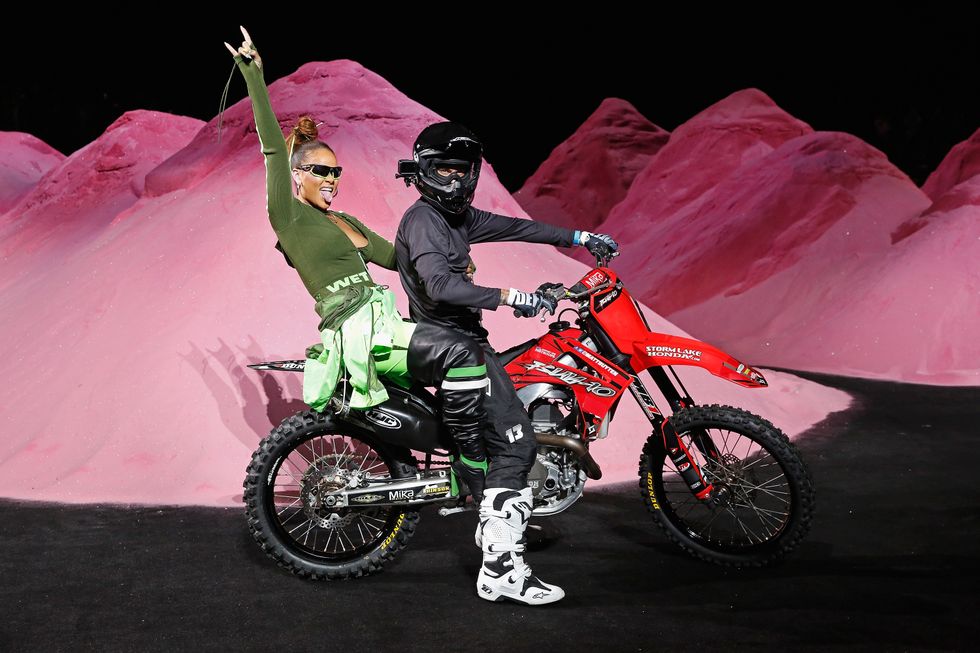 Photo via Getty
Leave it to Rihanna to create one of the most jaw-dropping moments of NYFW (should we just call it R(iri)FW at this point?). With daredevil motocross drivers flipping out inside the Park Ave. armory amid extraterrestrial pink sand mounds, she showed her latest Fenty x Puma collection to raves. A mashup of racing, surf and spelunking pieces, it was a go-anywhere proposal for the sexy set. As she zoomed across the venue to close the show it was hard not to hum one of her catchiest lines: Shut Up and Drive!
It's Kaia's World…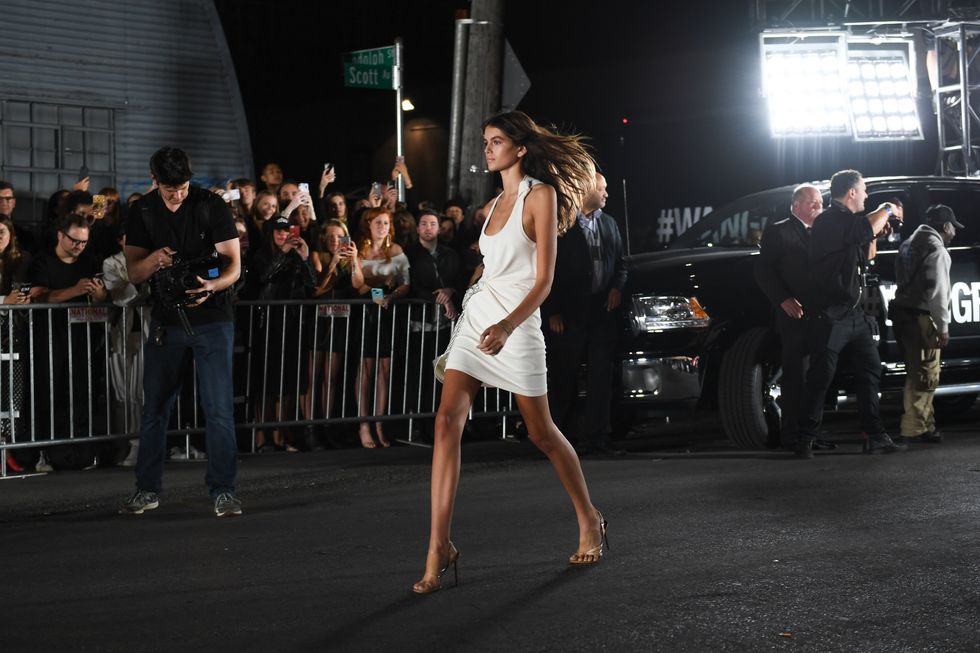 Photo via BFA
And we're just walking in it. Goodness, can this young lady walk. Though it was somewhat subdued in her debut at Calvin Klein, when she opened the Alexander Wang show on Saturday night, attendees were gobsmacked at how she can so uncannily work a runway—no surprise given her mother: super model legend Cindy Crawford. If you check the tape from Wang, there were literal sirens going off as she stomped the pavement and for good reason; she is total fire on a catwalk.
Final Edit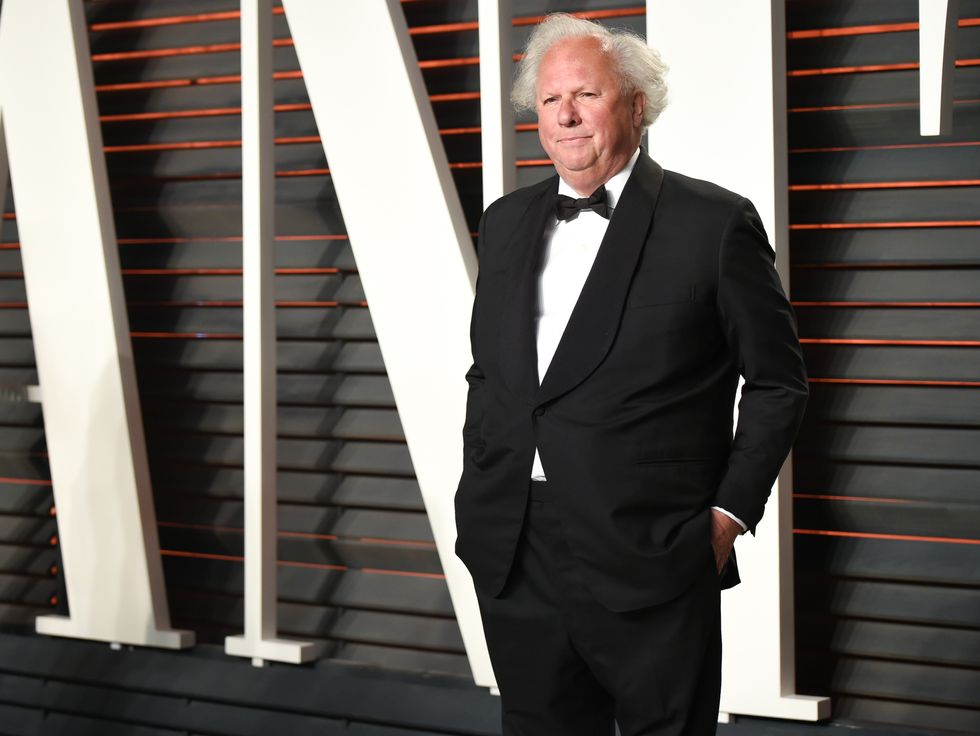 Photo via BFA
The front rows of fashion got some serious thinning this week as announcements of not one but FOUR Editors-in-Chiefs announced their departures. First was Graydon Carter of Vanity Fair, who, after 25 years atop the masthead of the legacy pub, announced his leaving, followed shortly by Robbie Meyers of Elle (17 years), Nancy Gibbs of Time (4 years), and just this morning, Cindi Leive of Glamour (16 years). It's not as though the dilemma and fraught future of print media were a new story, but this past week is nothing if not a clear signal that the guard is changing, and fast.
Goodbye, Glenn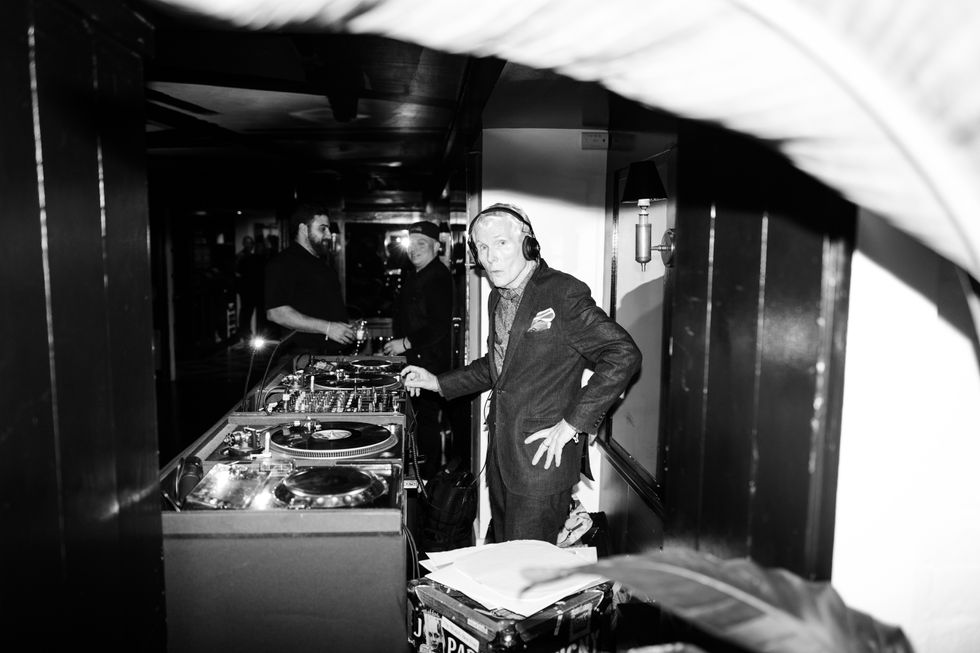 Photo via BFA
The loss of cultural pundit and all around New York treasure Glenn O'Brien last spring was a devastating blow to the art, publishing and fashion landscapes of which he was a constant gardener. O'Brien, who passed away at 70 in April, was a founding editor of Andy Warhol's Interview as well the host of cult 80s cable access show, TV Party, in the 80s, in addition to contributing regularly to ArtForum and GQ among many other publications. His work through the decades brought him in touch with punks, politicians and poets in equal measure. In a memorial at the SVA Theatre in Chelsea, friends and contemporaries including Joan Juliet Buck and Jerry Saltz, delivered readings of his work throughout his career in lieu of eulogies or personal anecdotes.
Silence is Golden (and Every Other Color) at Marc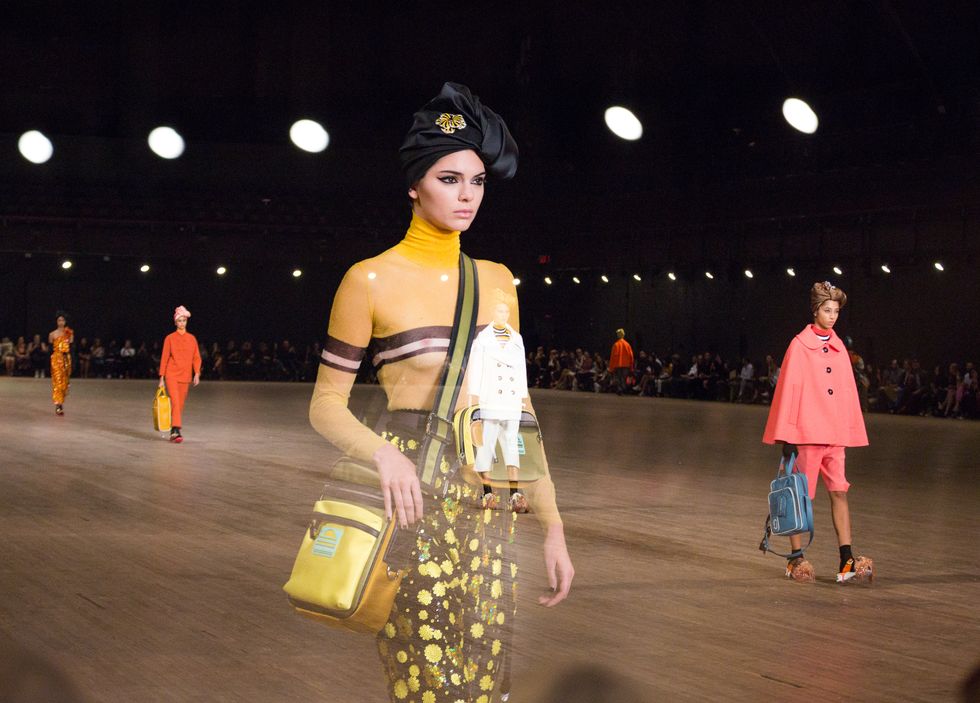 Photo via BFA
It is always a question throughout NYFW what Marc Jacobs will conjure for his week-closing show on the Wednesday night of the New York collections. The designer, who can flip from fanfare and big brass bands one season to silent, meditative processions the next consistently delivers a show to remember if not an all out spectacle. For Spring 2018 he sent his models out again in silence at the Park Ave. Armory (just like last season's hip-hop jaunt) but this time in bright, more-is-more colors and prints, draped technicolor coats and harem pants as well (if you looked close enough) soigné bugle bead gowns. With every girl sporting a turban or head-wrap, the statement hued somewhere between Esther Williams' Hollywood (or maybe some vintage Saint Laurent) and traditional gele. Fanny packs and smaller totes dangled with a charm that read "Somewhere" perhaps an existential nod to where fashion is headed, but wherever Marc is going, we'll happily follow.