Italians really can do it better, and this Milan Fashion Week was no exception. From Gucci's mad genius to juicy front row gossip, it was a glam and action-packed few days in the city that Miuccia built. Lets take a look at the molto molto moments as Fashion Month heads into the Paris homestretch, but not saying Basta! just yet.
Viva Versace!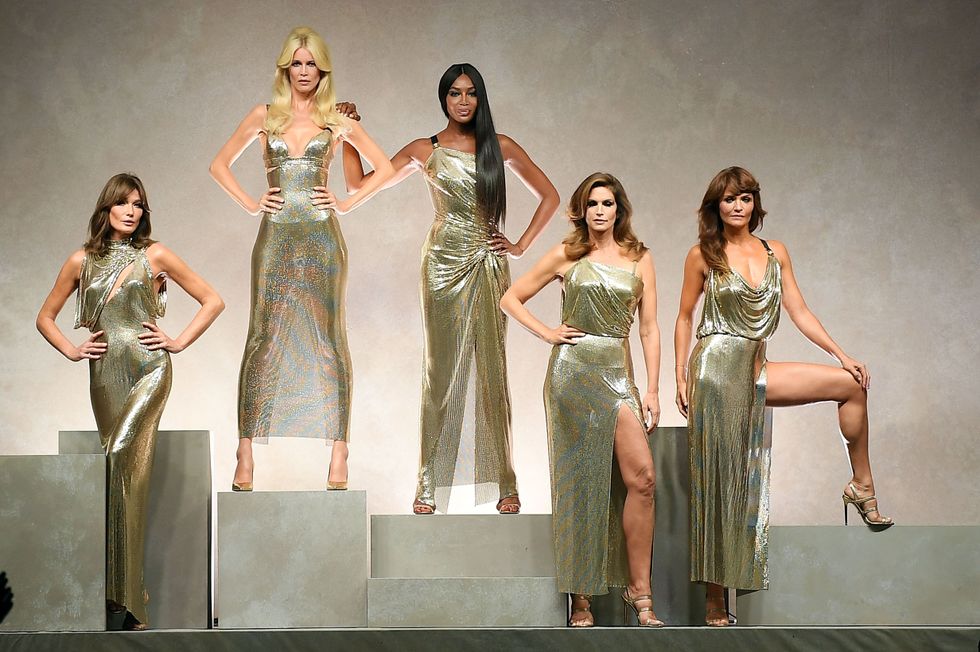 Venturelli / Getty
Major? Iconic? Legendary? Those words may be fatigued , but they are the only way to describe what happened last Friday night at Versace's show. After a collection paying ebullient tribute to some of founder Gianni Versace's hit collections of the 90s, supermodels Carla Bruni, Claudia Schiffer, Naomi Campbell, Cindy Crawford and Helena Christensen, closed the show in a jaw dropping, surprise reveal. To the strains of George Michael's Freedom 90, they stomped the runway with an emotional Donatella Versace in a moment that became a legend in real time.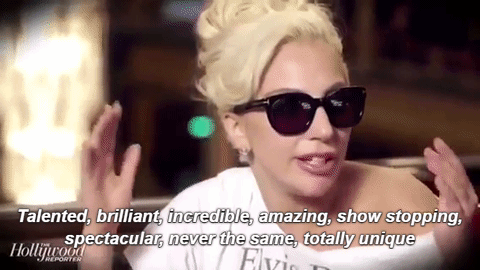 Prada's Comic Con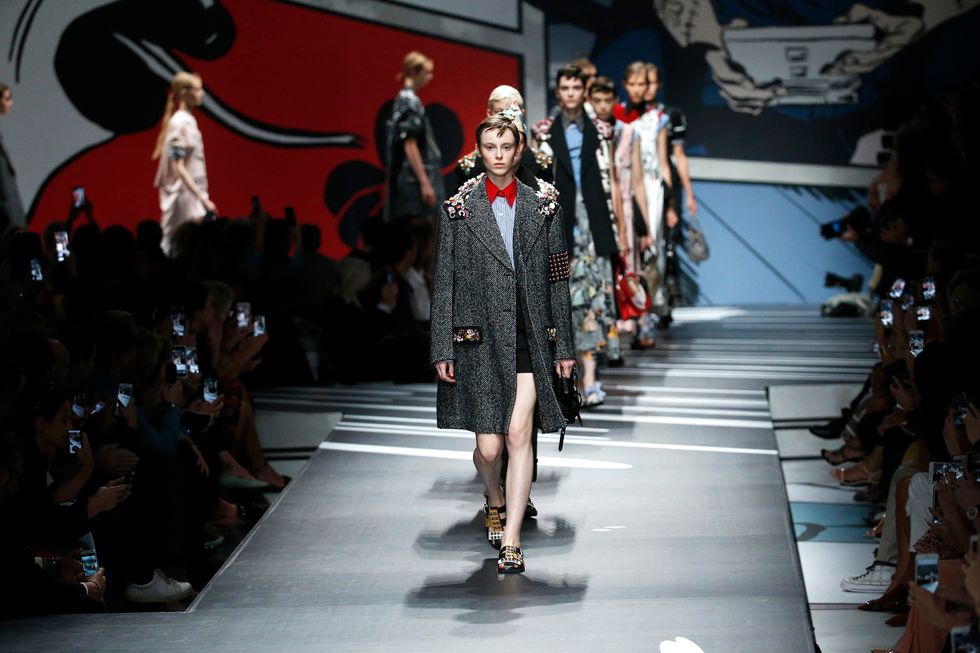 Estrop / Getty
For Spring 2018, Miuccia Prada headed to Ghost World and took her woman with her, in what was a surreal comic book fantasia. With a clash of prints and 2-D charcoal drawing motifs, there was a decided 80s bent for next season, which we weren't mad at.
The Jil Sander Debut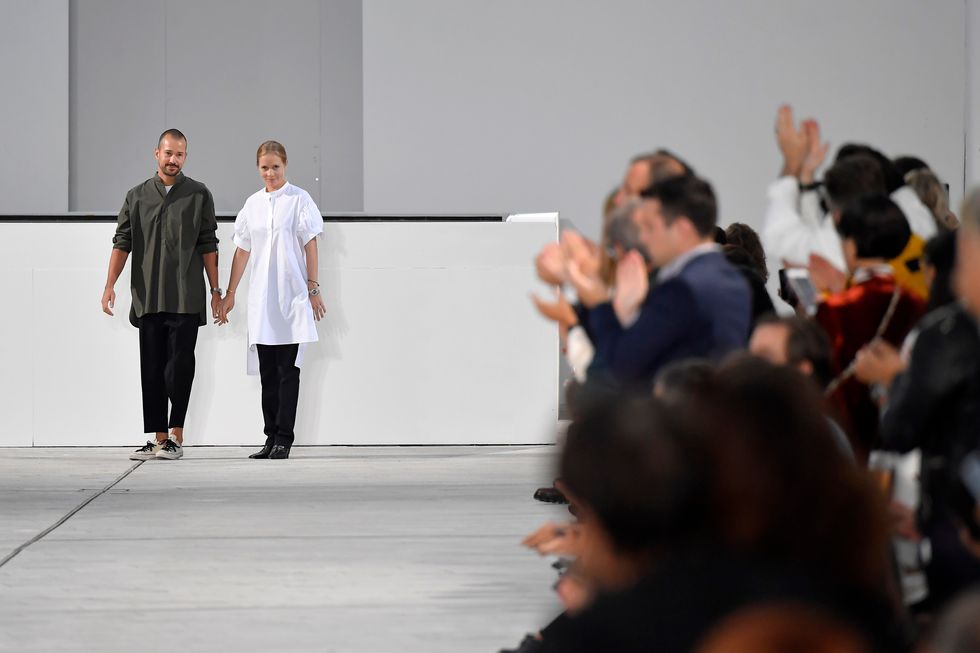 Victor Boyko / Getty
Jil Sander, the teutonic-tinged minimalist brand known for suiting and perfect white shirts, has experienced perhaps the most jarring case of designer revolving-door syndrome in the last half decade. After Raf Simons left in 2012, there were no less than three designers in the intervening years (including Ms. Sander herself) leading, not surprisingly, to stagnation and confusion . This past weekend, Lucie and Luke Meier, her late of Dior interregnum and he of cult brand OAMC, made their debut at the helm of Jil and the results were strong. It felt fresh and straightforward, recalling Sander's original austerity but with a lightness. Lets hope it sticks!
It's Not Even Leath-ah!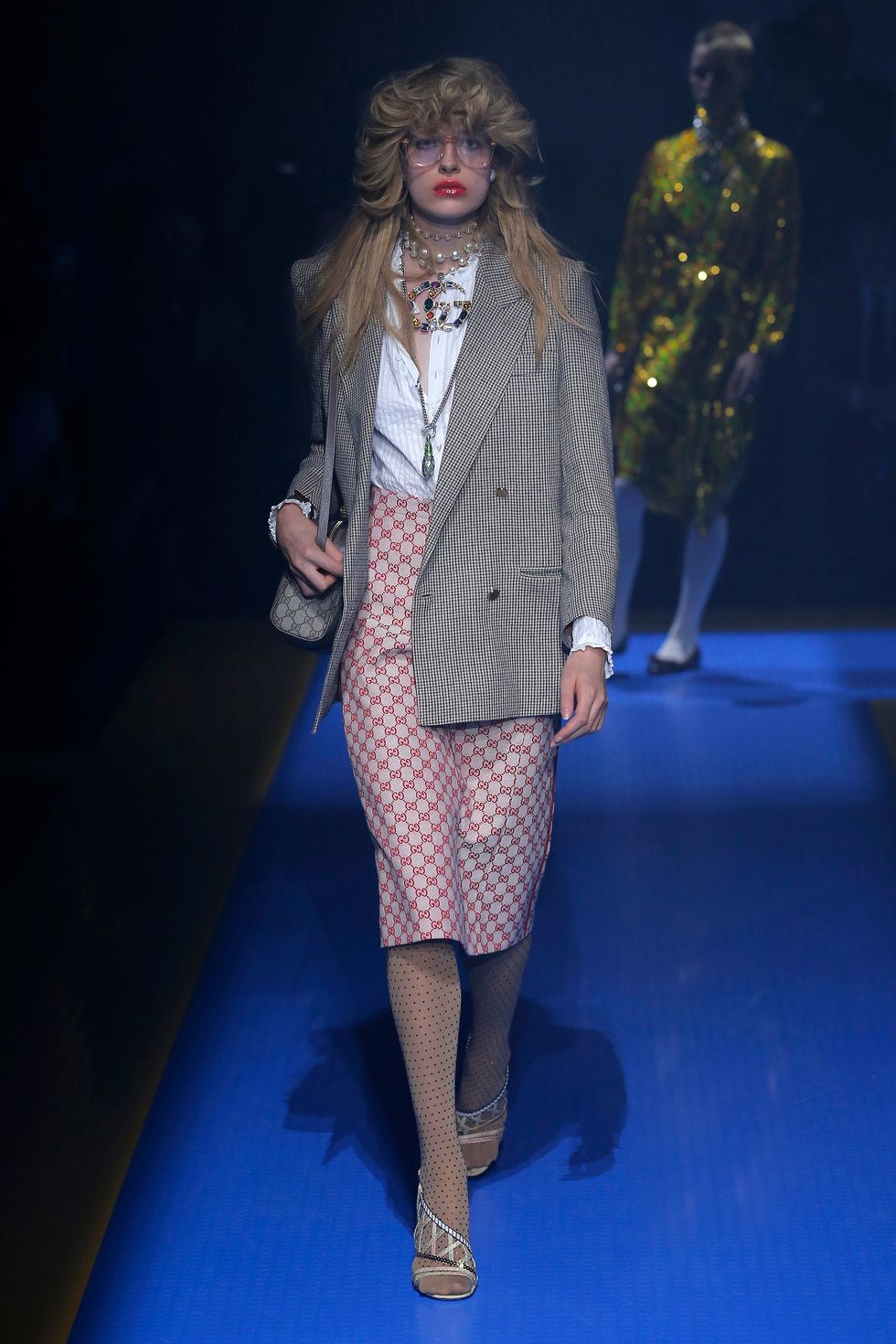 Estrop / Getty
Gucci was a wild ride as per usz, but our favorite moment was this pre-makeover Working Girl Melanie Griffith moment (daughter Dakota Johnson sat front row). Alessandro Michele doesn't take just one or two references a season but 10 or 20, and this was so perfect. In the words of Tess McGill: "You want to be taken seriously? You need serious hair."
The B*tch is Back!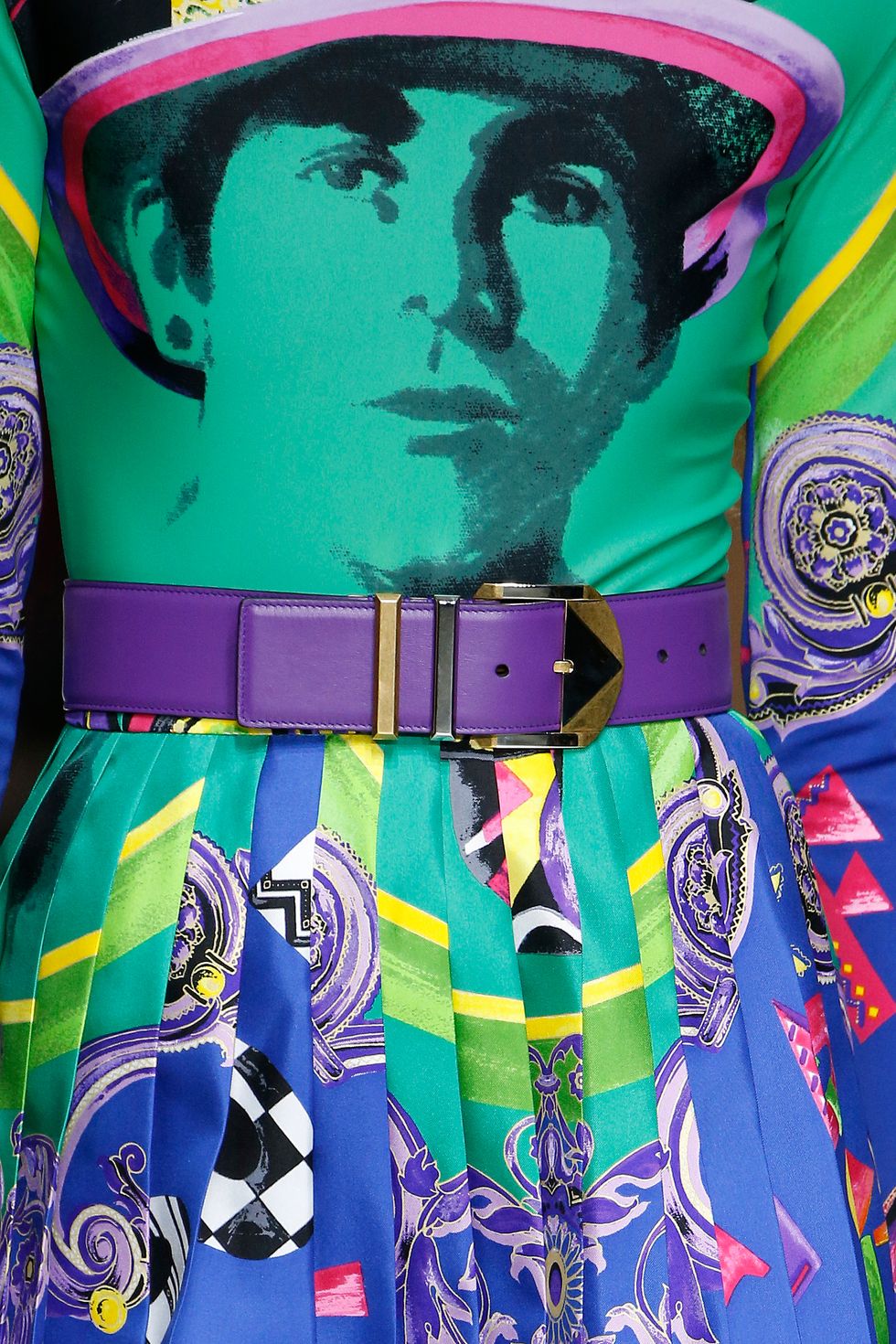 Estrop / Getty
It was kind of a big week for Elton John in Milan. Not only did his likeness appear on the reissue of Versace's "My Friend Elton" looks but he was a significant inspiration for Alessandro Michele's magpie mashup at Gucci, with his iconic glam rock costumes, platforms and shades popping up just about everywhere. On top of that, he was unwittingly at the center of the escalating Twitter war-of-our-nightmares, with President Trump calling Kim Jong Un "Rocket Man" (is that really an insult?) regarding the escalation of their nuclear arsenal. How chill! Anyway, strange, but very glam, days!
The (Miracle of) Life of Kylie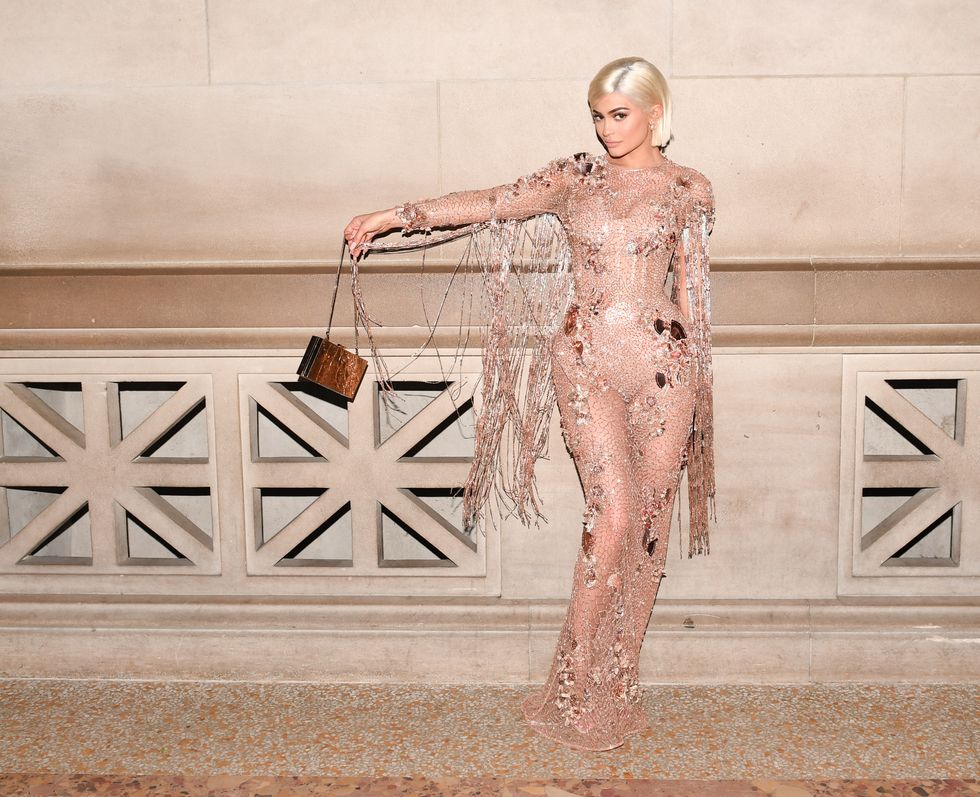 Billy Farrell / BFA
Leave it to Kylie Jenner to dominate front row chatter at Milan fashion week without setting foot in the city. The leaked news of her pregnancy was the buzz of shows and a nice breather from the possibility of nuclear winter. Kris Jenner neither confirmed nor denied the rumours in the front row at Bottega Veneta, but what a fun way to commemorate the 10th anniversary of KUWTK, by adding, a no doubt adorable, new addition to the clan.
A Family Affair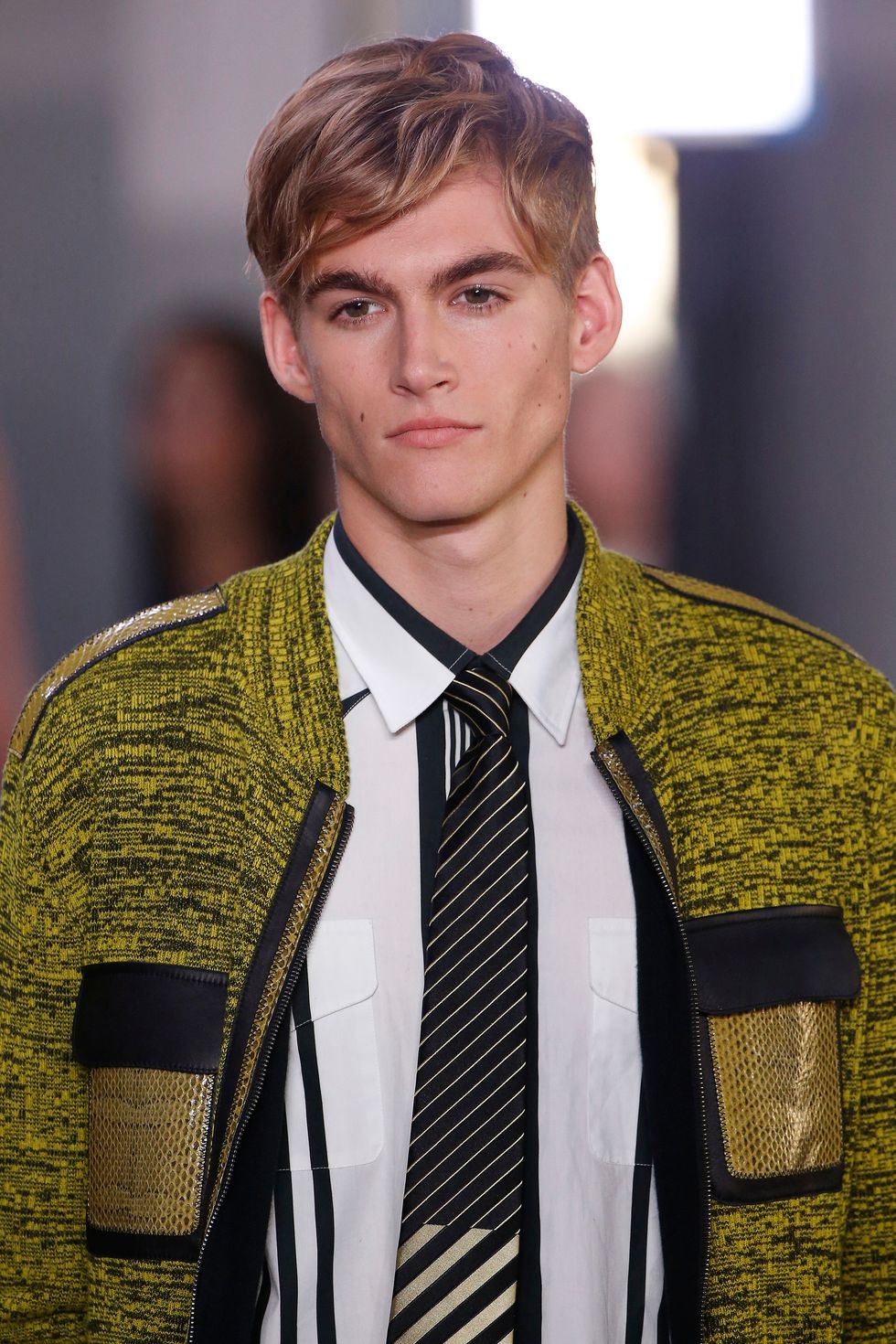 Estrop / Getty
Speaking of fabulous offspring, the models Gerber continued to make the runway rounds at just about every top show in Milan. With their mom, Cindy Crawford, in town for the epic Versace show, it was hard to tell if it was take your mom to work day or vice-versa.
Cate The Great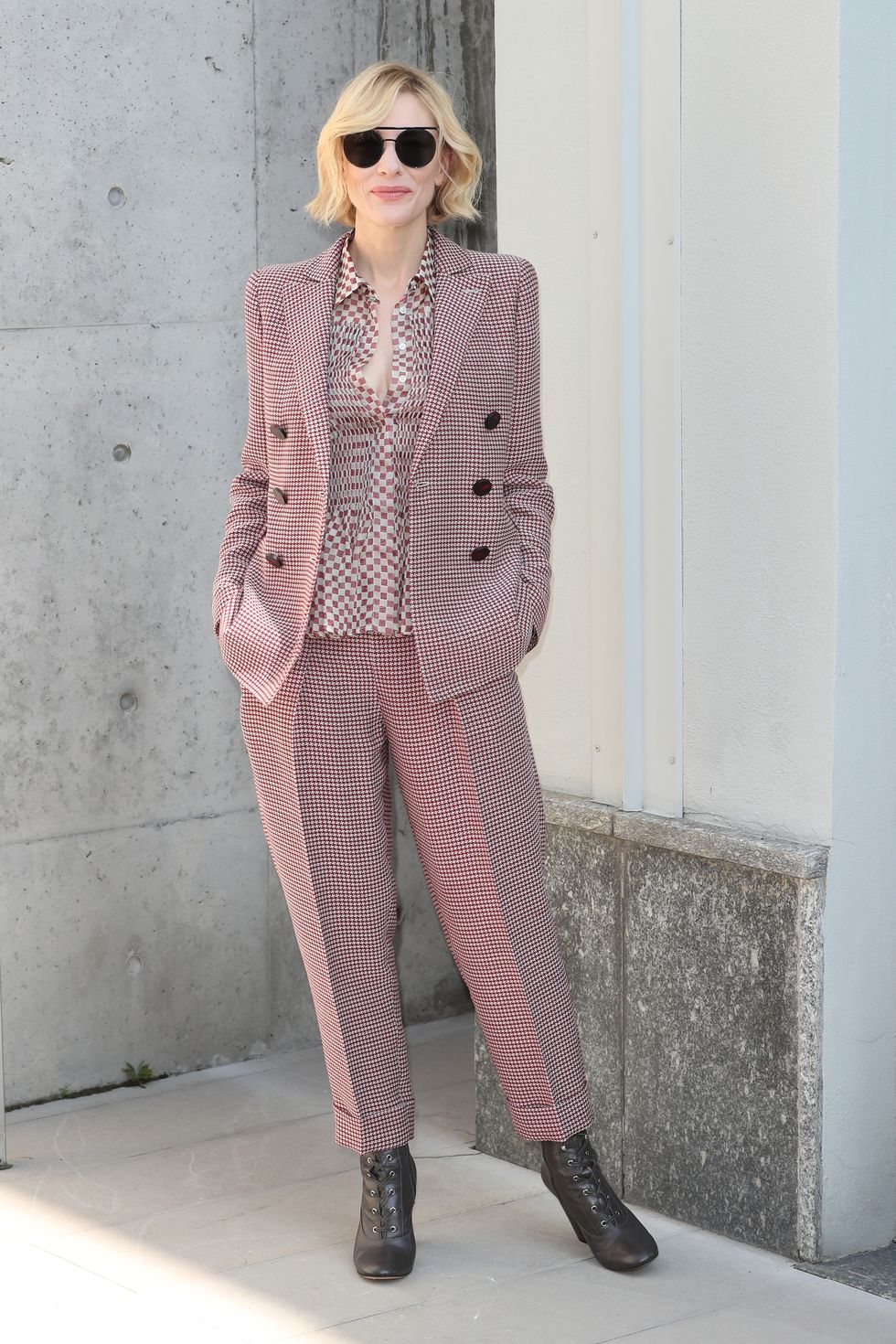 Antonio de Moraes Barros Filho / Getty
Cate Blanchett has been bringing Armani to us unwashed masses as a brand ambassador for almost a decade now, but any sighting of her, even an expected one at the Giorgio Armani show, feels like a blessing from on high. In a smart suit and fabulous sunnies, she was the picture of easy Hollywood (or Cinecittà) glamour.
Friends Forever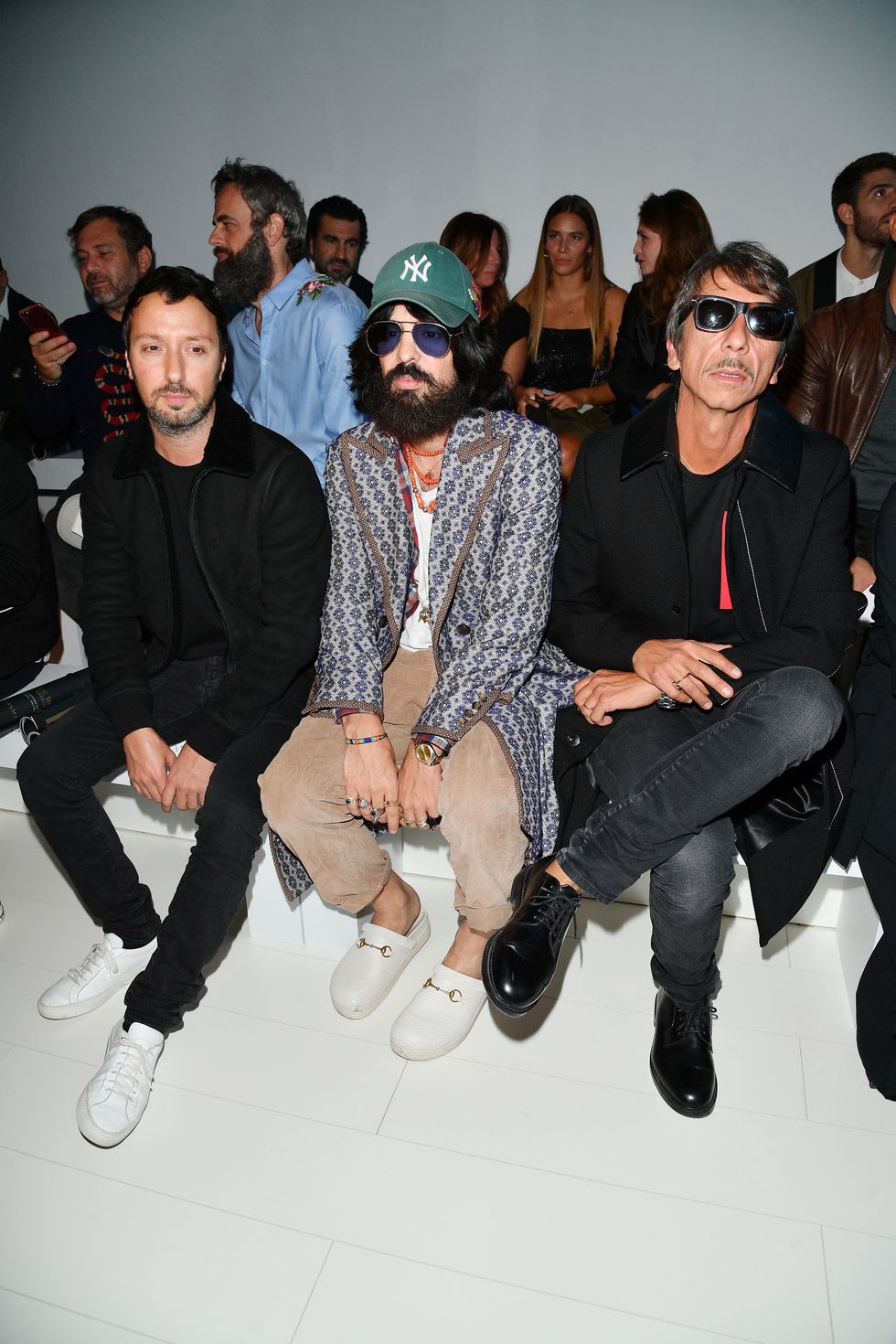 Venturelli / Getty
It is so heartwarming to see designers at each other's shows, and for Versace last week, Anthony Vaccarello (Saint Laurent), Alessandro Michele (Gucci), and Pierpaolo Piccioli (Valentino) were sat front row together in what would be a once-in-a-lifetime fashion extravaganza. Donatella is the queen of Italian fashion and it's only right to pay homage at her (Medusa-printed) altar. Those Italian designers, thick as thieves!
Red Carpet Italian Style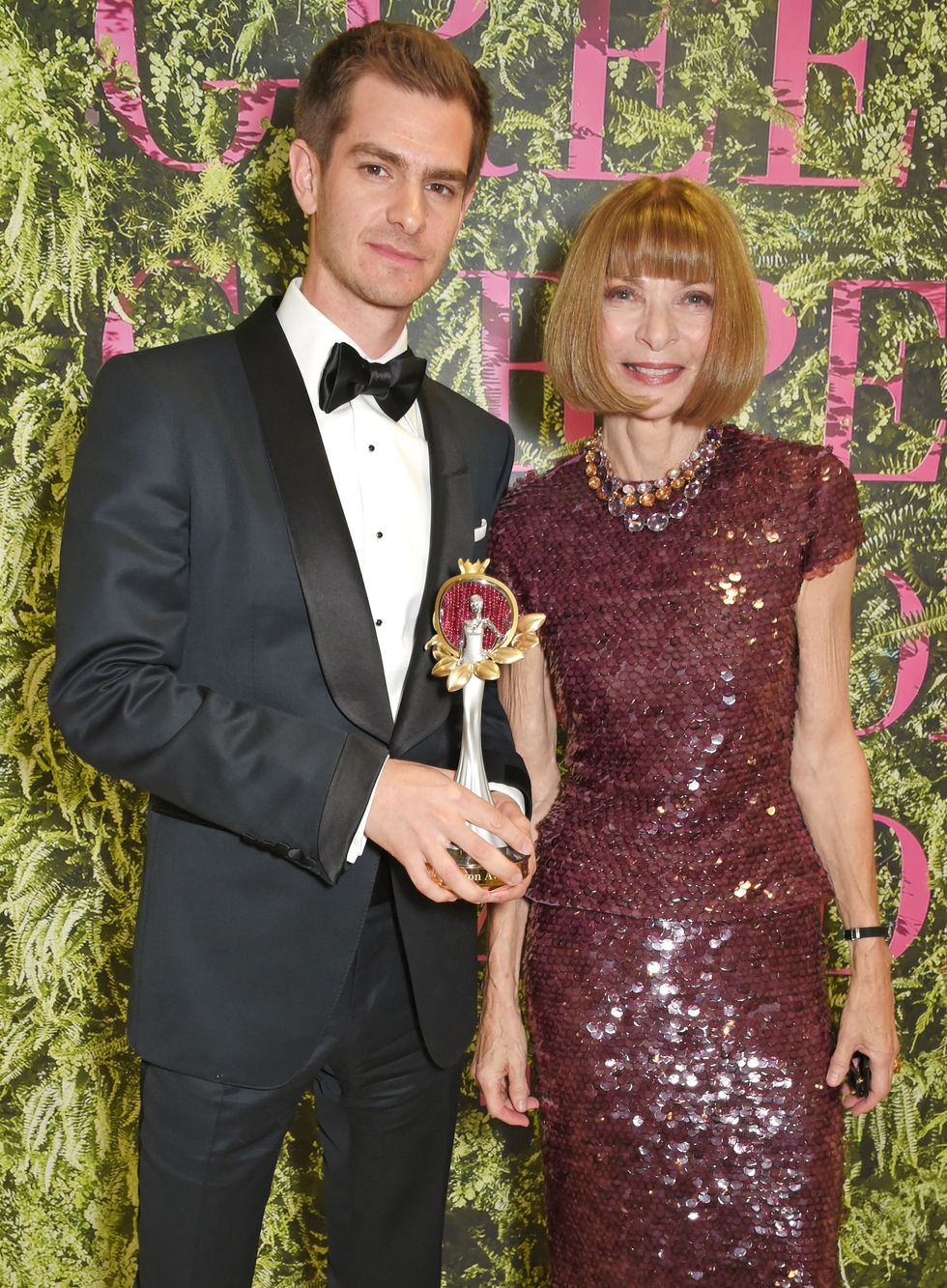 David M. Benett / Getty
Or green rather… Livia Furth's Green Carpet initiative gave its first awards ceremony at the iconic Teatro Alla Scala and all of fashion came in their eco-friendly best. Among the earth-minded attendees were Gisele (who won the Vogue Eco Laureate Award), Dakota Johnson, Andrew Garfield, and pretty much every major name in Italian fashion, because remember: the chicest carbon footprint is the smallest one.