NYFW has gotten a lot of flack lately; designers departing (Rodarte and Proenza Schouler for Paris), foregoing runway shows (Zac Posen, Narciso Rodriguez, J.Crew), a convoluted schedule, distracting street style jockeying, to name but a few of the grumbles. Yes, fashion has changed, so naturally the show paradigm is changing with it and New York is having a few growing pains. Lest we forget it was a Helmut Lang, an Austrian, who made NYFW go first in the fashion month in the 90s so as to combat accusations that American designers were copying the French (it still persists). Which is to say, the way New York presents its collections has been a meandering, and often contentious, story. The halcyon days of one-stop showgoing in the Bryant Park tents may have gone the way of the flared jean, but there is a hearty group of NYC stalwarts who are battening down the runway hatches and staying put, and thank goodness for them.
Marc Jacobs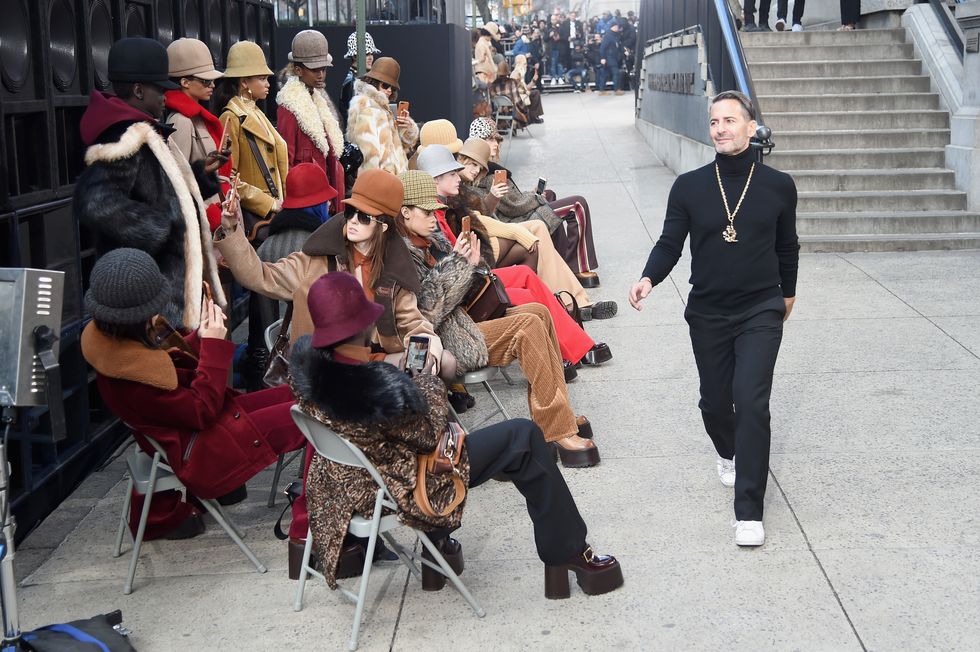 Jamie McCarthy / Getty
For the last two decades, this has been the unmissable New York show. Often at one of the two hangar size armories on Lexington or Park Avenue uptown (a minor detail: the bane of many a fashion editor who has hurried to arrive at one to find out that this season is indeed at the alternate), or at an iconic and evocative locale such as the Ziegfeld Theatre before it is gutted and transformed, the man will put on a show. From elegiac Noh-like processions with Lady Gaga to the in-reverse, inside-out fantasia for Spring 2008, there is nothing formulaic or expected ever; a Herculean feat after so many season under his MJ-studded belt. He has also moved the show from Thursday to Wednesday evening to accommodate editors and buyers heading to London in a signal that New York is taking a more diplomatic approach to keeping the international crowd interested and seats filled.

Alexander Wang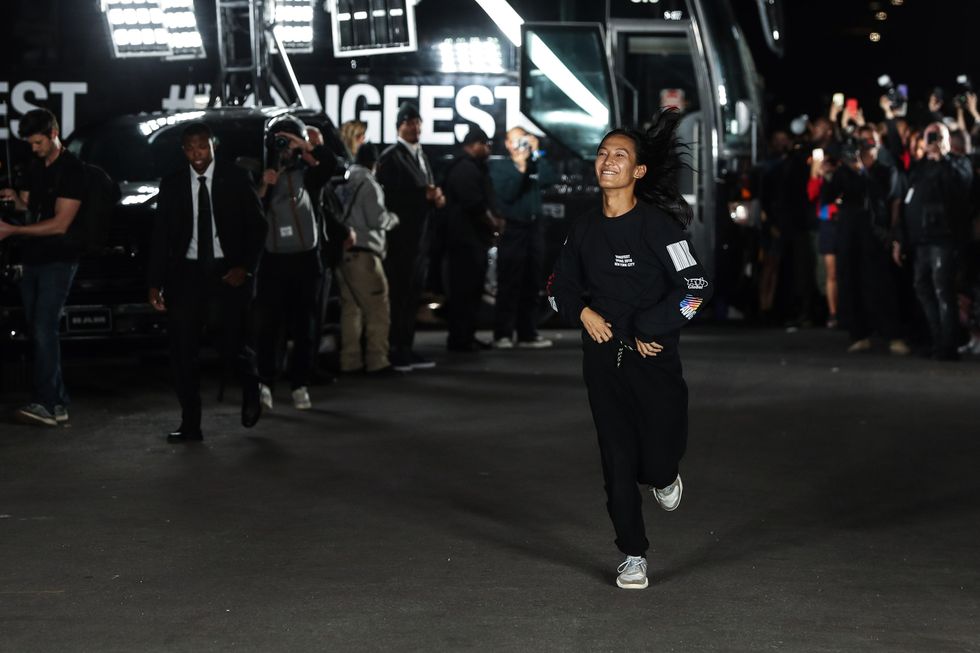 Thomas Concordia / Getty
What more evidence do you need that Wang is in New York to stay than his multi-borough romp in a party bus over the weekend?The downtown wünderkind-turned-international fashion star after a stint at Balenciaga wasted no time digging his black sneaker heels into his adopted hometown after Paris and giving us shows worth remembering. Yes he kept a lot of *very* important people waiting on Saturday night, maybe not the best look, but a little time in Bushwick is good for the soul(less). Never leave us!
Calvin Klein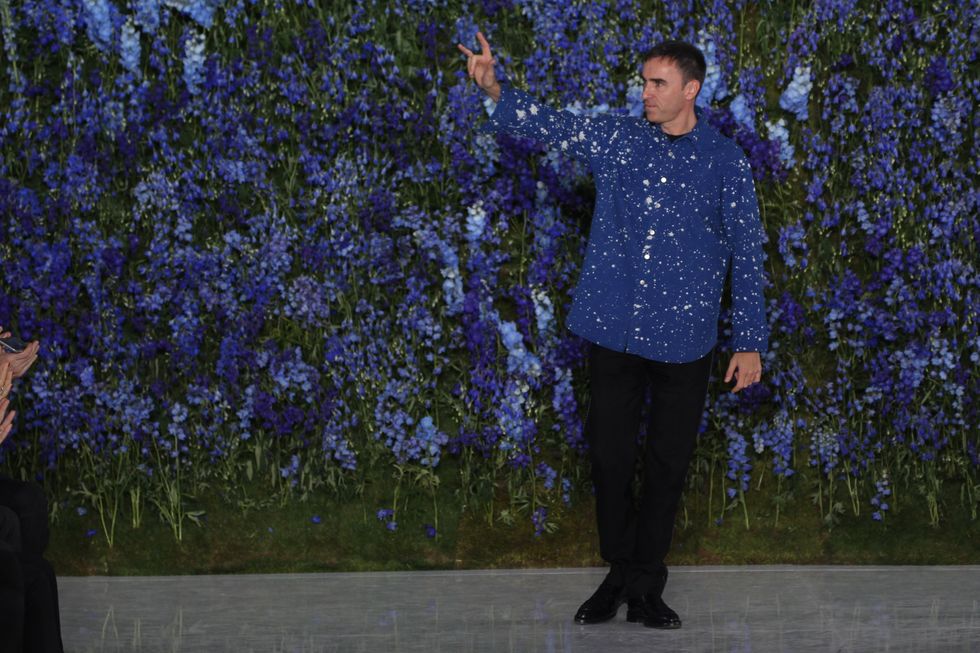 Antonio de Moraes Barros Filho / Getty
The Belgian Raf Simons is definitely doing a lot of heavy lifting for American fashion at the moment what with his takeover of iconic US brand Calvin Klein and his recent CFDA Award wins for both mens & womenswear (a feat only ever achieved by Mr. CK himself). He is winning raves for his two outings for the label so far, and with an energetic re-design of the flagship store on Madison Avenue, he is making his presence on the streets of New York very apparent and hopefully permanent.
Jeremy Scott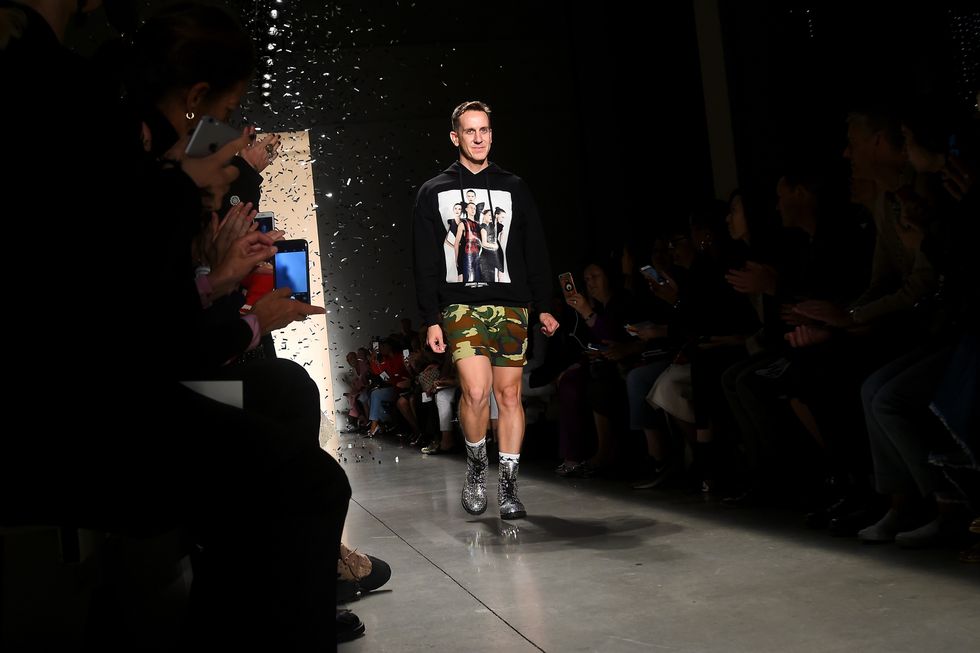 Ben Gabbe / Getty
20 years at the topsy-turvy peak of fashion is like a century in any other endeavor, and Jeremy Scott celebrated just that this past weekend. With an international exposure through his winning directorship of Moschino (and unflagging support from industry kingmakers like Karl Lagerfeld, Carlyne Cerf and Carine Roitfeld), he never forgets where he came from. With a rollicking anniversary show starring Gigi Hadid, Karlie Kloss and aughts icon Devon Aoki, he proved with his deliciously deranged junkyard glamour that New York isn't just suits and separates.
Ralph Lauren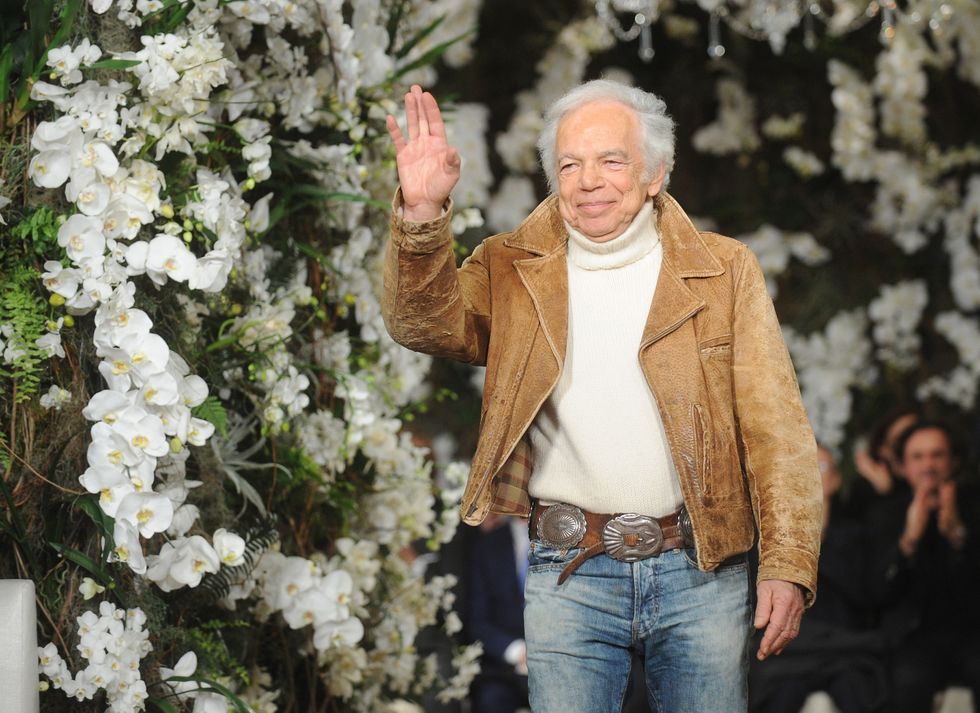 Desiree Navarro / Getty
The headlines for the Ralph Lauren brand have not been the most winning in the past year, but that is hardly stopping the 77-year-old king of American glamour. Instead of scaling back to say showroom appointments or no-shows altogether, RL is hosting a blacktie show and candlelit dinner at his legendary "garage" ( car palace?) in Bedford Hills, NY, on Tuesday. Who knows what the future will hold for the brand's bottom line, but you can be sure Lauren will not let a global economy and a little bad press cramp his grand style.
DVF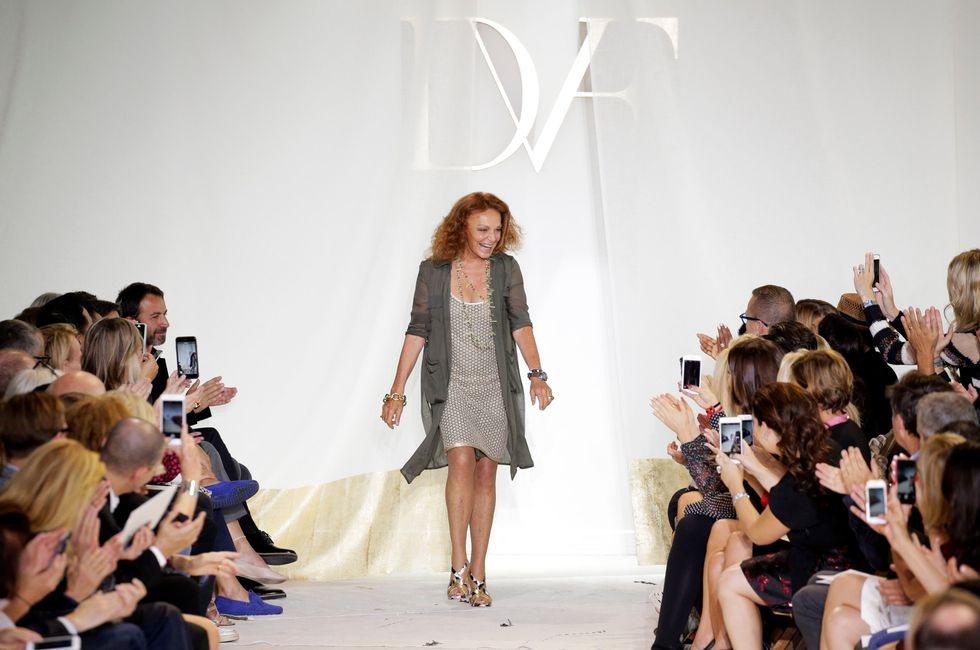 JP Yim / Getty
Even after she passed on creative duties of her signature brand to Brit Jonathan Saunders last year, her Sunday night show is still a stalwart of the NYFW schedule with no indication of departing. She was perhaps the first Belgian savior of American fashion in the 70s and New York has never been the same since.
Michael Kors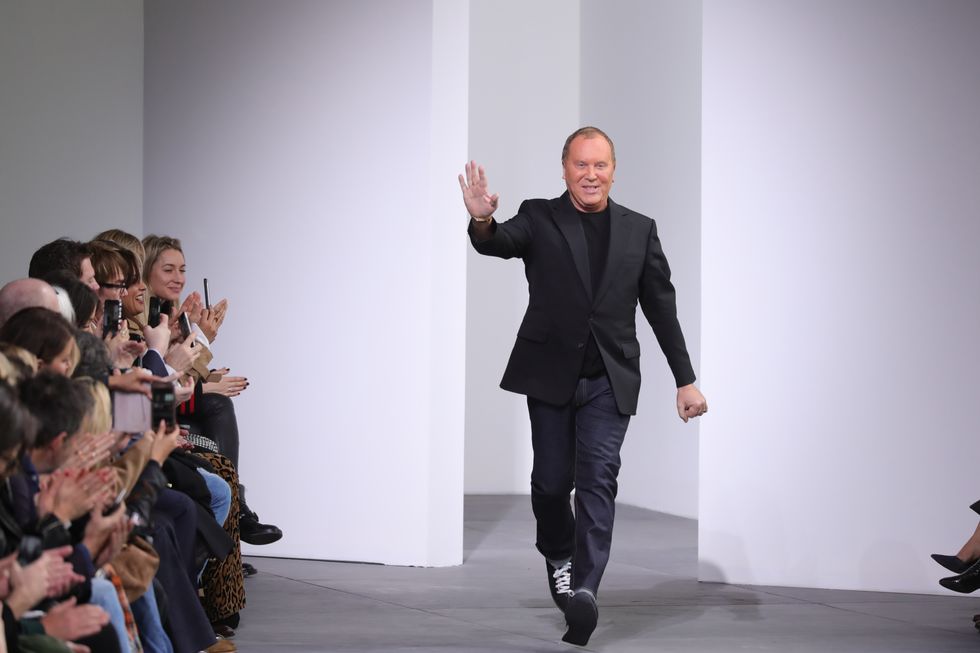 Antonio de Moraes Barros Filho / Getty
As legend has it, it was a plaster disaster (some overly amped speakers broke open the ceiling above Suzy Menkes and Carrie Donavan) at a Kors show in the 90s that galvanized a more formal organization of what we came to know as NYFW. But Kors did not let that inauspicious mishap stop him from becoming one of the top shows of the week, historically bright and early on Wednesday morning. Full of celebrity devotees, cheery models and music, Kors knows exactly what his audience wants and serves up such a show unerringly season after season, with no sign of stopping.
Tom Ford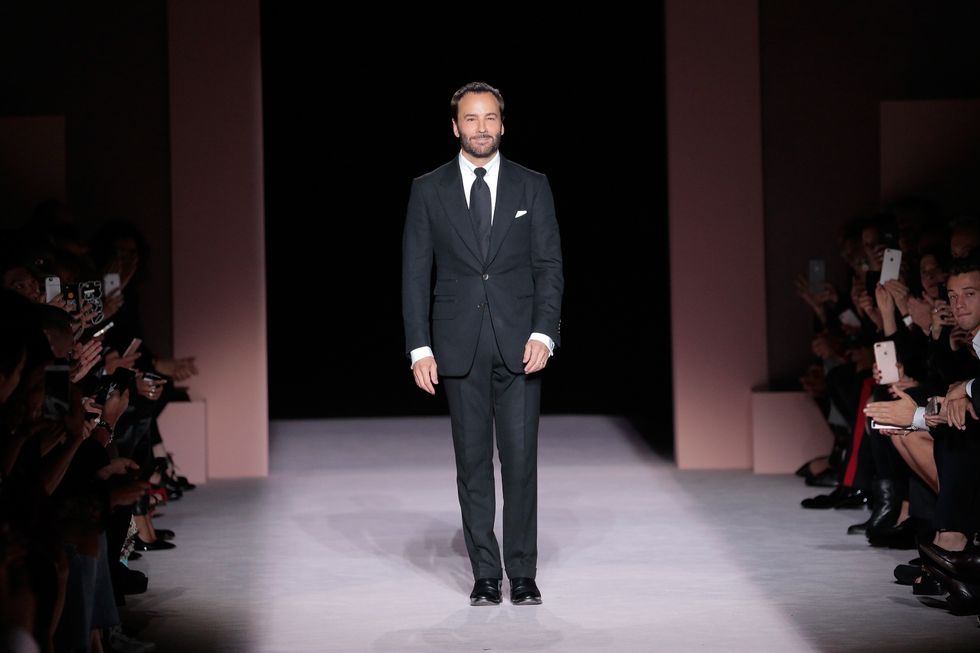 Randy Brooke / Getty
After a quick departure to LA, Ford returned this season to New York with a flirty and F*cking Fabulous show to kick off the New York collections. Done with his see-now buy-now experiment of last year, he is back to delivering just the kind of daring and debonair show that he is known for. If he can wrangle Beyoncé to walk for him (as he did for his original comeback show in 2011), who knows what kind of fashion sorcery he is capable of, and we hope it will always be a part of NYFW. And with a newly revamped store uptown as well, it seems his well-heeled foothold in New York is glamorously secure.