The parent of a newborn baby born in Canada has elected not to assign their child a gender at birth—and surprisingly, Canadian government is respecting their wishes legally. In what's being hailed as a possible "world first," the parents were issued a health card for their child, Searyl Atli Doty, that doesn't specify male or female as their gender. Rather, the gender was marked with a "U," which presumably means "unspecified" or "unknown."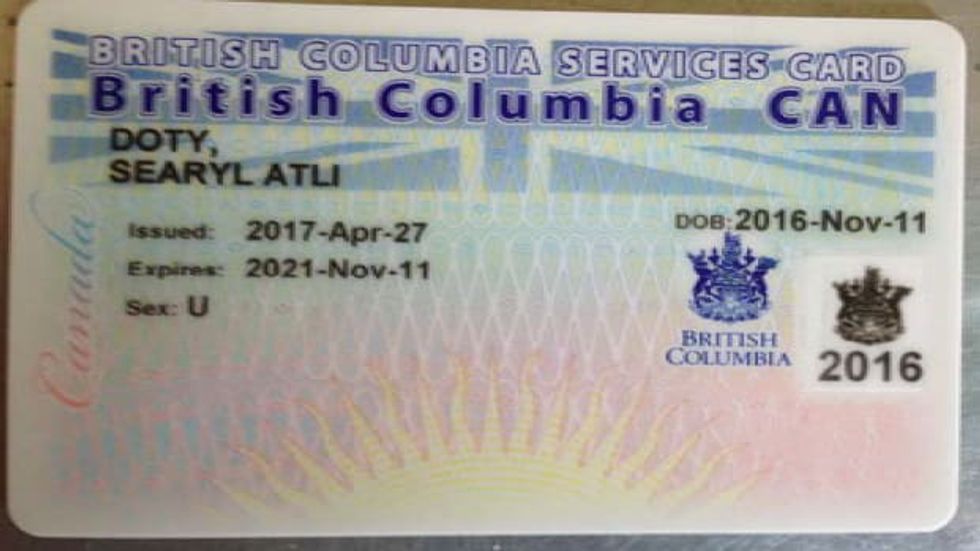 According to a statement from parent Kori Doty and the Gender-Free ID Coalition, who fights to remove gender and sex assignments from all medical documents, Searyl was born in British Columbia outside of the traditional "medical system" and did not undergo a "medical gender inspection" upon birth. As such, Doty initially had a difficult time acquiring a birth certificate or health card with their child's proper gender, until earlier this week.
Doty is a non-binary trans person, and chose not to assign their child a gender on the birth certificate because they believe it "amounts to a violation of Searyl's rights as a Canadian citizen to life, liberty and security of the person, to freedom of expression, and to equality under the Charter of Rights and Freedoms."
"I do not gender my child," Doty said. 'It is up to Searyl to decide how they identify, when they are old enough to develop their own gender identity. I am not going to foreclose their choices based on an arbitrary assignment of gender at birth based on an inspection of their genitals."
Photos: Facebook / Kori Doty

Sign Up For The Morning PAPER