In the last few years, old-school grocery stores like Gristedes, D'Agostino, and Food Emporium have been eclipsed by the funkier, livelier Whole Foods and Trader Joe's, but there's a Manhattan grocery emporium that's better than all of them put together. It's Kalustyan's (123 Lexington Avenue), a staggeringly inclusive, exotic haven for anything and everything food related in the area affectionately known as Curry Hill.
The store was originally opened by a Mr. Kalustyan in 1944 as a hotspot for Indian spices and groceries. In the 1960s, the neighborhood became even more Indian flavored and the place grew in popularity. And today, as owned for almost 20 years by Bangladeshi businessmen Sayedui Alam and Aziz Osmani, Kalustyan's is a sprawling, three-floor extravaganza, with merch expanded to include stuff from Armenia, Bangladesh, Egypt, Guatemala, Indonesia, Jordan, Sri Lanka, Tunisia and many more countries, all represented with fine items designed to titillate your taste buds.
The place is an aromatic wonderland, with shelf after shelf of lentils, oils, chutneys, pickles, and rices. There are curry pastes, vinegar, breads, coffees, and teas. There's also a café/deli on the upper floor, and when you get home with your bags of delicacies, you can go to their sites (like kalustyans.com) and mail order business and summon for some more deliciousness.
A recent trip to this staggering place reminded me that food is the new porn. On the ground floor, I was greeted with bags of Turkish pistachios ($19.99) and California almonds ($10.99), plus jars of dried apples, pineapple rings, and Persian raisins by the pound. Then came shelves filled with items like chestnut puree, rice cookies, honey almond butter, marzipan, and walnuts. Drooling yet? Getting aroused, I kept going and found Turkish style mini pistachio baklava for only $1.39 a piece. (Also, Lebanese style baklava and Greek walnut baklava and just about any kind of baklava you could imagine.)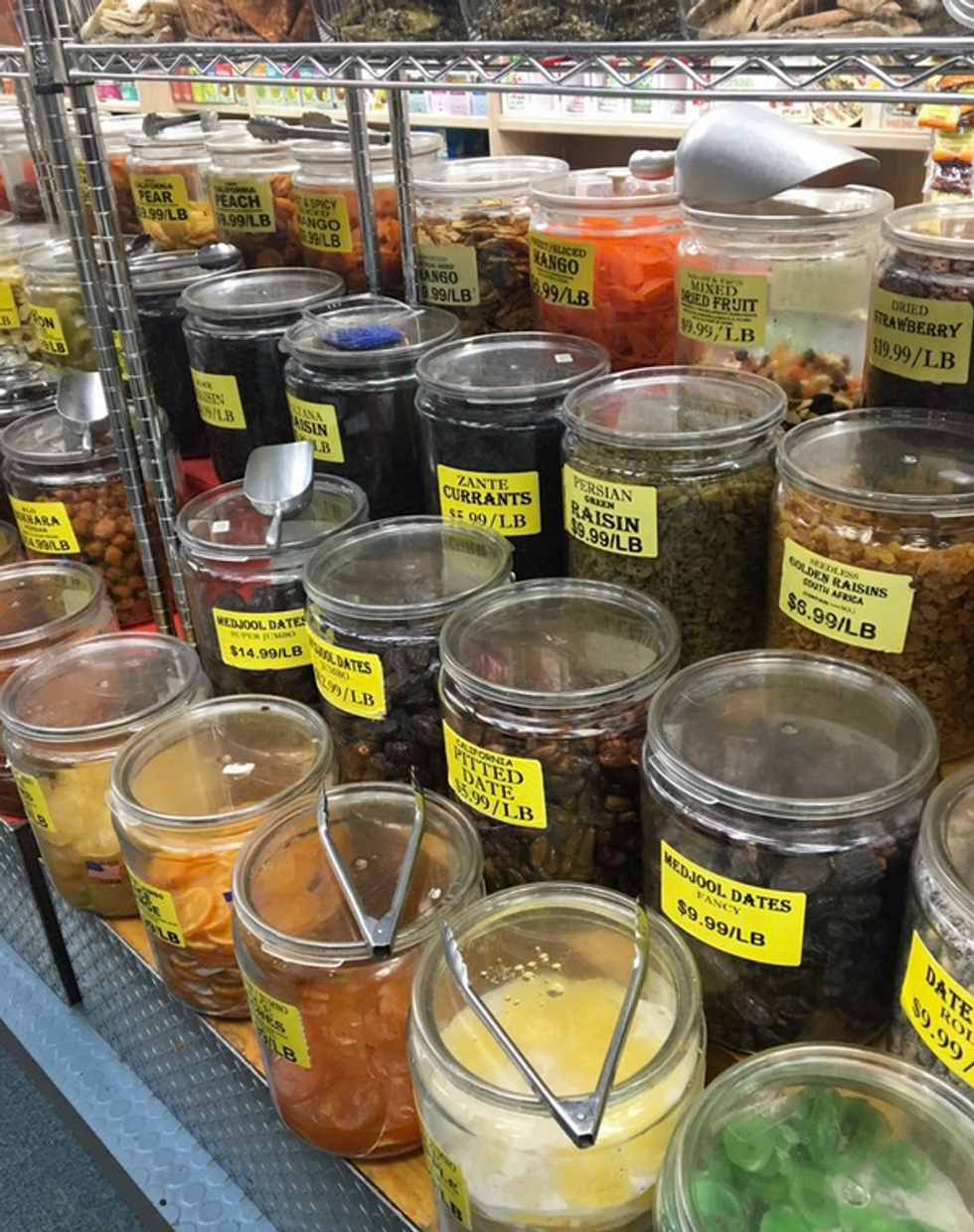 Then came a wall of teas -- chamomile flower, hibiscus flowers, and on and on. I kept going, into an entire room filled with powders -- from cantaloupe powder to grape skin powder and beyond. There was also an unassuming rack dotted with various shampoos and scrubs. (Yes, this place has everything.) And then I found Amazon mango tea and blood orange tea, and…after a few steps leading down, I ventured into a whole other arena, where there was coriander chutney, blueberry puree, falafel mix, pickled ginger, cabbage leaves, and gherkins. In the back were exotic cheeses and olives, and if you keep walking, you find Kalamata olives ($5.99), Alfonso olives, oil cured olives, Greek black olives, cracked green olives—almost as many types of olives as there are of baklava. Then -- are you spent yet? -- you bump into sausages, low fat yogurt, Russian zucchini spread ($4.99), Mexican mole ($4.99), rows upon rows of hot sauce, plus dried mushrooms, pesto sauce, coconut milk pistachio oil ($14.99), and pomegranate honey ($13.99). At the far end of the downstairs level is a stairway leading up to a room full of pots, pans, and tortilla makers, which makes sense; what good are all these extraordinary delicacies without things to cook them in? Go back down, swirl around, and go up two levels and you're at the café/deli, where you can order falafel, moussaka, Greek salad, and lentil fritters, and sit there and eat it! You can also pick up some chocolate almond coffee ($11.99/lb.) while you're up there. And by that point, if you're not completely done, then you're not human. But please rally and go home for the online ordering, as I suggested.
I am not being paid by this place -- I did not even get free chutney -- I just wanted to relate my feelings on a New York treasure that not nearly enough people know about. The customers there seem adventurous and food-positive, while not being pretentious about it, and they take their time combing through the shelves for maximum wonder. Go join them, then go to Gristedes and get some napkins too!
All photos via Yelp