It doesn't take long to realize that Denise, Marisol, and Caylen are connected. A few minutes into checking out their incredibly vibrant, fun Instas, and things begin to overlap — turns out all three vintage collectors are based in L.A., and are bonded by a mutual love of retro kitsch, '60s brights, and the most colorful of flea market and thrift store treasures.
Naturally, they're not one in the same — each has their own idiosyncratic backstory and style. Denise, who runs Pink Fink Vintage, got into thrifting as a kid during summers spent with her grandparents; home in LA, she was watching reruns of That Girl, The Monkees, and The Munsters with her mom.
"She used to tell me about all of the fashion trends, style icons, and other stuff she grew up with in the '60s and '70s, so it just stuck with me. Also, things like Pee Wee's Playhouse and listening to punk bands as an adolescent totally propelled my desire to just let my little freak flag fly," she writes. "I've always liked to express myself through my outfits, but I didn't feel 100% comfortable in my own skin until about two years ago, but I haven't looked back since."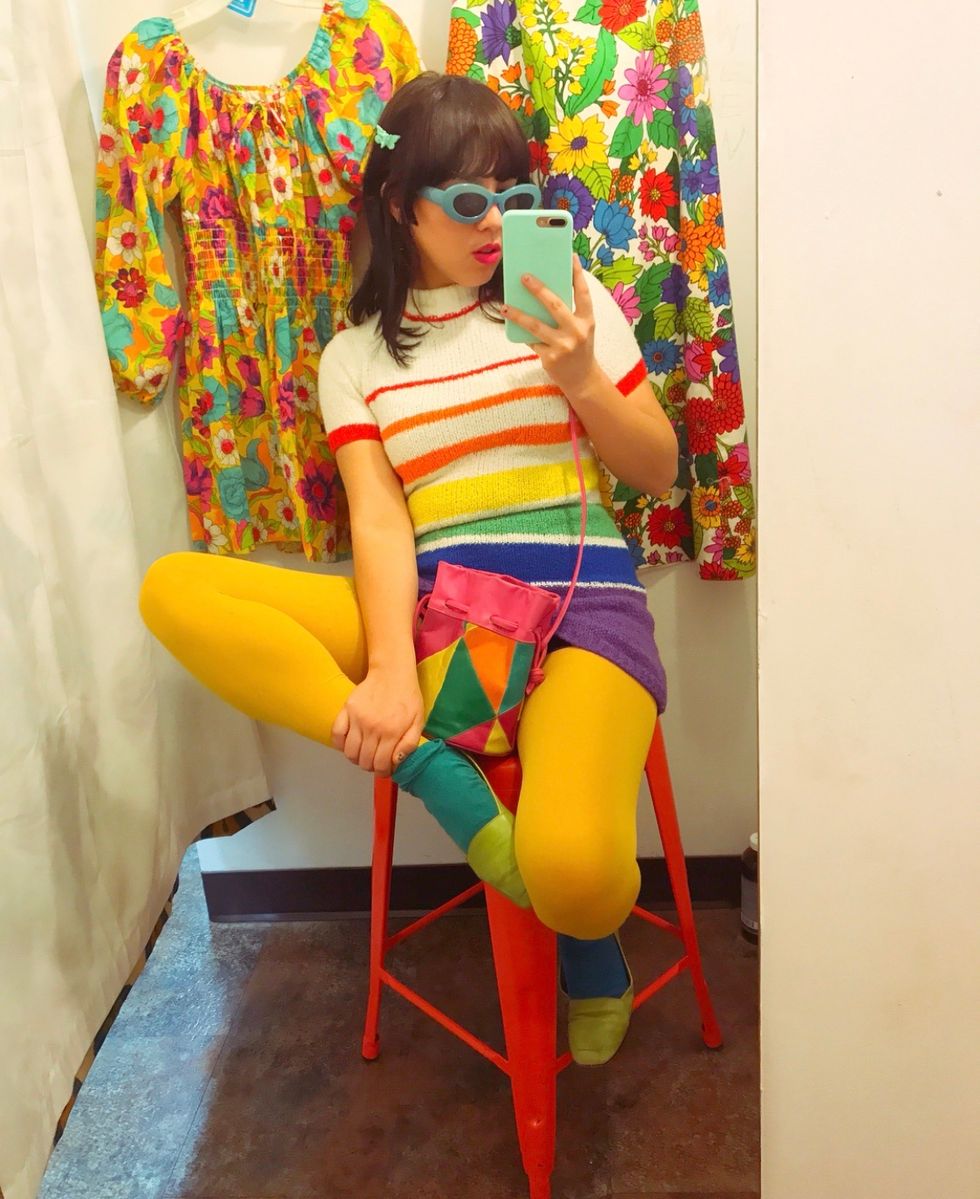 Caylen
Marisol, who sells through Whurl, an online vintage marketplace, has a background in fashion; from time to time, she designs and constructs her own pieces. "I can draw, paint, sew, glue, tape, and sculpt whatever," she says. "I like to get crafty." She was in a car club for a while with her her 1969 Mini Cooper that's currently awaiting repairs — and is also tattooed on her arm. ("Just so you understand how serious I am about classic minis," she adds).
Right now, she's got tunnel vision for '60s and '70s kitsch, but that could change: "If I had to choose a song that best described my style, it would be 'She's a Rainbow' by the Rolling Stones. Also, I think about that scene in Dumbo a lot when he accidentally gets drunk and all the pink elephants start dancing. That psychedelic part reminds me of all the stuff in my closet."
Caylen runs Shop Daizy Lemonade and just opened a brick-and-mortar shop, The Style Shack, in Long Beach her friend Molly, which sells everything from clothes, cassettes, kitchen items, toys, collectibles, "and basically everything you didn't know you needed." She's huge on '90s and Y2K nostalgia, Disney included. (If you can guess what TV show the IRL shop nods to, then maybe you are, too.) Her friends — all of them magical beings, she notes — are another source of inspo.
Check out our interview with all three collectors, below — you might snag some insider vintage shopping tips in the process.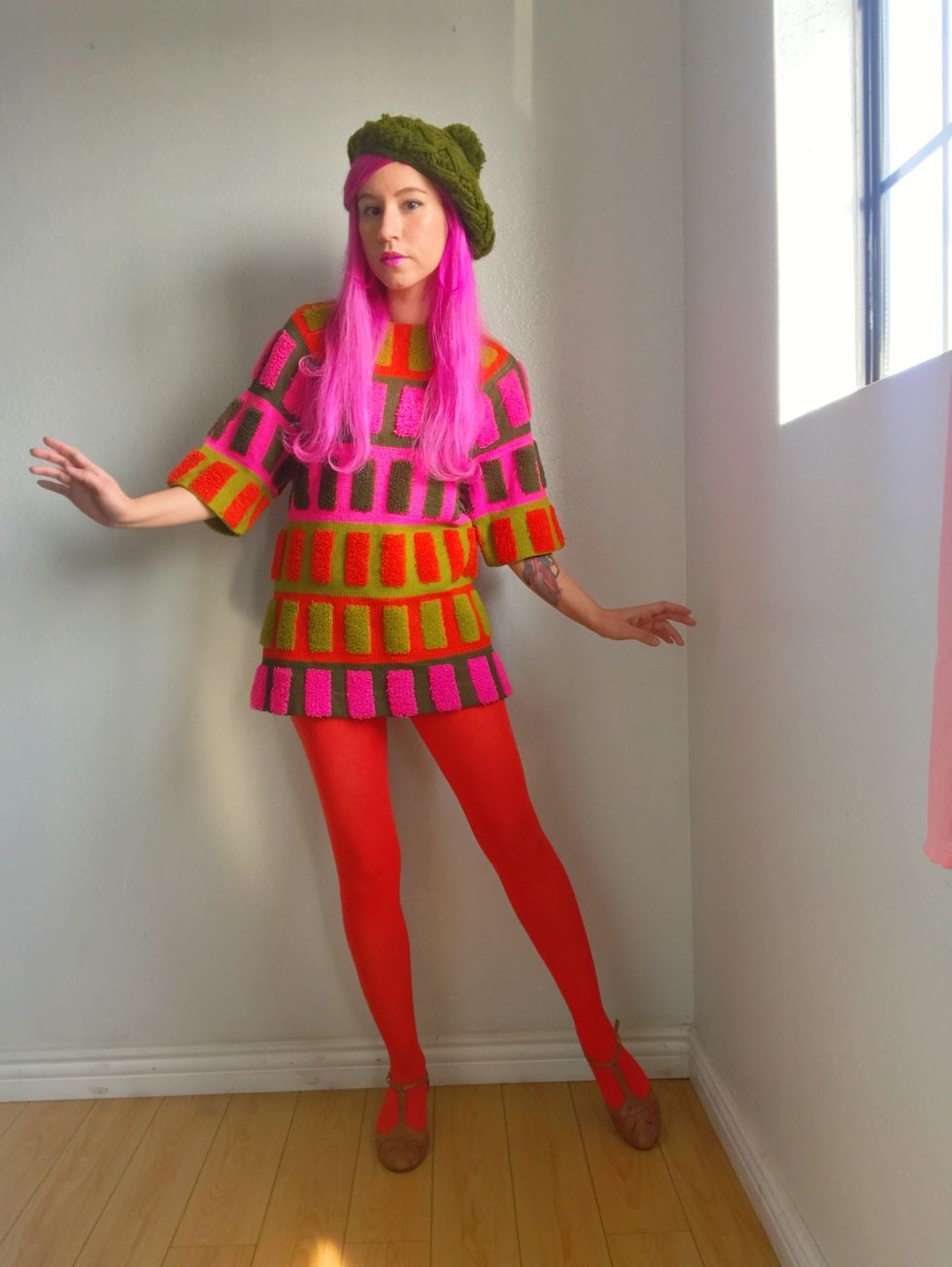 Marisol
What's your favorite piece in your collection?
Denise: I think it may be a tie between this green '60s romper that has white question marks all over it and these handmade '70s flares with smiley faces all over.
Marisol: I love many but for different reasons. I have a trapeze maxi dress with a beautiful fit and print. I feel so comfortable and fabulous wearing that dress.
Caylen: I have an amazing Peter Max scooter dress from the '60s! Still saving it for the perfect occasion to wear it.
When did you begin collecting vintage?
Denise: Around 6 years ago, I started collecting more vintage dresses and stuff opposed to old vintage t-shirts that I'd been collecting before that.
Marisol: Since I was a kid, before I knew the term "vintage." I just liked old weird stuff. My mom would go shopping at the local Choc thrift store, I loved that place. It was huge. I wish it was still around. I got serious about it when I was a teenager though, I would always go thrifting with my friends. Then they grew out of that but I stuck to it and kept it going.
Caylen: I started collecting vintage when I was in 9th grade. I would buy stuff to resell online and use the money to hang out with my friends.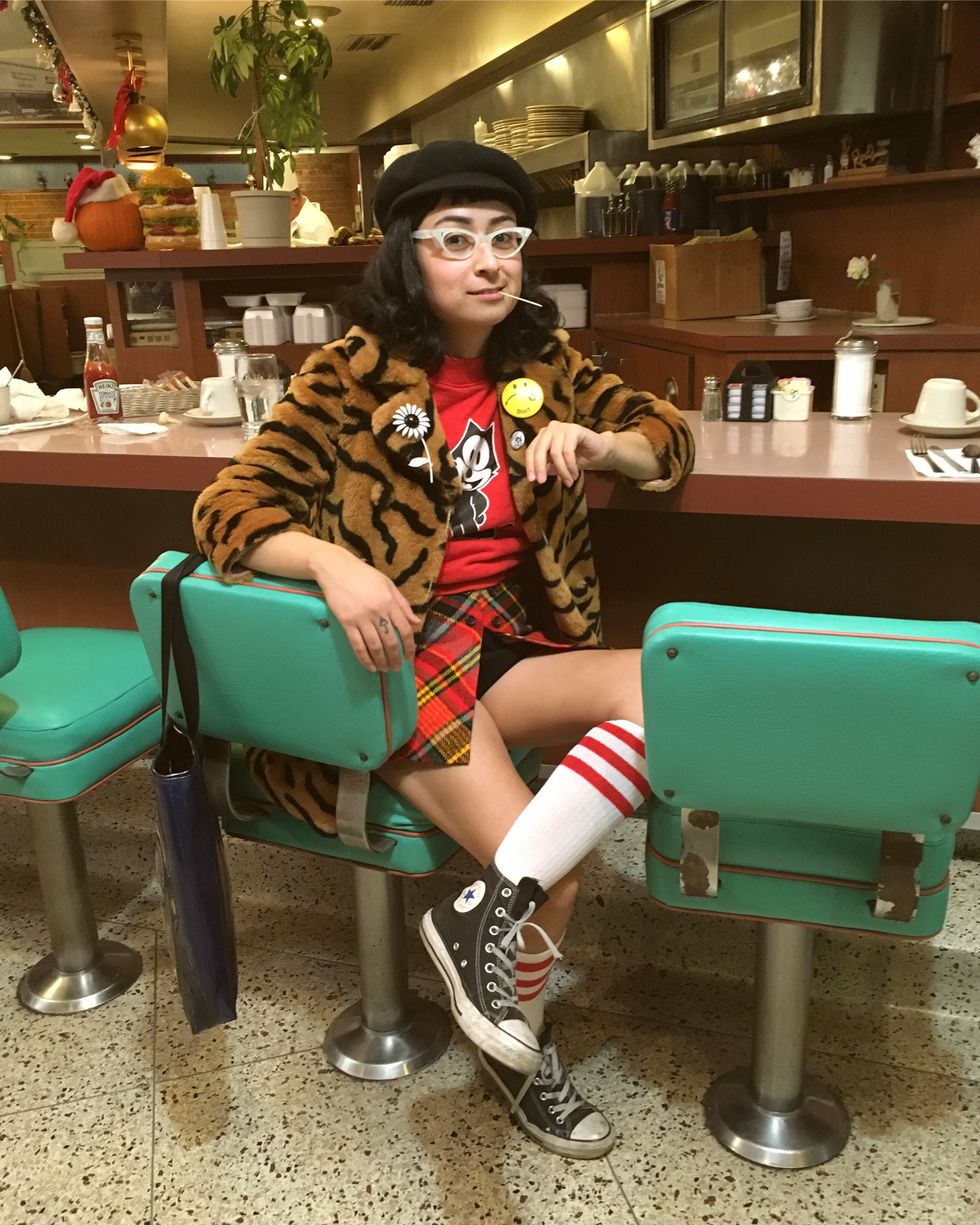 Denise
What's your favorite place to shop?
Denise: I love thrift stores and flea markets the most because I live for the thrill of the hunt.
Marisol: Flea markets for the win! There's a surplus of odd rarities that I love.
Caylen: I love Far Outfit's (Long Beach) dress selection right now. They have cute patches and jewelry too. Right across the street is Retroda, which sells vintage Disney and cute nostalgic toys and games from the '60s - '90s. I love their pin collection too! Big Bud Press in Echo Park and online is my current fave in Los Angeles. Local flea markets are always fun too.
Is there any piece in either of the other girls' collections that you super love?
Denise: Caylen has so many incredible things in her personal collection, but also in her shop that I can't even choose. Marisol too, but I recently saw her in this amazing pink fluffy coat that matches her hair and it looked stunning on her!
Marisol: Wow, there's so much good. Caylen's got some super cool gold checkered holographic Dr. Martens. They're so difficult to find and in my size! Denise has a pair of happy face pants that I super love! Vintage smiley face print is the bees knees.
Caylen: I love the blue overalls a rainbow collared shirt look that Marisol designed. Anything they both wear is amazing. I love how they both style their looks.
Photos Courtesy of Denise, Marisol and Caylen