We've heard spins on LA rapper Blueface's nasty, charismatic "Thotiana" from all walks of hip-hip royalty. Nicki Minaj, Cardi B, Young M.A., Soulja Boy, Tyga, Desiigner, YG, DDG, Slim Thug, Cuban Doll and others have all remodeled its wordplay-ready bars and unforgettable hook in their own images. But although Nicki ("bust down, barbiana"), Cardi ("home with my kid, mommiana") and Young M.A.'s ("I made that pussy wet/ she need a moppiana") were full of superb "iana"-rhymes and sex flexes, the most inventive cover of "Thotiana" on the Internet is by a little-known DIY artist named Tama Gucci.
Tama Gucci, real name Kymani Floyd, is a queer Miami singer-songwriter and model who crafts viral tweets and vulnerable lo-fi neo-R&B, inspired by the likes of Kelela, Brandy and Imogen Heap, in his bedroom. A hot-box session in his bathroom resulted in the clip of his soft, gentle "Thotiana" cover that he dropped onto Twitter this Tuesday.
The way Gucci croons "thotiana" like its the most beautiful name in the world hit Twitter right where it hurts. Under his touch, the thirsty banger is transformed into a tender, ethereal alt-R&B ballad. He keeps the song's raunchy playfulness in tact, but thotiana becomes an empowered character, who's there to get her own: "Tell him you need a rack to get ride/ of this babianna/ then use the money to get ya nails done/ and do some shopping." Within hours, the clip had hundreds of thousands of views, and by popular demand, he released a full single on Soundcloud later that day.
The song, as he points out, barely does justice to his raspy, mesmerizing vocals, but it's a perfect example of his gorgeous production and blunt, clever lyricism that can be found throughout his Soundcloud and Spotify archives.
PAPER called up Tama Gucci to get the story on how "Thotiana" went viral, life as an artist on the Internet, and Miami's queer music scene.
Tell us about yourself.
I'm from Miami, Florida. I'm 21 years old. I'm a Leo, if you guys care.
Oh, we care.
I'm a Leo from Miami. I've been making music for about three or four years now. But I just started producing my own music this year. I have a lot of really talented producer friends, and I'm grateful for that. The way I want to make things is very spontaneous, and now that I know how to produce, it's a whole new horizon. I've been making a lot of fun things, which is what led to this whole "Thotiana" thing. I started performing for the first time outside of my bedroom last year. It went great, and then I performed in everywhere in Miami that I said I wanted to. So I've been performing for a couple of years, but I've been making music for four or five, just for fun.
Are you a part of a music scene in Miami?
The underground queer scene here is so fresh, it's up and coming. There's a lot of things that still haven't come to the surface, a lot of great artists. It's refreshing to know that you can create these things and set the foundation for something new, but it's still very small, very very small. So, that's where the Internet comes in.
It seems like the Internet kind of been a big part of your identity as a musician.
Yes, I love Twitter. Social media definitely has made it a lot easier, one because I'm doing this full-time and I'm pretty young. And I like to customize my look, so it's kind of hard to get a job with pink hair. It's kind of like the key player. Miami is Miami to everyone, but my scene and the music that I make and the things that I do, it's still kind of hard to put it at the forefront here because it's not what typical people are used to when they come to Miami. But on the Internet, people just get it.
Do you think the Internet has created places for people who aren't accepted in other communities?
Not necessarily who aren't accepted other places, but where my "normal" is something that strange, where my normal is the normal. It's a community.
So, start from the beginning about "Thotiana." Was it created in your bedroom?
No! My "Thotiana" cover was actually created in my bathroom. I made it in my bathroom, because my smoke detector was like, beeping while I was smoking so I had to go somewhere. So my bathroom is where I recorded the video, just a random hotbox session in my bathroom. [Laughs]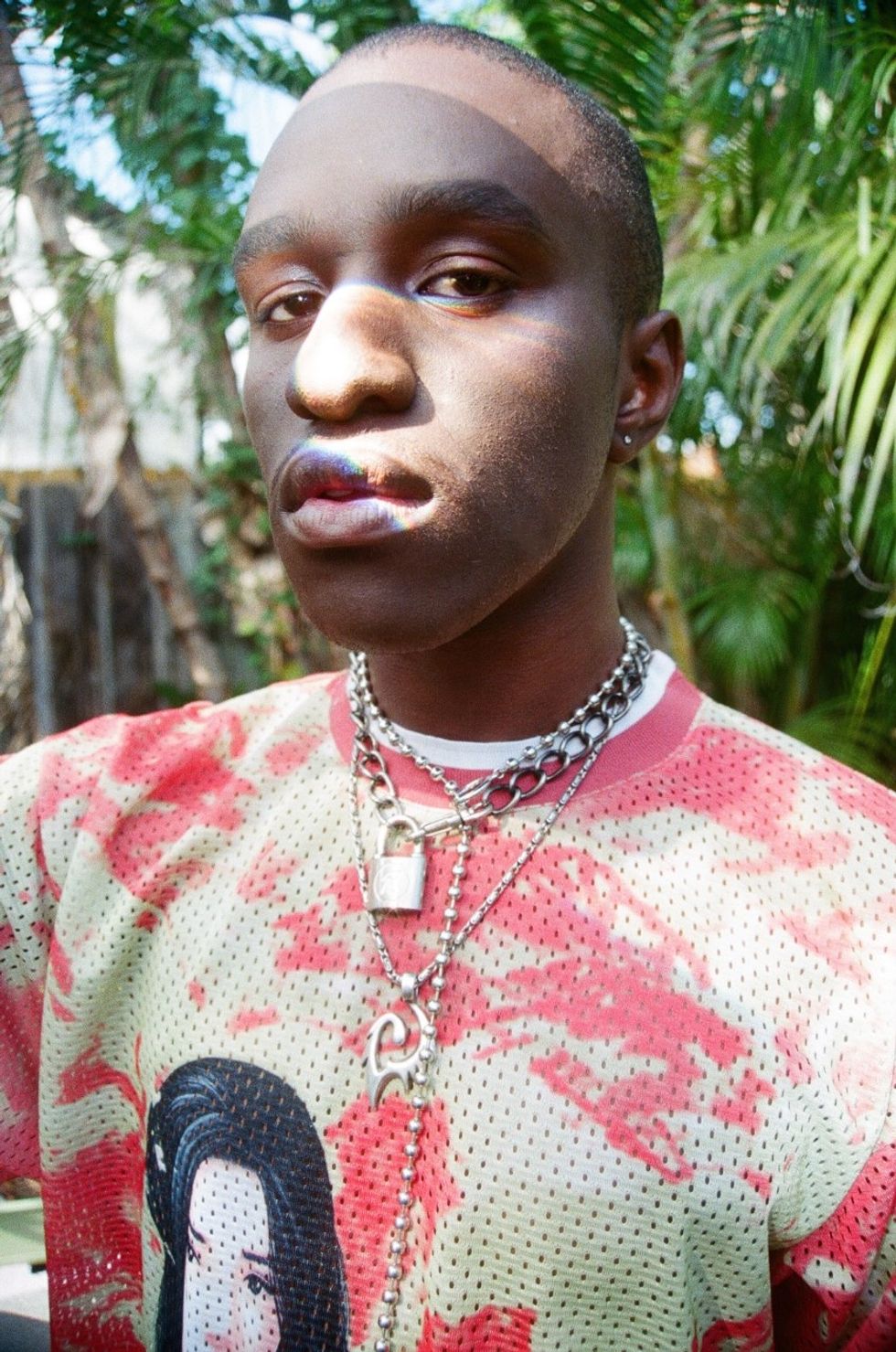 Why did you decide to cover it?
Nicki Minaj.
I was going to ask, what's your favorite cover besides your own?
Nicki Minaj. Nicki Minaj period. I'm a huge Nicki Minaj fan. It really stemmed from her because I never really listened to the song until I heard her version. I loved it.
Why did you decide to cover it in that slow, R&B style?
It's just drum and bass. A lot of the new music that I've been making since I started to produce... like I grew up listening to a lot of t.A.T.u. and a lot of their drums and bass tracks. So, since I started producing my own stuff, a lot of the music I'm making is like, drum and bass-inspired. So when I made the beat, and I just started singing the lyrics to it, and I realized that it hit, I was like, "Oh, this could be really cute." And I kept it.
What was the vibe and story you wanted to create?
With my cover, well... you know "Thotiana," kind of stems from a negative... not a negative, but it sounds the guy has the one-up on Thotiana, and I kind of wanted to put a spin on it, as if like, it's Thotiana saying, she knows what he thinks of her, but she's playing the game. She's playing it right with him, so it's kind of a win-win situation for the both of them, but he doesn't know that.
So you turned Thotiana into something loving.
Yeah, I turned Thotiana into a hero, a very smart hero.
Yeah, totally. I think that's what people love so much about it. What was the response like, right off the bat when you dropped the clip?
The response was kind of crazy. I posted the clip first on Instagram, then everyone was like, "You need to do something!" I just noticed the kinds of interactions that I was getting. Then, I posted it on Twitter, and Twitter is where it skyrocketed. The feedback is amazing. Everyone's kind of like, "Better than the original!" and then some people, I don't even think they know how to enjoy it because it's just so random, but... Twitter is where it popped off.
So you released an album in 2017 and then an EP last year, right?
Yes, my first mixtape was called Out of Order, and that was out in 2017, but I didn't produce any of those tracks, it was me singing with a producer friend over their track. That mixtape was like one pop track, one hip-hop track, one rap track, one this track, one that track, just to say that I did it. And then Yours Truly is an EP I released in 2018. That one is just me finding myself more, being more comfortable with myself, and exploring my identity.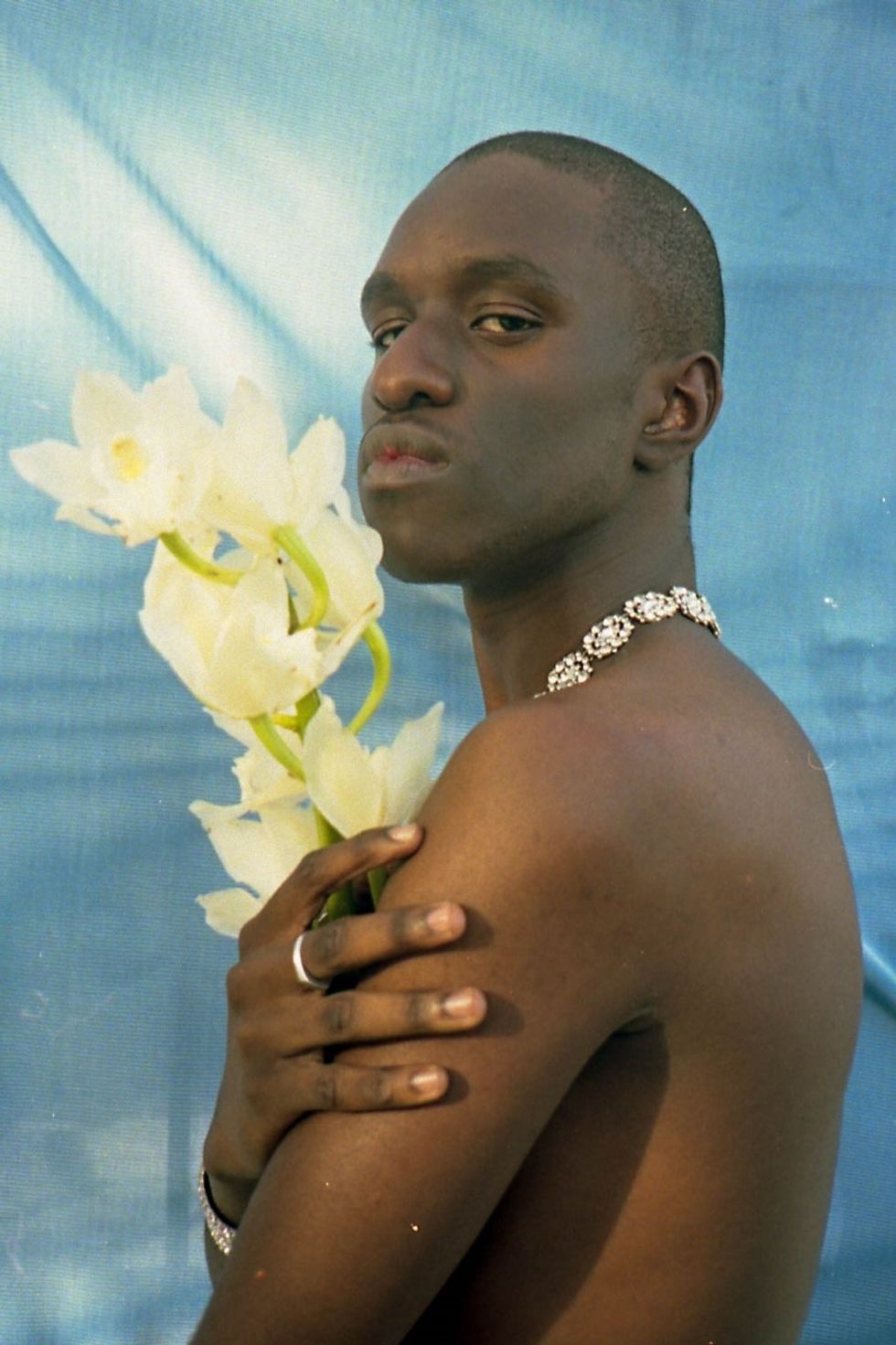 You probably get asked a lot if Frank Ocean's an inspiration.
Everyone's saying Frank Ocean, some people are saying Kelela. Frank Ocean, Kelela, and SZA, those are the top three.
So you're a full-time musician, but you occasionally model?
Being in Miami, it's not as easy for me. There really is not necessarily as much as a market, I would say, for something that's not your ordinary beach bod. Luckily, through the Internet, I'm able to get cool opportunities. The coolest one I've done is an HBA, Hood By Air, I did their Art Basel show and I got that opportunity through the Internet. In Miami, we have some work to do when it comes to unlearning things, and accepting things that aren't so traditional or ordinary.
"The way I want to make things is very spontaneous, and now that I know how to produce, it's a whole new horizon."
Sometimes the most rigid or normative places sometimes spawn the coolest countercultures because there's so much to rebel against. In New York, you can't rebel, everyone's done everything.
Exactly, everyone's done everything, everyone's said everything. One of the reasons I'm still here is because my family's here, it's home. But the second is that it's because there's a lot that can still be done here. There's so much opportunity that has yet to be cracked here. It can be a blueprint for anything.
So you said on Twitter that "Thotiana" doesn't really show off your vocals. What song should people listen to to hear what you can do?
People should listen to my song, "Ur Still My Babe," from my latest EP. Vocally, I would say it's one of my best.
First and second photo: @badboyrory/ Third photo: Helen Pena