This year, Austin's South by Southwest sauntered further down the road of reclaiming its place as both one of the country's leading festivals and as a foremost event through which emerging acts break out. However overwhelming the sporatic rainstorms and overflowing schedule may have been (and in spite of the city's inevitable gentrification and influx of tourists), both SXSW and Austin prevailed in excellent music and in exuding the spirit of keeping things "weird." Above all stood SXSW 2023's many artists, who ranged from an impressive roster of rising international talent to legends like New Order and Jadakiss.
I found myself really searching for fresh energy and sounds at SXSW this time around. And the purest form of this was on the international stages; after night one of the British Music Embassy Showcase, I went back again and again. My own Anglophilia aside, there's no denying the London music scene has proven itself unparalleled in experimentation, style, diversity and influence. Between the chaos of the secret boygenius show happening at Austin-Bergstrom airport's baggage claim while I clamored for (and dropped) my suitcase and the drunken line for Voodoo Donuts, the week-long BME showcase felt like a haven for consistently remarkable performances.
The thoughtful listening experience was powered by the UK's own audio heavyweight Bowers & Wilkins — an unsurprising sponsor, not just for its team's English accents, but also for the brand's time-tested focus on engineering that keeps in mind musicians and the way they intend their music to be heard. Bowers & Wilkins' Sound System follows the same industry-leading engineering philosophy behind the creation of some of the world's finest high-performance studio audio products, including the reference monitor loudspeakers used in Abbey Road Studios. The company translates the sound quality, realism and detail of a hi-fi studio monitor speaker to live music events, which isn't necessarily the case for most PA systems.
While acts like the otherworldly Bellah, joyously punk Folly Group and imminent star Samm Henshaw proved to be heavy hitters, no one tapped into what I needed at SXSW quite like Obongjayar — so much so that I saw two of his showcases in one day. With sets lasting 15 or 30 minutes each, it's difficult to do much more than play your tracks through, and many artists do it solo, leaving a backing band off the table. But Obongjayar — shirtless in a floor-length skirt and Bottega puddle boots — performed. For his first time in America, at that. Alongside his six-piece band, which features a drummer, a guitar player, a bassist, a trumpet player and a djembe player, he dug into each song with serious, emphatic theatricality that felt deeply narrative and sonically diverse, not unlike his music itself. Throughout his career, the emerging artist has respectfully blown off all notions of conforming to "genre" and has been driven instead by the wide range of references and influences picked up from his childhood in Nigeria and his now-homebase of London.
Backstage at the BME showcase, while Bowers & Wilkins finished setting up their newly updated Sound System for its first public appearance in five years, Obongjayar caught up with PAPER about the internet as a source of inspiration, the importance of the UK music scene and coming to America.
This is my first show in America, man.
That's crazy! I remember meeting you on your first visit to America, not too long ago.
Yeah! It's been wild. And I'm actually playing two shows today. What have you seen at SXSW so far, anything good?
I'm very overwhelmed, to be honest. Everything is spread out, the schedule is packed with insane performances and I suffer from crippling FOMO. There have been three other shows I want to be at for every performance I attend — but I've really loved the British Music Embassy showcase. I saw Soak, Dream Wife... Folly Group. And I popped over to Death Valley Girls and Jadakiss across town before bed.
It's one of those festivals where people tell you where they're going and you go to that. You have to find the right people and follow them around.
That's true. Let go of decision making. The morning I got here I overheard someone saying New Order had done an intimate pop-up show the night before. Should've followed them.
I would be mad about that. Actually, I am mad about that. I'm playing a couple shows today and three tomorrow, Saturday is my time to see stuff. And eat — I have to get some barbeque. I love meat, although I'm trying not to go crazy yet and fuck up my stomach and energy before I play. But afterwards…
Meat sweats. How do you feel about playing in the US?
I'm excited, but it's like anywhere, isn't it? It's more the idea of it that I'm excited for. Any show is any show, you play and have a good time. For me, especially, it's like as long as me and my band are in sync and loving each other still, that's all that matters. There could be one person in the audience, I don't care. I'm just going to play the thing anyways and have a good time. As long as we're all in that headspace it's fine. But I'm excited by the idea of being here for the first time!
What have you been working on lately?
I'm just working on new music, and I'm doing it really differently than I've ever done it before. I'm working with a lot of people — a lot of producers and a lot of musicians that play different instruments. Rather than just going in with one person, having a concept and just doing that. The energy is a lot more open now, I've got an idea what I want it to be like, the album, but I'm open to collaboration with producers and artists and what they have in mind. I'm going into their world and seeing what they're up to and taking that into consideration rather than my brain on the fucking table, you know?
That sounds like a lot of pressure to be relieved.
It's just different. Prior to my first album I worked like that, that's how I collaborated. Going in and just seeing what happens. Being open, rather than focused on my concept. I just thought, Let me take that into the next album and see how it goes, and it's been fucking great. I've made so much music, I don't even know what to do with it. I'm used to making a concise amount of music — I'm going to make ten songs for this record, and then I make ten songs.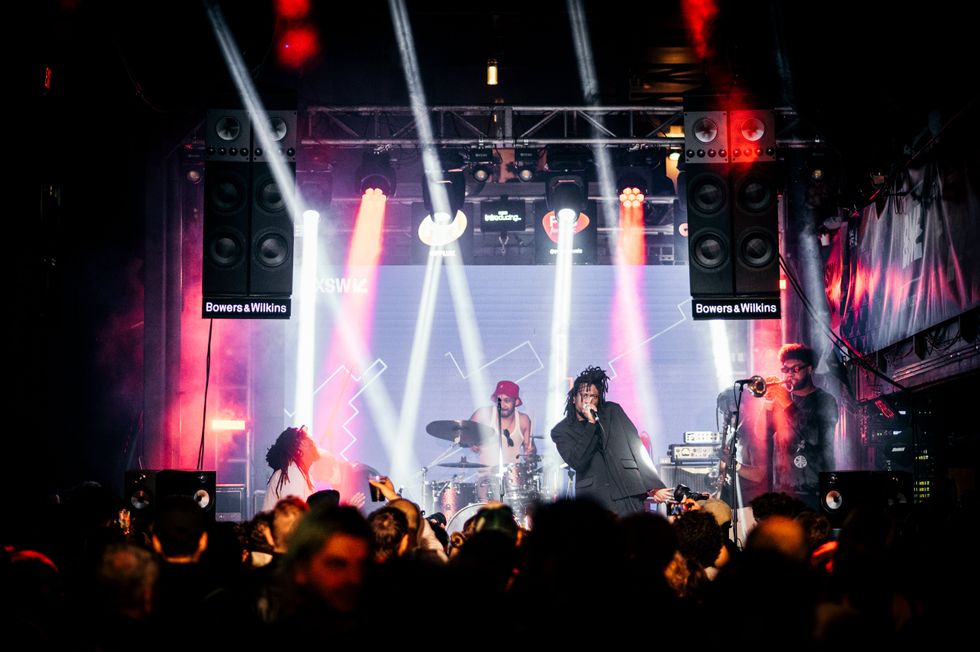 Obongjayar
Do you feel like there are less boundaries and rules around formal formatting and recording processes these days in the music industry?
Well, yes and no. In the industry people are making a lot more music, but it's because they're hopping onto things. I'm not hopping onto things. I'm just playing with people who I really enjoy what they do. I'm not hopping on big producers here, fuck all of that. If you have a groove and you've got time, and are really on it — let's make some music and see what happens around the idea of making something for my record.
Though the methodology has changed, I feel like your music has always been about fluidity. It really transgresses the idea of genre.
Absolutely, I don't fuck with that. My influences are so wide because of my background and how I was raised.
What did you grow up listening to?
Everything. My household wasn't a musical household, so it was the radio and anything I could find, really. I didn't grow up with my parents, I was with my grandmother, so I heard things at school and wherever I could.
I grew up in Nigeria, so we didn't have access to much music. It wasn't readily available apart from, like I said, on the radio and when you find it around. And then when I came to the UK, it was just wow. Everything everywhere all at once. And it wasn't even the music in the UK, it was what was on the internet. I was in this place where I suddenly had all the access. It was an explosion of shit. I'm still taking in stuff, too, like I heard an album for the first time the other day — Beck's Mellow Gold.
That's a great album, and a great era of music. I'm digging back into it myself, lately. That's really an exciting place to be in, I'm envious in a way. I don't think when I first heard these albums I had the bandwidth or intelligence to appreciate them enough to have my mind rightfully blown.
It is. Look, I heard the Ziggy Stardust album for the first time the other week. I like Bowie, and I'd listened to Blackstar, but I'm still re-finding stuff and it's blowing my mind. So my music is truly a combination of all of these things. There's no one particular thing that I focus in on.
Do you ever listen to a piece of music for the first time and get jealous? That you didn't make it or do whatever it does to the listener yourself?
Absolutely.
Are you able to separate yourself from it and use it as inspiration and influence? How do you manage that feeling?
It's not about the influence side of things, really. It's more the sound and arrangements and vocals. I just think, That's fucking sick, how did they do that? and it opens a new door in my mind. It's realizing that, It doesn't have to be this, it can be this. That chord can change to this one, you can try new ways of doing things. You can fuck up, and it's cool. And the use of sounds in certain things, I think, I couldn't have seen that, or known it was possible until I heard that person do it. It makes me want to try random sounds, because I can do that. But the thing I get really jealous of is writing. But I appreciate it, as well. And I try to one-up it. I'm very competitive.
That can be a great quality, to a certain degree, in a creative.
Exactly, the things that I like and engage with as a creative push me to want to get to that bar, get to that level. My mind tries to figure out how to get better at language and sound, you know what I'm saying? And that's how I get to the next level.
Where are you going after Texas?
Los Angeles for a week.
Adding more collaborators to the list?
Yeah, I'm going out there to do some work. It's very exciting. Still, when people want to work with me, I'm like, "Me? Woah that's crazy." It's interesting because I feel like I exist in this weird little space. But the people who like me from far and wide, it's not relegated to one thing. It's fucking cool man, and it's mostly people that I admire and respect within their own right.
Well, I'm excited to see you perform later.
I'm excited to see you!