Many of us know the cult Twitter phenomenon @SoSadToday but fewer of us know the mastermind behind it. While publishing poetry under her own name for years, Melissa Broder had been concurrently establishing a neurotic's nirvana on Twitter with her ability to amalgamate her signature brand of dark humor and sardonic wit with the daily perils of anxiety, self-doubt, and everything in between.
After catapulting into viral stardom (her followers include Katy Perry, Miley Cyrus, among other A-Listers), her Twitter account became the harbinger for a collection of essays in 2016, eponymously titled, So Sad Today, which amassed widespread praise from mainstream mediato cultural influencers like Roxane Gay.That same year she also released her fourth poetry collection, Last Sext, from Tin House Books. Now, the poet and essayist brings her sophisticated bravado to her debut novel, which is out today from Hogarth.
Related | Free to Be Miley
The Pisces is a contemporary tale of a catatonically depressed woman named Lucy who ditched her life in Phoenix after a messy breakup to dog sit for her sister in Venice Beach, California while she tries to focus on finishing her dissertation on the Greek poet Sappho. Instead, like the call of the Sirens, the notifications from Tinder lulls her into a string of sexual misadventures, all while attending group therapy for love addiction. One night, after meandering to the rocks by the ocean near her sister's beachfront house, she meets a young surfer named Theo, who later reveals himself to be a merman and also the object of Lucy's insatiable desires.
What follows is the obsessive love between a human woman and a centuries-old sea-bound man. The novel seamlessly oscillates between mind-bending euphoria and rock bottom, weaving a story of romantic obsession, erotica, and self-(un)fulfillment in a story with an unexpected twist.
PAPER caught up with Broder to talk about her debut novel, which we'll lovingly classify as "neurotica," mermen, sex, and fish for details (sorry not sorry for that pun) about her plans on turning The Pisces into a major motion picture.
How was the creative approach to writing your novel different from your last book, So Sad Today, which was a collection of essays?
I never thought I would write a novel. I never even thought I would write prose. When I lived in New York I wrote poetry on the subway (I prefer to write first drafts in unexpected places, rather than at a desk, as a way to dismantle my own perfectionism). But when I moved to LA four years ago, I started dictating my work in my car. The line breaks disappeared and the language became more conversational. That's how So Sad Today came to be. I dictated the whole thing. The geography literally informed the text.
After I finished writing So Sad Today, I still felt compelled to explore the intersection between love and infatuation, and love as a drug. I was on the beach in Venice when the idea for The Pisces was born to me whole. I was like, "But I can't write a novel." Then I was like, "Wait, why can't I?" So I decided to experiment and dictate three paragraphs a day and see what happened. Nine months later, I had dictated the whole first draft.
The novel heavily references, both explicitly and implicitly, Greek mythology, and combines those body of myths with today's digital age. What sort of parallels are you trying to draw with the incorporation of ancient texts to our app-facilitated world?
The technology has changed, but the feelings are the same. The gods have changed, but the feelings are the same.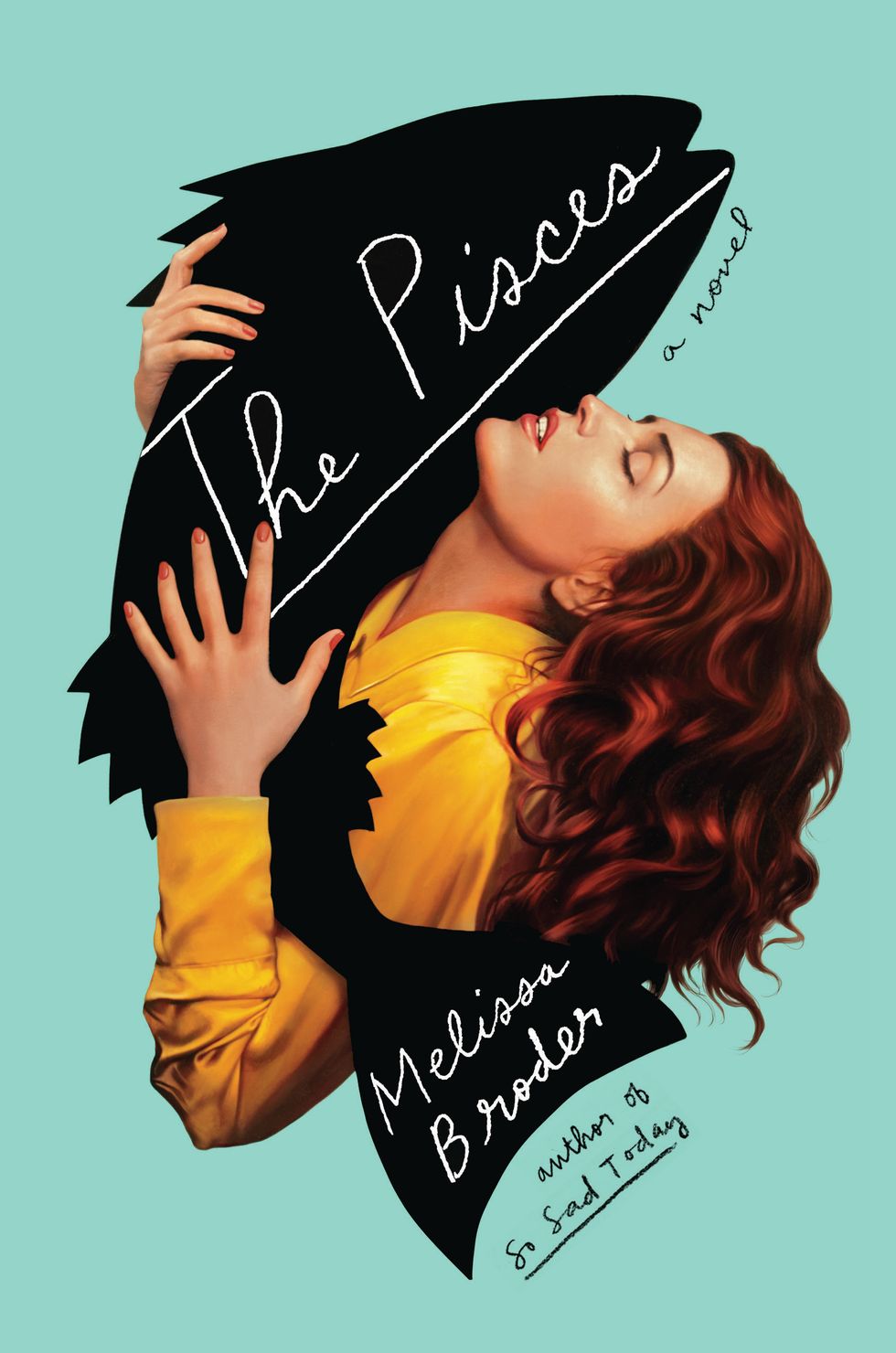 Why a merman, and not another mythical creature?

I was never a big mermaid fan. Ask me to choose a mythological creature and it's Pegasus all the way: not to hook up with, just to hang out with. If I were to have sex with a mythological figure, I'd go with the Kraken (giant squid), Cerberus (the hound of hell), or Apollo the sun god, because he is the kind of sexy twink who would hit it and then not text me (aka my type). I could also see hooking up with Circe, but ultimately we have too much in common to sustain the sexual tension. Circe and I would hook up one or two times and then become good friends who never see each other and text a lot.
But this book was always a merman. Nothing embodies the dichotomy between love and addiction, the urge to annihilate oneself in euphoria, the desire to replay a single moment of limerence forever, like the relationship between human and Siren. How many men throughout literature have walked off the backs of ships and drowned, because they had just one taste of Sirenic nectar? It's a phenomenal trance to shake. The memory of intoxication can be as powerful as intoxication itself. But why is it always a man and a mermaid? What if it was a woman and a merman? And what if it happened now?
There is sex that spans from transcending-the-earthly-plane euphoric to sex that is just let-me-think-about-my-grocery-list-to-pass-the-time awful in this book. Why was it important to depict both?
You gotta have the bad sex to get to the good sex. Both are fun to write in different ways. When I write about disastrous sex, it's an opportunity to turn personal pathos into humor. When I'm writing "good" sex I turn myself on. If I'm not turned on, I'm probably not writing good sex. But even with "good sex" scenes, no matter how fantastical, I'm committed to a kind of pleasure-realism. This comes from years of reading erotica, literary and otherwise, and being like, "Wait, she comes already? On page 121? I wouldn't have come until at least 158!" So it's important to me that it takes Lucy a long time to have an orgasm, and that's she's self-conscious about it, even if she's fucking a merman.
Is it true that you're adapting The Pisces into a screenplay for a major film studio? If so, can you give us a sneak peek into what you have in store for the screenplay?
It is true. It's very similar tonally and narratively to the book, which is important to me. But the screenplay looks at the story from a more external perspective, because, well, it's a movie. It's cool to get to spend time again with these characters. In a way, it's like writing fan-fic!
Photography: Maggie West