Slick Woods
collaborating with The Kooples on a footwear line? Some things just make sense. Rihanna's favorite model is a streetwear muse and long overdue for her very first design project. Her first collection of chunky velcro sneakers, as practical and versatile as they are cool,
is out now
— with a second drop confirmed for September 1. Just in time for fall outfit planning!
When PAPER asked Slick how many sneakers she owns, she was literally unable to come up with a number. "Too many," she simply replied. So you know she's an expert. Here's what else she had to say about the new collection.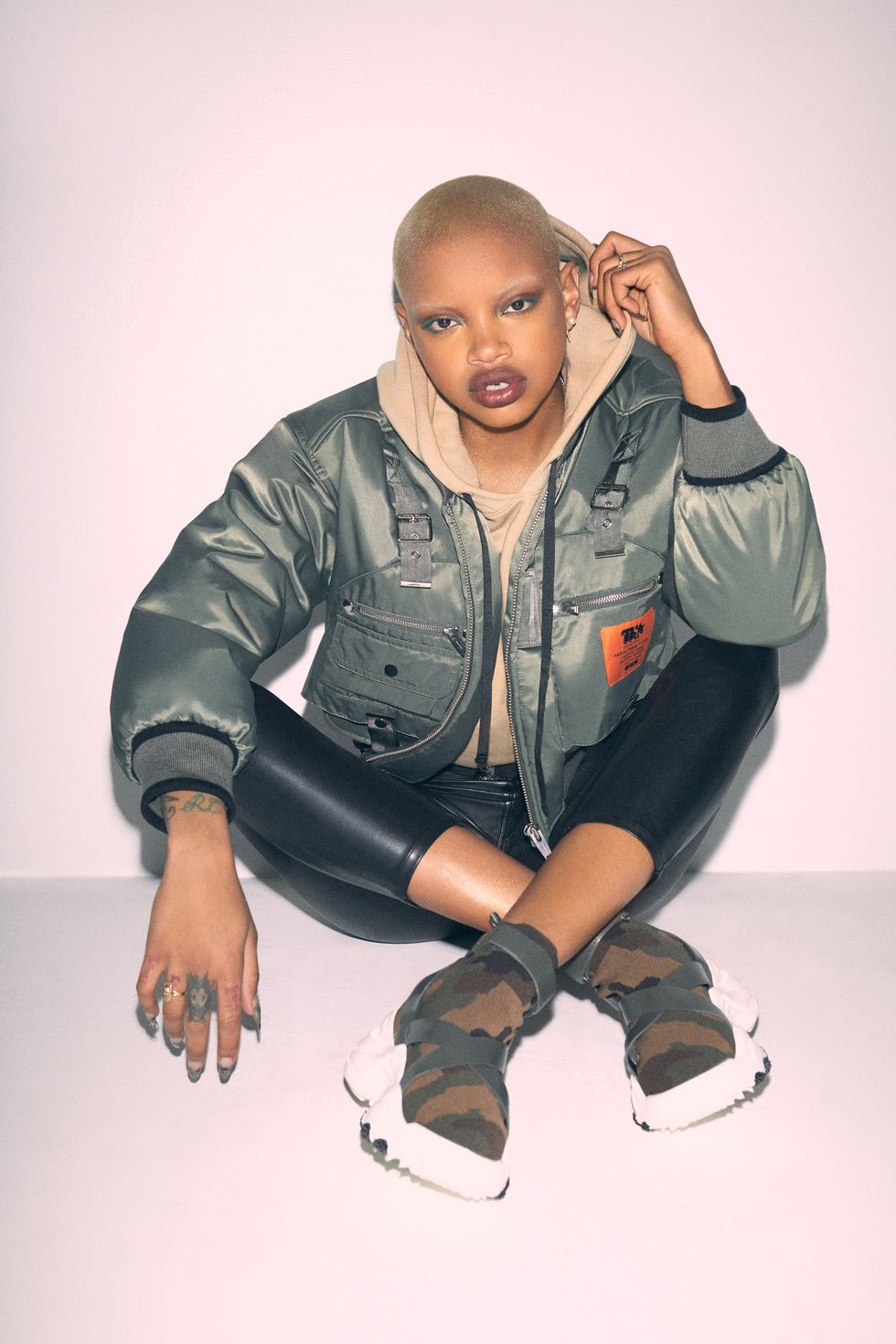 How did the Kooples collaboration come about?
The Kooples wanted to collaborate with me. So much of my life I've done things on my own, but the best things happened when I had my people with me at my side. The Kooples are my people now and the collaboration looks great!
Why footwear specifically?
Sneakers are part of the streetwear, and for me streetwear reflects the world: past, present, and future. When I designed my Kooples shoe, I wanted to make a shoe that I want to see people in for years to come.
Walk us through the inspiration and design process.
This is the first time I've designed my own shoes, so I ensured that every element speaks to a part of me, and my style. We wanted to create sneakers that embrace the idea of going fast! When you see my two designs: a sock-sneaker bound in a chunky velcro strap, and a chunky sportswear-influenced lace-up, you see The Kooples, but also a different side to the brand, that fits them well.
Did you get any advice from Rihanna about fashion design?
Rihanna is my sister but I've always been a creative thinker, in this adventure I was by my own.
What makes a good sneaker, in your opinion?
A pair of shoes you wanna wear in years to come!
Chunky sneakers seemed like a trend at first. But now we're all in love. Are they here for good?
Chunky sneakers are part of my style, if in the next years they will be not a think, I will continue to wear them.
How would you style these shoes — what's the perfect outfit to pair with each sneaker so we can all look like Slick Woods?
They are designed to look good with everything! They will perfectly match with your own style. My look? A cargo pant and top, definitely Slick!
Where's the perfect place to wear them?
My city, New York. My place: Brooklyn.
Any plans to design some teeny tiny sneaks for Saphir?
Why not? I've been designing ever since I was dreaming in my sleep.
What are your other fashion design dreams? What next?
I've been very lucky to be afforded various opportunities to express myself as an artist. I am happy to embrace any medium that provides me the opportunity to grow me, and get my message out there!
A closer look at Slick Woods x The Kooples, below.
Sign Up For The Morning PAPER