Sigrid isn't as young as she seems. Most of the press photos that appear when you google the Norwegian singer-songwriter reveal her looking like a Gap model, dressed in practical sneakers, high-waisted jeans and colorful T-shirts or sweaters, with minimal makeup, blue eyes gleaming and long brown hair in a middle-part. It's almost a surprise to learn that she's a (somewhat) reasonable rising-star age of 22, rather than a 16 year-old wunderkind who had a record deal before a driver's license.
Most articles about Sigrid (real name Sigrid Solbakk Raabe) reference her angelic, normcore aesthetic, because it is so conspicuously atypical of rising pop stars — especially trendy, Scandinavian ones with a string of charting singles and an upcoming line-ups of arena shows. There's no trace of neon-dyed hair, leather, camouflage, Calvin Klein sports bras, fur coats, fairy dresses, club buns, BDSM-inspired collars, cyberpunk accessories, little girl looks or futuristic, 80's, 90's or 00's-inspired anything. In a cut-throat, saturated global landscape where young artists are pulling every trick in the book to be seen and heard, there's something intoxicating about how obvious it is that Sigrid is simply doing what feels most natural to her. This quality is exactly what makes her powerful voice rise above the din.
The story of the whimsical, youthful character that photos of Sigrid seem to tell is both authentic — the genuine result of her taste and style, rather than a market-tested costume designed to sell records — and totally incomplete. There's nothing juvenile or naive about her brutally honest love songs, the trajectory of her career, or her personality.
When I speak to her on the phone from the Oslo airport, which, two years into international stardom, she calls a second home, Sigrid strikes me as an artist totally in love with being a performer, and someone totally determined to succeed. As a young person already fluent in music industry politics, but refuses let to let them jade her. As someone who doesn't take for granted the privilege of getting to do the thing she loves professionally, but who won't let anyone take advantage of that gratitude.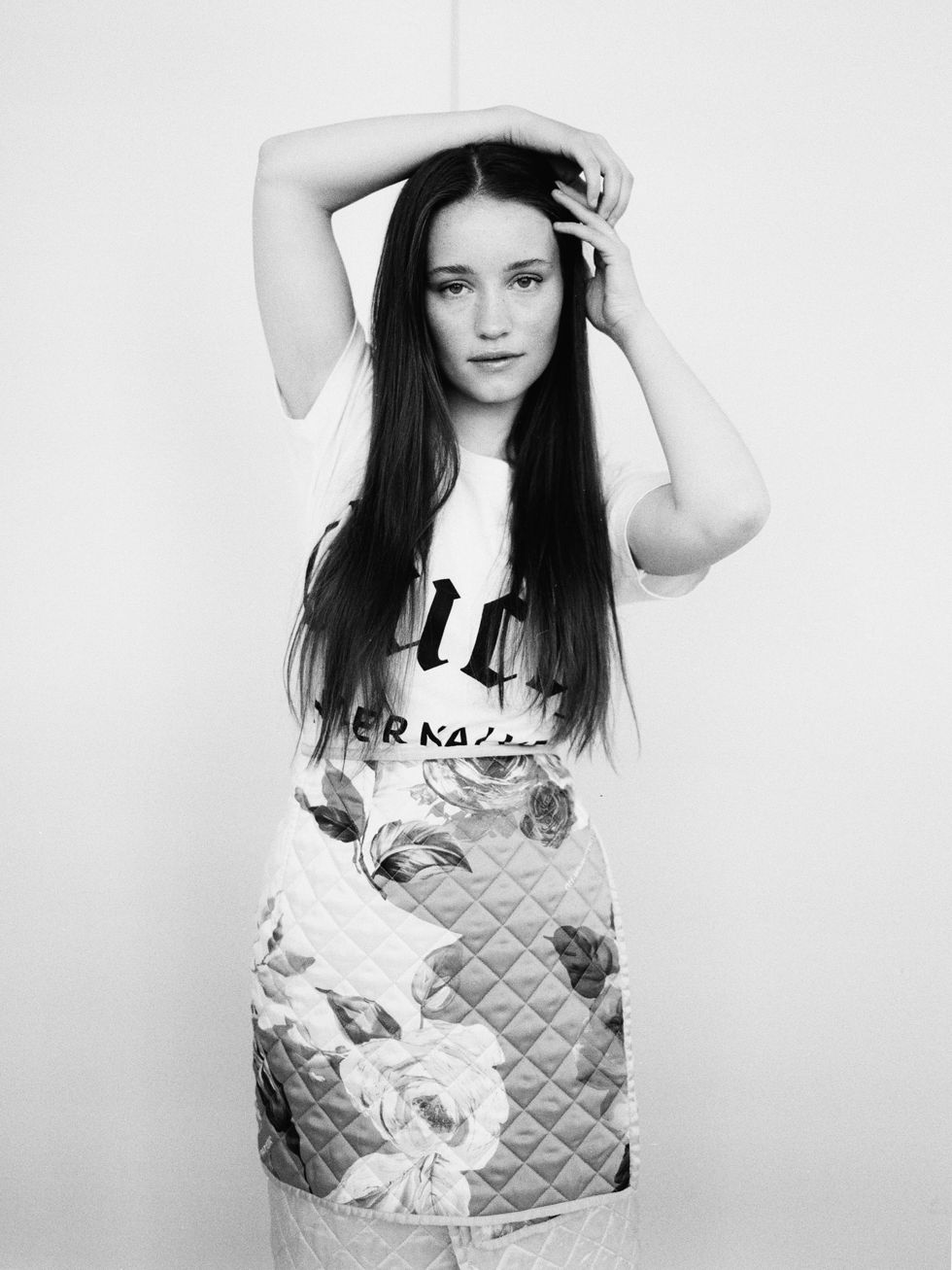 Top: Gucci, Skirt: Off-White
Her career has certainly not been effortless, or a miracle that easily fell into place. She didn't grow up a child groomed for the industry in trendy Oslo or Bergen. Instead, she was raised in a small town on Norway's western coast called Ålesund (population 50,000, around the size of Ithaca, NY). Her parents made her start playing the piano at age seven — not because they were priming her for stardom but because "we had this old piano in the house and my parents really wanted someone, like one of the kids, to play this piano."
Sigrid didn't immediately see herself as a musician. "I wanted to quit actually, because I thought it wasn't 'cool,'" which is horrible," she reflects, honest as always, about being formerly wrapped up in teenage cultural capital. Her parents cut her a deal: one more year, which would end up sealing her fate. "So I did it one more year and then I finally really liked it, and yeah, now I'm here!"
She's simplifying it a little bit. Sigrid wrote her first song, "Sun" when she was 16 after her brother told her "no more Adele covers" leading up to a local performance. The track scored her airplay on local Norwegian radio, enough that as she neared the end of high school, Sigrid realized she had a choice to make. "I took a break from music for a year to focus on my grades in high school," she explains. But during that respite, she made her decision. She moved to Bergen after graduation: "I knew I wanted to do music but I had no idea how to do it," she said. "I thought it would be a good start for me to go there and see music, see what musicians do." After hustling for a couple of years in Bergen, Island Records signed her after just one listen to the song that would become her first global hit, "Don't Kill My Vibe."
The zeitgeisty bop, released in February of last year just after Sigrid turned 20, introduced the world to her cliche-defying lyrics, anthemic drops and choruses, and her enigmatic vocals which rise and fall between an airy falsetto and a belting baby Adele war cry. The track also proved how aware Sigrid is of how she's perceived, and the challenges of negotiating the world as a young female artist. Although it can listen like a love song, "Don't Kill My Vibe" is Sigrid's response to a producer who belittled and patronized her in a songwriting session: "You shot me down/ You like the control/ You speak to me like I'm a child... you feel threatened by me."
By now, more Sigrid songs deserve the label anthem, but for the chorus "Don't Kill My Vibe" she penned her first: "I try to play it nice but oh-oh-ooh, ooh-ooh/ Don't kill my vibe/ Don't break my stride." It's a simple sentiment but an explosive feminist pep talk that's always at your fingertips and the perfect example of how, by simply expressing herself, Sigrid finds herself telling stories that speak to millions.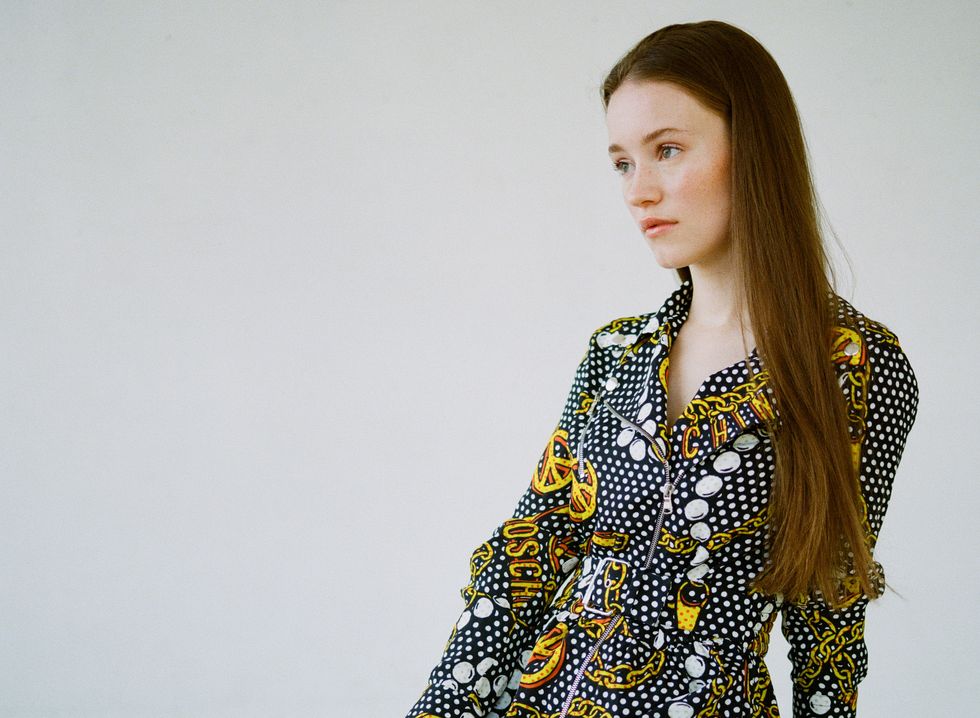 Dress: Moschino
Sigrid kept the hits coming. Her debut EP Don't Kill My Vibe dropped in April of last year and she started appearing on artist to watch lists, major festival lineups like Reading and Glastonbury, and late night TV.
It was with "Strangers," an addictive, roaring synthpop track, about the lies movies tell us about love, that Sigrid truly became global. If folks in Europe or the U.S. hadn't heard of her before, they learned about here when she landed the BBC Sound of 2018 award (previous winners include Adele, Mika, Sam Smith, Haim, Ellie Goulding), as well as a nomination for MTV Push Artist of the Year. Her impeccable sophomore EP Raw arrived this summer, with almost every song — "High Five," "Raw," "Focus," "I Don't Want To Know," and "Schedules" — a shimmering hit.
This week, she dropped her first single since Raw, a taut bop called "Sucker Punch" about a crush that comes on so rapidly and forcefully it leaves you winded. In some ways it's a Sigrid classic: razor-sharp, playful and upbeat, but brutally honest in a way that instantly slices through it's glossy pop sheen. In its unconventional vocal styles (she slows down to an almost spoken rap) and tectonic production, it also shows she's interested in expanding what's become her wheelhouse.
Sigrid laughs a lot during our conversation. She's relaxed but excited in a way that puts me instantly at ease, even though that's supposed to be my job. As she tells me what the last few years have been like for her, I can trace the zeal and indefatigable charisma of the easy-going, unabashed girl on the phone, to the girl in the iconic "Strangers" video (which has been viewed over 38 million times), who leads the camera around on a leash of her penetrating eye contact and dancing on the off beat in her mesmerizingly jerky style like truly no one else (except maybe Lorde), with an air of spontaneous, whimsical impulse like she just started making it up on the spot.
You can't fake that spirit. I think perhaps we confuse Sigrid's star-power magic for youthfulness because we don't know what else to call it. Because there is something childlike about the ways she's unconcerned for how people are supposed to dance or sing or write songs, but what's childlike about her music is not her as a person, but rather her integrity and loyalty to her own truths.
If you take a deep dive into her performance footage, on late night shows and festival stages, it becomes obvious how real and meaningful Sigrid's songs are to her, from the way in clip after clip, she sings them full-force every time. Tellingly, Sigrid tells me she still listens to "Don't Kill My Vibe" when she finds herself feeling small: "When get put in situations that can be really difficult, when someone can be a bit patronizing, and then I remember 'Don't Kill My Vibe,' and I'm like oh, yeah, that's why you wrote this song."
That honesty and authenticity, is what tricks us into seeing her as "youthful" or "innocent" — and what makes her songs slice through the thick pop haze of formulaic bangers designed to please and move our hips, but which feel distant from real, lived experience.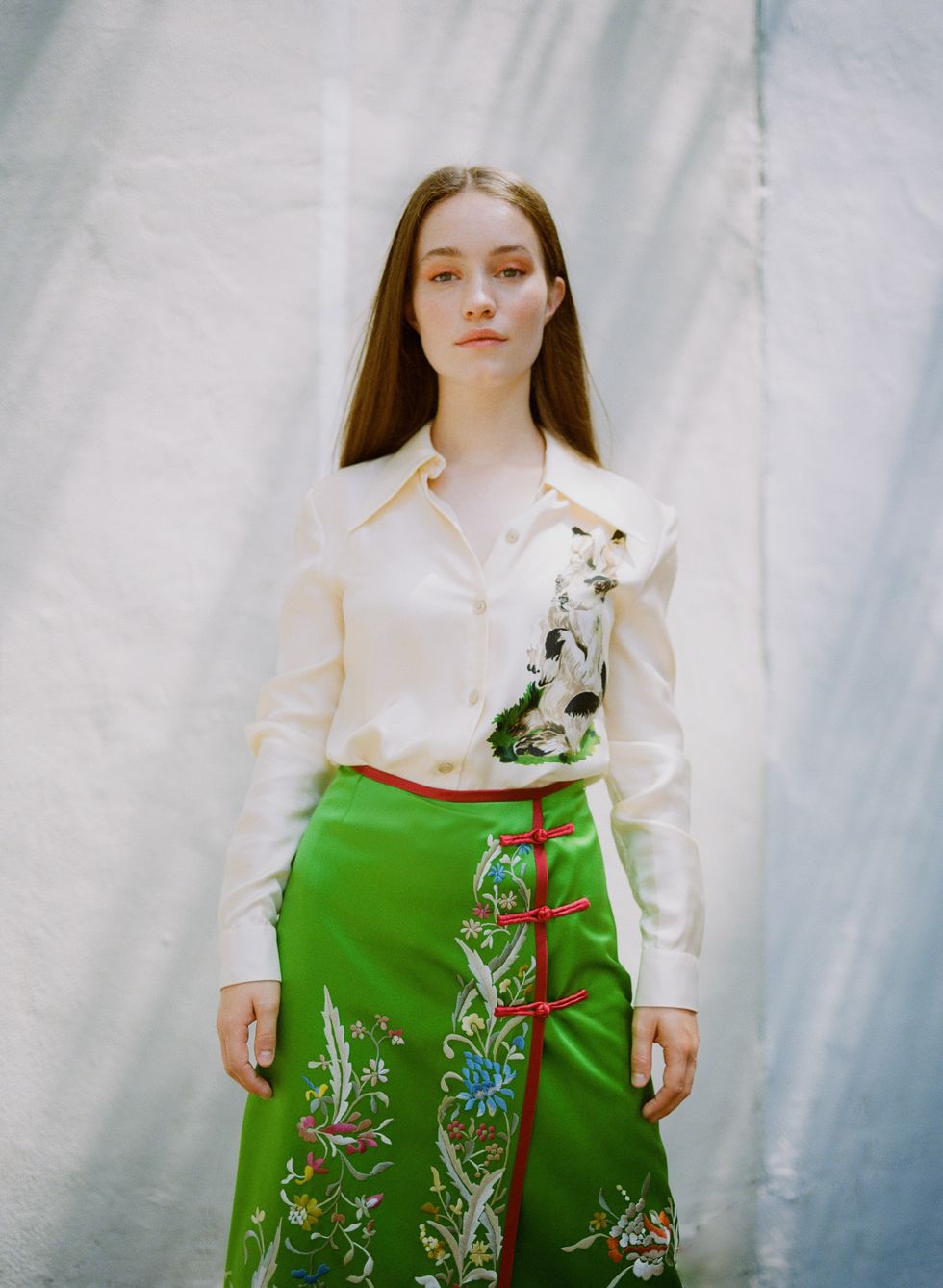 Full Look: Gucci
Sigrid mostly writes songs about love, which she's unapologetic about: "I love... big love songs, I love everything that pulls on heart threads." But she knows how to take an experience, and make it pop: "Most of my songs start from a personal space. But it would be a bit weird if I told a story straightforward, like nothing is exaggerated, 'cause then it's like journalism. You need a story, right? You need to make it a little bit more, a little bit extra."
When I ask her who taught gave her language for love when she was young, reminding her that songs like "Strangers" and "Schedules" are doing just this for fans, she lists off pop prophets like Bonnie Raitt, Coldplay, Adele, Lykke Li and Robyn. Sigrid is clearly a student of these masters of tear-jerking bangers, the kind which fill you with energy, even as they wreck your heart. "Strangers" might be the best example ("We're falling head over heels/ for something that ain't real/ It could never be us/ Just you and I") of how her voluminously danceable songs, often shroud reflections that make you want to cry.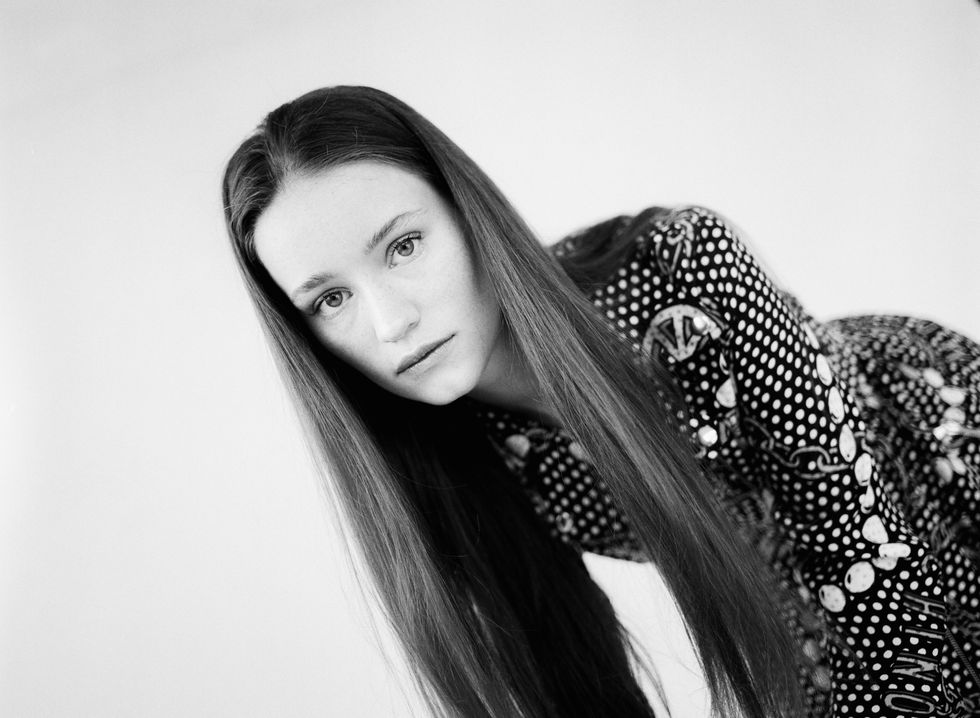 Dress: Moschino
It's been two years since "Don't Kill My Vibe" and Sigrid isn't feeling jaded or burnt out. When I ask what her favorite and least favorite parts of life as a rising pop star are, she can't decide: "[Touring and writing] are the two things that I really, really like. No matter how tired I am when I go up on stage, it's impossible to not dance and burst out with energy, because there's so much of it." She trails off, seeming genuinely not to have a least favorite part, although she admits: "Not saying that every day in the studio or every day on stage is the "best" day, some days are more difficult than others." But she quickly brings up that she has a team of genuine, trusted people around her, and describes how her band has become some of her best friends.
When I suggest that the music industry is grueling, and it's challenges more extreme than others: she replies ambivalently: "Maybe, I don't know. But I'm very lucky to be doing this." But I'm completely convinced when she expresses confidence that she can tackle whatever comes her way: "I know myself, I know what I think is okay and not okay."
With that tenacity, and her uncanny ability to transform her truths into perfect pop songs, Sigrid might just be unstoppable.