Like most writers, Shauna Barbosa has been engaged with her craft since she was a child. Growing up in Roxbury, Massachusetts within a Cape Verdean community, her father always steered her in the direction of a bookstore so she wouldn't get distracted by what was happening in the hood.
"I think any writer will tell you that reading is important to any aspect of writing," she says. "I was always writing, I know that's a typical writer thing, like, 'I've been writing since I was a kid,' but I have been. I actually found some journals and they're really embarrassing. They're like old poems I used to write."
When she was 15, Barbosa worked at a record store in Boston called Funky Fresh. It was here that she started interviewing prominent hip-hop artists like 112 and Jagged Edge and writing music reviews for her high school newspaper. While studying undergrad at Hunter College, Barbosa become an intern at Vibe which quickly led to her joining the staff full-time and working closely with living legends like Jay-Z and J Cole. At some point in time, a friend introduced her to Kendrick Lamar at a concert and the beginning of a long lasting friendship began to develop.
As all of this transpired, Barbosa also started her own blog, called Let's Just Eat Cheese, where she published a variety of original pieces from poetry to interviews under an alias. At the time, it was just something that she did to keep the creative juices flowing, but a loyal audience was forming. Eventually, Barbosa moved back to Boston where she started working at Harvard University. She decided to shut down Let's Just Eat Cheese, but enrolled in a few poetry courses for fun, not thinking that it would spiral into something bigger.
"I would sit in a workshop, people were responding to it, and I was kind of surprised," she says. "I used to think that if I wasn't writing about music, I didn't know that people would respond to my work."
With encouragement from one of her professors named Joshua Bell, Barbosa applied for MFA programs and went on to complete the program at Bennington College in Vermont. Fast forward to 2018 and her debut poetry book Cape Verdean Blues was finally born. Some of the poems that are featured in the collection were written as early as 2010 while others are more recent but the book contains eight years worth of Barbosa's work.
"When I had to start looking at my poetry outside of myself, outside of my voice, I was reading all the poems and organizing and seeing the story," she says. "I didn't know until I was seeing the seeds that I was planting."
Learn more about Barbosa's rich background in the interview, below.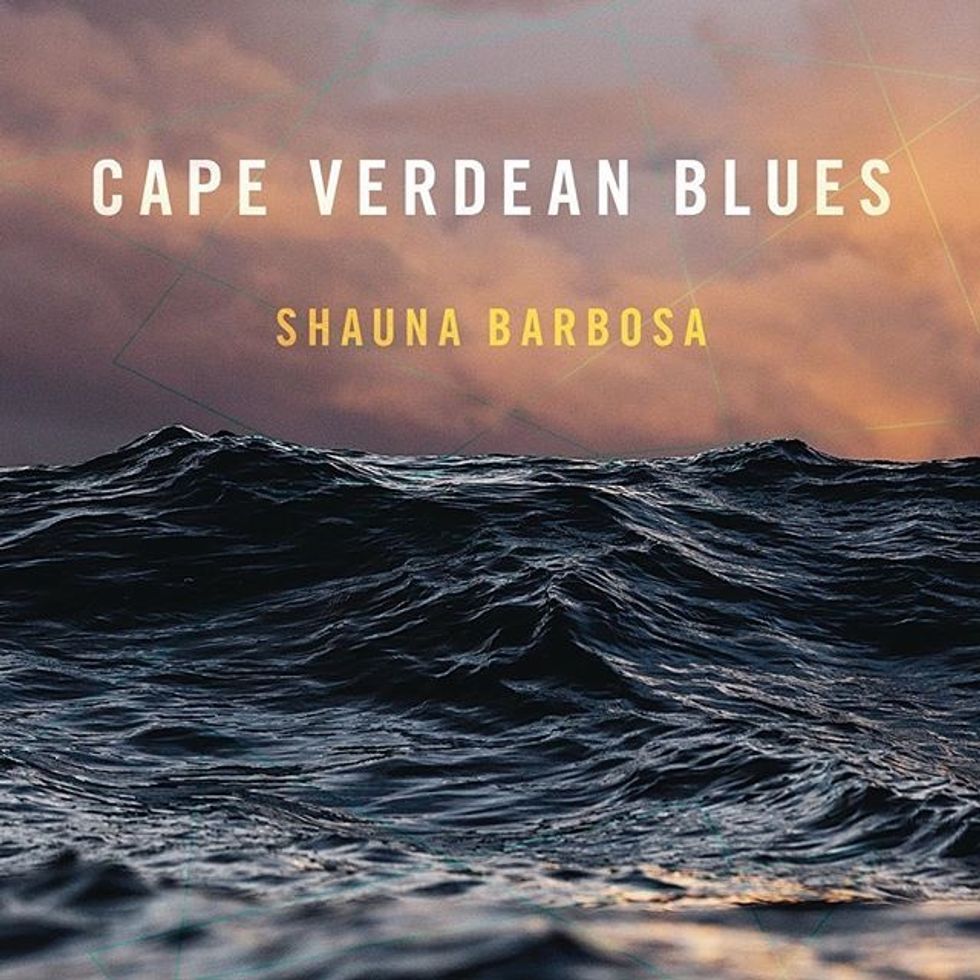 What did you used to write about in your journals as a kid?

It's funny 'cause I was reading them, and a lot of the things I was writing about — damn, I probably wasn't even 10 yet, or maybe like middle school, and high school these journals were from. It's funny looking back because they were also still rooted in identity. Like Cape Verdean roots, it's rooted in identity. This aspect was just like, "No one understands who I am, and if I can let people know," you know? It's just like this identity of being misunderstood, which is probably like a really common thing, but it was definitely rooted it in feeling like I didn't have a place, like being in the middle of something. I didn't know what that was at that young age, but it's something that I've always felt.
When did your writing career take off?
I was like 16 when I graduated high school, moved to New York to go to school, and maybe eight months later I got an internship at Vibe Magazine, then I started working there full-time. It went really fast. From there, I was able to interview folks... And then I met a mentor, Robert Morales, who passed away a few years ago. He introduced me to the Strand Bookstore in New York. He was kind of like my dad in a sense, he just encouraged me to keep reading. From there, it's funny, I read a lot of fiction, but that fiction really turned into poetry for me. Then I started a blog called Let's Just Each Cheese. I used to write a lot of poetry and put it on there, like embarrassing poetry. That was kind of from the dark years of my life. I was writing and people were really supportive of it.
It's already hard enough just being a writer, and having the courage to put any piece in general up, but I feel like with poetry especially it's so personal. How did you become more comfortable with that?
So when I had the blog Let's Just Eat Cheese, in a weird way, I don't know if it's that when you're younger, I was definitely not afraid of things. I was just always like "Let me do it." It's weird 'cause I don't recall being afraid to share my poetry. I would put PDFs together and have them on my site, and now looking back I'm like "Yikes." I think it was also because people really supported it. People really fucked with it... I was always really solitary with things. It's weird to think about, that I wasn't afraid to share things then because it felt right.
Honestly with my writing, I never feel like I'm giving myself away. I feel like I'm writing a truth, and it's not necessarily my truth. It's really the readers who still support me now. Ten years ago some people who were reading the site still support me now, and when you can share something with people and they respond to it, that felt right, and that felt good. It didn't feel like I was writing my journey or that I was writing for myself. Back then I was really fearless in a way that I can admit that I'm not now. I do take risks, and I am myself, but I think life kind of made me [attracted to] self preservation as a thing I'm trying to deal with.
What's the story behind the title Cape Verdean Blues?
I grew up in Roxbury, Massachusetts, it's a town in Boston. It's in a large Cape Verdean community. My dad is from Cape Verde, which is an island off the west coast of Africa. It's like in the Atlantic, near Senegal. We're kind of like this forgotten place, so it actually means so much to me to have this book out into the world to introduce this identity and our culture.
I found the headscarf poem to be scary relatable. I feel like, especially as a Black woman, our relationship with our hair is everything, but then it becomes secondary the minute that somebody new enters your bed. I was just like, "Oh my god, why do I keep doing this?"
Even now thinking about it, I'm like, "Oh my god." It's interesting... Each time it happens, it's always like the first time. It's like you said, "Why am I even doing this?" You ask yourself after, but I'm pretty sure the next time, you're gonna ask yourself again 'cause I feel like it's just this thing that's in us, you know what I mean? No matter what, it's something that's hard to conquer 'cause it's always there, and unless you're hyper aware of it in the moment, then you're kind of bound to feel uncomfortable. I feel like that resonated because it's just such a real thing.
How was the GIRLSCHOOL festival?
It was amazing. It was really, really, really nice. I was reading with a bunch of other really, really incredible poets. I had so much fun and I honestly feel like I don't get nervous when I read. I don't know how that happened, but I just don't. That was a really cool experience because I feel like everyone there wanted to be there. The audience and the energy they were giving off was really welcoming and warm. It's always good to be up in front of people and feel like you can really be yourself. I like to come for people a bit when I read astrology, I'm like, "We got a Taurus in the house?" People will sometimes raise their hands, and I'll look at them when I read. I like to have fun. I know that my work is heavy and a little dark, but you know there's some humor in there and I do like to have fun. So it was really dope. The audience was really supportive and they had fun with me and let me kind of just do me so that was really cool.
How did you initially cross paths with Kendrick Lamar and develop a lasting relationship?

We met 'cause I had a friend who did a show with Kendrick in DC at 9:30 Club... So when I got there we were all at this house — Kendrick, his DJ Ali and Schoolboy Q. That's how I met them. At some point in the day, he found out that I had interviewed J Cole. He knew I was a journalist and as a journalist you always have your recorder and everything because you never know what's going to happen. We were just chatting all day, and he played some songs for me with him and J. Cole at that time. We kind of just vibed on music.
After the show it was really, really late in the morning, and he was leaving the next day, but he was like "So, let's do this, let's do this interview." It wasn't even a good interview, it was just a chat. I was a huge fan and I just really admired his writing. We just sat down and we chatted, and that's how the first interview happened. Maybe a year or two later, we sat down and chatted again. It's never like "Oh, let me interview you for this," it's just kind of chatting, the recorder goes on and then it goes off. It's just kind of like "Let's just chat." And what it became is us just being able to talk about music and art and things like that. That's really how that went.
Is there anything else you wanted to add?
I just want readers to know that it's called Cape Verdean Blues, but I want people to go into it knowing that it's more than about this one place. It's really just about us, and the human experience, and trying to find out where we are in it. It's funny because I didn't know, I had no idea, that my book was so much about identity. Ironically, someone pointed it out, and I was like, "What are you talking about?" I didn't know. It was like they were writing themselves. I never thought about that, I would just write these poems, and I was like, "Oh, shit." I do think identity, especially now, with like Black Panther... There's so much even in identity there.
I think that is just a conversation that's very happening right now, and it means a lot to me for my book to come out around this time. It's just a conversation that I know that is still tough to some people. My mom is African American, so my mom is Black, and my dad is African. I'm like both of theirs. I do hope that people read it and kind of want to know that even as an adult, like, "I'm still working this out, and that's fine." It's all we're ever doing, is working things out, trying to find something to do, trying to just like exist, and be okay with it. I really hope that people feel that.
I have to take more time to be able to sit with it, and live with it and breathe with it, but I'm so excited for other people to have their hands on your book very soon.
Thank you so much. That really means everything to me, and I'm not just saying that. It really does. I'm so anxious, and nervous, but little things like that, like people looking forward to it or sending me screenshots that they preordered the book... When I left the theatre after I saw Black Panther, an 18-year-old girl came up to me and said "I preordered your book" and I was like, "What?" Things like that, when people talk to me or I talk to someone, it means a lot.