Tonight, iconic New York club Webster Hall is throwing its last show, headlined by Action Bronson, before it goes dark and becomes part of mega-company AEG's constellation of corporate venues. In honor of Webster Hall--a New York City landmark and arguably the first modern nightclub--writer Kurt McVey attended its final club night this Saturday past, bringing us a front-row seat to the sweaty, ecstatic, Skrillex-helmed bash.
Standing outside Webster Hall last Saturday, waiting to be a part of its final club night, brought all the usual nervous energy. The requisite police were out front, talking shit and leering. The line of boys, girls and everything in ass-less chaps in-between, glittered party babies in neon booty shorts and grizzled East Village vets in black wrapped around the corner before becoming a scrum below the famous marquee as everyone scrapped to get in (guest list be damned!).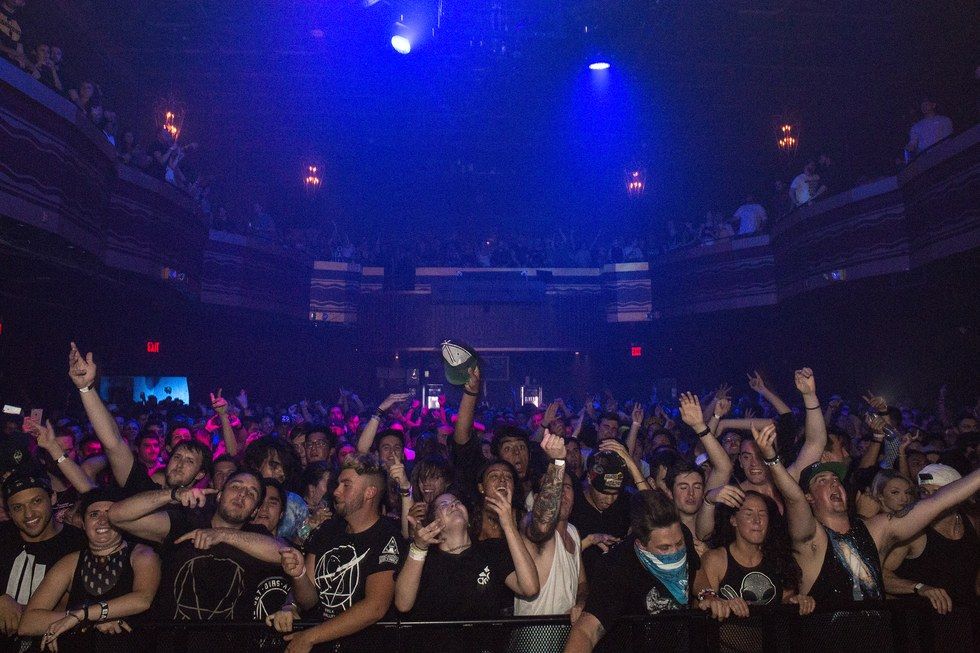 The scene at Webster Hall
Something keeps bringing you back to Webster Hall despite overzealous doormen, invasive security checks and bitchy VIP girls. It was the home of iconic New York parties like Trash, Motherfucker, and Boys & Girls, which laid the groundwork for what EDM is today. Ultimately, however, it's that funky Webster Hall "je ne sais quoi," a familiar authenticity that can't and won't be replicated anywhere else.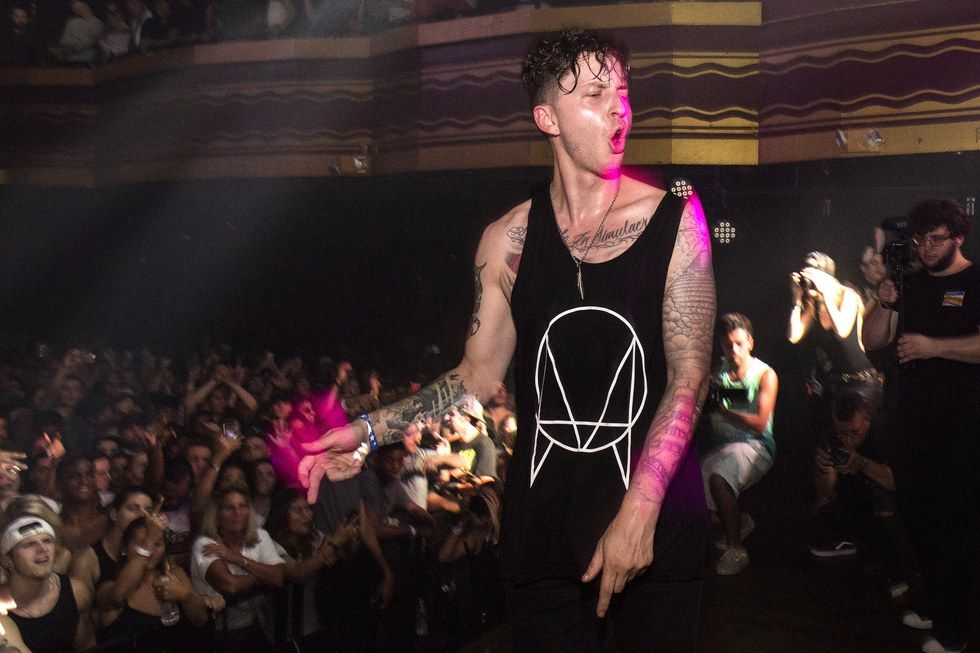 Ekali
Earlier this year, the LA-based entertainment conglomerate AEG bought a large share of local promoters Bowery Presents, taking control of venues like Terminal 5 and Music Hall of Wiliamsburg. Eventually, in a nightlife maneuver that would make monopolists proud, they set their sights on the dank and tastefully dilapidated Webster Hall. Once the Ballinger family who owned the historically protected space for 30 years was poised to sell, AEG teamed up with Brooklyn Sports Entertainment (which owns the Barclays Center) and moved in for the kill. Many of Webster Hall's current staff, uniformly dressed as '90s carnies, who will all be leaving shortly out of non-consensual solidarity, said the venue's iconic name should stand, but its soul, well, that's off to the now-overcrowded New York nightlife Valhalla.
For its last ever club night, Webster Hall went out with a bang, enlisting the brick-blasting audio of Skrillex, the testosterone-fueled Dubstep DJ who's transformed the mainstream pop-music landscape as a producer. Wearing a backwards hat and hockey jersey with "1991" scrawled across his back, Skrillex moved like a joyous, nitrous-infused Fraggle Rock character. He took the stage at 1 a.m., after the Duex Twins and the commendable Ekali rocked the tables. The stage was overcrowded with the familiar nightlife photographers, DJs, models, actors, promoters, hangers-on and rave groupies. The opposing, elevated greenrooms had fogged over completely, blocking out views of any potential scandals within. The GA pit was packed with shirtless lax-bros and candy-popping hotties, while the balcony was a 180-degree, Babylonian hanging garden of bared flesh.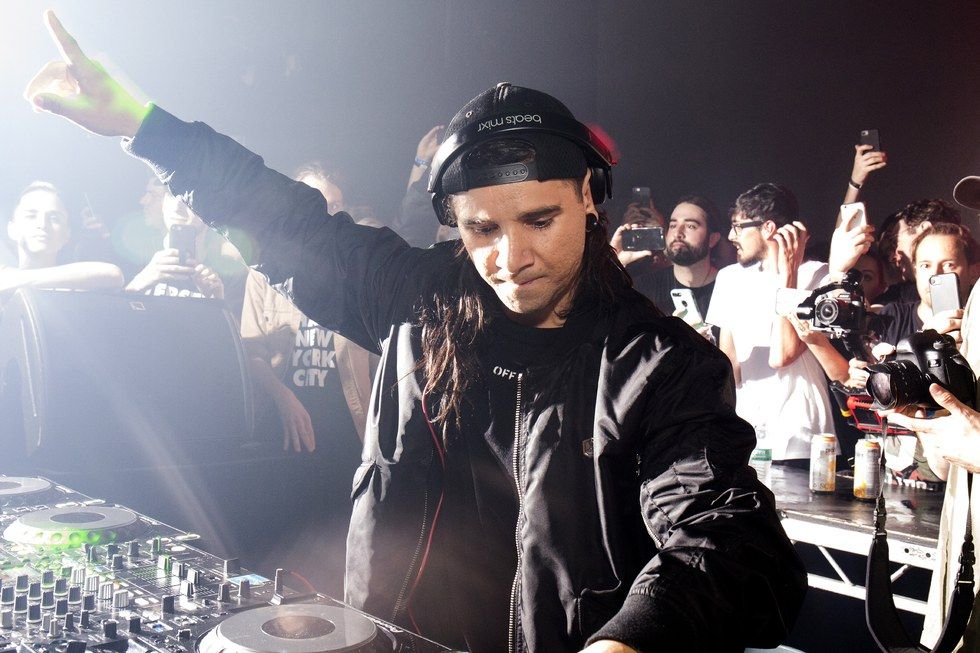 Skrillex
Skrillex's front-man sensibilities are what elevate him beyond just a preternaturally talented producer He's nimble and can jump up from behind the booth, into the air, and back again without dropping the beat. At one point, he brought up his own (super-proud) mother from the crowd to join him on the smoke-shrouded stage, already bending precariously under too much and, he was joined by Boys Noize for a performance as their project Dog Blood, infusing more of a hip-hop element. His set was supposed to end at 3am, but Skrillex couldn't pull himself away from the decks, and ended up running through rave drops until six, when happily strung out partygoers made their way out into the crisp early morning sorbet-tinted canyon of East 11th Street.
All photos by Santiago Felipe/Getty.