New York is dead. Or at least it tends to feel that way. Everything keeps turning into new branches of Chase Bank or Subway or Starbucks. Long live ATMs and malodorous sandwiches.
The designers at Vaquera love New York, and love it in a way that feels increasingly singular. Their past shows have paid tribute to the city's iconography: their viral Tiffany bag dress, parodies of Wall Street suiting, a show in the subway.
"When I first came to New York it felt like I had finally gotten my head above the water and had oxygen for the first time," designer Patric DiCaprio, who hails from Alabama, once said in an interview with PAPER. "This place was overwhelming in the best way."
On Monday night, Vaquera showed alongside Section 8 (brainchild of genius stylist Akeem Smith) and sister labels Creatures of the Wind and CDLM at the Masonic Temple in Manhattan — the Freemasons did not appear to be in attendance, but I suppose one never knows. They threw a funeral for New York, the good New York that you read about in triggering downtown memoirs that feature burned out SoHo lofts and cavernous nightclubs (the kind of New York where you'd see a lot of the huge leather jackets from CDLM, which I want very badly).
"NY found dead September 9," read the show notes. "Cause listed as heartbreak. She forgot her history. Also boredom, frustration, disappointment."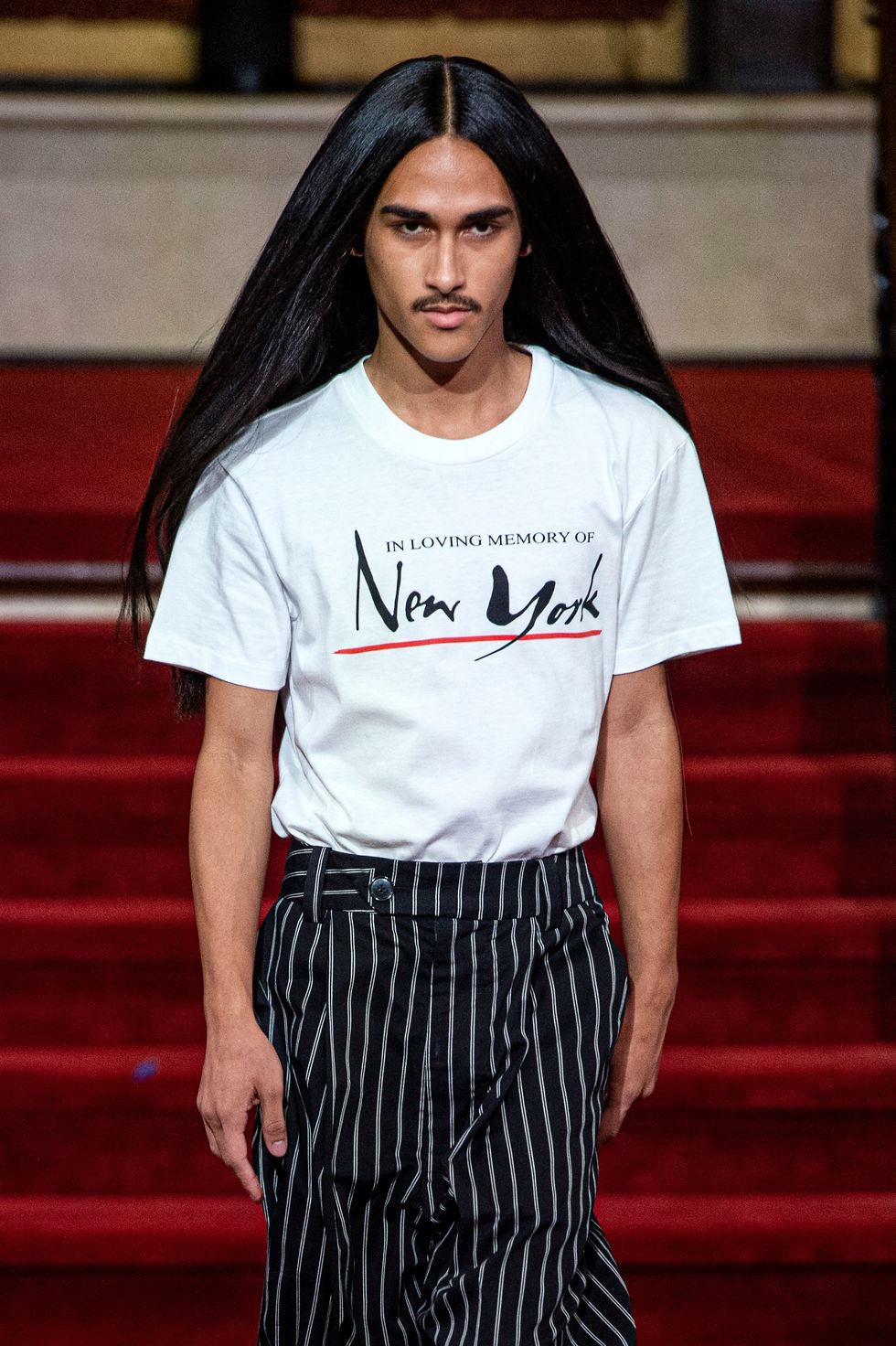 The show's first look included a t-shirt with text reading "In loving memory of New York." Many of the garments shown thereafter were black, shouting out a giant, pointed sadness. A model in full mourning garb hurried down the runway, clutching a bouquet of sequined roses. The models at Vaquera shows nearly run down the runway, in a trademark style from Walter Pearce and Rachel Chandler's Midland Agency. It would be poor form to show up late to the graveside.
I moved to New York in 2010, and the intervening years have felt like everyone is clawing for dear life at something that's rapidly crumbling away. "We love her so much," the designers wrote of New York. "When you love someone, you don't notice the smell. Hopefully she comes back."