Valentino has its red, Versace its Medusa logo, Chanel the tweed that lines dresses and jackets and handbags each season. In the fashion world, these nuances of texture and color, in conjunction with shape, are what help define a brand's identity, what ultimately makes them feel familiar to consumers; they are fashion's version of DNA. Designers carving out their place within the industry will often land on their own set of signatures that are built upon with each new collection—but Patric DiCaprio, the 26-year-old designer of Vaquera, isn't interested in "buy-ability" or recognizable traits. "We are obsessed with keeping people guessing" he says. "We want that to be our thing."
In the three seasons since launching the New York-based brand, DiCaprio has infused Fashion Week with the sort of Dionysian energy once felt at early John Galliano shows. For his Summer/Spring 2016 show, staged at the Church of the Ascension in Greenwich Village, models walked the aisle to the Smashing Pumpkins in baptismal baby-doll dresses and ruffled bloomers, with DiCaprio's boyfriend closing the show in a wedding gown. In February, with new partners David Moses and Bryn Taubensee on board, a debaucherous cast of models dressed in Victorian-meets-club looks danced, lifted their skirts and put their cigarettes out in audience member's drinks at the China Chalet venue in the Financial District.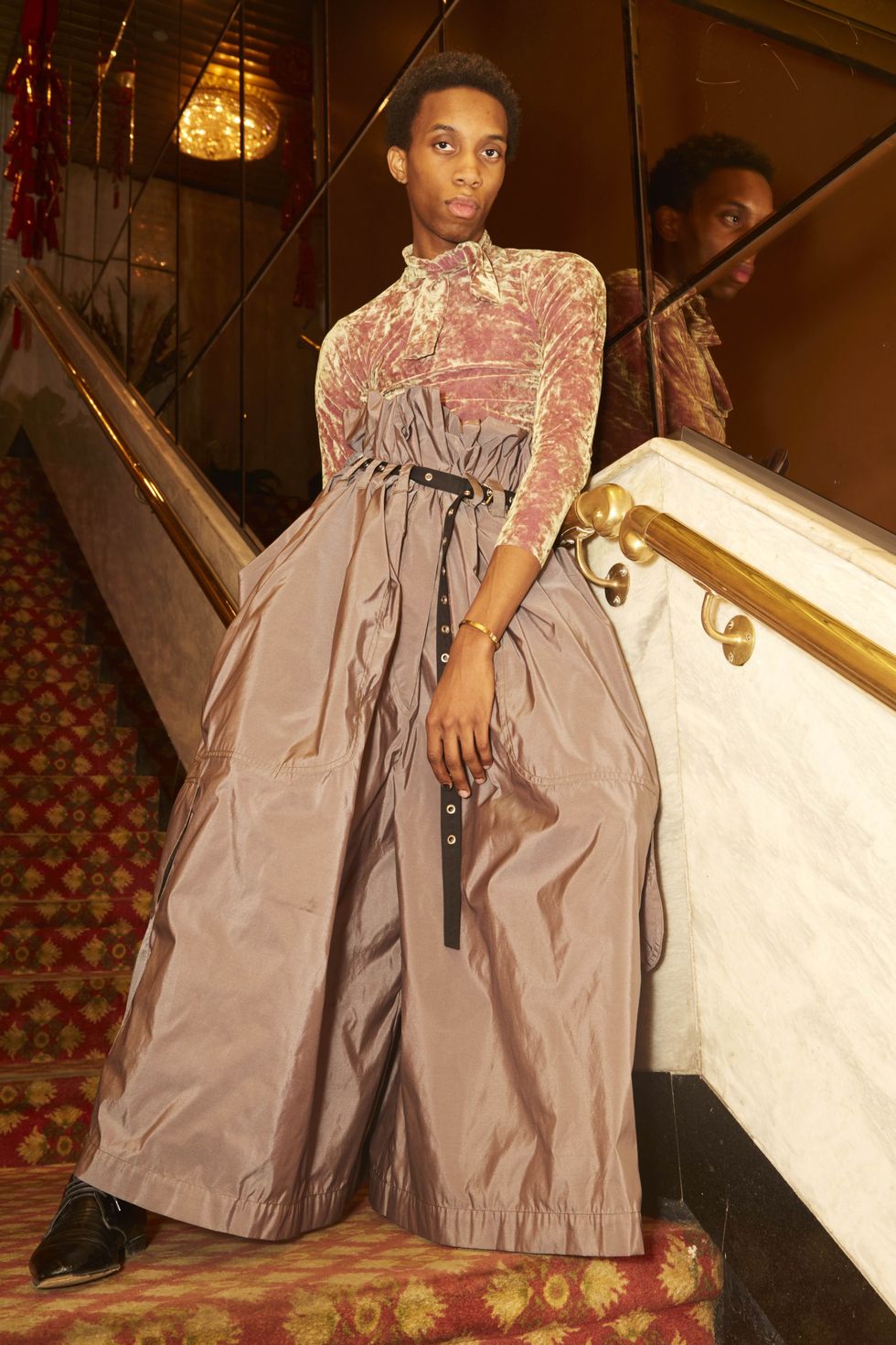 "Vaquera is about constant reinvention," DiCaprio says of his no-guts-no-glory ethos. "It's about the future; the future of style and clothes, but not in the cliche of futuristic spandex and metallics."
Much like his collections, the designer's path in fashion has been far from linear. Born and raised in Alabama, DiCaprio attended a private Christian school before studying photography at a public university in the South. An internship with DIS Magazine offered him a crash course in art direction and styling, and the opportunity to draw creative fuel from New York—a city that has very much proven to be his creative elixir.
"I felt like I had been underwhelmed for my whole life," says DiCaprio, who moved to the city five years ago and taught himself to sew through YouTube tutorials. "When I first came to New York it felt like I had finally gotten my head above the water and had oxygen for the first time. This place was overwhelming in the best way." DiCaprio spoke with PAPER about his creative approach, his unconventional path to fashion and his idolization of David Bowie.
What sparked your interest in fashion?
I think it's always been about clothes for me. When I was in middle school and high school I was always in bands. I was obsessed with Screamo and David Bowie—the groups that had such strong visual aspects to their work. But I think part of me always felt like I was doing that so I could assume the look. Screamo bands would let me wear the size zero, ultra-stretch white jean. With David Bowie, I wanted to wear the gold eyeshadow; it was always about the look.
How did studying photography lead you to fashion design?
My school was very focused on the craft—the dark room and perfect exposure—but I think I was on the opposite end, I was interested in what was happening in the photo. I left college to do an internship with DIS Magazine and because they're involved in so many creative avenues like photography and styling and art and video, I was able to get a realistic vision of things. The experience [with DIS] made me realize I was less interested in photography and more interested in creating these characters.
When school ended, I moved to New York and and worked with DIS again and then with VFiles in [the archives department]. I'd go through old issues of ID and Paper and Dazed and it taught me a lot about fashion history. I had been removed from all of that when I was growing up, there was no Chanel store in Alabama, there was no Dazed And Confused at the Barnes and Noble in Alabama. Coming to New York I was able to get my hands on the clothes and study these old magazines.
How did you get that initial internship though?
I'm obsessed with Tumblr. I got on it more than eight years ago, and it was a huge part of helping me reach out to people. People that I'm still friends with now—Hari Nef and Juliana Huxtable—I met through Tumblr; they moved to New York before me and motivated me to do the same. So I emailed the team at DIS, and asked if I could show them my photography portfolio—which sounds so funny to say now—and they offered to show me the ropes. They hooked me up with Avena Gallagher, who is an inspiration and has taught me everything I know about styling.
About two years ago I started working for her and became obsessed with styling. I styled Charli XCX for a year—and it was exciting, definitely closer to what I wanted to do but it wasn't exactly it. I wanted to pull specific things—1980's Issey Miyake, but there was no way a no-name stylist like me would be able to get my hands on it. So I bought a sewing machine and started sewing the things I wanted for photo shoots. Vaquera started as an art project that wasn't about wearing the clothes or making something for Opening Ceremony—it was about making clothes that I could then shoot. The final product was the look book.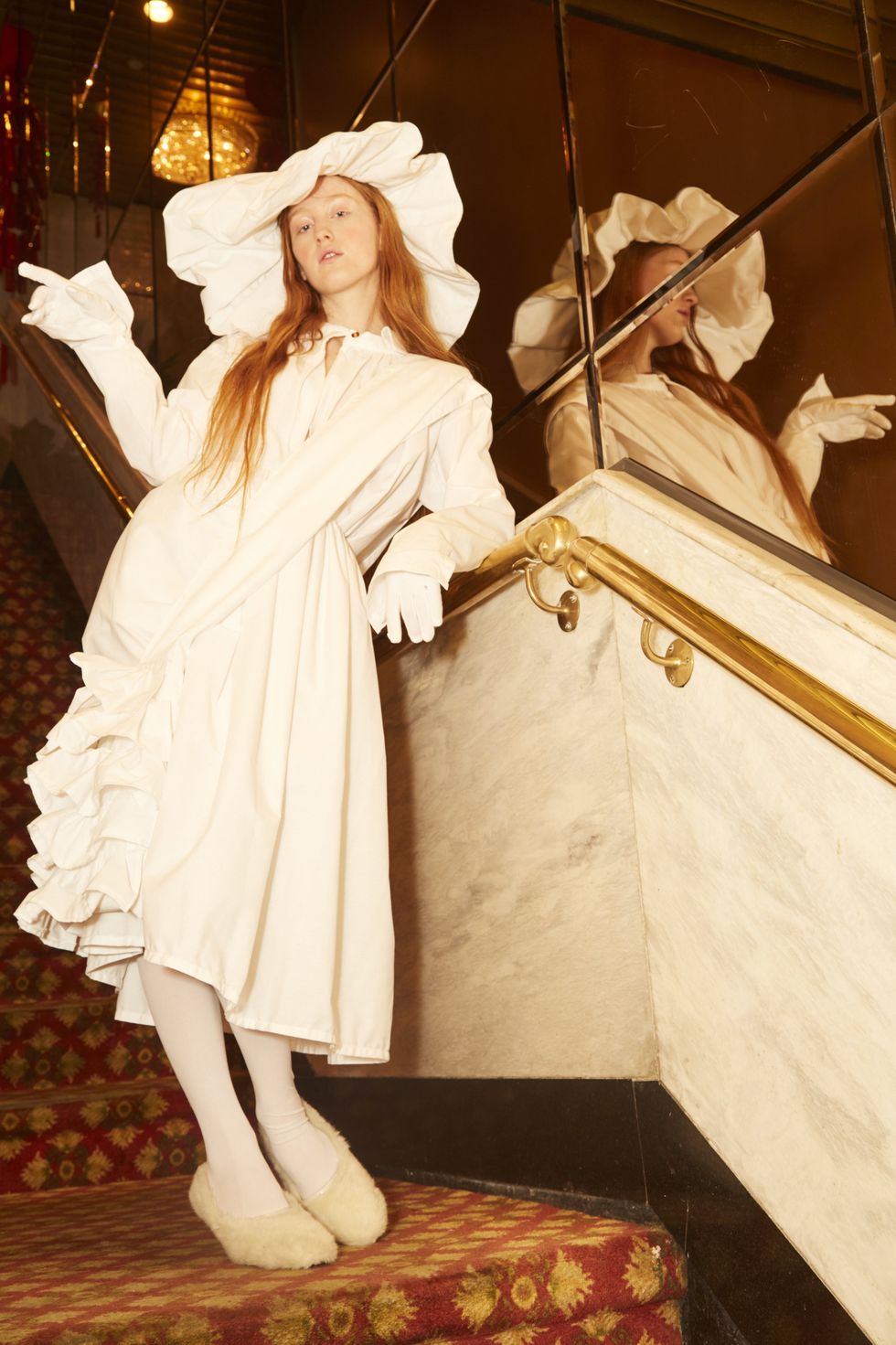 What made you decide on the name Vaquera?
A few different reasons. I was reading a book by Tom Robbins called Even Cowgirls Get The Blues and it was really informative for me at the time. I was also working in a kitchen as an expediter with a bunch of Mexican line cooks and they had a lot of pet names for me, like "el pato" which is gay slang for f—got, and "little baby doll." They knew I was from the South so they'd call me "La Vaquera" because that's Spanish for cowgirl—even though cowgirls aren't Alabama, it's more of a Texas thing. So I just called the project Vaquera. It seems so arbitrary now, I'm stuck with it for better or worse.
What's been one of the challenges of keeping things future-focused?
I've had criticism from people that it's such a bad business model to reinvent yourself each season, that no one's going to know what to expect from you. Buyers are going to be confused, you're never going to make any money. And I've just been like, "Well, I think we don't have any interest in that." We are obsessed with keeping people guessing—we want that to be our thing. I try my best to keep it a secret until the day of the show and then just let loose.
So we're going to assume you won't be giving any clues about next season's show.
Oh my god, i don't want to give it away! I think people want to see billowy-sleeves but that's out the door. We're doing something completely different. Romantic but a whole different definition of romance.
How has working with David and Bryne changed things for you and the brand?
Last season it was like a whole new brand. We came together through Avena and it feels like we're progressing, which is exciting. I got sick of doing everything alone. For the Spring show I sewed everything, produced it myself, got the location, cast it myself.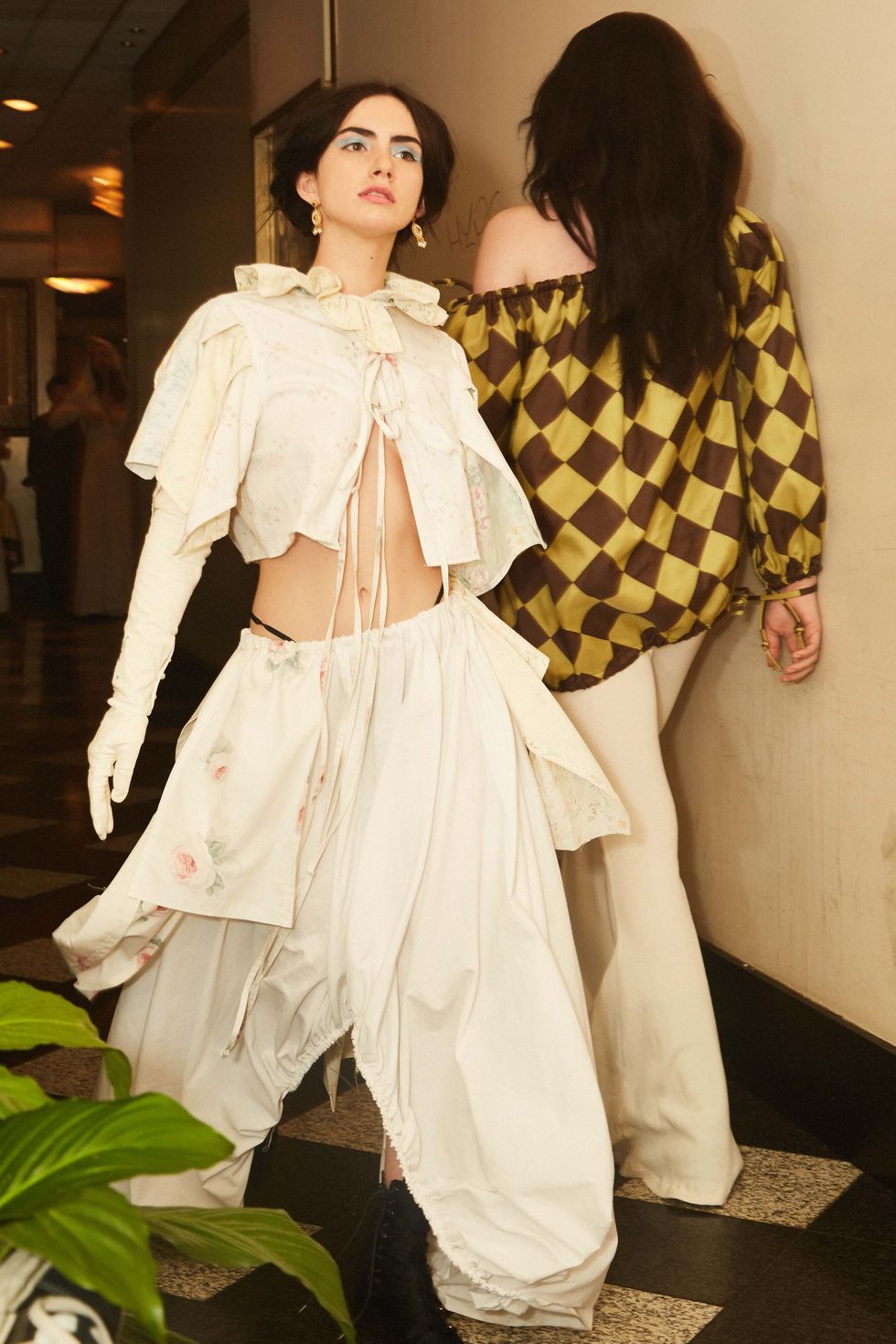 And did you collapse after the show ended?
It was a serious problem, it became impossible. I realized I was either going to have to plateau so I could get my life together or I was going to have to find a way to expand the vision. I trust Bryne and David with my life and they understand my vision but have their own ideas. It was a necessary change.
So many designers have expressed concern about the relentless pace of the industry recently.
All these different seasons—pre-fall, couture, designers showing things that are going to be available for purchase the day after the show. That's so scary for people like us who are on our hands and knees in the living room cutting the clothes and can barely get them made in time for the show.
Do you want to stay independent? What are the benefits and detriments, in your opinion?
I think we want to stay independent. I want to make money but I don't want to feel pressure to do certain things. I'm already so sick of that show we just did—already on to the next one. It's like with Demna Gvasalia getting the Balenciaga job: I was so disappointed to see him doing the same thing he did at Vetements at Balenciaga, but then I realized, with all the money that's involved and when you're working with these huge offers, there's contracts. Money complicates things in a way that I think can hurt people's creativity. Maybe you'll make a lot of money for a few years, but you might forget how to make exciting things because you're stuck with the designs that worked well one time. I want to make money, but we want to find different ways of doing it.
You May Also Like
Music
Story by Nicolas-Tyrell Scott / Photography by Zach Apo Tsang / Styling by Oliver Volquardsen