Rina Sawayama is curled up on a red vinyl booth, her knees pulled up to her chin. With a worn microphone in one hand, a fizzy soju cocktail in the other, she casually sings along to "Come Into My World," her eyes fixated on the yellow lyrics as they flash across the TV screen in the corner of our private karaoke room. It's apparent from the way she lit up when I first selected the track from the thick song book on the beer-stained table in front of us that she's more than familiar with the 2002 bop. In fact, this won't be the only time Kylie Minogue will pop up during our hour and a half spent together.
Since making her debut with "Sleeping in Waking," a dreamy R&B ballad posted to SoundCloud in 2013, the Niigata-born, London-raised singer-songwriter and model has become somewhat of a darling on the music blogs. Various publications have dubbed her "the future of pop," likely for her ability to capture the anxieties of the digital age and package them in nostalgic, yet forward-facing pop melodies. "It's wicked, but it's crazy that's what they've decided to call me," Sawayama shares, adding that she tries not to think too much about the collective label. "I don't know what they mean by it. Is it the sound? Is it the fact that I'm Asian and there aren't that many Asian people in Western pop?"
When I lament about the American music industry's failure to embrace crossover attempts from East Asian artists like Utada Hikaru (whose excellent 2004 English language album, Exodus, only reached No. 160 on the U.S. Billboard 200 Chart), South Korean star BoA, and former 2NE1 singer CL, she suggests that poor marketing is to blame for influencing how listeners consume music that appears outside of their familiar homogeneous frame.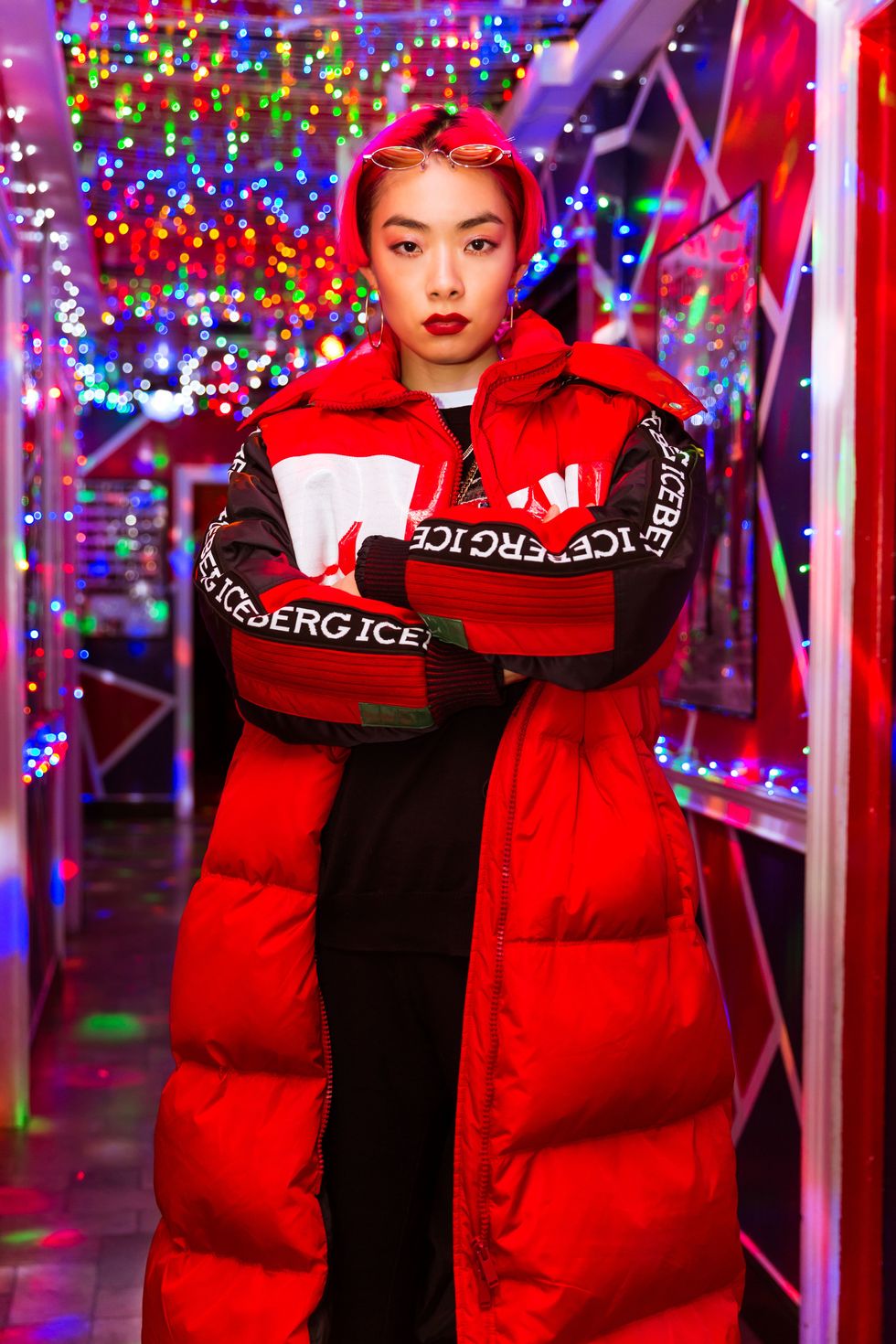 Photography: Andrew T. White
"If it's marketed as K-pop, they'll expect that K-pop sound. If it's marketed as J-pop, it already has this 'kawaii,' niche connotation with it," she offers. "I guess with CL it was this idea to cross her over into Western mainstream pop, but because of the K-pop connection... She's a super successful K-pop artist, right? It's hard to detach from that."

Related | CL, K-Pop's Queen Bee, Prepares to Conquer America
As we're currently in the midst of nostalgia's 20-year cycle, it makes sense that Sawayama's music — particularly her hyper-charged 2017 mini album, RINA — takes a few sonic cues from the sparkly J-pop she listened to in her formative years. She tells me she attended a Japanese school and listened to a lot of J-pop until she was about 10 years old, listing off Utada, Crystal Kay, Speed, Max, and TRF as some of her early favorites. As for her own image as an artist, however, Sawayama has made a conscious effort to steer clear of presenting herself in a way that might pigeonhole her music or play into "stereotypical" tropes.
"I've been making sure not to market myself as J-pop, and just lead with good music and good performances, connecting people in that way. I'm trying to do something new in terms of representation, rather than deliver the same old narrative of what an East Asian artist could be... It's all coming from a place of love, community, and this self-belief that I want everyone to have — especially for those who don't see themselves represented."
Minutes later, Sawayama is standing atop her seat, one chunky white Buffalo sneaker (the brand immortalized by Baby Spice in the '90s) perched on the table as she strikes pose after pose for our photographer. Multi-colored disco lights dance across her face in a kaleidoscopic rainbow, her cherry red hair swishing side to side as she moves effortlessly around our small shared space, dancing to "Can't Get You Out of My Head." It's almost like watching a glossy music video being filmed in real time, but I shouldn't be surprised: This girl lives and breathes pop.
The 27-year-old's music is understandably influenced by the high energy pop and R&B that marked the turn of the millennium. "When I went to English school, I caught the tail end of the Spice Girls. Then it was mainly Britney, Christina, and Kylie — a lot of women. And then pop became pop-R&B with the Neptunes and Timbaland, so I listened to anything they touched," she reveals, laughing as she admits her first concert was seeing U.K. band Hear'Say live in 2001.
Related | Christina Aguilera Is Back With a New Transformation
"They won the first ever [season of] Popstars. It's so not cool now. Maybe ironically cool, but I loved them so much. I was completely obsessed," the singer reminisces, groaning playfully as her manager suggests we try to find some of their music in the song book. I tell her my first concert was the Spice Girls. "Now that's cool," she sighs.
Like Charli XCX or Kim Petras, Sawayama is an unapologetic fan of her genre. As she gushes over Avril Lavigne ("I love her so much"), Mariah Carey ("'Emotions' is a perfect ballad") Minogue ("Her discography is bangers!"), and Beyoncé ("I'm a Beyoncé stan, I've seen her live DVD about 20 times"), I also learn that she is, much like myself, fascinated by the way "pop music reflects politics."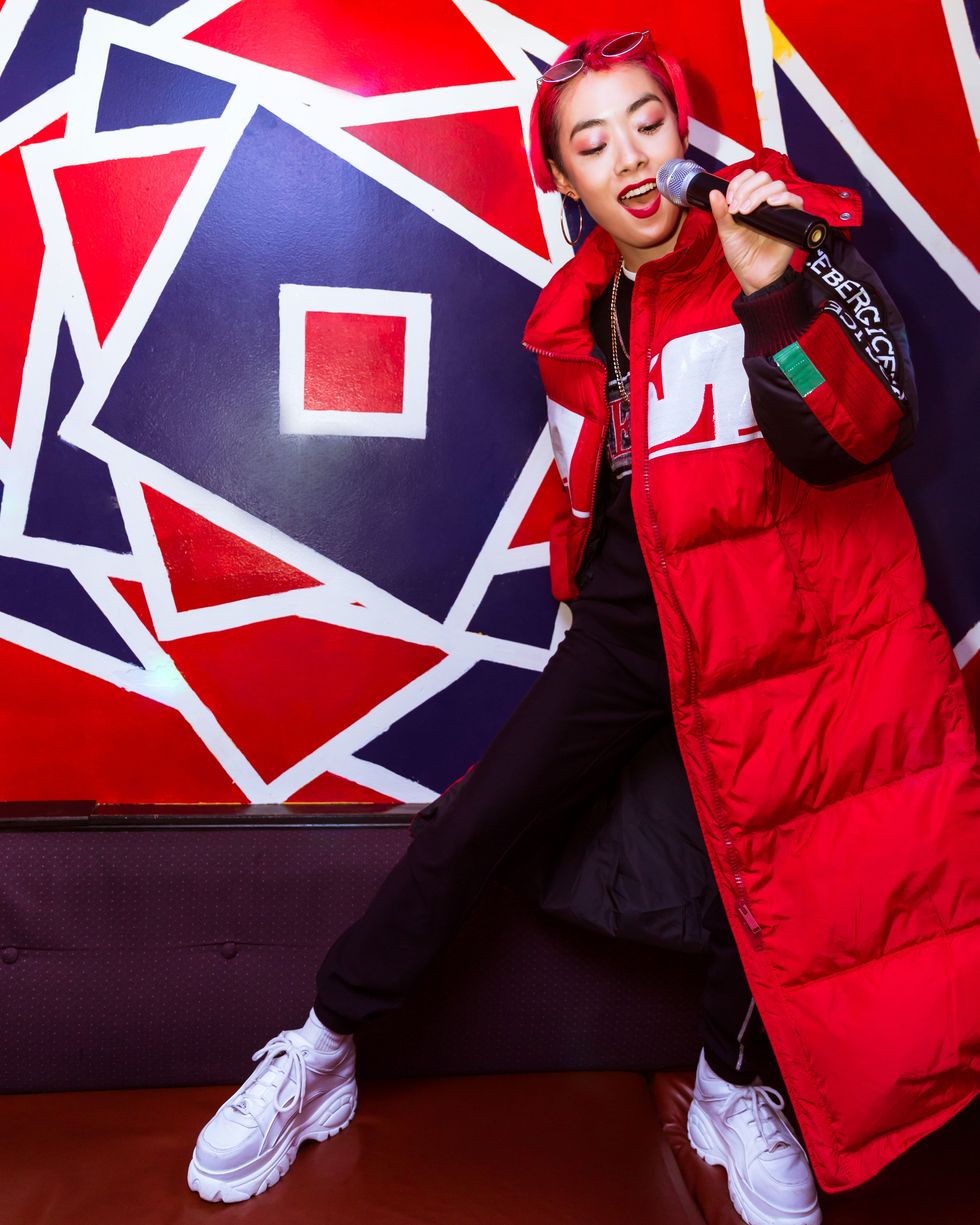 Photography: Andrew T. White
"The narrative around pop has always been quite strongly female led, so I think [attitudes towards pop] depend on what era women are having in a way," she muses. "When we had the Spice Girls, their whole thing was very early girl power... Now I think we're having another wave where loads of female artists are leading the way, but with a completely different power."
No discourse on pop music is complete without a mention of Britney Spears though, and it doesn't take long for our conversation to turn to the Princess of Pop, of whom Sawayama is a massive fan. "Her music was so good," she gushes. "Her aesthetic was amazing all the time. She was the girl next door. I have this newfound appreciation for her from what happened in 2007. I've been listening to Blackout a lot, which was the album I kind of dropped off at. Now I listen to it a lot and I just have this appreciation for her life. She's a real person, you know?"
Related | Melanie C on Girl Power, Sexism and Motherhood
It's clear that Sawayama feels a deep connection with the pop icon. You can hear the Holy Spearit conjured on songs like "Take Me As I Am," which — whether intentional or not — sounds like the social media-savvy little sister to Oops!...I Did It Again track "What U See (Is What U Get)." Aside from literally sharing a lyric ("...take me as I am"), both songs express the two young women's sense of autonomy and desire for self-acceptance. When I suggest that the press would hopefully handle things much differently 11 years later, she draws a sharp, haunting comparison between the media's misogynist mistreatment of the pop star in the mid-2000s and the vilification of rapper (and singer) Azealia Banks on social media today.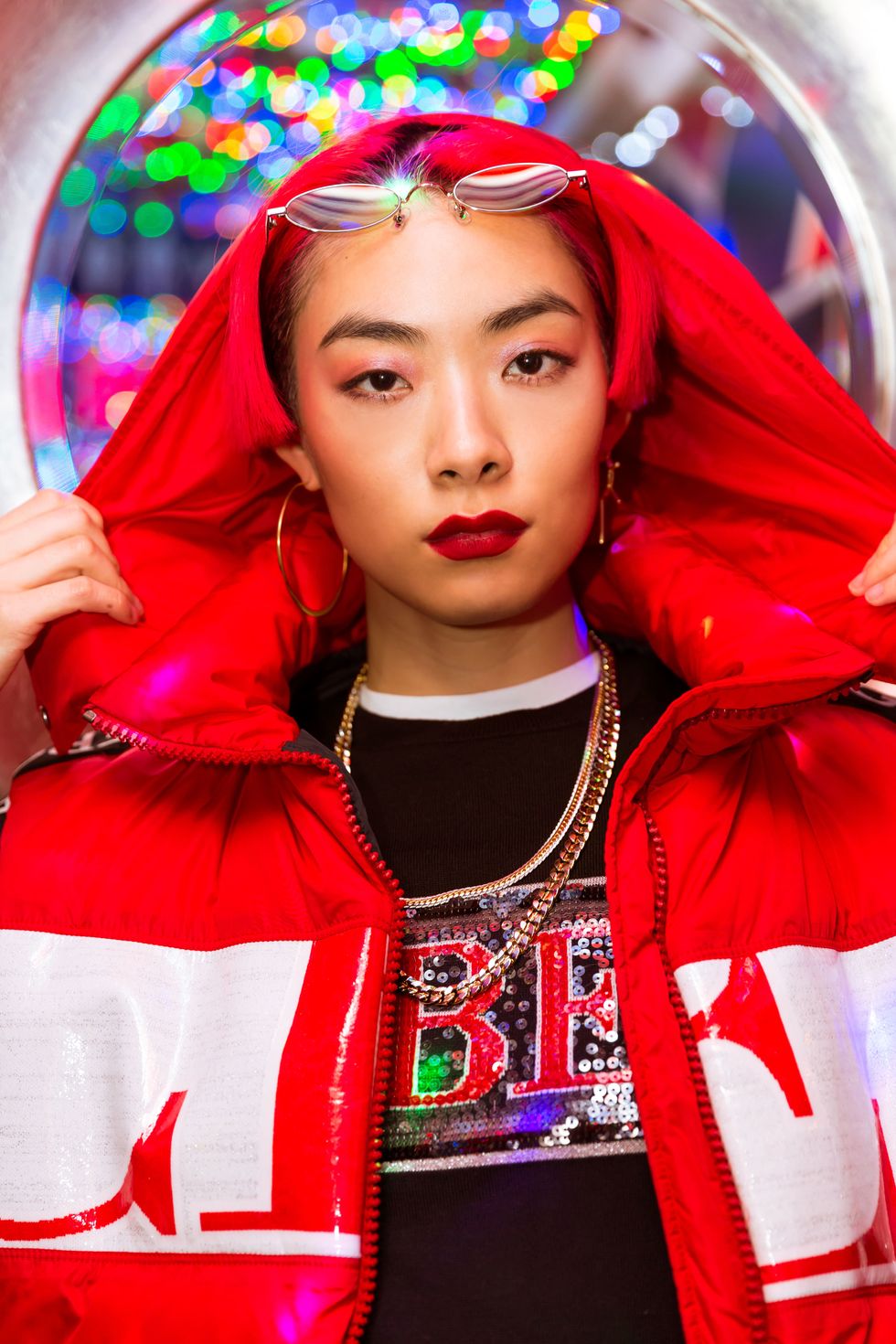 Photography: Andrew T. White
"The discussion on mental health has definitely changed [between then and now]. It also might be a bit more insidious today. I see it with Azealia, for example. She's been very vocal about her mental health struggles and I really do support her. We don't let people make mistakes and just be human. The double edged sword about social media is that you're able to be a brand 24/7 — but people expect brands to be perfect."
Coming from Sawayama, it's a fitting observation. Her 2017 breakout single, "Cyber Stockholm Syndrome," tackles self-presentation, isolation, and social expectations in the Web 2.0 era. And that's what makes the rising pop star so compelling: the glistening pop sheen of her music is merely the candy wrapping surrounding something surprisingly fulfilling.
Before we depart the colorful K-Town karaoke bar, each of us a little buzzed as we diverge, heading off towards different parts of the city on a chilly Thursday night, I can't help myself: I ask her which three albums she would hand to someone who had never listened to pop in all their life, to give them a full 360 on the genre. "Oof..." she murmurs, weighing the task. It takes her a few minutes to gather her thoughts before she confidently rattles off her list.
"Grimes' Art Angels. Britney's... Britney or Blackout. And Beyoncé's Dangerously in Love," she decides, before abruptly changing her mind on the latter. "No! It has to be Writing's on the Wall [by Destiny's Child]. I feel like that's pop music. I just really want to show a range. Pop can be anything."
Rina Sawayama's Karaoke Jams
"Automatic" – Utada Hikaru (1998)
"This was the first song I ever really sang in front of like, my parents in the living room when I was a kid. It's when I decided I wanted to be a singer."
"Piece of Me" – Britney Spears (2007)
"The lyrics and video are so iconic. It's Britney's first 'fuck you' moment and that album is the only album that, at least up until that point, she executively produced. Her intention at that time is all over Blackout."
"Cut to the Feeling" – Carly Rae Jepsen (2017)
"She's fucking underrated, criminally underrated. Emotion features insanely good pop writing. I feel like she should be bigger than she is. 'Call Me Maybe' blew up but that's not even her best song. I just think she's just a phenomenal songwriter and she looks like she has a really nice vibe about her."
Photography: Andrew T. White