The dust has settled from Red Stripe's annual Reggae Sumfest—the largest concert festival in Jamaica. The 25th anniversary of took place July 20-21 this year in Montego Bay, St. James, and locals and reggae music lovers across the world gathered for a week of groundbreaking performances from legends of the genre including Ding Dong, Popcaan, Bounty Killer, Damian Marley, Spice, and Beres Hammond to name a few. With just five women on the Reggae Sumfest bill, PAPER traveled to the festival with Red Stripe to highlight some of their most memorable moments from the weekend and an inside look into their world.
Starting in Kingston, we traveled with Zuri Marley, granddaughter of the late great reggae icon Bob Marley and daughter of Ziggy Marley, an icon in his own right. Zuri joined us for a tour of the Bob Marley museum located in his old home—an experience that shared the true essence of the Marley family. At just 22 years old, Zuri has already made steps toward her own career as an independent artist. Currently based in Brooklyn, she shared how her famous last name has molded her: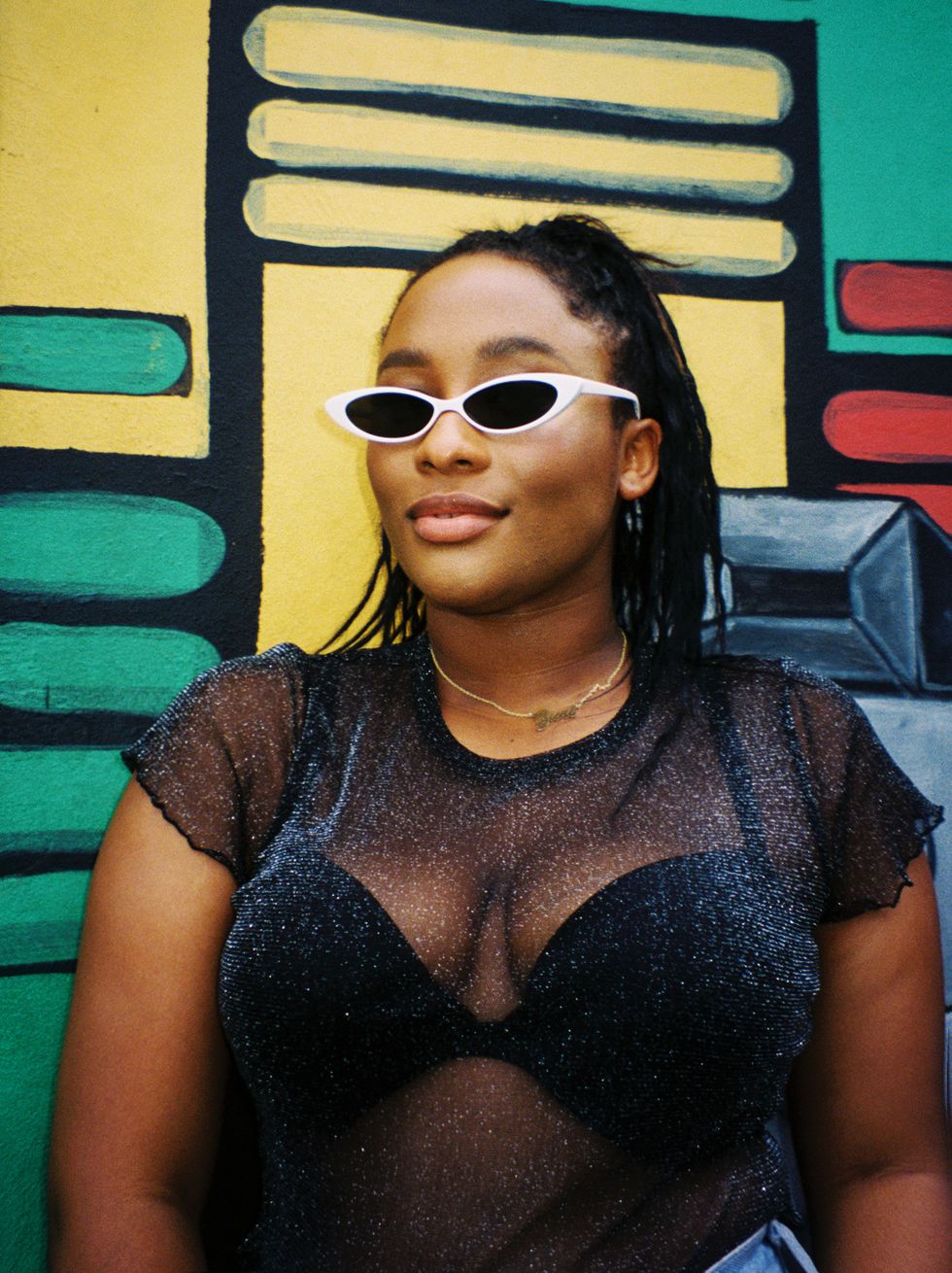 Zuri Marley
"I think the pressure comes from people on the outside of my family who think they might have an idea of who I am, what kind of music I should make, or what kind of clothes I should wear," Marley said. "There's so many things you can take from Bob Marley's legacy. People assume that I'm going to take on dreadlocks or reggae music, but really what I care about is the message, which is freedom. That's what it means to me, at least. So freedom, what am I going to do with that? I'm going to do whatever the fuck I want."
Jamaica, like many other countries, is still experiencing female firsts. At Ocho Rios, where we gathered at Mystic Mountain with two members of Jamaica's first Women's Olympic Bobsled Team, which made its debut at this year's winter games. After giving us a crash course in bobsledding at the park, team members Carrie Russell and Audra Segree spoke about the courage it takes to compete in a male dominated sport:
"Based on what you see in the world, it's males getting more recognition than females," Russell said. "So we are trying to push past that because everyone knows Cool Runnings and things for the guys, mostly. We are trying to break that barrier and give women inspiration. Don't limit yourself."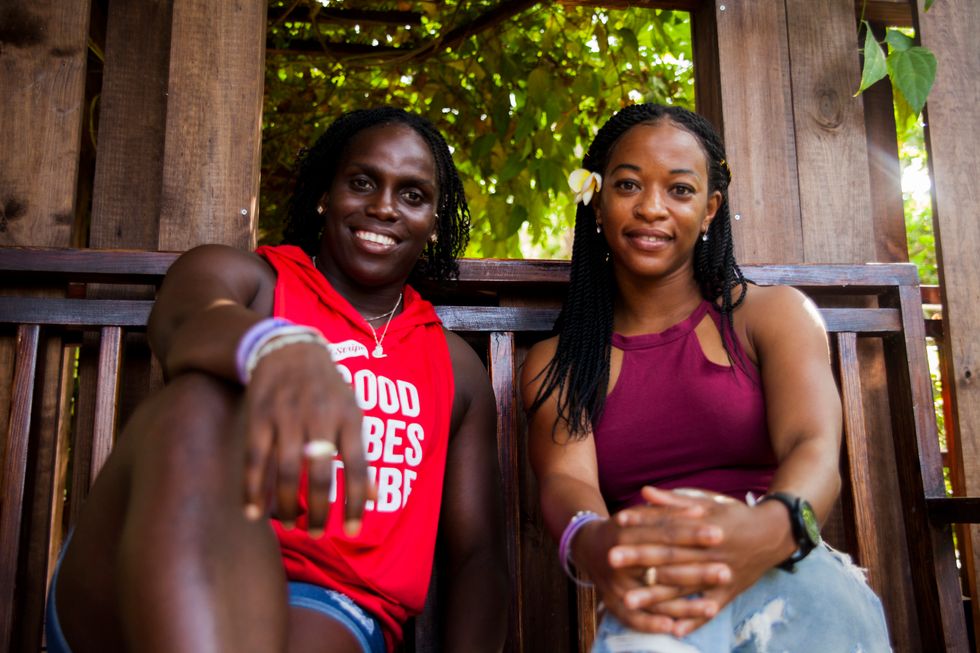 Carrie Russell and Audra Segree
The final stop was with none other than dancehall queen Spice. Some may know the artist from her recent spot on Love & Hip Hop: Atlanta, but she has been dominating in her genre since releasing "Romping Shop" in 2008 with Vybz Kartel. Spice's Wakanda-inspired Sumfest performance, featured African tribal makeup, Dora Milaje army looks and demanded the attention of the crowd. Even through a controversy with security, who wouldn't let performers onto the stage with Spice, causing the show to briefly stop, she still delivered a fiery performance for thousands of fans.
PAPER caught up with Spice following her show:
Do you think you are finally getting the respect you deserve in dancehall ?

I'm the current new queen of the dancehall but honestly, I don't really think I get the respect that I deserve. I don't think any woman gets the respect they deserve. When I was performing last night, there was a lot of chaos on the stage and it's one of the most talked about things right now in Jamaica. When the men performed everything was smooth, but during my set security was telling everyone to get off of the stage. When a male artist performs they have an entourage of 100 people. That's just one example, why I don't think women artists get treated equally.
What do you think needs to be done to change these circumstances?
It's been going on for years and I'm not sure it will ever change.
Well we will be sure to shine light on female artists today. Who are the women you believe have paved the way for you to have the spot you are in now?
Patra was the one who started it in Dancehall. Of course, you can't mention dancehall and not mention Lady Saw. Those two for sure.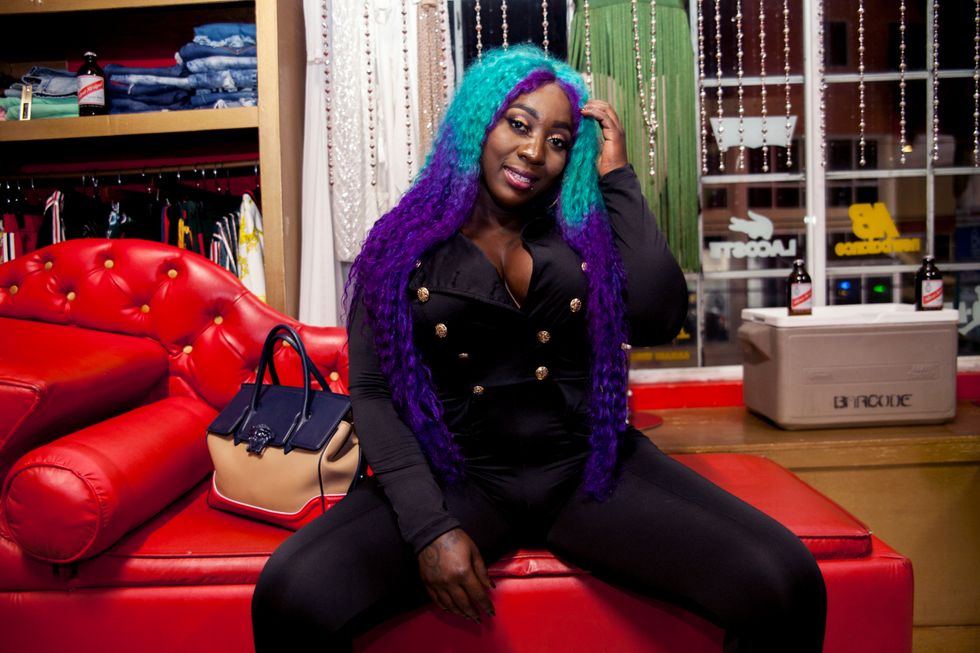 Spice
Aside from dancehall icons, which other artists inspire you?
Nicki Minaj! Everybody knows I'm a Nicki fan. Foxy Brown as well, who's also my sister. We talk everyday so she really inspires me and pushes me to keep going. I really love Rihanna as well. I think that I'm into the fact that they are from the Caribbean, so I look up to them and I hope to be like them one day.
What would you say to young women who are trying come up in music today? What steps did you take to gain a presence not only in Jamaica but in the U.S. as well?
The steps that I took to really gain the love was the keep my composure with my pride and my dignity. I didn't go around sleeping with everyone that I met, so the respect that I get is because of that. A lot of women will say, oh it's difficult for us as women because people try to sleep with us, but I always say if you're laughy-laughy and you laugh too much, then people are going to feel like you're flirting-flirting. But if you're about your business and you keep a straight face, and they know that you don't mix the business with pleasure, then they have to respect that. I would say that to any woman, to just respect yourself and you will gain respect.
At what point in your career did you realize, this is something I can really do?
My career took off when I did "Romping Shop" with Vybz Kartel. That's when my career really started popping, because that went on the Billboard charts. The moment that I really gained popularity was in 2014 when I did "So Mi Like It." It has like 78 million views.

What do you think your purpose is as an artist breaking barriers in Jamaica and crossing over into the states?
You know when you travel the world and your hear reggae music, the first name they call is Bob Marley. When they think of a female in dancehall, I want them to be able to say Spice. That's really what I am working on.
Photography by Bukunmi Grace