If there's a girl group that knows how to ignite the senses, it's Red Velvet.
Ever since dropping their debut Ice Cream Cake EP in 2015, the five member troupe — made up of members Irene, Joy, Yeri, Wendy and Seulgi — have consistently cooked up a tasty array of sugary-sweet pop anthems and velvety-smooth R&B confections that have catapulted the troupe from rookie status to one of the top performing acts in their country — and abroad.
Following the success of last year's zesty "Red Flavor," the girls kept that same energy in 2018 with another bright, fruity burst of joy — as in the feeling, but also literal band member Joy — in the form of "Power Up," a giddy, video game blip-filled bop.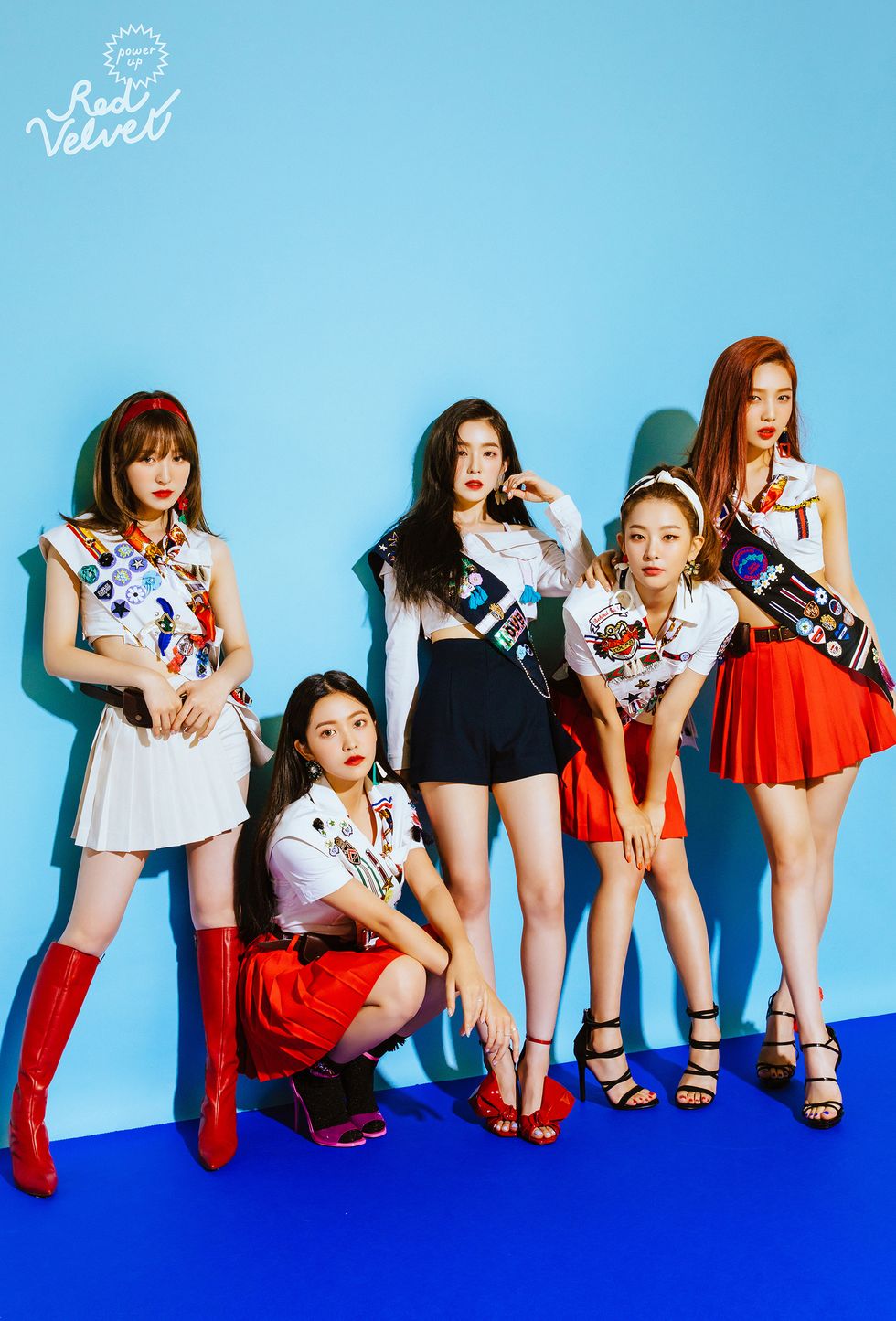 The track is the frozen cherry atop their sixth mini-album released in early August, Summer Magic. Along with fierce bangers like "Hit That Drum," "Mr. E" and the Teddy Riley-produced R&B-pop scorcher "Mosquito," the lively set includes the English version of previous hit "Bad Boy," which the girls premiered to an arena full of surprised gasps and shrieks during KCON 2018 NY at the end of June.
The collection quickly sent the girls soaring to the top of both the album and singles charts in South Korea yet again, and also earned them their best sales week to date in the United States.
Their reign clearly extends beyond just the sunny season, but at this point, it's official: the summer's not hot without Red Velvet.
Summer Magic comes almost exactly a year after The Red Summer. How would you describe the vibe of this latest summer release, and how does it compare to "Red Flavor"?
Seulgi: There are so many songs that are more exciting and brighter than ever. I think this album can cheer up those who are tired from the heat of this hot summer.
"Power Up" is the lead track. Can you talk about the decision to make it the single? How would you describe the song?

Joy: All of us liked the song from the beginning because it was so fun and catchy, and they also held a company-wide vote for the title track, and this song was the most popular in that vote. Judging from that, I really think it's a song that anyone will love!
Irene: "Power Up" carries a message of "When you play hard and gain some energy, you can also have fun while you work!" Even for us, working hard is great, but having fun is also important.
How about the visual concept for this comeback? Did you have any specific ideas about how you'd like to be styled for this era?
Joy: I think because the concept for our previous release, "Bad Boy," was really tough and strong, with this new album, we wanted to do something completely different with our outfits, as well as our hair. I dyed my hair really light to give off a fresh, fun and lively vibe.
You debuted the English version of "Bad Boy" at KCON 2018 in NYC, which I was lucky enough to see live! What was that debut like? Were you nervous?
Irene: When we performed "Bad Boy" overseas, the fans really loved it, so we thought it would be a nice treat to release an English version of the song. I wasn't that nervous to perform it, but more excited that so many people loved the English version! It was so much fun to perform.
Speaking of other languages, you also had great success with #CookieJar in Japan. Are there any talks about attempting a crossover in the West?
Irene: If people like it and want it, of course we'd want to release something later on.
"Bad Boy" was written by Stereotypes, who have done amazing work with artists like Bruno Mars, Far East Movement, BoA, Danity Kane — so many different acts over the years. Who would be the dream Red Velvet collaboration?
Yeri: Ariana Grande.
"You Better Know" was a fan favorite from the last summer release, as well as "Zoo." We all love the lead singles that were chosen, but are there any album tracks that you personally wish were lead singles from your last releases?
Irene: I also think "You Better Know" could have been a contender as the title track.
Are there any Red Velvet songs that have a special meaning to you?
Joy: In our second mini album The Velvet, there are songs called "Light Me Up" and "First Time." Although those two are not that familiar compared to our other songs, they are special to me because I personally like the R&B genre, and this showed the audiences that Red Velvet has various sides. The songs have very sensitive lyrics and used to stay inside my mind for quite a long time.
What are your favorite songs of the summer? (This summer... or any summer!)
All: When we think of summer, we always come up with our song "Red Flavor." We never get bored of it, even though we listened to this song millions of times. Our new title song "Power Up" is also one of our favorite songs of the summer because it gives a fresh summer vibe whenever we play it.
You've achieved so much success already. What goals do Red Velvet still have to accomplish — in music or in life in general?
Seulgi: I hope we can give a positive effect to everyone. I think we definitely make an impact, and I hope people can gain positive and good energy from us and our songs.
Stream Red Velvet's Summer Magic, below.
Photos Courtesy of S.M. Entertainment