Oh hennies, it's good to be back! Did anyone else breathe a huge sigh of relief when the first episode of All Stars began? It truly felt like the world once again made sense. The power of men in wigs, my god.
This season started out with a cute intro featuring Hall of Famers Chad Michaels and Alaska in a very funny and much needed Handmaid's Tale bit. Sometimes Drag Race premieres can be a bit jarring — you turn on your TV and suddenly a 6'1" glamazon walks into the workroom, pops a hip, shouts their catchphrase and we're off! But Chad and Alaska's opener helped ease us in and remind us that the girls of All Stars are the best of the best — the stakes are as high as Laganja Estranja doing a makeup tutorial with Jeffree Star.
Related | The World According to RuPaul
Is there any sound gayer than a room full of grown men shrieking when the Drag Race theme song plays? Orgasm, rinse, repeat.
The entrances helped to both re-introduce us to the queens and also set up their arcs for the season: Trixie Mattel wants to prove that she can be as good on Drag Race as she's proven herself off of it. Milk wants to prove that her brand of high-fashion art drag is valid in the context of RuPaul's pageantry. Chi Chi DeVayne wants to prove that's she's come far from the swamp-queen in a trash bag who couldn't keep up with her more polished competitors. Thorgy Thor wants to prove that she's as funny as she keeps saying she is — now that Bob the Drag Queen isn't there to steal her attention. Morgan McMichaels wants to prove that she's still alive (a debatable point) and that she's had better work done than all the other alumni. Aja wants to prove that she's more than a meme. Bendelacreme wants to prove that she's not just a nicer, less funny Bianca Del Rio — good luck, bitch. Kennedy Davenport wants to prove that she... I'm not actually sure, I was checking Grindr during her intro. And Shangela is back purely for the gag, don't pretend she's not.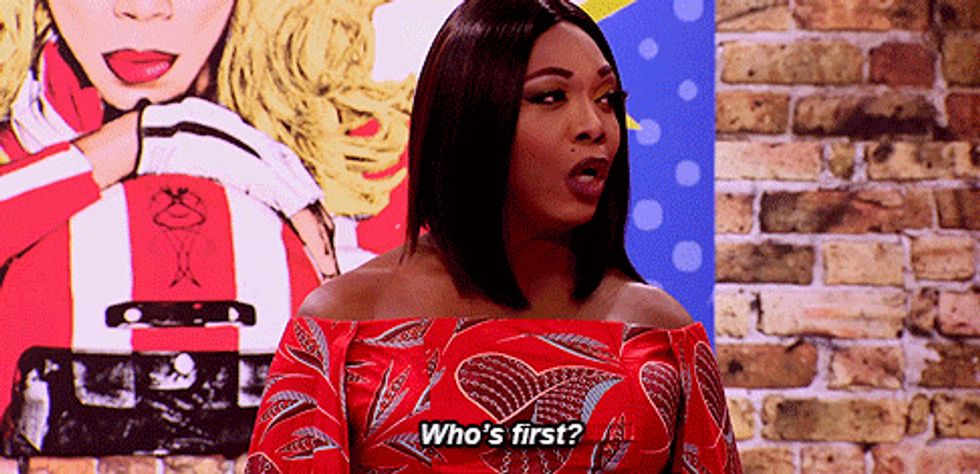 As fun as it was to watch the queens pretend to be surprised when Ru announced that there'd be a 10th queen joining the race, it was much more enjoyable to watch season one winner BeBe Zahara Benet walk in and snatch them all bald. Ru explained that, as season one took place when dinosaurs roamed the earth and World of Wonder did the queens dirty with that shitty pre-Instagram filter, BeBe deserved the chance to compete again in glorious HD. Now BeBe could be the first queen to be crowned twice. Gag.

Having the reading challenge in the first episode is truly a gift from god (Jasmine Masters). Some queens were "meh" (Thorgy, Chi Chi, Kennedy, Aja), some killed (Trixie, Shangela). This might be an unpopular opinion, but I think the best read was Milk telling Kennedy she's "the only queen that doesn't have to look both ways before crossing the street." (Kennedy's "I hate you" was pure gold). At that live viewing I attended, the biggest laugh was for Trixie's jab at Aja: "You're beautiful, you're gorgeous, you look like Seal." Savage.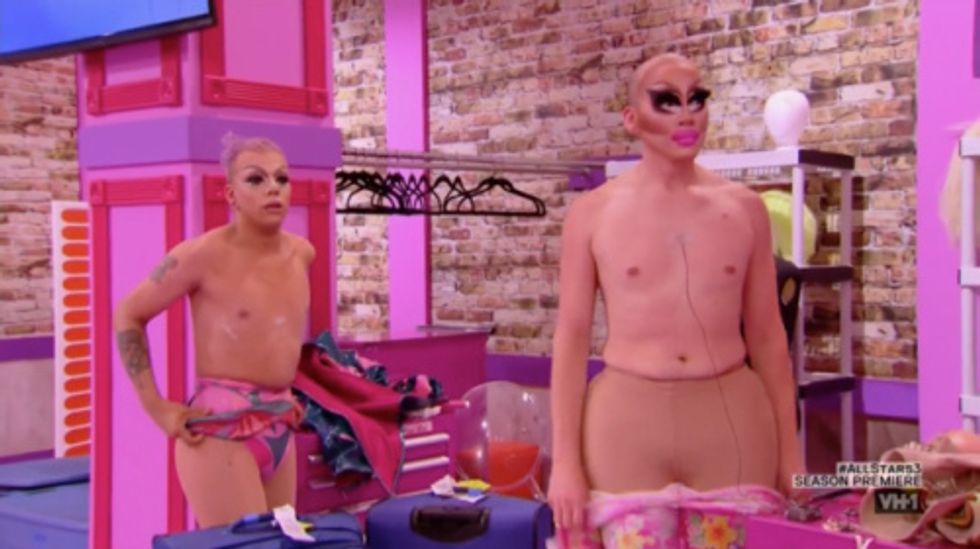 I'd like to take a moment to talk to you about Square Space — actually, I'd like to take a moment to talk to you about the fact that Thorgy Thor, who is so white her literal given middle name is Thor, still has dreadlocks. In 2018. Girl.

The problem with the All Stars Variety Extravaganza is that most of these girls main (only) talent is lip syncing to other people's music, so not letting them do that means we get a variety show where half the queens do splits while lip syncing to their own (bad) tracks. It works for some people — Aja, who slayed — and is just boring for others — Milk, Morgan and Chi Chi, snooze. Honestly the biggest disappointment for me was Trixie; I get that she is a budding country music star, but she is so funny and does stand up for a living, why would she not play to her greatest strength?
With the help of Vanessa Hudgens, Ru and the other judges named Aja and Dela the top two queens of the week, with Morgan and Chi Chi in the bottom. In the twist of all twists, Morgan was sent packing. I truly thought she was going to be this season's Tatianna — maybe she should've done a spoken word piece as her talent. But of course, considering what we saw in the show's final moments, Morgan will most likely return for her Ruvenge. The Race is on, sisters!

Assorted musings:
If you're looking for rules for an All Stars drinking game, I have two so far: take a shot every time RuPaul makes a hooker joke, and take a shot every time Trixie references the fact that she lost... twice.
BeBe Zahara Benet in drag is literally a cisgender woman.
Bendelacreme joked that if BeBe could compete after already winning, she wouldn't be surprised if Ru decided to be a competitor. I know it was a joke but... CAN YOU IMAGINE? Wig!
Trixie is still so bitter about Pearl making it further than her in season seven.
Morgan has the best makeup on the show. Sorry, had.
How are we nine seasons of Drag Race and three season of All Stars in and the workroom looks exactly the same. It's time for a remodel.
Can we talk about the fact that out of drag Dela was wearing a fedora and a Hawaiian romphim? Is she my dad on a Moody Blues cruise?
Ru was snatched. Thank god Raven finally learned how to paint her face.
Not one, but two queens performed on the runway without heels. Double elimination!
Kennedy is arguably a better dancer than Aja, but, sadly, no one lives for her.
Vanessa Hudgens saying "I'm so into vogueing right now" got one of the biggest laughs of the night at the viewing I attended.
Michelle's wig was right.
Pork chop was robbed!
I live for how much Chi Chi hates Thorgy.
Milk is getting a very heavy-handed bitch edit, which makes me worried about her chances.
Trixie: "I think Kennedy is Chi Chi from the future coming back to tell her she's not gonna win All Stars." Ugh, her MIND!