His signature patchwork denim is essentially what's made PHLEMUNS famous, but beyond his twist on '70s style lines and early 2000s raw jean nostalgia, designer James Flemons maintains a mission that resonates — his clothing is inherently genderless.
From the beginning — he launched in 2013 — Flemons aimed to subvert black male stereotypes through design. That joy of powerful self-confidence, a happiness and pride in personal strength, is elevated in reach by an attainable approach; PHLEMUNS makes a fresh and forward-thinking statement, but the clothes fall in with everyday wear.
Related | The PHLEMUNS Boys
His catalog of collabs is already celeb-heavy: Outfits for Solange's "Don't Touch My Hair," performance looks, and a capsule collection for her Saint Heron shop; custom work for PAPER cover star Lil Yachty; mesh dresses for Kelela; styling the epic "With Him / Best to You / Better Numb" video from Blood Orange. But just last week, another partnership emerged in Kali Uchis; he both designed and styled her many monochrome looks in "After the Storm (feat. Tyler, The Creator and Bootsy Collins)."
We spoke with Flemons about repurposing materials, thrifting, how his goals for PHLEMUNS have evolved — and, of course, what to expect from his line in the coming months.
You've said in interviews that PHLEMUNS celebrates the black male experience through design. Can you speak on that a bit? Has that mission evolved or expanded in the past five years?
At first it never really was my intention, but at the same time it was a part of the DNA of the clothes the whole time. I started physically making clothes for myself and I always tend to say I am my target customer, so it's inevitable that the clothes are a celebrated experience of who I am, a black male. Then over time I started to see what kind of voice I gained through my visibility, and felt it was important to consciously channel into that. Especially being a kid and looking up to people like Andre 3000, Michael Jackson, Dennis Rodman, and wanting to, in a different way, be that to younger black men who never really quit fit the mold of this societal stereotype of the all-masc, emotionless black man, so the layers have just built and built.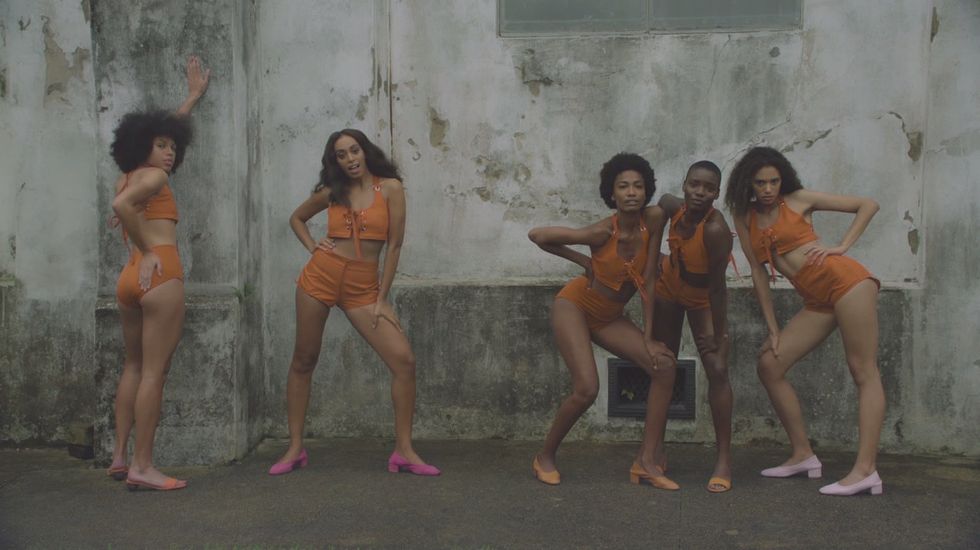 I read that you're a a major lover of thrift/secondhand shops. Have you ever found anything particularly interesting in the pockets of the denim you repurpose or other items you pick up?

I am! I'm still a full on thrifter; I don't have the time I used to to really get deep into it, but I like to indulge when I can find a moment. The coolest thing was for about a month a few years ago I was constantly finding bills in the pockets of the jeans and it gradually increased; I think the first was a $5, then a $10, a $10, and finished off with a $20. It's such a nice reward during laundry [Laughs].
Related | Young Thug On the Fight Against Poverty
Do you repurpose other materials as well? I'm loving the plaid look on Young Thug look for Numero Homme Berlin, especially; wondering if that's repurposed, too.
Thanks! That specific look for Young Thug is not repurposed plaid, but I do try to repurpose as much as possible whether it's altering and remixing a garment, cutting up the fabric of a garment and making it into another, making garments out of leftover scraps, or even reusing the zippers from the denim I cut up.
What about '70s style appeals to you in particular?
I think there's something so special about black voices and style from the '70s that heavily gravitates me to it. I always see it as a time that was so pivotal in black self-expression, the rebellious state of not conforming and being loud in who you are. The silhouettes and construction details really suit my slim body type, and it's always fun for me to take something people shy away from or may feel too costume and give them a new perspective of it and how they can actually wear it — like throwing a pointed '70s collar on a boxy denim jacket. Along with the fact that I've always been inspired by my parents' style, and a lot of the photos I have of them are from the '70s.
Your 2017 New Year's resolution was to "stop being so nice and letting people in this heartless industry take advantage of your kindness." Did you stick to it?

Oh, I definitely stuck to that goal and it felt great! Being a self-sufficient independent designer, possessing the capabilities of actually constructing garments on your own, people tend to take advantage of that whether they are aware of it or not, and I just got sick of being pushed around and bending over backwards for other people when I'm left hung out to dry. In 2016, which I call my "year of exposure," I was so eager to please anyone and everyone just to get my name and brand out. And in return I was left broke, exhausted, and lacking a desire to do the thing I love so much, which is make clothes. I really was considering if this was something I wanted to continue doing because it just became so draining and there was no fun left in it. The hype of having something cool to post on Instagram for some likes really wore off. I wanted stability and 2017 became my "year of no." I always knew my worth, but I really started to believe in it.
Related | Dev Hynes On Pop, Politics and His Favorite Memes
Did you make any new goals for 2018? If so, what where they, and why?
You know, I didn't really set any goals up for 2018, but I know my main goal is to work towards financial stability. I've worked my ass off and I'm so sick of being broke [Laughs].
You've worked with so many incredible artists. Any upcoming collaborations?
There are a few people I have some plans with this year, but I like to leave things a surprise; there aren't enough surprises in the media these days. Everyone already knows everything thanks to the Internet [Laughs]. But I can tell you I am in partnership with my good friend Lexie Park who is now the other half of PHLEMUNS, which feels so great to have a partner, and secondly working with creative director Jay Ezra as a contributor to a showroom/exhibition space Annex in Los Angeles where I'll be showcasing special one-off pieces.
For more on PHLEMUNS, visit www.phlemuns.com.
Photography: David Vassalli