Despite being at the top of the fashion biz since he was appointed creative director of Balmain back in 2011, Olivier Rousteing is still thought of as a precocious boy wonder. After taking the reins of the French fashion house when he was only 25, he's made the label a global synonym for hip, Kardashian-friendly luxury. Celebrities and social media addicts are equally obsessed, flocking not only to buy his glamorous, eye-catching designs but also to both his personal and Balmain's official Instagram accounts, which have over 10 million followers between them. But the Rousteing we see on Instagram jet-setting and cuddling with pretty young things (many of whom belong to his "Balmain Army") doesn't give us the whole picture. He's really an uber-focused workaholic who saves the glitziest bits for his posts.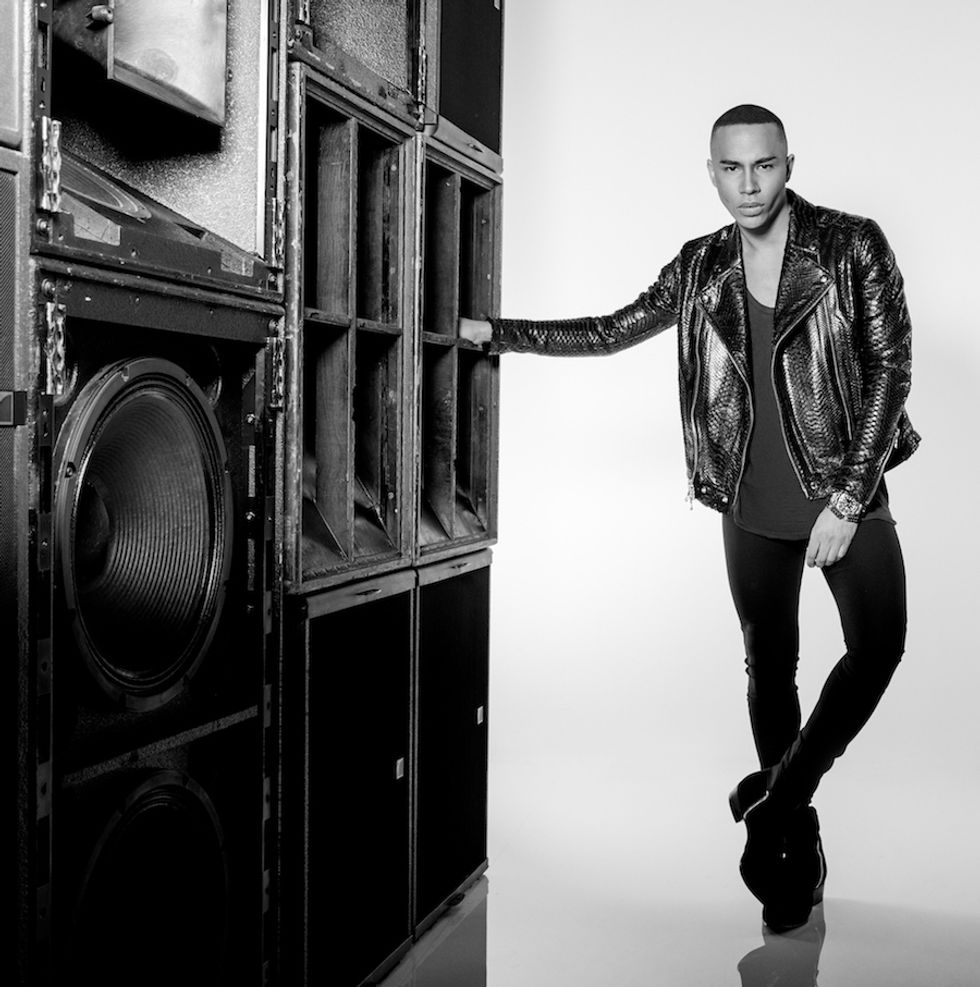 Tell me about the new accessories line that's launching this fall. It looks amazing.

It's new stuff for Balmain and I think it's really, really interesting. And I think it was important to launch it now, seeing that the DNA is pretty strong and the identity is really clear. I'm really happy with the quality and the design. And the response from the clients is good. I want Balmain customers to finally get the bags that go with their ready-to-wear. And what they love about the accessories is the form and the volume, because they feel really sexy and they feel powerful with the accessories.
Some accessories are priced much more affordably for the aspirational Balmain customer. Why do you think that's important?
Balmain is a really expensive house, but sometimes it's really pop and talks to young people. It is an old house but also a brand that talks to people that are 15 years old. I think this is a great part of Balmain. A lot of people can't afford the clothes, so for me bringing the accessories is a way to give access to the Balmain universe. When you can't afford the velvet jacket, you might be able to buy the bag or the shoe. And it's a bit in the same way like in my H&M collection, talking to a different generation, talking to a different crowd. That was my challenge. I've tried as well to lower some ready-to-wear prices, but Balmain is a luxury brand and I don't want the prices going too low, because obviously we have to be special and unique.
The H&M collaboration was such a big success. What did you learn from it?
I learned that I'm not only a designer, I'm a creative director, and there is a big difference. When you are a designer, you create clothes. When you are a creative director, you create the world. And I think that what's interesting with H&M is that on top of doing all new clothes, you're creating an entire Balmain world, a Balmain universe, that people enjoyed. You know, when you connect music to fashion, when you connect pop culture to fashion, I think it's interesting because you understand that you get a crowd that might not be in love with fashion, but they love the universe and belong in it, so they want your clothes to be part of the universe. I think that's what I took from H&M. I also learned that no matter where you come from, no matter the culture, no matter the country, Balmain talks to you. And that's something really interesting. When you sold out in Japan, and when you sold out in Europe and when you sold out in America, I think what's interesting is that there's a union of taste. I love that.
Do you interact much with your Instagram followers? I'm sure people send you direct messages all the time.
I read the comments sometimes. And I think it's interesting to see the likes, and what my followers go for. When I post a picture, I can understand if Balmain is relevant, if that kind of garment is relevant for them, if it's too complicated, if the aesthetic is close to what they are expecting from me.
You were such a pioneer in terms of fashion and Instagram. Are you still as into Instagram as you were, or are you more into other social media platforms?
I'm still into Instagram because Instagram is so smart that every month they know how to renew themselves. I think it is really difficult to get bored with Instagram. You know you can express yourself way more. Before, it was all about pictures. Now, you can do Insta Stories and post longer videos. I know Instagram is part of my life every day, even for just maybe 10 minutes of my life, and it's an addiction that I love.
Do you have a boyfriend?
No.
Do you ever use Instagram to meet possible dates?
Um, no I never did, but what Instagram helps me with is maybe some people that you've forgotten send you a private message, and you might just read it and get a connection with that person. That's something that I love.
How does someone like you find romance? Are you on Tinder or Grindr, or any other sort of dating site?
I tried, but I'm not really the kind of guy who loves it because I'm really shy.
Would you want to date someone who is not involved in fashion, or do you think it's important to be with someone who understands your world and your work?
I would love to find someone that's not in fashion. I would like someone who understands me, not fashion. Just understands me. You know, if I have problems or drama in my life, I just want them to understand me more than my fashion world. Like if I need some shoes for my show, I don't give a fuck if you understand that I need shoes. I just want you to understand that maybe it's a problem for me. Honestly, I've tried with different guys from fashion, and when you think fashion, talk fashion and live fashion, it's not my cup of tea.
You're 31 now, but I think people still think of you as a boy wonder and as a very young person. Has your point of view about fashion changed since you started?
I think it's interesting, the image that people have of me and the image that I have of myself. I think that I feel old sometimes because I've seen so many things. I've been in fashion since I was 18, and I've been a creative director since 25. So it's 6 years, 7 years, of being a creative director and it's 20 seasons between menswear and womenswear. So I feel like I'm an adult, obviously. But when I speak with the press or when I talk about my world, they still see me like a boy. In 2 years I will be 33, and everybody will still see me the same. It's just funny, when I talk about my show, they're still like, "Oh my God you're so young!" and I'm already 10 years in fashion, so I don't feel young anymore. But my spirit and my brain are so young because I have no limits in my life, so I'm just always pushing and pushing and pushing.
How do you balance the Balmain identity, which has so much of you in it, and at the same time your own identity?
I think the only thing that is not me [personally] is the fact that I don't talk to a big crowd, a huge crowd [with Balmain]. This may be my age, but I would love to see many more people wearing Balmain. I would love for it to be more accessible and more affordable. I love to do couture clothes, but I love to see when they wear my T-shirts too. Sometimes I'm sad when people cannot afford it. And this is the part of me that may be my youth. If it were all about me, like, I would make sure that I had some different priced things. But the reality is that at the same time, being an adult today, I realize that to be a luxury brand you need to talk not just to the young crowd.
As someone who always has an extremely diverse casting, why do you think diversity is still an issue?
Me, honestly, I don't call myself modern for that; I'm just normal. I would call people that don't do diverse castings old. I don't think there's anything modern about my casting. I don't think there's anything modern about taking different colors. I just think it's normal. What is sad is people don't see that as normal, they see that as modern. I don't even see how you can't appreciate different beauty. I mean for me, it's not even fashion, it's just a closed-minded person.
I also think because you're young, people think of you as going to nightclubs and loving to party. Is that true?
I think sometimes people misunderstand who I am. But I completely take responsibility because my Instagram is a reflection of an image that I give to people. I think my life is way more glamorous on Instagram than it is in real life. Honestly, I love going to parties, but between loving parties and partying, there's a difference. I'm really disciplined with myself, going to the gym every morning at 6:30/7. I don't want to show people that I might go home every night at 2 am because I am in the office. They don't need to see it. Fashion is a beautiful world where people need to dream. There are so many other things in the world that are tough. So I don't want to show the toughness of fashion, because I think we are doing clothes first -- we are not saving lives every day.
Do you consider yourself a workaholic?
Yes. I can't sleep without work. Even when I'm on holidays, I would rather make it shorter to work. My brain can escape for like a week, but I can't go two. It's really difficult for me to not think of work. I live work, I drink work, I love work. It's my life. And I love that it's just me and work.
That doesn't seem like the traditional French attitude of life. Do you know other French people who think that way?
No, I don't. I'm a really optimistic person. I'm trying to always be happy because my life is so amazing. I'm so blessed. So, usually my French friends are always complaining. And I'm like, really? Don't you have something else to do than just complain all day?
Photography by Kevin Tachman
Sign Up For The Morning PAPER