For LA-based designer Pierre Davis' second time presenting NO SESSO during NYFW, the glass-ceiling shatterer took a look at her and creative partner Arin Davis' experiences during a recent world tour through cities like Tokyo, Mexico City and Chicago. From those world-opening travels, a powerful new NO SESSO superhero was created, a matriarchal saint, fiercely strong and independent, a deity known as Valentina. Aptly entitled "I'd Rather Rescue Myself," this season's collection draws inspiration from the idea of Valentina, and explores the powers of self-protection, expression, independence, and liberty.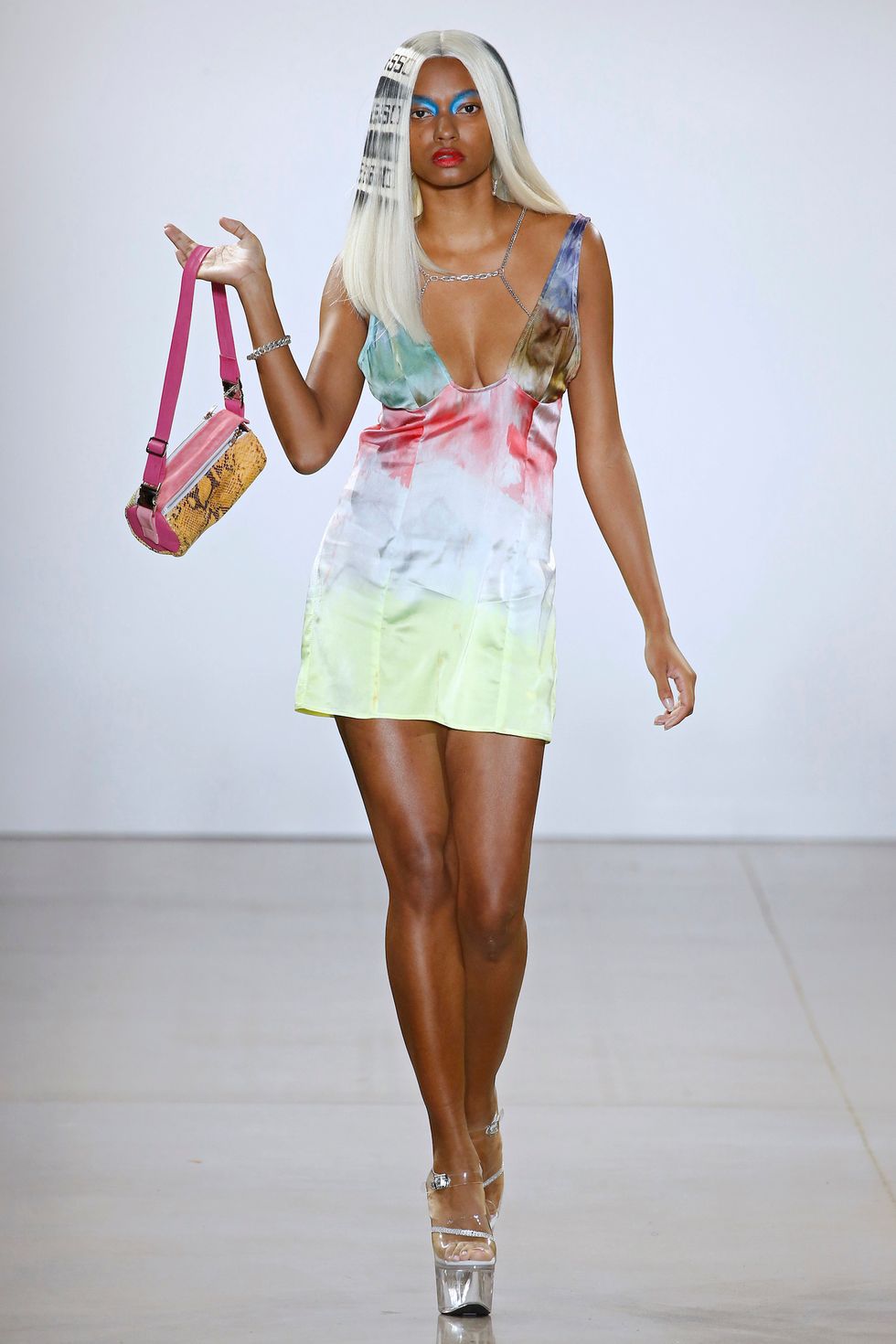 Staying true to their lineage of high craftsmanship and surprising details, NO SESSO has become even more wearable for Spring 2020. Relaxed silhouettes allow freer movement, while high-grade materials increase durability and longevity, making NO SESSO that much more sustainable in a world filled with dangerously eco-hazardous fast fashion. Using premium American denim, nylon, and silk, Davis has kept NO SESSO feeling very choice, yet still hardy enough to withstand the normal life of a superhero like Valentina, who would likely live in a rough town like LA or NYC. A noted increase in color and vibrancy was incorporated this season, with bright tie-dye and neon artistic embellishments splashed over off-white smocks and frocks. The beautiful flowing halter gowns and sequined mini dresses are still very much present, but now oversized t-shirts, sweatshirts, shorts and studded rompers have been added, each in different, dizzying arrays of colors and patterns. Fun and serious, luxurious yet attainable, Pierre Davis and her fashion family show that this West Coast line is only just beginning to challenge the fashion status quo.
Model Jerrod La Rue, who closed out this season in a gorgeous NO SESSO logo-branded patchwork half-jacket and semi-matching tie-dye slip skirt, told PAPER, "I would honestly wear this to the grocery store! It makes anywhere chic."

Singer Kelsey Lu, who closed NO SESSO's show last season, was backstage and told PAPER, "Iconic. Just iconic. That's really all you need to know. I would wear every single piece, including any threads that might fall on the floor… I'd pick those up and wear them too!"
PAPER had a chance to speak with designer Pierre Davis moments after the show to see how she was feeling about her sophomore effort in NYFW.
How are you feeling right now?
I feel great! I feel super strong. The feedback from everyone about how this collection is super good, so I'm really excited. I have such a natural high, I feel like my body is giving off so much light right now!
It's easier the second time around, isn't it?
Absolutely! It's so much easier the second time around.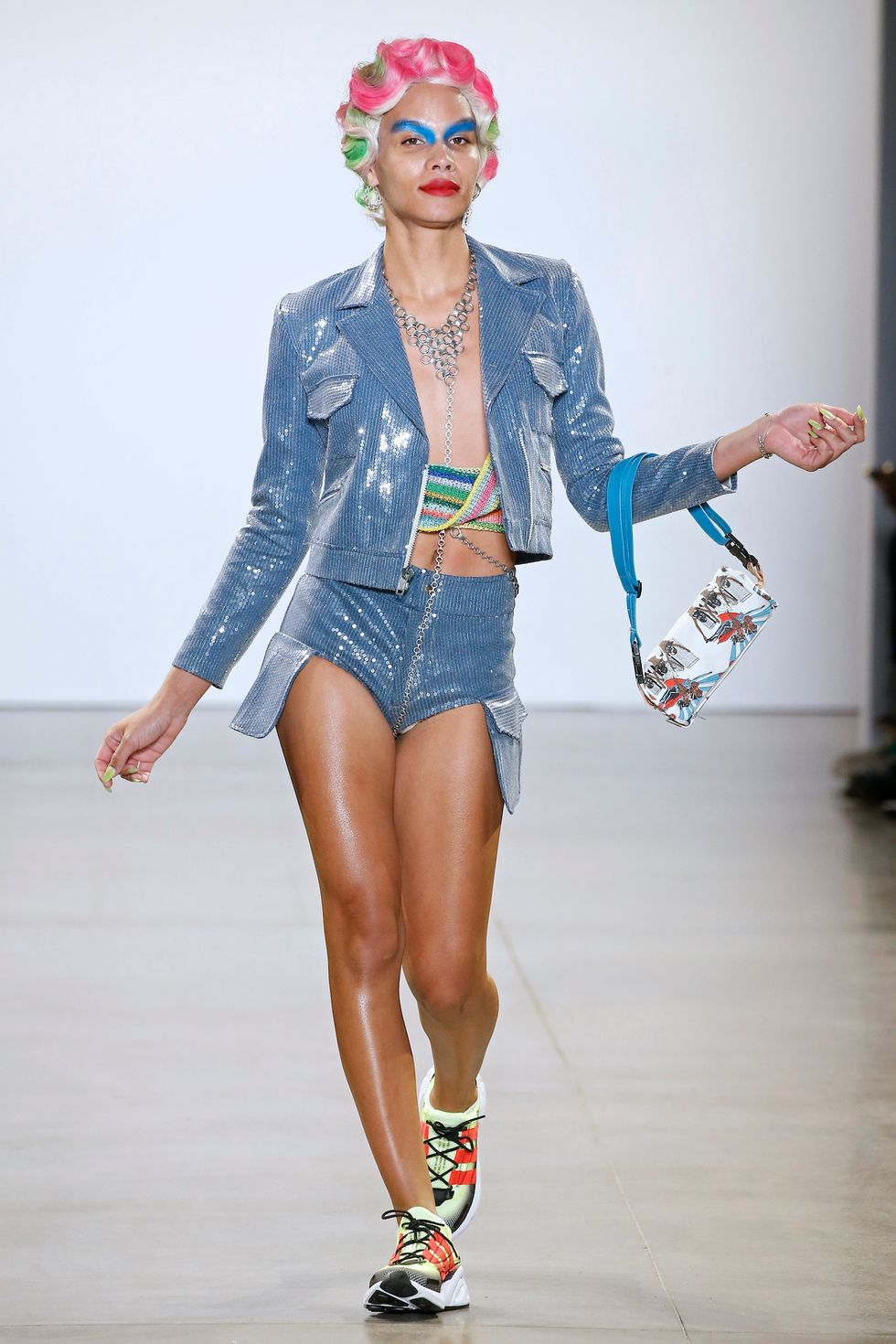 There are a lot more every day, wearable pieces this season. Was that on purpose?
Oh, definitely. We always have people trying to get ahold of our brand. So we wanted to make garments that are more wearable and at a price point that people could access. We made a lot of the easier things to wear that you could use every day. And even our more expensive pieces, like the hand-embroidered and jeweled t-shirt that opened the runway, still stays in the NO SESSO ethos of like, bringing high-end craft to wearable pieces.
And what's the biggest difference between this and last season?
It's way more colorful! The energy for this collection is really upbeat, really summer sexy. Last season was very business, very structured pieces to wear to work and take on the world. It's very different this season. "I'd Rather Rescue Myself" is for the empowered womyn to wear when she's not at work. Like, what would she wear to the beach? NO SESSO!
Photos by Gregoire Avenel