Breakups are never easy. They're messy, raw, complicated and emotionally charged. Where do you begin when trying to untangle two lives that have become so finely enmeshed with one another over the lifespan of a relationship? How do you account for those weeks, months, years now seemingly wasted? How do you start to rebuild?
The story of Niia's sophomore album, II: La Bella Vita, begins with a breakup. Specifically, the downfall of a six-year relationship which at one point seemed like it might end with marriage, but instead ended all together. Niia found herself alone, figuring out where things went wrong and how to move on with her life. She's the first to admit, and emphatically so, that things aren't exactly on good terms. ("There's moments where I hope [he] dies. I really hope [he] dies.") But she's just as quick to say that she ultimately dodged a bullet. ("Thank God I didn't get married. That would've been an expensive disaster.")
Contrary to its title's translation, II: La Bella Vita explores the side of breakups that aren't pretty. Feelings of anger, betrayal, resentment and doubt pop up as common themes across the album as Niia funnels heartbreak into her jazzy vocals. From the straightforward "If You Won't Marry Me Right Now" to the more deceptively ambivalent "If I Cared," Niia strikes a balance between being vulnerable and vindictive, not afraid of letting the flame burn hot and bright for all to see.
A classically trained singer with a background in performing jazz standards and soulful slow jams, Niia steps out of her comfort zone in II: La Bella Vita, punching up the tempo. One of the album's previously released singles, "Whatever You Got," injects energy into the track with bouncy bass under Niia's seductive vocals making the song's allure all the more potent. Elsewhere, Niia offers her own take on a modern master with a rework of Mariah Carey's "Obsessed," twisting the original's effortless superiority into a playful taunt aimed at all the haters.
Having grown up on a diet of Italian soap operas and films, as well as being one of the biggest Sopranos fans you'll ever meet, it felt only natural for Niia to bring the visual world of mafiosos, mob wives and femme fatales into her own real life melodrama. From runaway brides ruining big family weddings to midnight rides on the backs of motorcycles, Niia's found a way to weave it all into the album's narrative. Even its title, II: La Bella Vita, sounds like the critically celebrated sequel to some obscure Italian film noir.
For Niia, admitting that your ex did in fact leave you fucked up is its own form of therapy. She says, "I think that's actually what will help people to hear the reality and not just, 'Oh you know, we're still on good terms, and it just wasn't the right fit.'" There's a dark irony in the fact that an album about all the ways love can go wrong is getting released February 14th on Valentine's Day, but like a fine dark chocolate, life's sweetest moments can also be just a little bit bitter.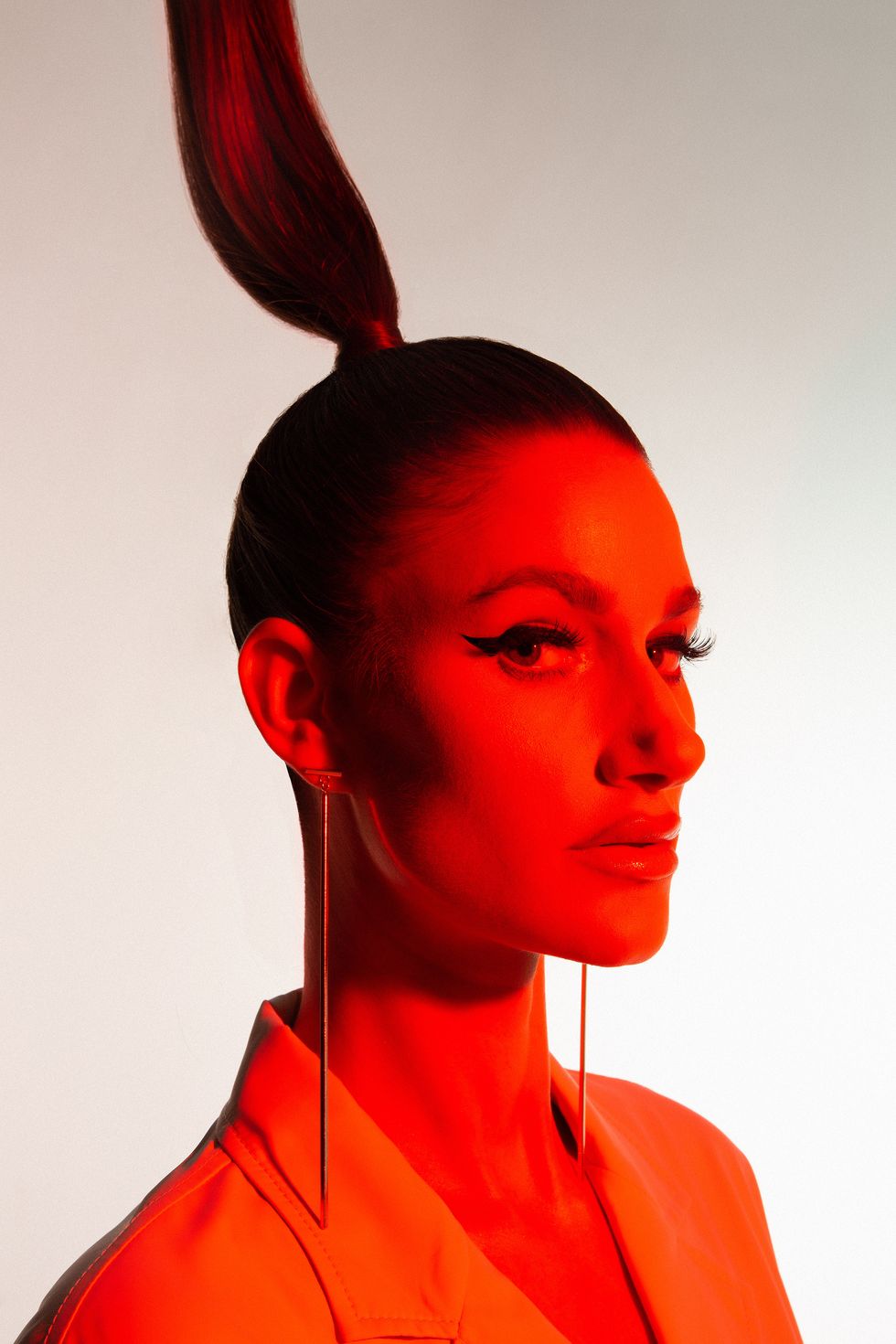 Blazer: Annakiki, Earrings: Tuleste
Beginning with how this album came to be, it was born out of a relationship's downfall?
My first album was about falling in love and how terrifying I realized it actually was. I moved across the country for someone. This album is what happens when you start to hate that person, and vice-versa, how you stay creative and push through it. I wasn't really expecting to write about it, but every time I got in a session it's all I wanted to say. Breakups are really fucking miserable.
Did you envision marrying this person?
Yes. I'm not a very traditional person in that sense. I think it's more like when you meet someone you feel like you're gonna grow into that relationship. Like this is a mature relationship and what it's supposed to feel like, I'm just the one that has all this baggage and emotional traumas. I convinced myself this was it and I would get married if that was on the table. It seemed like it was supposed to be, then it just wasn't. It was more the anger of that, of wasting time and feeling fooled. The anger was towards myself: how could I become this Pinterest bride and think this is what I want when deep down that was never who I was? I grew up singing jazz standards that are all heartbreak, sadness and falling in love, but the one thing people never talk about is how angry you can be. I was surprised at how angry and bitter I became. Why did I let myself stay in something so long?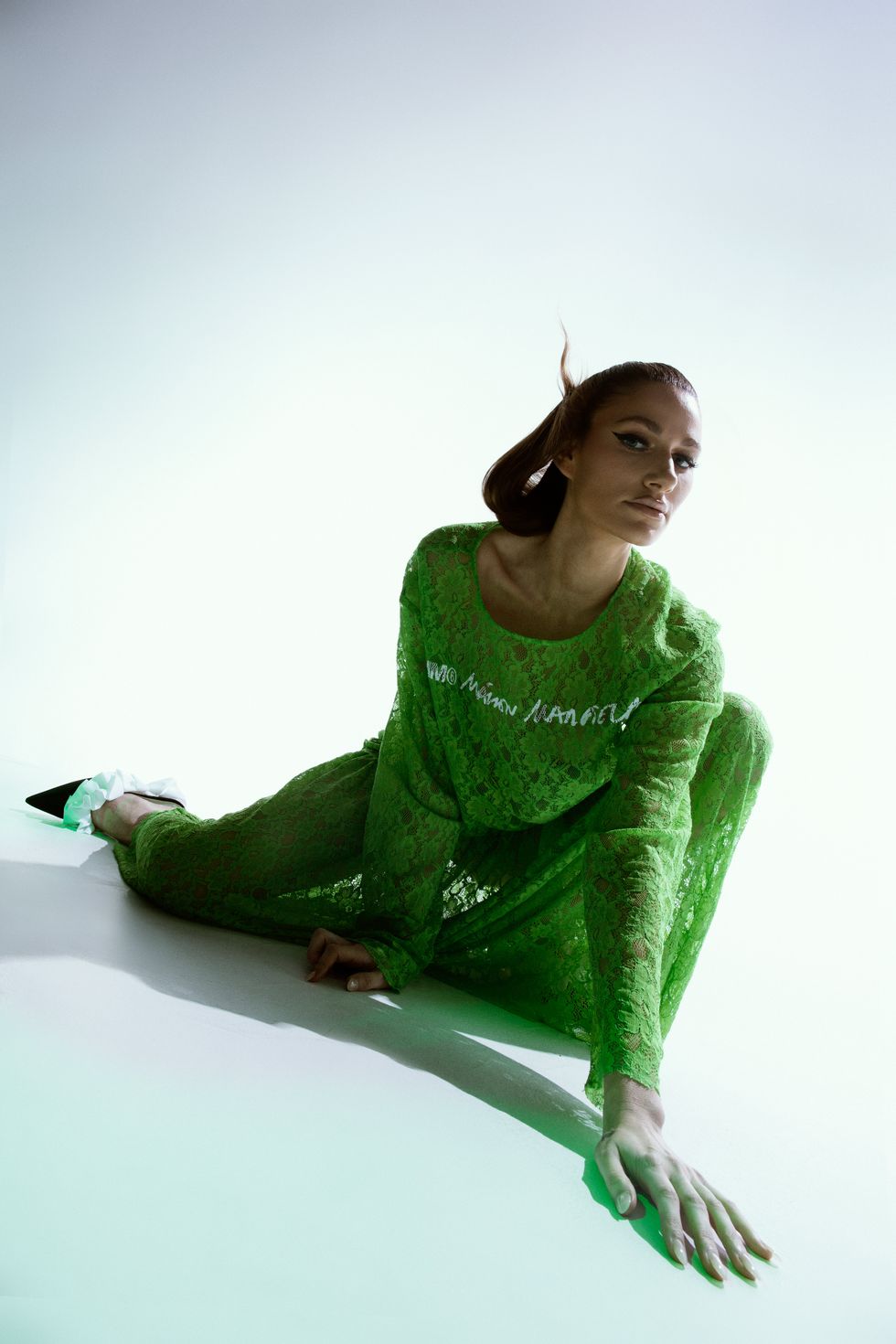 Dress and shoes: MM6
Why did you feel like that had to be the focus of this album?
I tried to play it safe in my last album, and didn't rock the boat too much. I felt this time like,
I got some shit I have to say!
I was going to be a little more exposed. Because you have to! There's girls and boys that can't recover from this shit... I hope it helps people in some regard even though it doesn't sound like I'm okay through some of the songs, it's right in the middle of the drama.
When did you realize things were going south in your relationship?
It was earlier than I wanted it to be. We were together six years and midway is when I started thinking,
This isn't working, but I don't know how to get out of it.
That's one of the hardest things: how do you leave? We got stuck and didn't know how to talk to each other anymore, so we stayed. People stay in relationships for forever where they're not happy, or jobs that they hate, and I think that's the hardest to swallow. We made all these promises to get married, but when things didn't pan out I just threw myself into my music.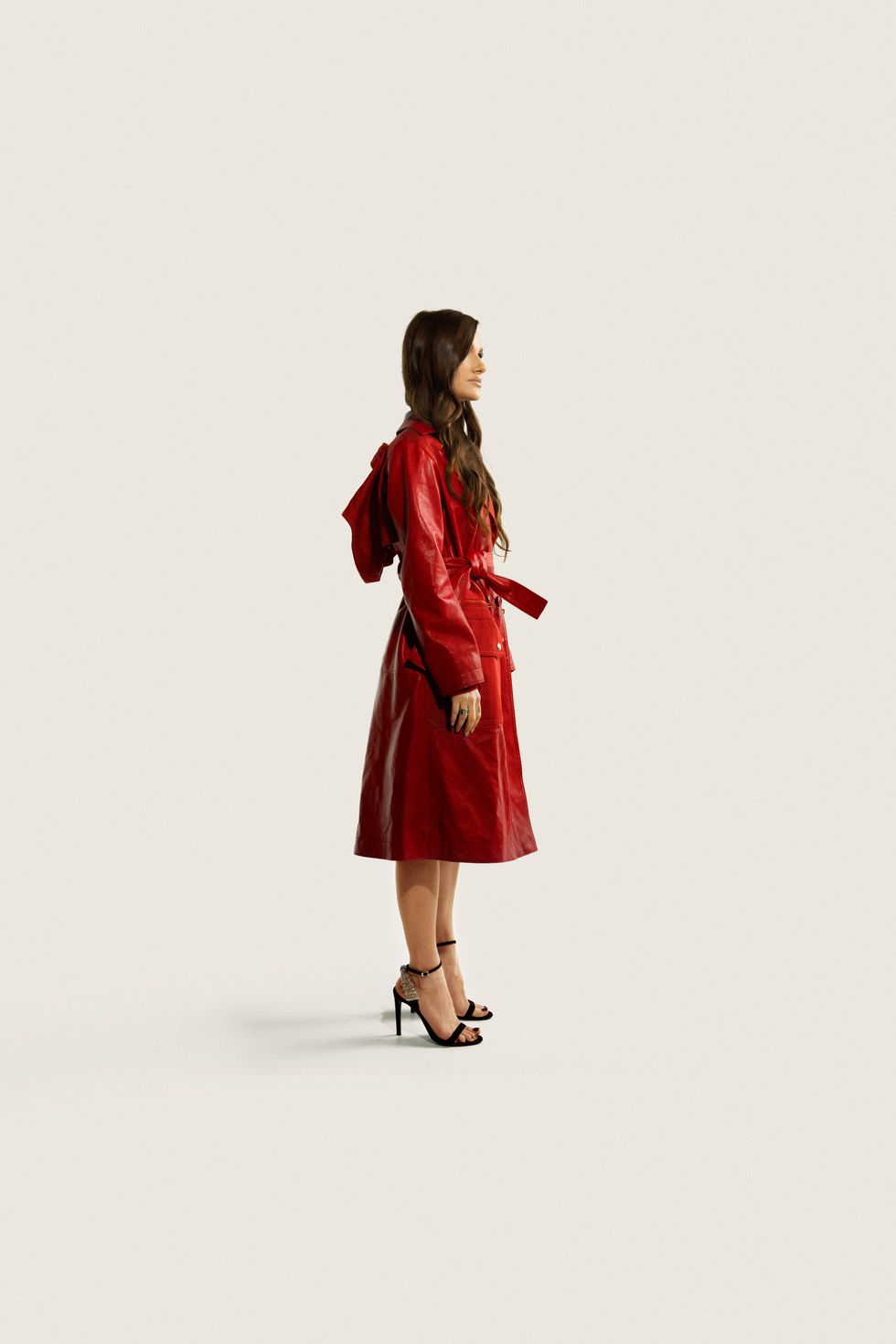 Coat: Coach 1941, Shoes: Giuseppe Zanotti, Rings: Bvlgari
How did you go about turning that into this album?
It's funny because I'm such a subconscious/conscious person. I knew I wanted this album to have this Italian romantic theme. I spent a lot of time in Italy and actually went there to start the music. We rented a studio right outside of Pisa in this beautiful town called Lari. They had a Steinway piano, the most beautiful view, and Andrea Bocelli would come through and you're like, What is life? It felt like this romantic dream. Nothing was wrong, everyday everything was beautiful, and I started to feel like this isn't real life. I wasn't ready to write the songs, so we did the music first. Then we came back and I had to start writing lyrics.
What was it like returning to reality, essentially?
I felt this bipolar duality where life is so beautiful sometimes, but you can feel like shit inside. How do you deal with making yourself feel better? Is this just escapism? Having these lush arrangements that feel romantic and maybe a little bittersweet/somber, while having lyrics that contradict it is where that bite happened that I wasn't expecting. You expect the songs to seem sweeter and they're pretty depressing.
How do you view your progression from your debut album to this one?
What's most important to me, because I studied jazz and classical music, is to have some level of musicianship — having strings or a couple more chord arrangements than I need just to make myself feel like it's elevated on a music level. But I also want it to feel current, so that's definitely a challenge for me: finding a way to make it feel fresh, but remind you of the past. I don't ever want to make a throwback album, at least not right now. I was fighting myself a lot with lyrics, exposing myself. I'm a mess, I don't know what to do, I hate this person and I hope they die. I put a lot of background vocals in this album which I needed, maybe not consciously, but I wanted the support of other people's voices.
There aren't any features or collaborations on this album. Was that a deliberate decision?
If I had met with another artist for this they'd probably be like, "Yikes
."
It felt really personal, so throwing a rapper on or another vocalist just didn't feel right. Even though we live in such a co-sign culture it just was like,
This is my little statement to say.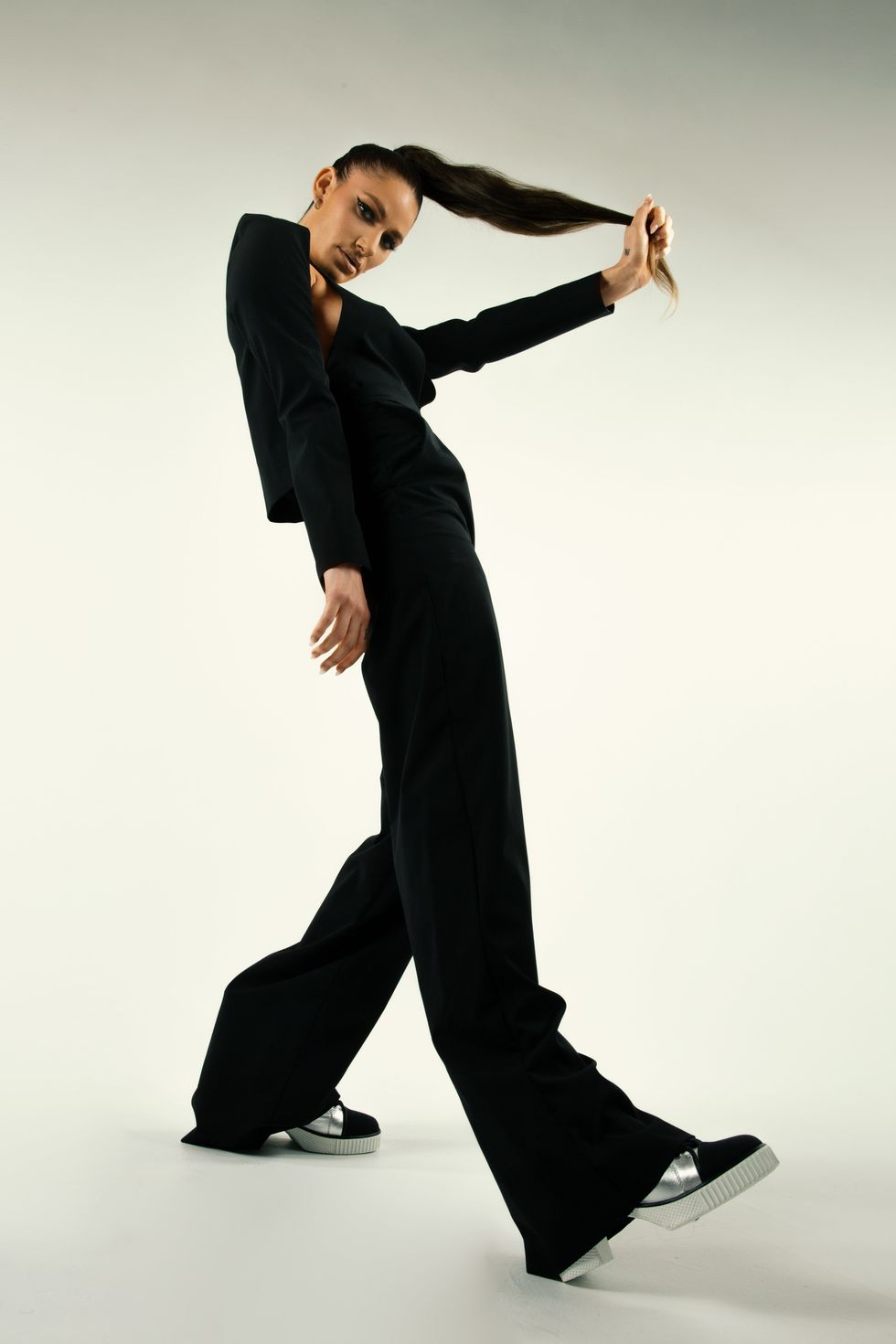 Jumpsuit: Chalayan, Shoes: Giuseppi Zanotti
You experiment with some faster songs on this album. Was that an adjustment for you?
It's always a challenge for me to write faster tempos, because I grew up singing slow jazz. There's fast bebop jazz, but writing melodies at that tempo is not easy for me. I worked with some really awesome writers; I would never think in a million years I'd be working with writers who worked with Selena Gomez. But what's incredible about these writers is they know how to write for the artist that they're in the room with. There's nothing I could have made better. It was fun working with some better writers this time to challenge myself and let someone else take the lead. As long as it's something that I can sing — which it has been — it's great.
How did you decide on the visuals for this album?
What's ironic is that my parents' marriage fell apart parallel to mine, which was a really weird thing. We're Italian so family is everything. It got me thinking about tradition and things that we make hold so much weight like weddings, saying forever to someone and that meaning. My mom and dad don't speak now, and they've been married for like 30 years. It's a really weird thing to watch and experience as a child, and through it at the same time! I wanted to create this world that felt like something I could relate to that was this Italian mobster-y Sofia Coppola vibe, and blow it up in a way that doesn't feel so crazy, but also crazy. I love horror and explicit drama.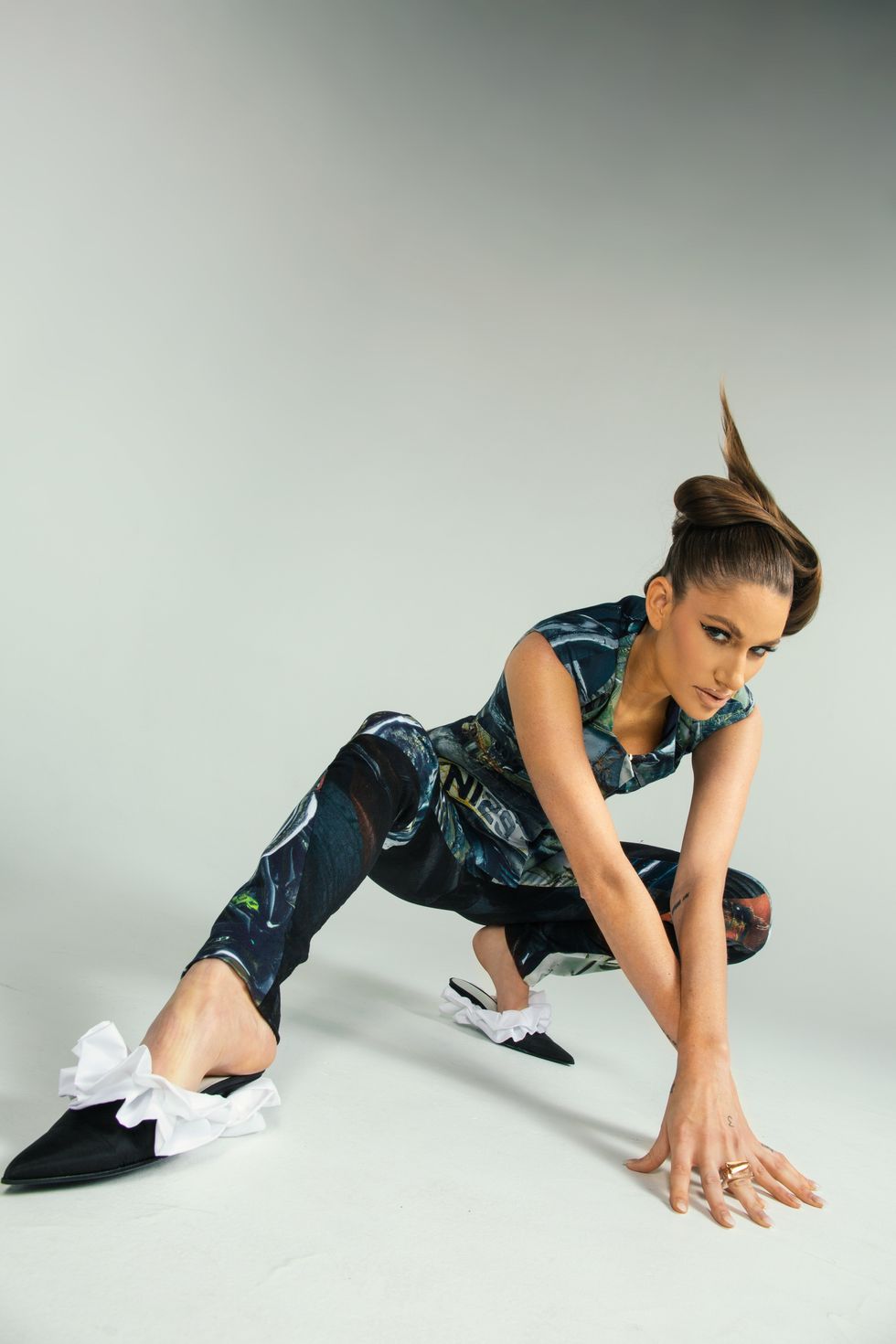 Top and pants: Chalayan, Shoes: MM6, Rings: Aiva Au
What was it like to see your parents' marriage dissolve while you were also going through a breakup?
It made me feel a little dramatic because mine was a six-year relationship and my mother and dad's was like 30 plus years. They had kids together and I think it is a testament to how strong my mother is. You realize you can recover, it's just about finding those practices. We're all talking about this self-care, wellness bullshit now, but what if you fucking hate yourself in the moment? Felt like you wasted six years of your life? I'm not going to put on a face mask right now. People don't talk about the other side of self-care where you're so fucking angry and you just have to deal with it.
Did your relationship with your mother change through that experience?
It's always hard when you see someone you love really go through something awful. It definitely brought us closer, but it was challenging because you have to be strong for those people. I'm so sensitive, like I'll break a pencil and weep. So it was a challenge for me to really be there for her like she's been for me my whole life. That's when that parent/child dynamic shifts, where she's calling me because she's upset. There was a time when I was like, "You don't sound good, why don't you just come to LA?" She never takes me up on those offers, and then she did this time. It was good, but sad because I knew she was really down. You do your best and take her to a little fancy night of drinks. It got us closer, but in a weird way where she's exposed. She's truly transparent, we can't hide from each other. Now she's going on dates, which is a whole thing.
How is that?
You think I'm dark and depressing. She's like, "I thought he was going to have a heart attack at the table." I'm like, "Mom, you have to be a little bit more optimistic." She's like, "None of them look like their fucking photos, and one is trying to hold my hand." I can't imagine going through that at her age, I think she's got a great sense of humor. It's just funny to hear it from her perspective because I hear it from my girlfriends and she'll say, "He just never called me back." And I'm like, "That's called ghosting." It's weird because she's part of culture now in this way. My mom's got a profile.
You're also a massive Sopranos fan.
Huge
Sopranos
fan. I'm going to
Sopranos
Con this weekend. It's in Jersey (God knows where) and its basically like
Comic Con
, but
Sopranos
Con. I'm on the trivia board and I think I'm hosting the stripper competition.
What are your favorite bits of trivia?
Overall, the reason why David Chase is such a genius is because he knew how he wanted it to end when he started it. It's not one of those shows that's like,
What the fuck is going on by season four?
It was the first character that was a sociopath villain that we rooted for in TV history. It was one of the first ones that we liked and that's where we get
Breaking Bad
and
Mad Men —
all those villains that we actually love. We're watching a mob family, but also him dealing with his high school daughter wanting to go abroad. It's funny. It's a dark comedy. I could go on and on...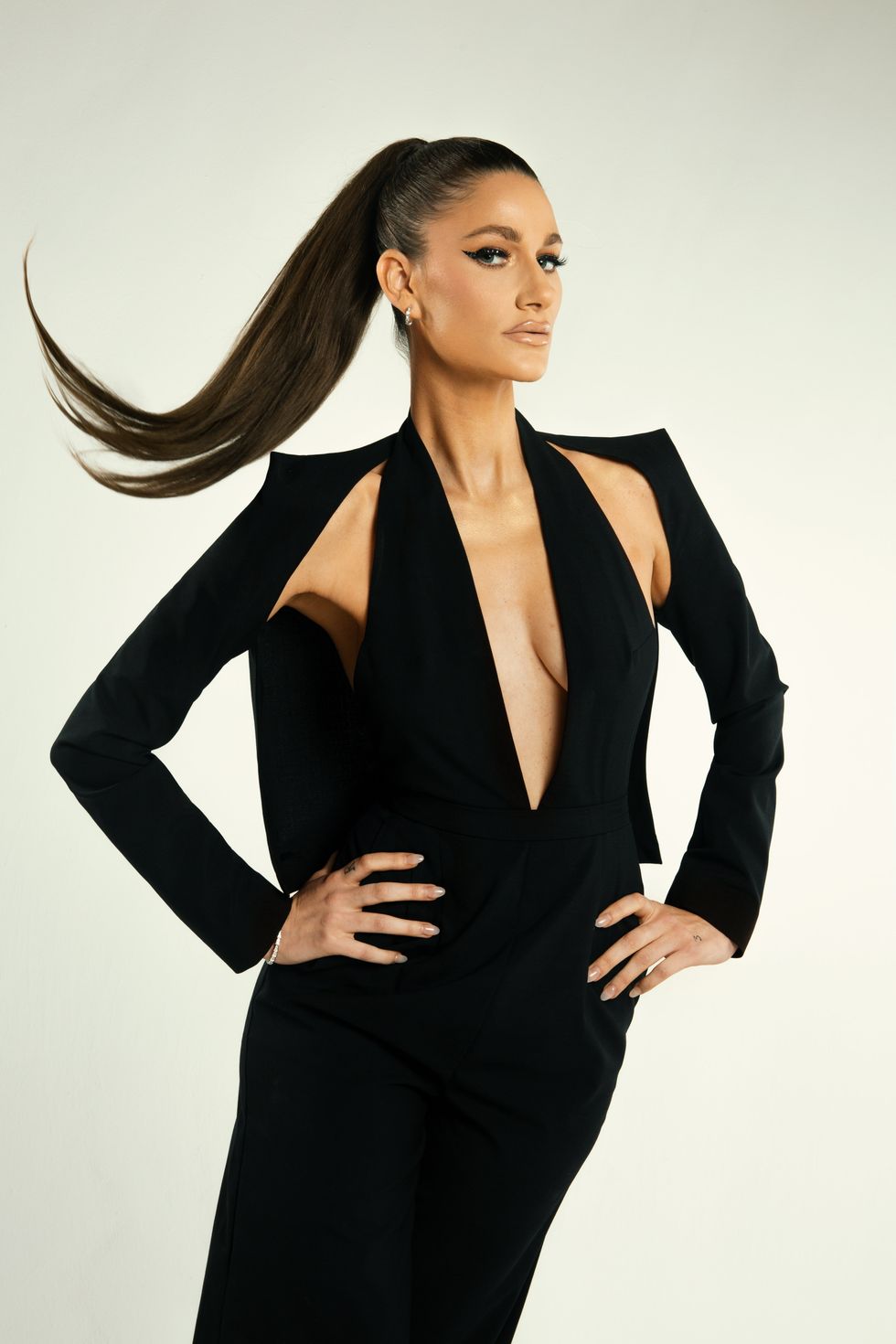 Jumpsuit: Chalayan, Shoes: Giuseppi Zanotti
You're quite the authority on it. You have a podcast about it right?
Yeah, its like me, an Indian dad and a Jewish bro, and we break down every episode like fucking nerds. There's a couple of other
Sopranos
ones, but ours is the only one with a female, which I find interesting. I think it is interesting that there hasn't been a female perspective talking about
The Sopranos
because people think it really exploits women and there's a lot of strippers and mobsters. I never thought it had a feminist theme in it for some part, but the women in it — the moms — they hold the family together.
I get these pretty intense Sopranos fans that love me now. I think it's because I call it like it is. You can't get mad at people for living in their culture. Obviously people should educate themselves about being in the mafia, but they create characters that challenge those things. Meadow, who is his daughter, is highly educated and goes to NYU. She is so liberal and challenges her father everyday because he doesn't want to talk about sex in the house and she's like, "We live in 2002 dad, it's happening." She has a Black boyfriend, and [Tony] is super racist about it and she's like, "What the fuck?"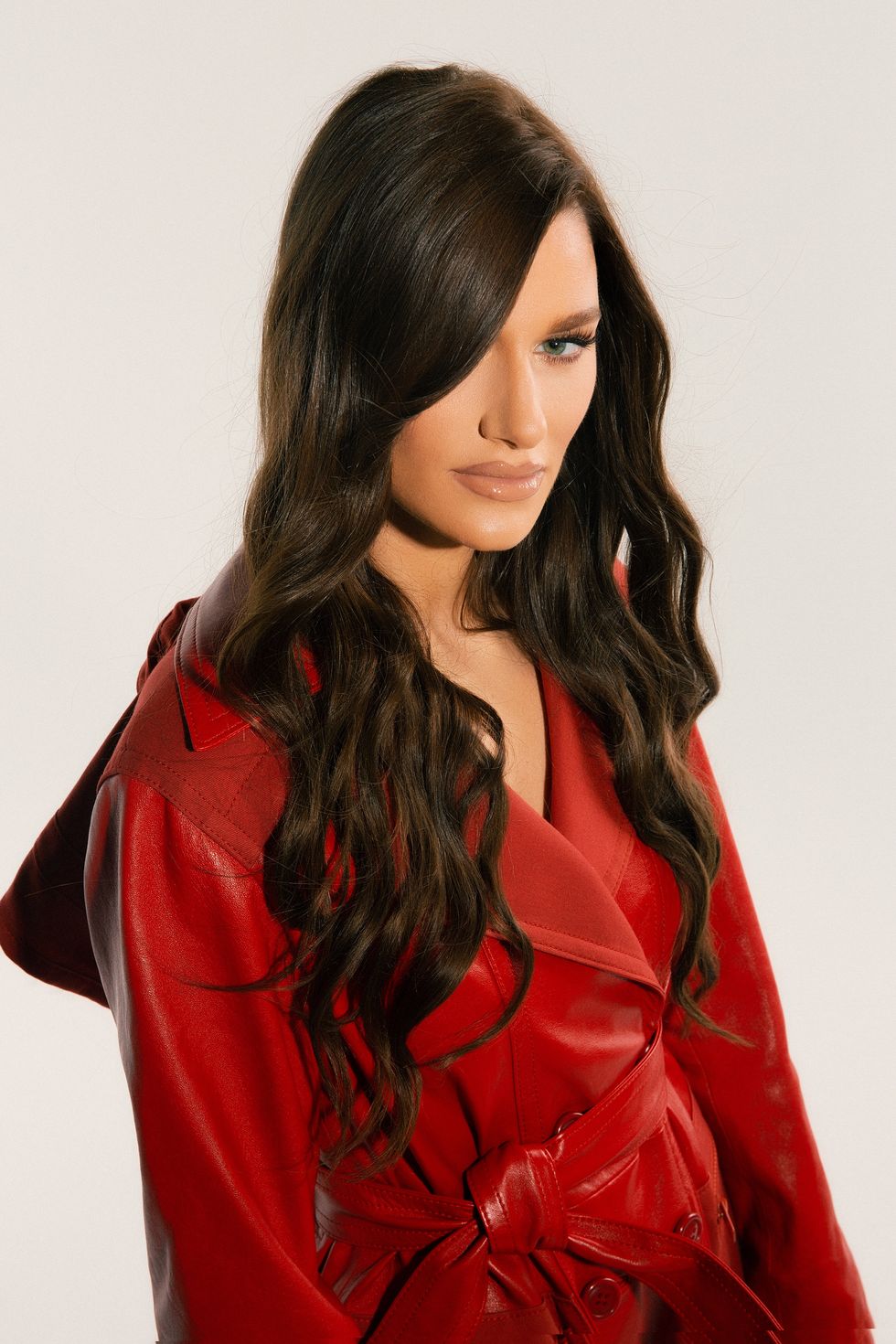 Coat: Coach 1941, Shoes: Giuseppe Zanotti, Rings: Bvlgari
How has The Sopranos worked its way into your music?
David Chase is probably a psycho. Things that Tony will say in the first episode come back around later. Everything is there for a reason. There's this amazing French film called Three Colors where one movie is blue, one movie is red and one movie is white like the French flag. In one of the movies you see a court case happen, but then in the other movie you'll see it in another perspective for just 10 seconds. A girl goes into the wrong room and she will just open into that court scene that we've seen in the other movie. It's all these amazing layers of thought.
With making music now, because everything is so get it out, get it out, there is no time to build worlds anymore because they take too long. There are lyrics that repeat in some songs and trying to find a way to make this whole quilt that, when you listen to this song you're like, Wait that song makes no sense if you listen to track eight. I want it to make sense. Britney Spears had that song, "...Baby One More Time" which had that lyric, "My loneliness is killing me," and then "Stronger" that came out years later and was like, "My loneliness ain't killing me no more." My mind was blown that she referenced her own song. I love when people put that much thought into it. I love a callback.
Do you think this album has brought you any sense of closure?
I don't want to sound like a bitter person who is not over my ex (I am over it), but you just don't realize what the damage does. As an artist, that's where you make your best work, unfortunately, so I wonder sometimes if I stayed in something like this longer because of that. I just want people to not be so affected by their stuff, and if they are, to find a way to move through it. That's really the only thing that matters because if you just stay bitter and sad, that's brutal.
Sign Up for the Morning PAPER