New York City-based, Jersey-raised producer Mantis Hands, born Kevin Li, grew up listening to The Beatles, Michael Jackson, and the Bee Gees because of his dad. "I had a pretty colorful childhood," he told PAPER. He later transitioned and developed a liking for Guns n' Roses, to Guang Liang's Tong Hua, and 50 Cent, and also picked up playing the drums. And listening to such a wide selection, as well as being so in-tune with making beats, definitely influenced his genre-defying sound today — which is heard at the artist's live gigs at different hot spots in the city. Now, the artist premieres his second album Our with PAPER.
Our is a series of 12 tracks, combining pop, ambient synths, romantic techno, and melancholic undertones. The albumis narrative, modeled after a film soundtrack, telling stories about love lost and heartbreak, the healing experience of love, and human growth. And though Mantis Hands doesn't lend his voice to his songs, he's collaborated with singer/ songwriter Takkin, and uses samples and voice snippets from the "Sweeties" family, a collective of artists, DJs, and designers based in Brooklyn.
Mantis Hands spoke with PAPER about his sound, his new album, and how music has helped him through a breakup.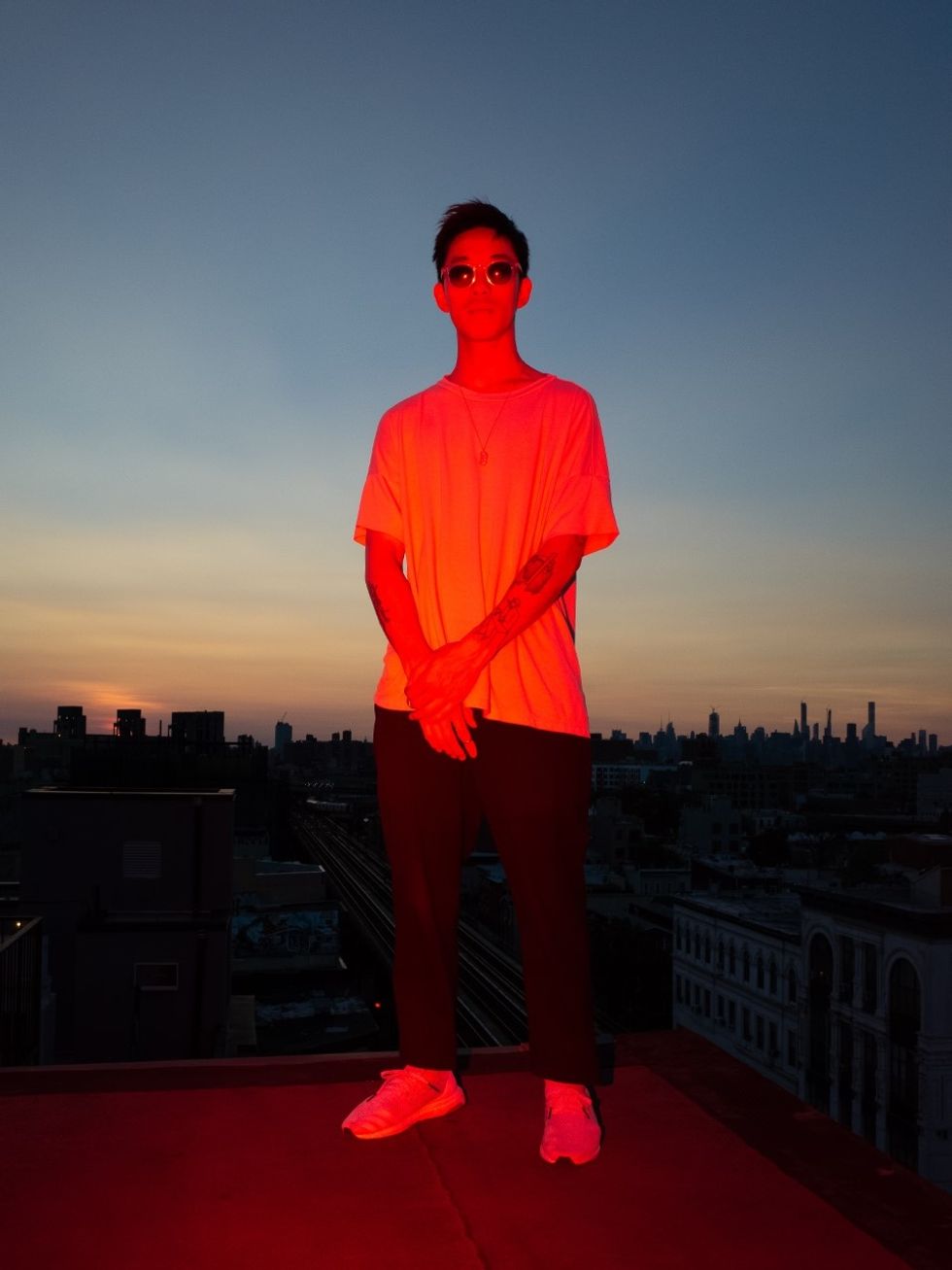 Why "Mantis Hands"?
The credit for Mantis Hands actually comes from my ex noticing I do ridiculous poses with my hands while I skate. It looks ridiculous not cool at all, but gave me a good name!
How would you describe your sound?
The music I make is made to cruise to. Growing up in Jersey, driving was everything. I was hitting the streets, blasting Pink Floyd, Kid Cudi, Ratatat, and Radiohead. All music that, within their own genres, had elements of psychedelia with peaks and valleys. I would take scenic routes and detours just to cruise through trees passing by, and listen to music. Our is a bit of a roller coaster, bouncing from chill and easy R&B to straight techno, but hopefully all land in a similar place. We're calling it Romantic Techno.
Who or what are your usual sources of inspiration for all your work?
I often watch movies while working on music, so I take a lot of inspiration from film stills and melodies. The colors and emotions coming off the screen will find its way into the sounds I'm producing. Another big inspiration on my music, and visually, is The Gorillaz. I love cartoons, and the whole idea of a fictional animated band changed the game for me. Production-wise, Shigeto is a huge inspiration to sculpting my sound. The fusion of Jazz and off-kilter beats made up of organic textures was another game-changer for me.
Making original tracks is tricky, what with sampling music being a big thing now. How do you think about sound, and making something your own?
Every chord progression has essentially been done a million times over, so I try to sculpt the atmosphere and creating an ambiance and building around that. I think a lot about sound design in film and how that world is sculpted through sound. Recontextualizing samples and distort the way it sounds is a big part of my process. Turning random sounds to mimic a drum beat, or creating melodies out of organic noise. For this project, I resampled sounds within the album to create its own sound identity.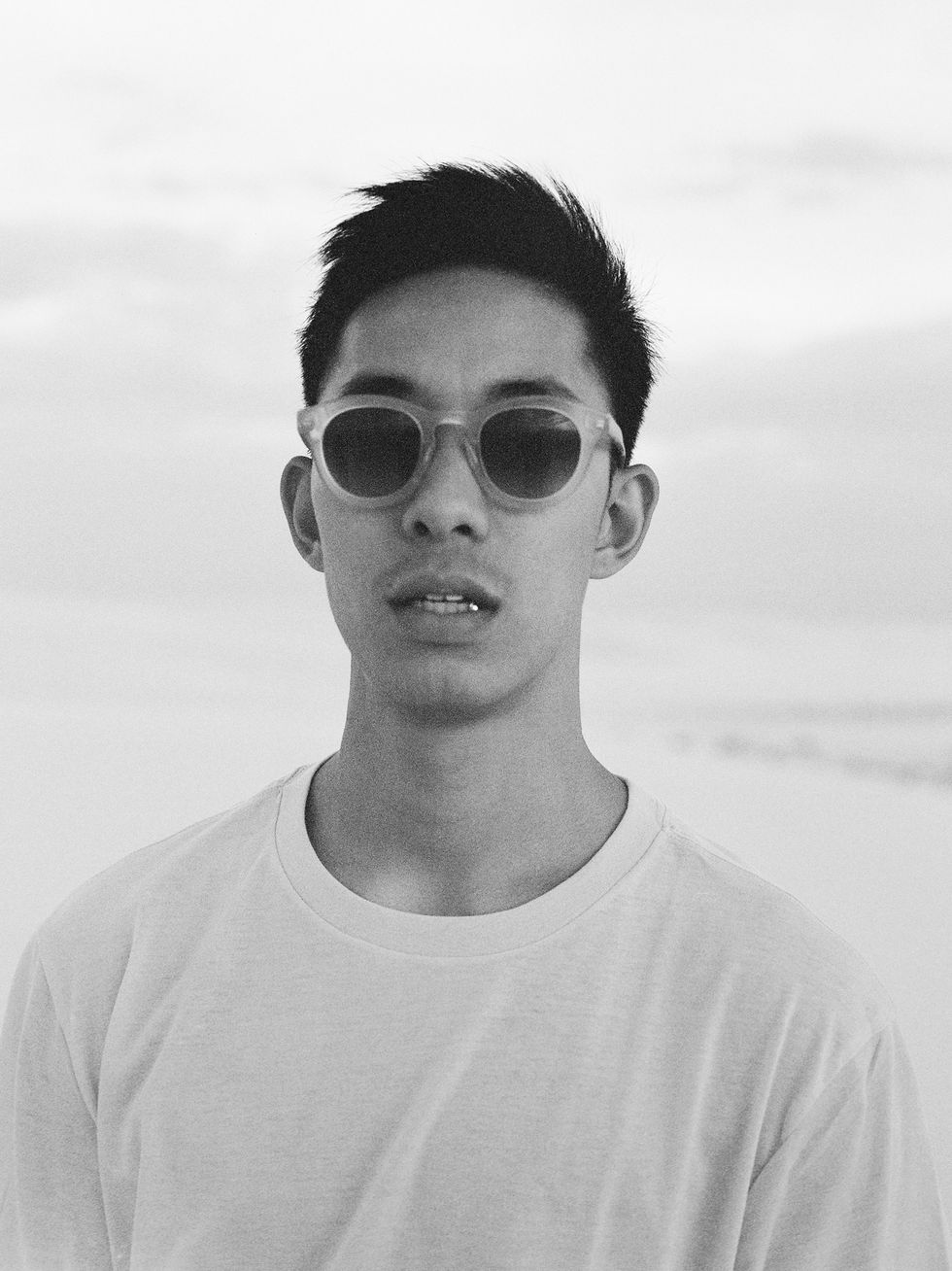 Our was a post-breakup album. Did making the music clarify anything about your past relationship? How has it affected you?
I would say the music clarified things, but more importantly, it was something I was able to channel in the whirlwind of things at the time. It helped me process things in a way no other art form could have. The day after the breakup, I bought a synthesizer on craigslist, left work to pick it up, and made a big chunk of 3 of the songs off the album, which really set the tone for the whole project. Just like how after a break-up, the feeling of being alone and making tracks alone, but you look up and realize you're surrounded by friends. We went out, threw parties, shared memories and started Sweeties––a Brooklyn-based party concept, where each of us contribute as artists and DJs.
How did you decide to collaborate with Takkin for the album? Did you work on the lyrics together?
Takkin, Tobias Wong, is a good friend of mine and a long-time collaborator. I hit him up for anything, from vocals, to voice acting. I think he's the real deal. He can sing, act, perform, play instruments, and is just all-around super funny. Another layer of things is our shared Asian American background. Being a producer, I feel a little more behind the scenes, but having Takkin contribute to my production has elevated everything about the music.
I know you must be proud of the whole album, but if you had to choose, what are your favorite songs from Our?
I'm too indecisive to be picking favorites, but I think the last song, "Curtains," is one of my favorites.
Photos courtesy of Mantis Hands