"I'm interested in the eloquence of incoherence," says Natasha Lyonne when asked about inspirations for her directorial debut, Cabiria, Charity, Chastity, the fifth and latest film from Kenzo, featuring its Fall/Winter 2017 collection. For instance, Lyonne, who also wrote the screenplay, says she's fascinated by the ways people communicate with each other (or attempt to). Throughout the 11-minute film, which premieres tonight during a New York Fashion Week party, the title character, Chastity ("something between a tramp and a showgirl," says Lyonne), played by, and explicitly written for, Maya Rudolph, speaks in a made-up gibberish language that Rudolph tried to make sound Italian. "It felt like that sound was the quality that her language needed, but it needed to be different enough and nonsensical enough to be identified as her own language," Rudolph says.
Lyonne is no stranger to Kenzo. Last year, she starred in the French fashion house's fourth film, written and directed by Sleater-Kinney singer and Portlandia star Carrie Brownstein (the film was also Brownstein's first as a director). In 2014, Kenzo dressed Lyonne for the Emmys when she was nominated for playing crass yet loveable Nicky Nichols in Netflix's Orange Is the New Black. Her history with the brand goes back even further, to her "best friend forever" Chloë Sevigny, who introduced her to Kenzo creative directors Humberto Leon and Carol Lim. "Over the years, we just got closer," she says. "Each year there was some other sort of seminal experience that we were having together that were really significant moments.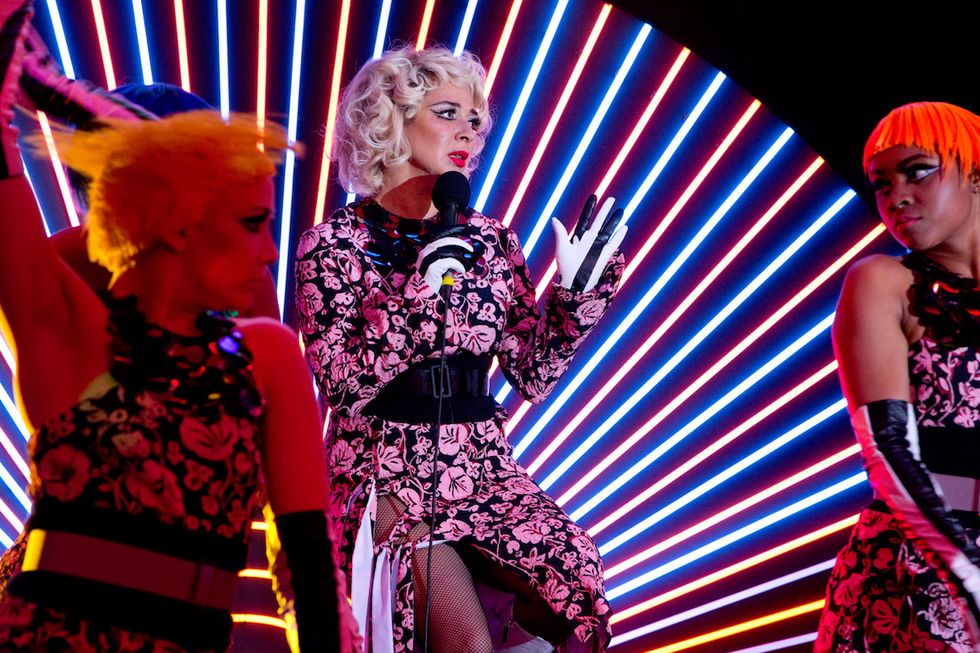 Maya Rudolph inCabiria, Charity, Chastity

The cast is full of bold-faced names and includes, in addition to Rudolph and Lyonne herself, Lyonne's boyfriend Fred Armisen, Greta Lee, James Ransone, Matt Lucas, Macaulay Culkin, Waris Ahluwalia and Leslie Odom Jr. It also features credits from industry leaders such as director of photography Chung-hoon Chung, costume designer Arianne Phillips, production designer JC Molina, makeup artist Kabuki and hair stylist Holli Smith. The film follows Chastity on a journey in her mind where she recalls her vaudeville roots and her time at a school for clowns. It leans into surrealism and absurdity and teases the viewer to question reality. Chung, Phillips, Molina, Smith and Kabuki brought to life the aesthetics of the film's world, Lyonne says, and Phillips, in particular, elevated the fact that the work is ultimately a fashion film for Kenzo. "The way that she was translating the clothes to become this whole other element -- that really just kicked it into a different stratosphere visually," says Lyonne. Leon and Lim say the new collection worked perfectly with the film. Catch a hairy jacquard coat, a pale pink dress in "floral leaf" seersucker and heeled boots in white patent leather on Maya; a colorblocked lambswool sweater on Macaulay Culkin; and a cardigan in pink melange wool on Matt Lucas. "We were inspired by the arctic surfers and dealing with this idea of climate change, and there were the great argyle patterns as well as these ultraviolet sky prints," say Leon and Lim. "The argyles worked into the harlequin vibe, and then everything else was perfectly reinterpreted."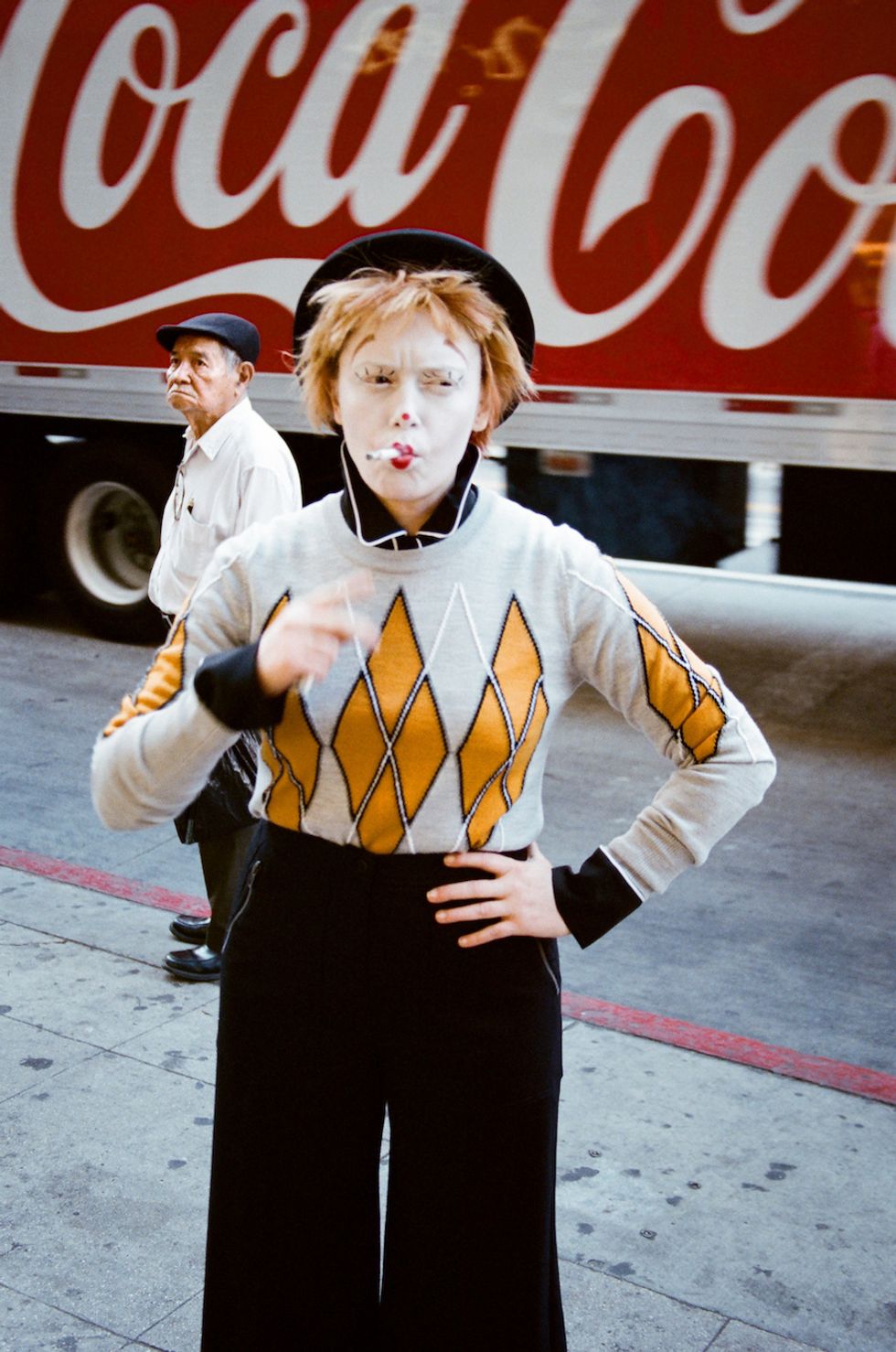 Natasha Lyonne in
Cabiria, Charity, Chastity
Both Phillips and Rudolph say Lyonne is a natural director. "She's one of those people who has really educated [herself] in film for so many years," says Rudolph, who compared her to an old John Ford. "She could easily be one of those weirdos who has newspapers stacked all around her tiny apartment and you only see them come out when they go to the Film Forum. Instead, she's using her mind and her talent to create." Phillips says, "Working alongside Natasha, you cannot help but be inspired by her great ideas and great collaborative spirit," she says. "It is palpable."