Spending hours getting all dressed up, staying out all night, and walking home in the morning heels-in-hand — it's a routine often associated with the romantic years of your twenties.
But the now 45-year-old Melanie C, AKA Sporty Spice, is flipping that narrative in her new single "High Heels," which features the UK LGBTQ+ collective, Sink The Pink. While many party anthems are about youth and a lack of responsibility, "High Heels" celebrates freedom of expression and an excess of self-love.
"High Heels," out now, is an upbeat, synth-filled track that sets the tone for a night of nonstop clubbing. The song maintains high energy throughout, complete with lyrics like, "We've been going all night, but my feet haven't touched the ground." Mel C invites listeners to seek their own sky-high euphoria.
The song alone may not be enough to expose its layers, but the video, directed by Sylvie Weber, makes it clear that this song is about much more than an excuse to wear a new pair of stilettos. Mel C and Sink The Pink play salon workers daydreaming about clocking out and getting ready for a transformative night on the town — a night to be whoever they want to be. At the bridge, Mel C, with an army of drag queens behind her, sings and repeats the words, "You gotta love yourself/ Above anybody else."
Mel C credits much of the inspiration for the song to the time she's spent with Sink The Pink, the peak of it all being their Global Pride Tour this summer. After first performing with the group, she said "a bit of a love affair" began. She observed how much thought and effort went into the preparation for a big night, from fantasizing about the perfect outfit, to designing clothes and raiding secondhand stores for all the perfect pieces.
The line, "It's been five weeks since I started saving for my new shoes," is a clear tribute to this part of drag culture. But more important than the shoes is the payoff to all this preparation. It's about the feeling after the music stops playing, when you're "dancing home tonight/ with my high heels in my hand."
Mel C says the song is meant to evoke "that real feeling of being there, supporting each other, real self-acceptance and acceptance of each other and our differences and really celebrating that." In other words, it's every feeling she has when she hangs out with Sink The Pink. "It felt like a real privilege to have such an insight into a fanbase that myself and the Spice Girls have had for a long time... I feel very proud to be able to be very vocal and to be a really outspoken ally for [the LGBTQ+] community," Mel C says.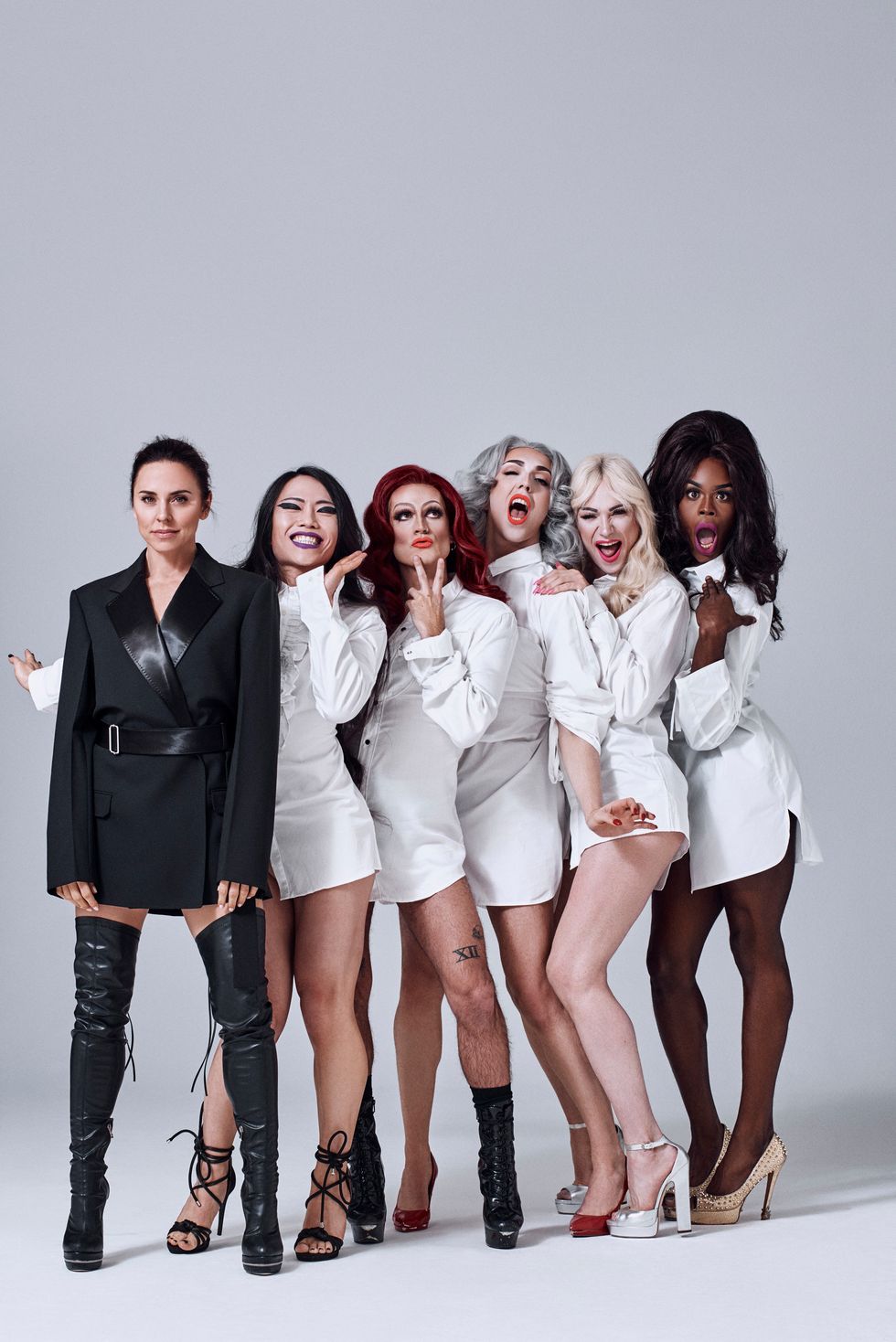 The feeling is mutual. Sink The Pink ringleader Glyn Fussell once told Gay Star News that the tour "shows how committed Melanie is to her LGBTQ+ fans and we are frankly shitting sequins."
Mel C left for the Global Pride Tour just days after wrapping up the Spice Girls Reunion Tour, so her many identities as a performer — Sporty Spice, solo artist, and honorary member of Sink The Pink — are inevitably intertwined.
And if you're still hung up on the idea of Sporty Spice — a track pants and trainers-wearing icon — writing a song about high heels, don't be. Mel C has grown increasingly comfortable adjusting her style over the years. Her all-time favorite heels aren't from her twenties, but a crazy-high pair of Giuseppe Zanotti boots that she wore to perform on her 40th birthday.
"It's all a bit of a journey, isn't it?" Mel C says about experimenting with self-expression. "Hanging out with Sink the Pink and with the drag queens, it's kind of given me this new insight that I still have work to do. There is still some really serious self-acceptance that needed to happen. And also, we have this identity that we give ourselves or we have put upon ourselves these expectations we believe we have to live up to."
Luckily, Mel C is learning to embrace her complexities. "My experiences this year have made me go, you know what? I'm Sporty Spice, but I'm also a mum and I'm a girlfriend, so I can be feminine and I can be sophisticated or I can get my sneakers on and I can get down and dirty and that's all part of me," she says. "I don't have to define myself as one thing."
Stream "High Heels," below, and keep an eye out for more new music from Mel C in early 2020.
Photography: Philip Sinden