Worked Up
CFDA / Vogue Fashion Fund finalist Matthew Adams Dolan is known for reworking classic Americana in his namesake collection. "I was looking at the enduring legacy of workwear this season," the Massachusetts-born designer explains backstage at his spring 2019 runway show. In a nod to blue collar dress, Dolan crafted tool belt style waist packs out of stone-washed denim, silk, and cotton twill.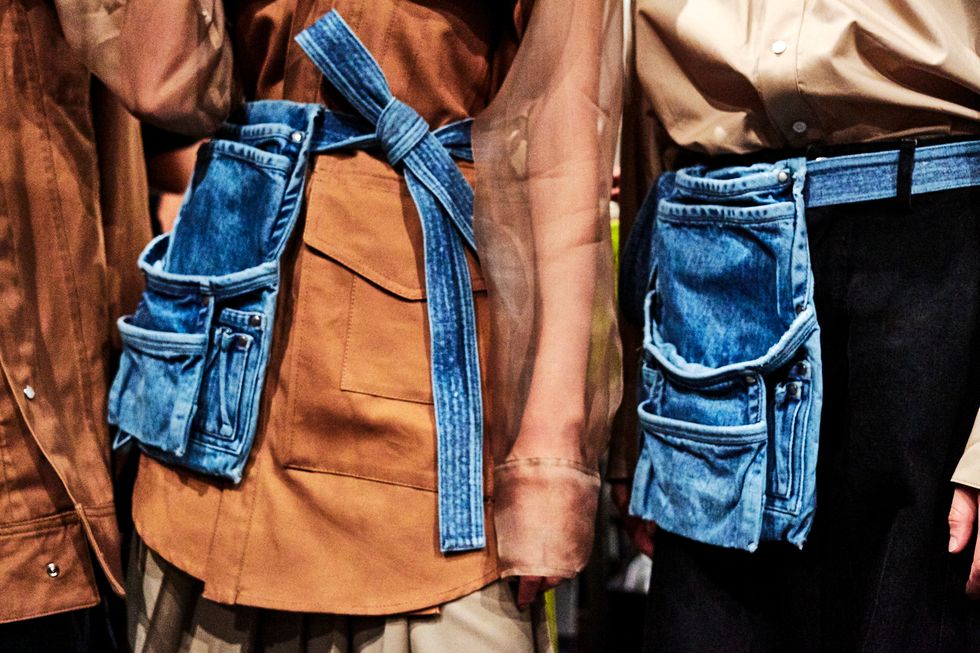 No Fuss, No Muss
"I wanted to strip back on details and focus on shape," Dolan notes citing the puritanical dress of the 18th century Shaker community. Oversized shorts, denim bar jackets a la Christian Dior, and vests that nearly fan out into skirts provide a new take on traditional garments.
Color Correction
"I'm really obsessed with the Easter egg hunt scene from Steel Magnolias. The clothes in it are opposite of what we're used to seeing in the street," he says referring to pastel suits and sharp shirting seen in the 1989 film, "but, I love the idea of young people dressing up like that." Dolan updates the classic silhouettes in his collection for a younger crowd by saturating them with hot pink, royal blue, yellow, and a more matte iteration of slime green.
Sweep The Board
Dolan's dramatic, ground-grazing trousers sent admiring murmurs through the crowd. His wide-cut pants resemble more sophisticated versions of the illustrious JNCO jeans that (literally) swept the 1990s.
Sign Up For The Morning PAPER