For Material Girls, objects take up more than just physical space. The six-piece artist collective share an ongoing exploration of bodily and mental interactions with objects and space, emphasizing the power of and relationship between an object, its owner, and its maker. They see objects as bases for connection and springboards for philosophical speculation. This inquisitive point of view and an interest in community-building are what bonded the Material Girls in the first place, and what continues to link them.
In a fittingly collaborative email, they wrote, "In 2015, Devra and Hilliary randomly ended up in Iceland at the same time and took a spontaneous road trip around the country together. We realized we knew so many amazing women artists around the world whose work we identified with, and so we decided to introduce all the badass lady-sculptors and combine our powers into some sort of supergroup. We all share a collective frustration at how underrepresented women still are in the arts, especially in sculpture and digital practices, and by forming a collective we sought to empower and embolden each other. Though most of us live in different cities, we stay in close touch digitally through group chats, face times, and endless email chains. Our group is a testament to the power of travel and digital exchange to bring artists together in a lasting way."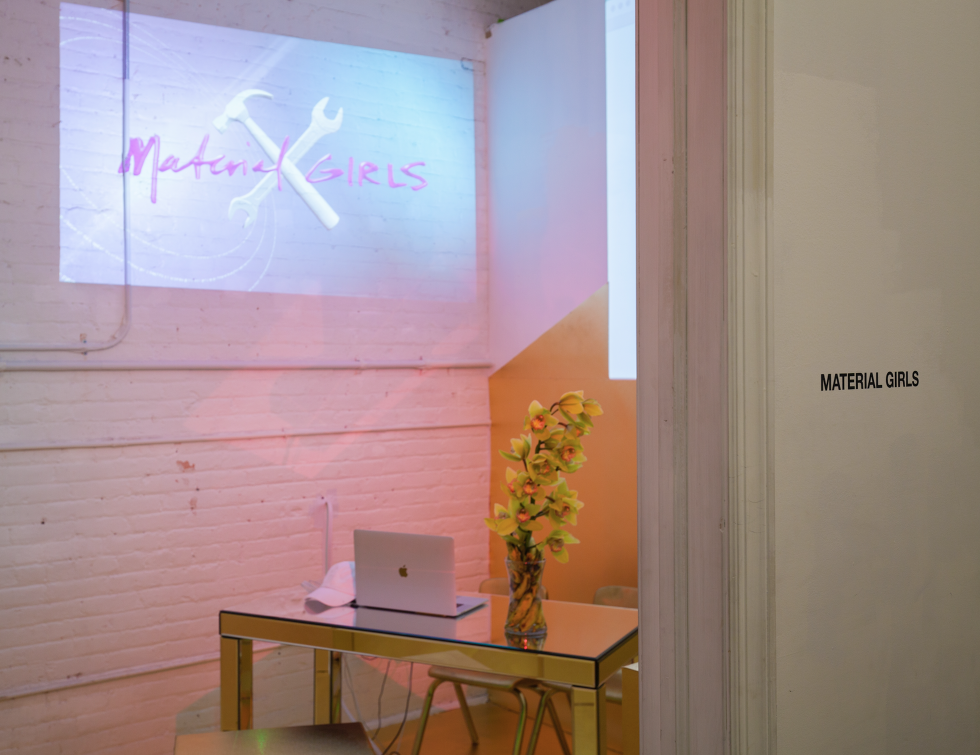 When asked what it means to be a Material Girl, they replied with a sort of creed, "making space for yourself, taking up space... negotiating what it means for something to be an object, for [an object] to also be a body, for a body to be an object... negotiating touch and intimacy and empathy, agency, power and power tools. These are all important points of investigation for us as a group."
Their goal to build a supportive community of female-identifying artists manifests itself in their latest project, XOXO, which expands on their existing model with six additional perspectives. Material Girls invited female-identifying artists from around the world to build their interpretations of a vessel. Additionally, all 12 artists exchanged videos of themselves performing small gestures and engaging with interesting textures; the artists would imitate each other's videos with their own, like a game of "Telephone." XOXO combines their videos and vessel creations into one cohesive, yet diverse exhibit, which is on view at Austin's Museum Of Human Achievement until the 28th.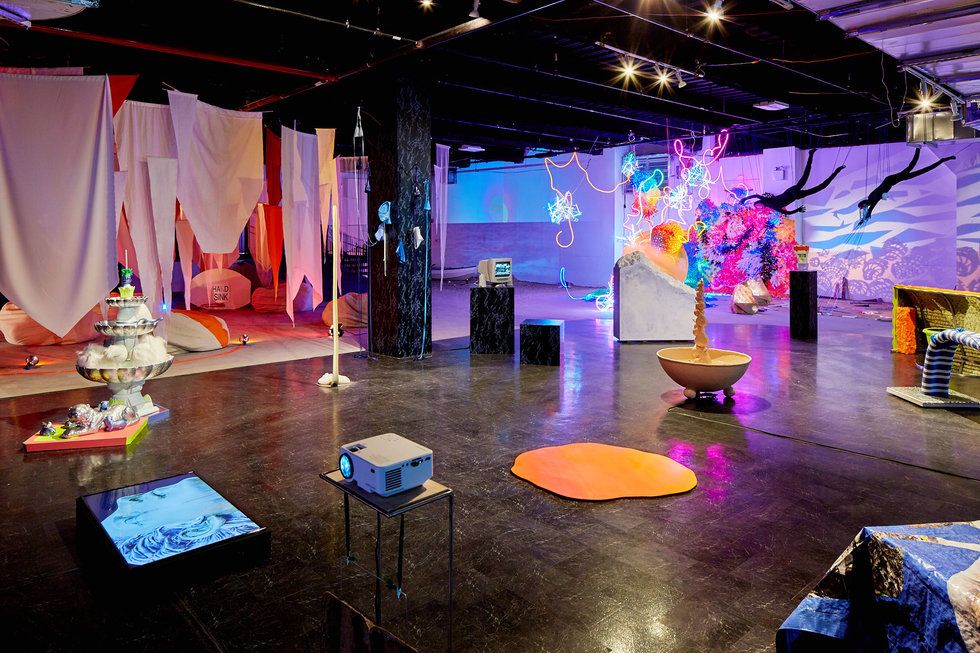 Born between 1988 and 1991, the six core Material Girls bridge their "analog" origins with the digital world unfolding before them, utilizing "a playful blend of physical and technological elements" to comment on the art world, power dynamics, and community. They describe their aesthetic as "seriously casual, casually serious, AOL, lol, historical materialism, feeling feelings, monstrously feminine, fluid, flowing, physicality mediated through the digital, phase transitions, color on color on color, sometimes shiny..."
Learn about each Material Girl, below.
29; Hometown: Armonk, NY, Currently: Brooklyn, NY

"My work exists between physical and digital environments, probing the materiality of digital objects and flatness in the material world. I fixate on cultural and political predicaments— particularly issues in commodification, desire, language, and identity— using a visual vocabulary influenced by Baroque art, video games, and memes."
Medium(s): 3D Animation, Video, Sculpture, Drawing, Performance
Favorite tool: Gaming mouse (for 3D modeling)
Favorite material to use: Toss up between vinyl and acrylic
Favorite place to find materials: Greenhouse supply stores
Ideal setting to work in: A clean space with large even surfaces, natural light, plenty of outlets, and good WiFi
Object that best speaks to your identity: A clear atomic purple Game Boy Color that my partner engraved for me
Last work you saw that really inspired you: Rachel Rossin's Peak Performance at Signal Gallery

Something inspiring you right now: Surreal leftist meme pages on Facebook
Your material world is: one with single-payer healthcare and universal basic income…
Work you're proud of: My ongoing project "ludditemeet.space". I'm really interested in how the internet has become so all-encompassing that it can hold contradictory ideas & identities. For example, I thought it would be funny if luddites had a dating website. The project is a series of 3D animations I make exploring these themes.
Currently working on: Obtaining enough Realtree camo ware to disappear completely…
Why is Material Girls important to you? Together we've created a space where we can be vulnerable and share intel on hard questions, like "how do you deal with an unwanted sexual advance during a studio visit?" or "how do you price your work?" etc. But apart from that, collaborating with Material Girls has opened up so many new avenues— in terms of materials, techniques, ideas— that I otherwise might not have explored on my own.
Keep reading...
Show less