For Material Girls, objects take up more than just physical space. The six-piece artist collective share an ongoing exploration of bodily and mental interactions with objects and space, emphasizing the power of and relationship between an object, its owner, and its maker. They see objects as bases for connection and springboards for philosophical speculation. This inquisitive point of view and an interest in community-building are what bonded the Material Girls in the first place, and what continues to link them.
In a fittingly collaborative email, they wrote, "In 2015, Devra and Hilliary randomly ended up in Iceland at the same time and took a spontaneous road trip around the country together. We realized we knew so many amazing women artists around the world whose work we identified with, and so we decided to introduce all the badass lady-sculptors and combine our powers into some sort of supergroup. We all share a collective frustration at how underrepresented women still are in the arts, especially in sculpture and digital practices, and by forming a collective we sought to empower and embolden each other. Though most of us live in different cities, we stay in close touch digitally through group chats, face times, and endless email chains. Our group is a testament to the power of travel and digital exchange to bring artists together in a lasting way."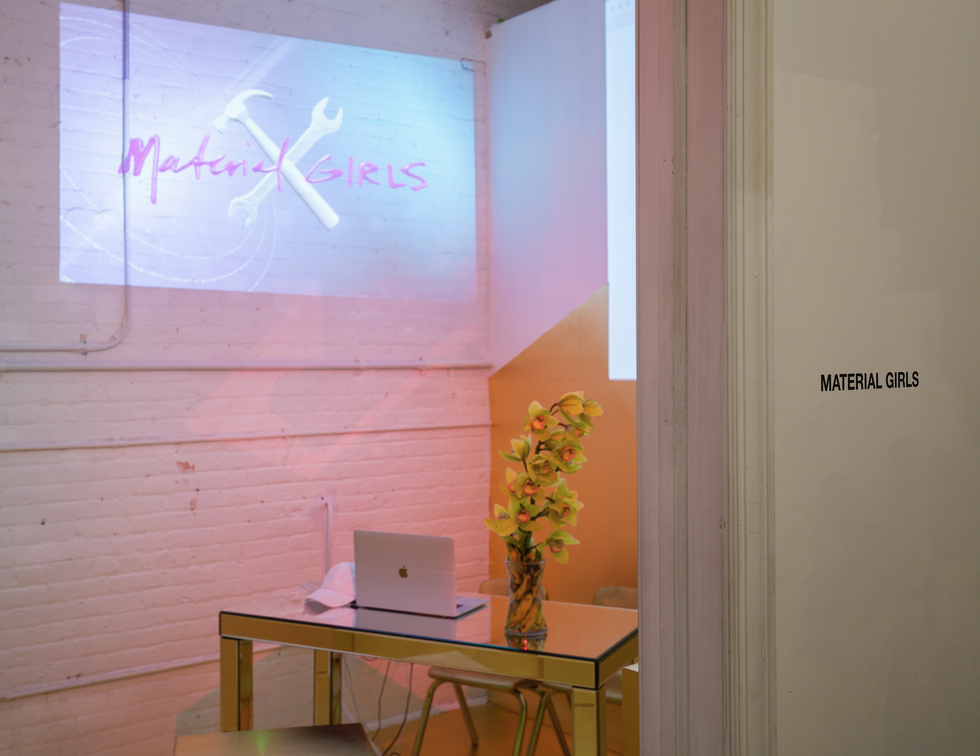 When asked what it means to be a Material Girl, they replied with a sort of creed, "making space for yourself, taking up space... negotiating what it means for something to be an object, for [an object] to also be a body, for a body to be an object... negotiating touch and intimacy and empathy, agency, power and power tools. These are all important points of investigation for us as a group."
Their goal to build a supportive community of female-identifying artists manifests itself in their latest project, XOXO, which expands on their existing model with six additional perspectives. Material Girls invited female-identifying artists from around the world to build their interpretations of a vessel. Additionally, all 12 artists exchanged videos of themselves performing small gestures and engaging with interesting textures; the artists would imitate each other's videos with their own, like a game of "Telephone." XOXO combines their videos and vessel creations into one cohesive, yet diverse exhibit, which is on view at Austin's Museum Of Human Achievement until the 28th.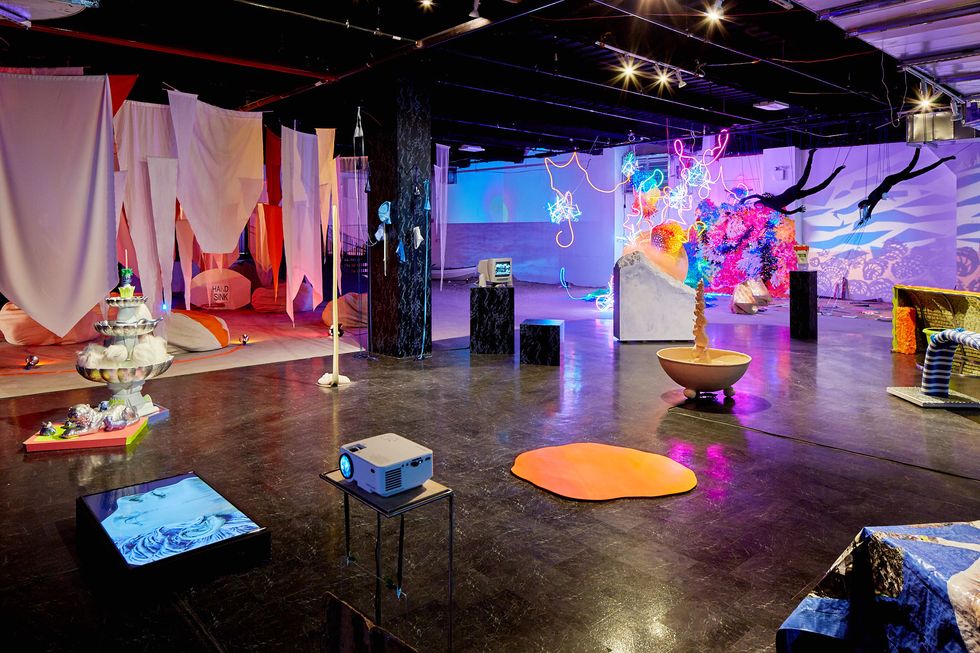 Born between 1988 and 1991, the six core Material Girls bridge their "analog" origins with the digital world unfolding before them, utilizing "a playful blend of physical and technological elements" to comment on the art world, power dynamics, and community. They describe their aesthetic as "seriously casual, casually serious, AOL, lol, historical materialism, feeling feelings, monstrously feminine, fluid, flowing, physicality mediated through the digital, phase transitions, color on color on color, sometimes shiny..."
Learn about each Material Girl, below.
29; Hometown: Armonk, NY, Currently: Brooklyn, NY

"My work exists between physical and digital environments, probing the materiality of digital objects and flatness in the material world. I fixate on cultural and political predicaments— particularly issues in commodification, desire, language, and identity— using a visual vocabulary influenced by Baroque art, video games, and memes."
Medium(s): 3D Animation, Video, Sculpture, Drawing, Performance
Favorite tool: Gaming mouse (for 3D modeling)
Favorite material to use: Toss up between vinyl and acrylic
Favorite place to find materials: Greenhouse supply stores
Ideal setting to work in: A clean space with large even surfaces, natural light, plenty of outlets, and good WiFi
Object that best speaks to your identity: A clear atomic purple Game Boy Color that my partner engraved for me
Last work you saw that really inspired you: Rachel Rossin's Peak Performance at Signal Gallery

Something inspiring you right now: Surreal leftist meme pages on Facebook
Your material world is: one with single-payer healthcare and universal basic income…
Work you're proud of: My ongoing project "ludditemeet.space". I'm really interested in how the internet has become so all-encompassing that it can hold contradictory ideas & identities. For example, I thought it would be funny if luddites had a dating website. The project is a series of 3D animations I make exploring these themes.
Currently working on: Obtaining enough Realtree camo ware to disappear completely…
Why is Material Girls important to you? Together we've created a space where we can be vulnerable and share intel on hard questions, like "how do you deal with an unwanted sexual advance during a studio visit?" or "how do you price your work?" etc. But apart from that, collaborating with Material Girls has opened up so many new avenues— in terms of materials, techniques, ideas— that I otherwise might not have explored on my own.
---
28; Hometown: Sanford, NC; Currently: residency hopping with Vermont Studio Center as the next destination

"My work focuses on how bodies are both gendered and metaphorically fragmented in terms of the linguistic and image-based correspondence between capitalist-driven material desires, physical sustenance, and the digital spaces we inhabit. The truncated and disembodied limbs, fruits, and food packaging parallel the fragmentation/compartmentalization encouraged in digital space by questioning literal and metaphorical touch, or even the sensation of closeness, between bodies."
Medium(s): Sculpture, video, drawing.
Favorite tool: Angle grinder with a side handle.
Favorite material to use: Tie between drywall mud and gelatin.
Favorite place to find materials: Tie between construction sites and horse barns.
Ideal setting to work in: A big bright room in a warehouse attached to a giant metal shop.
Object that best speaks to your identity: Tie between my Vitamix and my great-grandmother's teapot.
Last work you saw that really inspired you: Last month I saw Mika Rottenberg's NoNoseKnows (50 Kilo Variant) and Hito Steyerl's Liquidity Inc.at the Institute of Contemporary Art in Boston. Seeing them back to back was perfect, such a testament to the power and scope of video work.

Something inspiring you right now: A set of dramatic souvenir spoons from places like Stratford-upon-Avon, the Statue of Liberty, and Las Vegas, New Mexico I found buried deep in a drawer at my grandmother's house.
Your material world is: The desaturated intersection of the digital and the physical, mediated by touch and flesh.
Work you're proud of: The outdoor pineapple fountain sculpture, Reclining Nude, is an important piece in the trajectory of my work. It is the object with the longest planning period (9 months of obsessive digital building before any physical making) and gave me so many absorbing problems to solve. For several months, my life completely revolved around the making of that fountain and I loved every minute.
Currently working on: I am currently working on a video using footage shot in Pittsburgh, an indoor fountain, and a set of large souvenir-spoon-spinoff sculptures.
Why is Material Girls important to you? For me MATERIAL GIRLS is a group of dear friends, fellow artists, and strong women who have an unyielding desire to follow our collective vision and support one another. As a female sculptor/digital fabricator in such heavily male dominated fields, it is such a dream to have solidarity and encouragement from other ambitious woman makers.
---
27; Hometown: Ridgewood NJ; Currently: Brooklyn NY

"I'm obsessed with polar landscapes, have been romantically involved with several icebergs, and make colorful sculptures inspired by geologic sublimity and the digital aesthetic cues I grew up with."
Medium(s): Sculpture, video, performance
Favorite tool: My Bosch drill/driver set, a 24th birthday present gifted to me by my classmates in my first year of grad school.
Favorite material to use: Epoxy resin and my body - never together, though !
Favorite place to find materials: Auto shops, the interiors of sunsets, quarries, the internet
Ideal setting to work in: A 10000 square foot perfectly leveled cement floor studio with compressed air lines and ventilation built into the side of a mountain with glass walls looking out over an endless desert vista, ideally facing the sunset. Architects, get at me.
Object that best speaks to your identity: I have a large chunk of lava from the continental divide in Iceland that I like to keep in my shower
Last work you saw that really inspired you:Easternsports, the collaborative video-installation from Alex Da Corte, Jayson Musson, and Dev Hynes. It changed the way I thought about collaboration, and I began to work with video (and friends!) after realizing the affective possibilities the medium offered.

Something inspiring you right now: Climate change, feelings, assertive women
Your material world is: Saturated and nonlinear
Work you're proud of: This past summer I completed my first public sculpture, a 7 x 14 foot solid-cast fluorescent epoxy resin semicircle emerging out of the earth, called Fluorescent Sunrise. It's on view at Socrates Sculpture Park in Long Island City, NY, until the end of March. It's the largest piece I've ever made; it weighs over a thousand pounds, and it took two weeks to cast the 96 gallons of epoxy resin necessary to create the piece.
Currently working on: A new video called 'Loving Ice', comprised of performances I filmed in the Arctic Circle this past fall. In the video, I navigate my personal role in climate change as a well-intended but carbon producing ecotourist and artist. I rub my body against icebergs and glaciers, intimately communing with the objects of my climatological affection while inherently melting them with my body heat, embodying the causal relationship between human beings and the planet, and the chasm between intentions and outcomes.
Why is Material Girls important to you? The art world is a small and competitive place, especially for women. We're often competing against each other for the same limited amount of grant money, residencies, and fellowships. My work with the MATERIAL GIRLS, on the other hand, has been a refreshingly wholesome and uplifting experience. We are able to accomplish so much more together than any of us could alone; with our powers combined, we are truly ~*unstoppable*~
---
26; Hometown: Lynchburg, Virginia; Currently: Queens, New York

"My works are aspiration ally luxurious - exuding the glamour of Old Hollywood and grandeur of classical Greek architecture. Objects and products, found in the mainstream consumerist market, coalesce into assemblages that I transform with surface treatments and color applications."
Medium(s): Sculpture
Favorite tool: It's a toss up between my fabric tape measure and blow dryer. I use the tape measure to create patterns for faux fur applications; the blow dryer - for fluffing the fur to perfection!
Favorite material to use: Faux fur obviously! Though as of late, I have become obsessed with self-adhesive dichroic —talk about some instant shine!
Favorite place to find materials: 99 ¢ stores, the garment district in NYC & the internet
Ideal setting to work in: A ginormous room with gold floors, mirrored walls and a ceiling riddled with skylights.
Object that best speaks to your identity: I would say my collection of tchotchkes speaks to my upbringing in Southwest Virginia. The landscape of my childhood was dotted with examples of kitsch and Americana.
Last work you saw that really inspired you: My work heavily references the Hollywood Golden Age film era and at this moment I can't think of a work more influential than Sunset Boulevard. In the final scene - Norma Desmond (infamously portrayed by Gloria Swanson) personifies melodrama, descending a staircase into a sea of paparazzi to exclaim: "I'm ready for my close-up!"

Something inspiring you right now: The other women in the collective are my daily inspiration.
Your material world is: Bursting-at-the-seams covered in glitter that never goes away.
Work you're proud of: For our MATERIAL WORLD show, we installed over 1200 sq. ft of black marble vinyl tiles and an enormous amount of matching black marble contact paper covering 18 ft. tall columns. It was our first project and I feel like it set the bar high - every project since then has been just as, if not more ambitious!
Currently working on: I just got done hot-housing the fabrication of four new sculptures and applying to grad school, so I'm in an intermediary moment.
Why is Material Girls important to you? Being a part of the Material Girls is being a part of community. It's very important for me to be part of a collective that has endless drive and ambition!
---
26; Hometown: Austin, Texas; Currently: Los Angeles

"Drawn to the everyday generic or seemingly unobtrusive objects and symbols, I re-examine the consumption of my life and surroundings to give an audience something potentially absurd, intimate, and humorous to confront. By mixing the extreme with the mundane, the resulting juxtaposition can be an open-ended suggestion about feelings of loss or longing around the disorder of the day-to-day and the anxiety surrounding the unknown future."
Medium(s): Everything but painting. Painting is the most difficult medium.
Favorite tool: Olfa Knife
Favorite material to use: Steel and vinyl. That's two, but they always end up going together.
Favorite place to find materials: On long walks.
Ideal setting to work in: Spending time in a small town. Being outside of a city with a lot of space and quiet to look, think, and be uninterrupted. Not necessarily making something physical, but being quiet to think about what I need to do.
Object that best speaks to your identity: I have a few rings that were given as gifts, each with a slightly humorous story behind them. I am always fiddling with them and feel confused without them on my hands.
Last work you saw that really inspired you:Lisa Lapinski at Kristina Kite Gallery, Los Angeles.

Something inspiring you right now: My MATERIAL GIRLS and my classmates at UCLA.
Your material world is: When the temperature outside is above 90F and you open your car door and hot air billows out. You sit down in the passenger seat of fake tan leather and close the door. The back of your legs sweat and stick to the seat, and you sit there for thirty seconds enveloped by the suffocating heat, just before breaking into a sweat, and then turning on the car and blasting the air conditioner.
Work you're proud of: The pieces I've traded with friends over the years, during residencies and schools. My home sits as a small collection of art objects. I feel uncomfortable sitting with my own objects, but am glad that by making and trading them, I get to sit with someone else's.
Currently working on: I'm preparing for my graduate thesis show in April. I've been collecting plastic bread clips, produce mesh bags, and dead bees. Some of given, found, or stolen, specifically by people in my community. These objects become links into my vast community of friends and artists.
Why is Material Girls important to you? To stand with a group of women and all have a clear understanding of how something is constructed or made. We all bonded over an experience of walking into a shop that was dominated by men and feeling the push and pull of asserting ourselves and being uncertain in these shop spaces.
---
29; Hometown: Miami, FL; Currently: Austin, TX.

"My practice is a means of dealing with distance and desire— desire for intimacy and understanding, for clarity in communication, longing to get closer, to see further, to be near the ocean, to touch the horizon, desire for something certain, longing to let it go. The objects and videos I make are metaphors for a relationship between landscape and longing— gestures of reaching, stretching and trying to span a distance, trying to embody the intangible."
Medium(s): Sculpture, video
Favorite tool: It changes depending on the project I'm working on but my most consistent tool love is a Husky folding utility knife
Favorite material to use: Paper, plaster, Durham's
Favorite place to find materials: I am most happy when I can make it a ways through a project using mostly things I have stashed in my studio or harvested from old projects. Although I get a lot of shit from Home Depot too. I also feel a lot of loyalty to US Composites.
Ideal setting to work in: Somewhere big, sunny, warm and full of plants. Maybe like a giant tropical greenhouse but with concrete floors, huge clean tables and a full shop.
Object that best speaks to your identity: As an sculptor/ object-maker, I have a particularly high inclination to invest meaning and feeling in objects. I really have to try to force myself to maintain a fairly casual connection to my belongings. I feel reluctant to allow one of my possessions to obtain such a prize position.
Last work you saw that really inspired you: Elizabeth King's Radical Small at Mass MoCA one of the most amazing shows I've seen in a long time. Deeply empathetic, massively powerful, intimate objects, it seriously restored my faith in the power of making things.

Something inspiring you right now: Plants, the ocean, patio umbrellas, shade, my Mom and pretty much everything I see in her yard when I go home to Miami.
Your material world is: Soft and wet
Work you're proud of: As part of my thesis show I set up a 15ft inflatable pool in the sculpture yard in order to make a cast of the weight of the water. I made a thin paper and fiberglass shell around the belly of the pool try to preserve the pressure of the fluid body, pressing against the thin rubber skin. The piece was called feeling the weight.
Currently working on: Making cutoff jean shorts out of cast latex house paint and molds of giant pothos leaves I brought back to Austin from Miami.
Why is Material Girls important to you? As a female sculptor, you have to constantly grapple with your gender, you are constantly questioned. It has been incredibly empowering and energizing to be in constant communication with a group of other female makers and to have each other as a site of support and encouragement. I love seeing other women making big beautiful ambitious things and I love working through problems together and celebrating successes with them.
Headline photo credit at Alt Esc: No Vacancy 3, photo by Walter Wlodarczyk