It's no secret that meaningful, nuanced representations of the Asian immigrant experience are an extremely recent phenomenon. After all, for every Crazy Rich Asians and Kim's Convenience, there's still a Fantastic Beasts 2-esque screw up, which just goes to show how slow (and incremental) progress actually tends to be. Not only that, but rather than deeper explorations into other intersections of the Asian-American experience (where are the shows focused on femmes, older folks, or queer people?), we're still at a point where merely having an Asian face appear on-screen counts as a massive win for representation. But as many cultural critics have pointed out, that still isn't quite enough.
We've just barely begun to scratch the surface, but at the same time, that's why the need for shows like S&M practitioner-educator Yin Q's web series, Mercy Mistress, is more important than ever. Based on Q's own memoir, the 10-episode project stars Collective Sex's Poppy Liu as Mistress Yin, a queer, first-generation, Chinese-American dominatrix. Primarily helmed by POC, femme, gender-nonconforming and/or queer people, Mercy Mistress is a show that explores the nuances of BDSM through a distinctly Asian-American lens. And as a project whose goal is to destigmatize kink and demonstrate how consensual pain can lead to empowerment and healing, especially for queer and femme members of the Asian diaspora, it's safe to say that Mercy Mistress is a perfect example of what true intersectional representation looks like.
To make things even better, queer icon Margaret Cho also recently signed on to executive produce the series — a move that got me thinking about how far the representation of queer Asian femme sexuality has come since the premiere of Cho's 1994 sitcom, All-American Girl. After all, All-American Girl has always been a very special show to me. In retrospect, it wasn't a perfect show, but given the external challenges facing it, I'm still inclined to look at it as a step forward, especially since it sparked larger discussions about proper representation, the importance of having Asian people tell Asian stories, and the erasure of queer Asians from their own narratives. Not only that, but growing up, Cho was the only celebrity with a face like mine who even vaguely attempted to address the fraught existence of young Korean-American women — caught in between assimilation and the expectations of our parents. That alone meant the world to me.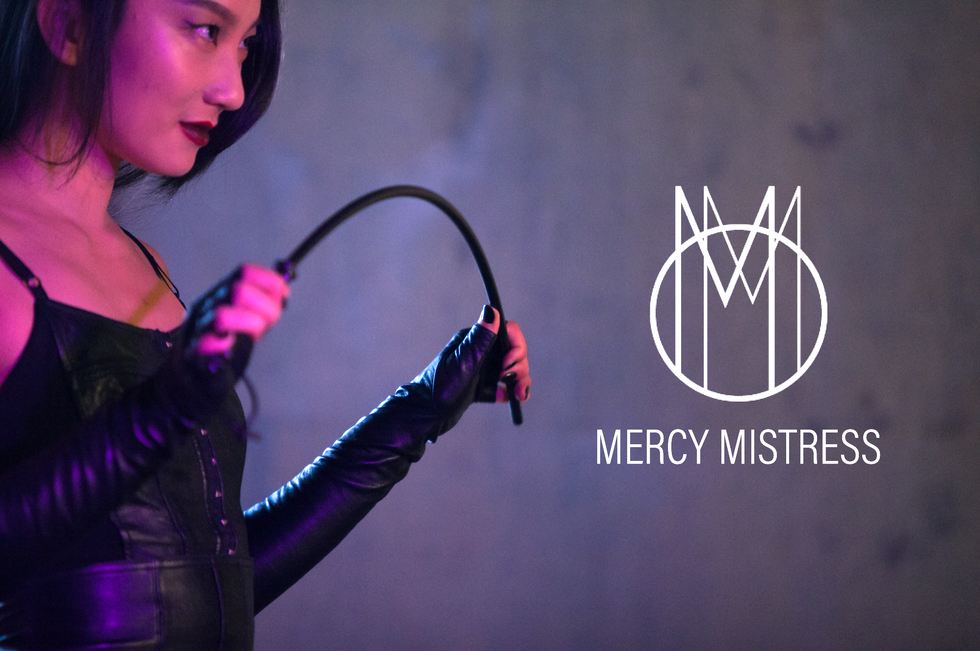 However, having Cho on screen was only the first step, and even she recognizes that despite her legacy, there's still much work to be done in terms of properly representing queer, femme Asian-Americans in a way that doesn't feel tokenized or objectified.
"Being an Asian-American woman, sex has really been fetishized and it's always out of our hands. It's never really about real fulfillment or having agency," she explains. "That's why I thought [Mercy Mistress] was so unique and powerful. It's a different view of BDSM than what we see in 50 Shades of Grey, and I think it's interesting. The mainstream is making [works] about stuff that's been very fringe, but it isn't telling of any experience."
"Being an Asian-American woman, sex has really been fetishized and it's always out of our hands."
After all, the story Mercy Mistress is attempting to tell is one that Cho herself is intimately familiar with as a person who witnessed the rise of leather culture while growing up in San Francisco in the '80s and '90s. "[Back then], people were really looking for ways to expand on ways to be sexual, and the rise of alternate sexuality came out of necessity because of AIDS," Cho says, before describing her own love of kink, which is rooted in the fact that leather is something that "feels so familiar" to her. "BDSM was, is so important."
Needless to say, I'm excited to see how Cho will continue to push a more nuanced portrayals of kinky, queer Asian-American sexuality — how she will continue to fight for a more dignified presentation of our story to the world-at-large. After pioneering that initial conversation over two decades ago, it only makes sense that she will get another chance to reopen this conversation and go much deeper. This time though, it will be a show made on her terms — and that makes all the difference.
Welcome to "Sex with Sandra," a column by Sandra Song about the ever-changing face of sexuality. Whether it be spotlight features on sex work activists, deep dives into hyper-niche fetishes, or overviews on current legislation and policy, "Sex with Sandra" is dedicated to examining some of the biggest sex-related discussions happening on the Internet right now.
Photos courtesy of Mercy Mistress