It's a new era for Madison Beer, officially inaugurated Friday with the release of "Hurts Like Hell," the lead single from a forthcoming album following last year's EP debut, As She Pleases.
Co-written by Charli XCX, the track features Offset seconding Beer's response to the too-late lament of a sneaking, cheating ex who she's banished to the realm of regretful former intimates, now spectators. Now, the wrongdoer has no choice but to watch — from the lonely sidelines — as Beer continues to succeed.
Beer's love life has been the subject of many of a celebrity news story; two years ago, the fixation was on a publicly tumultuous relationship with then-boyfriend Jack Gilinsky, then the focus moved to speculation about a relationship with Brooklyn Beckham.
Another kind of split — leaving Island Records after being personally signed by Justin Bieber, ahead of rerouting as independent and releasing her EP with Access Records instead — was another media focus for a time.
Today, though, 19-year-old Beer revels in the possibilities this next chapter holds, including the video for "Hurts Like Hell," out today. In our conversation below, she tells PAPER how the clip supports the song's message, about her forthcoming album, and more.
Can you tell us more about the message of "Hurts Like Hell"?
Charli XCX is one of the writers on it. She was so incredible to work with, and we had so much fun. I wanted to do something... that we kind of were like, when you break up with someone you hope they see you doing really well, and I hope it hurts like hell. I hope you realize that you should have given me the love that I deserve, and that you messed up. Offset's verse was really important, that he captured that as well. I wanted to make sure it felt like we were both ganging up on the same person, and that we were both talking to the same guy. It came out exactly how we wanted it to you. I'm just really proud of it.
Without getting specific, did you have somebody in mind writing this, or is "Hurt Like Hell" based on a hypothetical situation?
A lot of it is hypothetical. Of course, yeah, I have my own people that I think about when it comes to this stuff, but it was more hypothetical in the sense of like... I wanted to have this song that even if it's not an ex — it could also be a friend that has done you wrong — instead of being bitter and petty and immature, you just do your thing and they'll see you. A lot of people out there don't want me to win.
I definitely see that it can be applied to a lot of situations, not just romantic partners. So how did Offset get involved?
I saw him on tour and he was my ideal person to have on the song. I really, really, really wanted him on the record. Then we sent it over to his management team, and we didn't expect to get a response at all, and we ended up getting an email the next day with Offset on the song, telling us that he loved it and that he was so excited about it and that he wants to shoot to music video with us. It's just been such an honor; he's incredible, and he's one of the biggest artists in the world right now, so the fact that he could work with anyone and he chose to hop on my record, it meant a lot to me.
Tell me about the music video.

I wrote the treatment for it, so I'm so proud of it; it's kind of like my project that I've been working on really hard. It's this concept of the witch — I'm the witch — who has these powers and she's able to see other things going on in the world, and I'm kind of looking at my crystal ball, which is actually like [a] TV on the wall, and I'm seeing this girl get hit by a boy. I end up torturing him for the rest of the video because I saw what he did.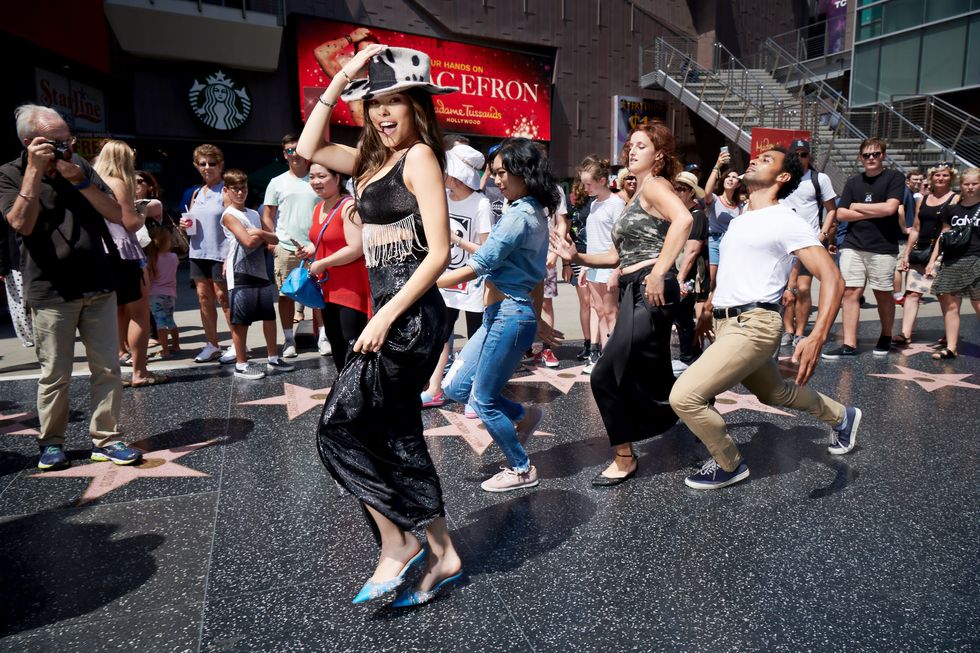 Dress: Emanuel Ungaro, Shoes: Manolo Blahnik
Are there greater implications for you there?
Absolutely. I wanted to make sure it was not about a specific thing — because he comes onto her pretty aggressively, and I didn't want it to make it solely about sexual abuse. I wanted to make it more about an overall "treat people with respect" type thing. There's a few different issues going on there.
You've talked about making music that empowers women. Do you feel this song continues to carry that message?

Absolutely. I feel like it's an important message that I try to push. The [new] album is a mixture, I would say. I feel like there are songs on my album where I'm a little more vulnerable and I'm not as, "you gotta be a bad bitch," all the time. I try to have a little more of a sense of humanity on my album. But my singles are probably, they're usually super, like, female empowerment, bad bitch, like you-can-do-anything type messaging
"I want to make sure that it's always clear that you can do everything if you just put your mind to it and you work hard, and have your head down and focus."
Without talking about the past, how does it feel to continue seizing your agency, and cultivating your own independence as an artist?

It feels good. I'm independent, and I'm really doing everything on my own. It just feels really rewarding especially now, having over half a million plays [on the day "Hurts Like Hell" released] and it's not even 3 p.m. yet. It all feels really good. I try to always be inspiring for young adults, or for adults or teens or whoever it might be. I want to make sure that it's always clear that you can do everything if you just put your mind to it and you work hard, and have your head down and focus.
Do you think that responsibility of being someone people look up to, women in particular, has played a role in helping you cultivate your agency?

I think that as much as I love being a role model for people, I try to make sure that it's very clear to everyone that I'm a human being — so if you want to aspire to be like me, when it comes to music or it comes to my work ethic, then that's great, and I think that's awesome. But the line gets blurred for me when it's like — don't try to emulate everything I do, because I'm not a perfect person, and I make mistakes often.
Looking forward to the album, how do you feel? Are you excited for the future?

I'm so excited. I think it's going to be amazing. I can't wait to get back on tour. I'm really looking forward to 2019. I feel like it's going to be a really good year for me. I feel it.
Listen to "Hurts Like Hell" (feat. Offset) by Madison Beer, below.
Photography: Max Vadukul
Styling: Christine Nicholson
Hair: Aaron Light
Makeup: Brooke Hill
Photo Assistant: David Barron
Fashion Assistants: Hailey Tessem, Karishma Khan, Sidney Lewis
Hair Assistant: Stacey Sokol
Set Design: Eamonn McGlynn
Producer: Kim Tran
Featured Photo: Dress by Emanuel Ungaro, Shoes by Manolo Blahnik