Rosa Walton and Jenny Hollingsworth's music as Let's Eat Grandma is amorphous. Sometimes it feels like the sonic equivalent of glitter, a whirl of pop ecstasy built from fragments of layered harmonies, soaring synth, and racing drums. Other times, darker minor chords churn ominously like a stormy whirlpool. Regardless of the emotional tone of any one song, their music is consistently opulent and heady — a baroque pop spectacle.
The duo has been friends since they were toddlers. They started performing at the age of 13 and released their debut, 2016's I, Gemini, just a few years later. It immediately became a cult favorite. Today, Let's Eat Grandma is releasing a sophomore effort, I'm All Ears, which they say trades in I, Gemini's escapism for more candid expressions of what it feels to be a young person alive today.
PAPER spoke with the duo about their dislike for astrology, their captivating live performances, and working with SOPHIE on the new album.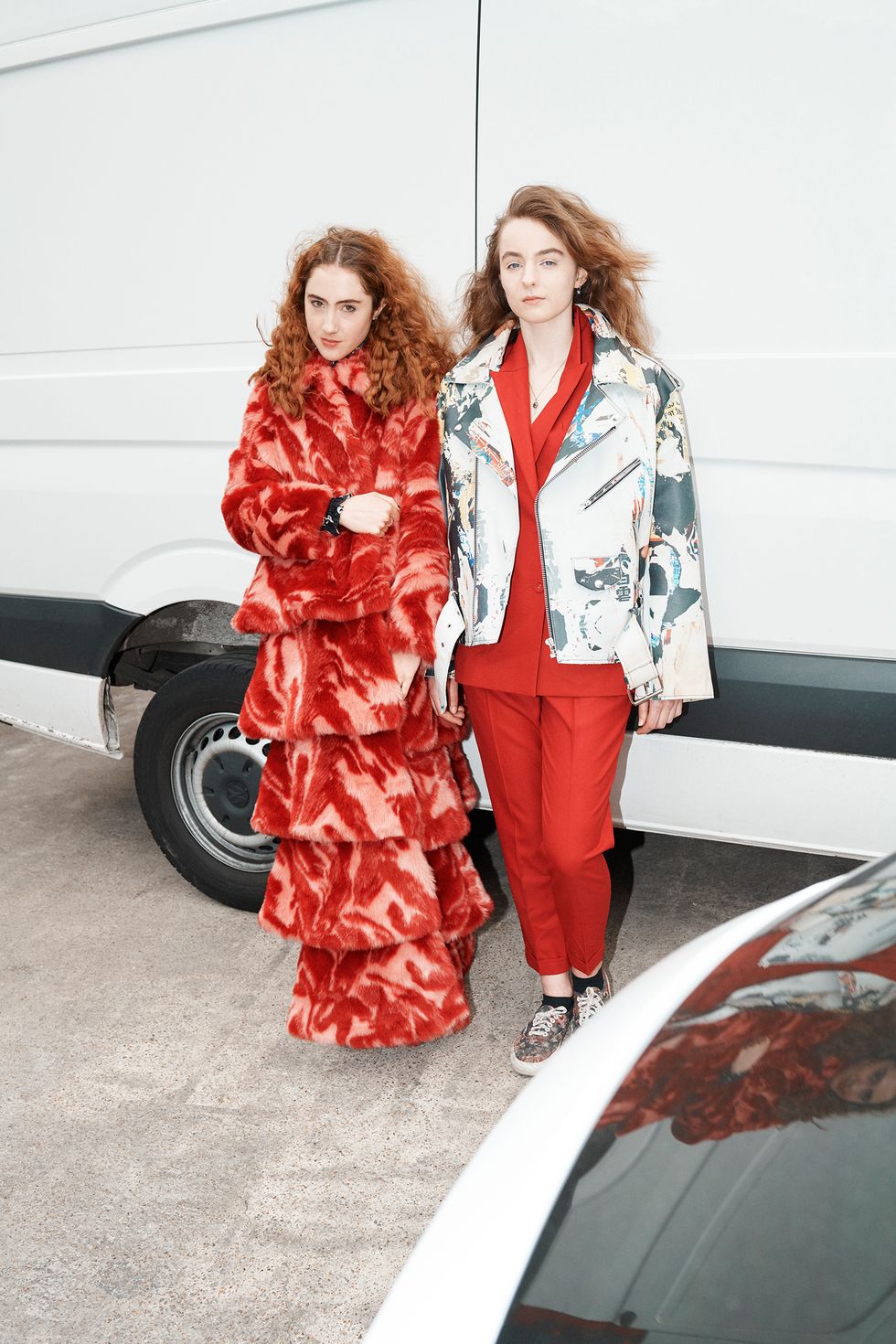 (Left) Coat by Shrimps; (Right) Jacket by Marques Almeida, Shoes by Vans, Suit by Escada
How are you doing?
Rosa: Pretty good! Just painting our toe nails. We asked the last interviewer which color we should go for.
Jenny: She picked the metallic purple.
Starting with the most obvious question, where did the name for the band come from?
Rosa: It's a joke about punctuation and about comma placement. You can have "Let's eat, grandma," which means "Oh grandma, let's go have dinner." And then you take out the comma and it becomes "lets eat grandma."
Jenny: I'm glad we picked that name because these days it feels like things are getting too serious.
Rosa: Yeah! We literally just picked it as a joke.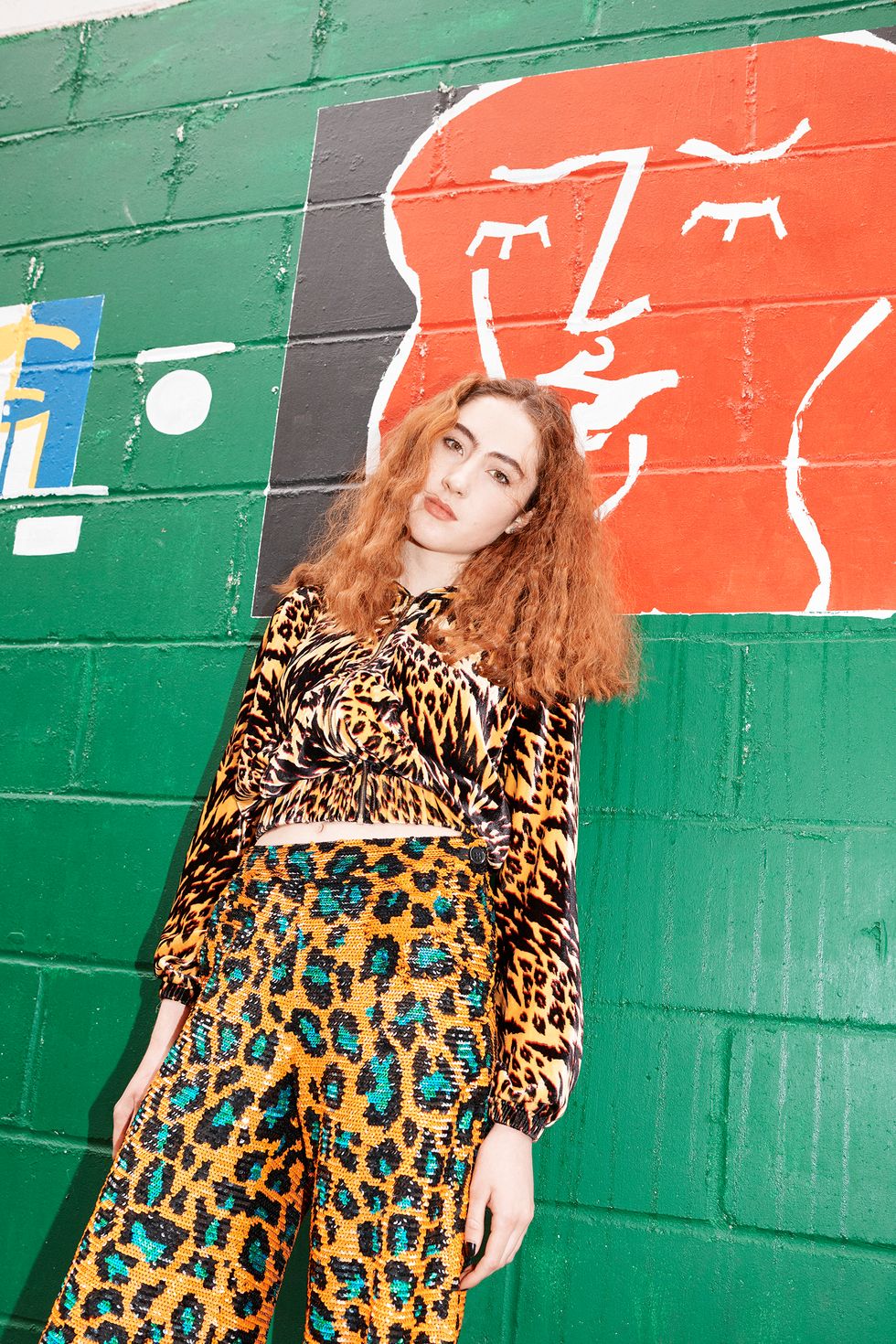 Top by Aries, Trousers by Ashish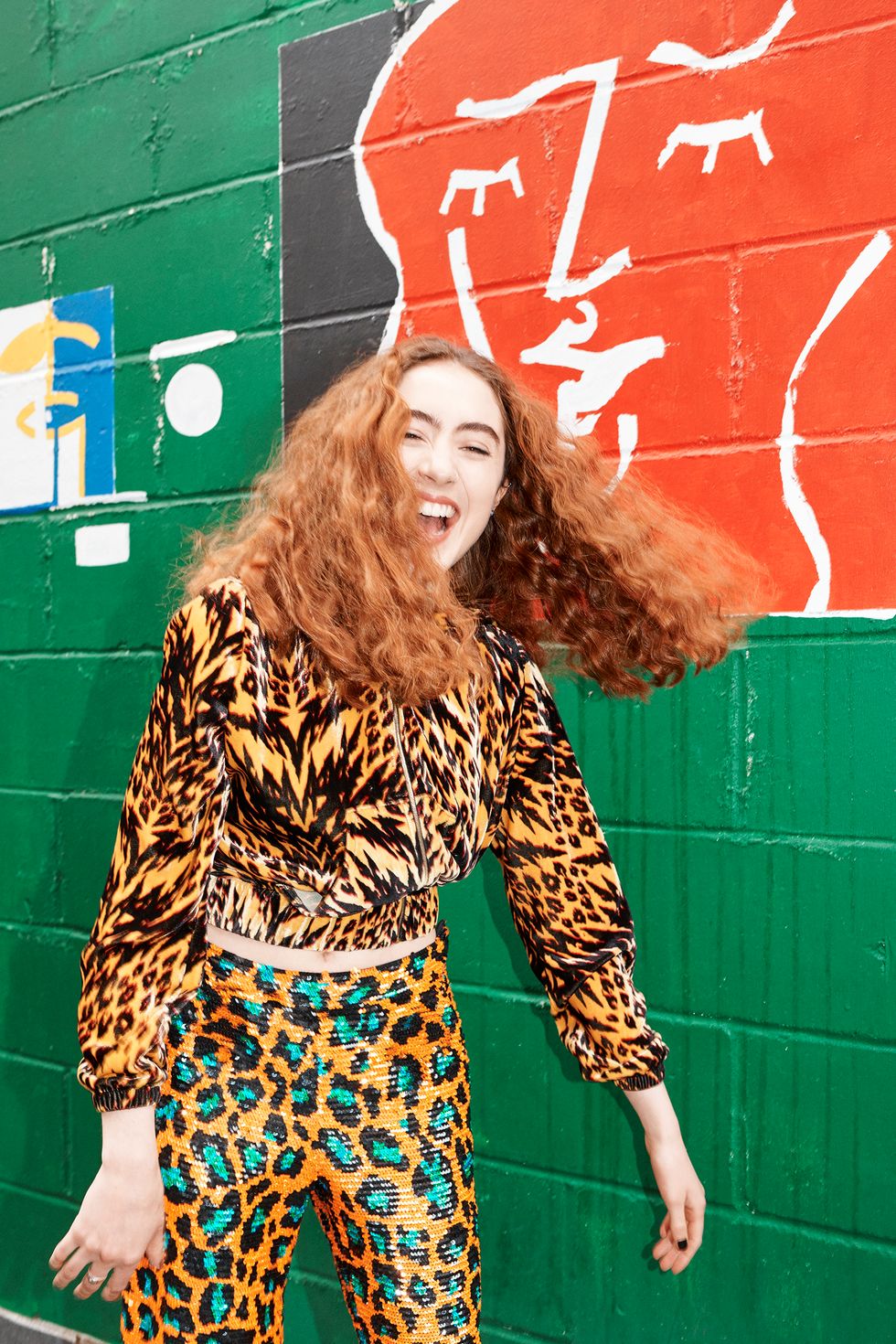 Top by Aries, Trousers by Ashish
Do you feel like it serves as a reminder to keep things lighthearted at times?
Rosa: A lot of our songs are about serious topics, but we don't take ourselves too seriously.
How did you decide to start making music? Was it at the same time?
Rosa: We decided when we were 13 that we wanted to — when we started we would cover songs together.
Jenny: I don't think it was every like, wanting it to be a career. That's how it starts for a lot of people. They have the dream long before they actually get into writing. But for us, our interest is primarily in writing and everything else comes with it and is great. Writing and performing are things we wanted to do. We didn't even necessarily know we wanted a music career.
Related | SOPHIE's Whole New World
You worked with SOPHIE on this album.
Rosa: Yeah! We wrote two tracks. It was really really cool. We've always really respected her as an artist. We wrote one of the tracks at her house in LA, which was a completely different.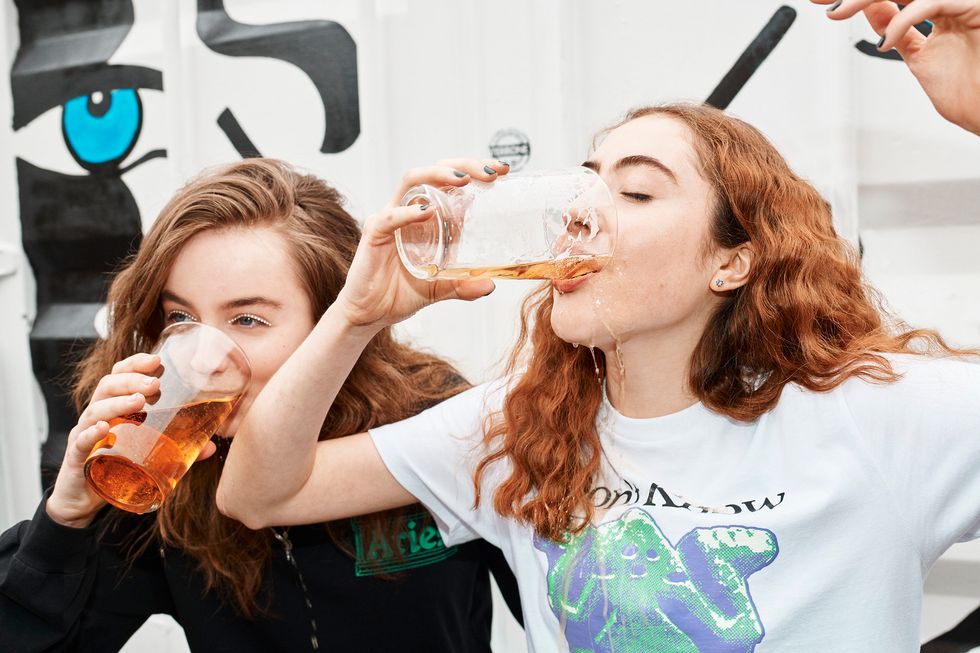 (Left) T-Shirt by Aries; (Right) T-Shirt by Ashley Williams
Your first album is called Gemini. Are you interested in astrology at all?
Rosa: Actually, it's funny because I'm really not. I think it's just a symbolic thing. When people ask me about my star sign and stuff, I feel like they're psychoanalyzing me based on it. I find it a bit annoying.
Jenny: I think it's fun, just when people try to say "are we compatible or not" based on star signs, I'm like "nah."
Rosa: People go on dates and that date is going really well and they ask the person what their star sign is, and then they say, "I'm a libra!" and the person goes, "Oh no! This isn't going to work!"
Where did the name come from for the album?
Rosa: I think because Gemini is the symbol for the twin, and that was a whole thing with the album.
Jenny: It's about being individuals, but also being together.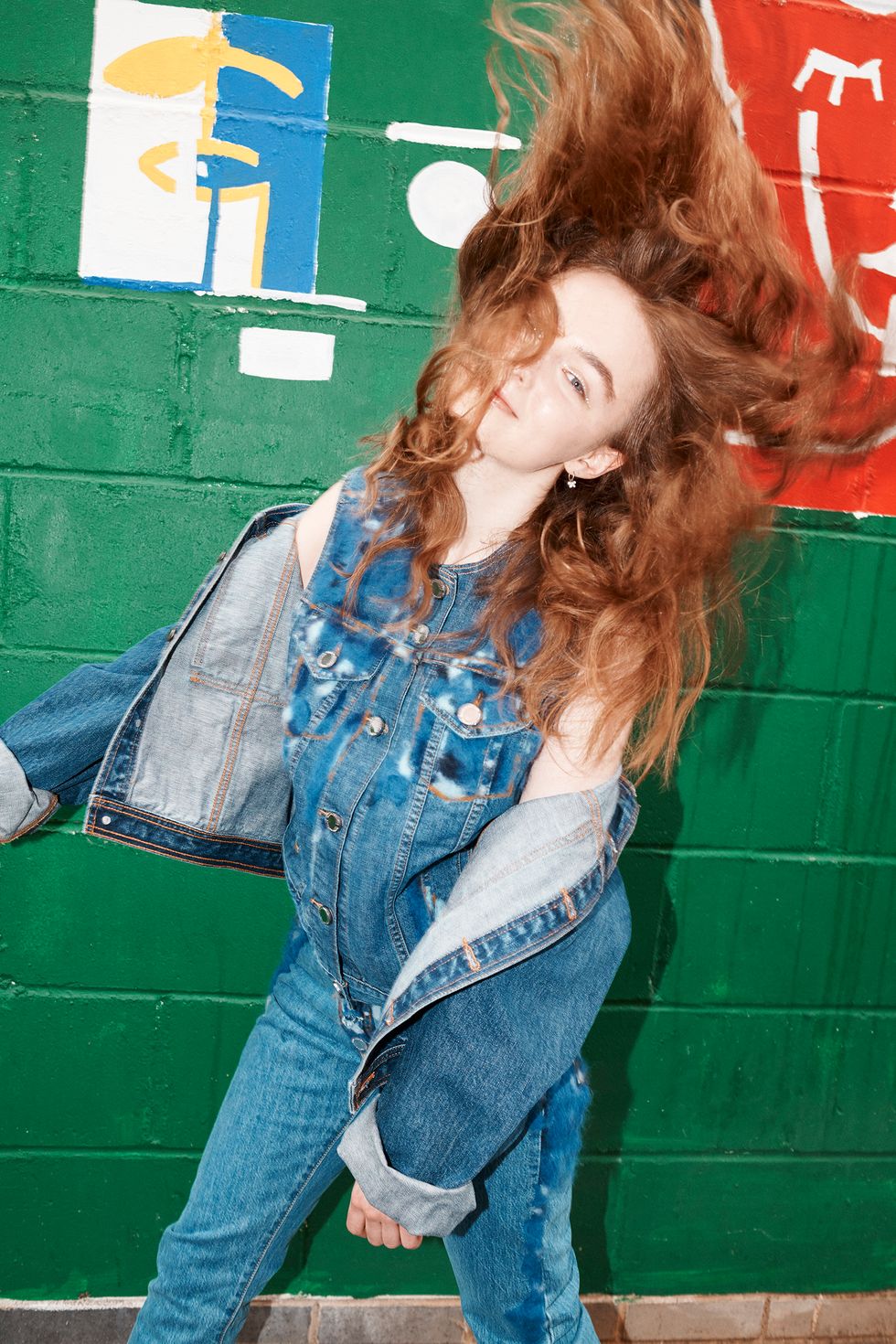 Sleeveless Jacket & Trousers by Faustian Steinmetz, Jacket by The Ragged Priest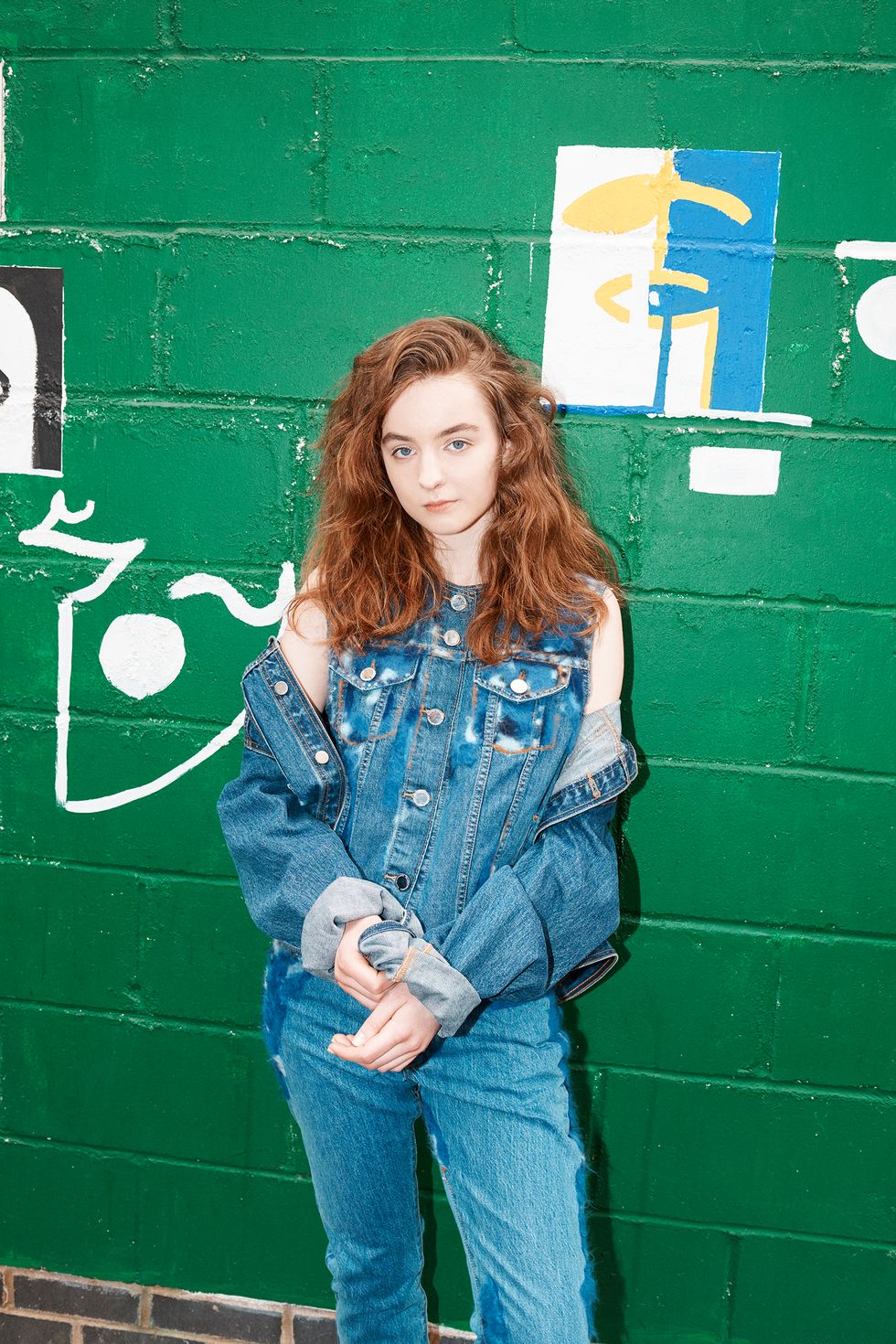 Sleeveless Jacket & Trousers by Faustian Steinmetz, Jacket by The Ragged Priest
How has your music evolved since then?
Rosa: It's changed a lot. I guess lyrically is one of the biggest changes because we're such different people now. We've got a bit more to write about, but also we're being a lot more open and honest with our lyrics. We've written really what its like to be us at the moment, to be young people at this time. With Gemini, it was mainly written about escapism. So hopefully, lyrically it will be maybe more relatable to young people.
You have both been friends since you were 4. Do you ever feel like you can write from one another's perspective?
Rosa: Definitely the fact that we've been friends for so long is important in our writing process. But equally, we have different opinions and experiences. We both bring that.
Jenny: Also we definitely bounce ideas off each other, especially with lyrics. We wrote the lyrics together. Within a line, some words will be written by one of us, some by the other.
What do you do when you're writing a song? You both sit down together and go back and forth?
Rosa: Pretty much, yeah. Towards the end of the lyric writing process we both sit with the thesaurus and the dictionary. The beginning of the process is literally what flows naturally. We generate the ideas and topics as we write the music, so it will be the last thing we finish up.
Jenny: I feel like refining it is the last bit. The music and lyrics sort of come together.
Related | SOPHIE Produced These 10 Iconic Songs
You have very physical, immersive live performances.
Rosa: Yeah. It's definitely a very important part for us. With the first record, we wrote songs to perform live so it's always been equally as important as the songs themselves.
Jenny: I think often, a lot of bands, especially these days with technology being more of a thing, write the songs and then might go and find a label or a manager, and then they'll play shows. Whereas for us, shows are a really big part of our identity. And the visual side of it as well.
Is there a specific performance you did that you really love?
Jenny: One of our first performances was in Norfolk, where we live. At [a venue] owned by one of Rosa's family friends. It's basically just this place in the middle of the woods. Our friend lives there in a cabin with her cat by herself. She holds a really little music festival where she invites all her friends. We played at that when we were like, 14. It was really fun.
Photography: Elliott Wilcox
Styling: Adele Cany
Styling Assistant: Shade Huntley
Hair: Liz taw
Makeup: Afton Radojicic