Last night's Oscars saw a lot of great fashion statements, but one moment that went relatively unnoticed was Greta Gerwig's group of female friends all wearing different cuts of the same yellow-and-black print.
The joyous fabric lent a celebratory air to Gerwig's big night, during which Gerwig maintained what seemed to be a sincere, huge grin throughout despite her film Lady Bird being snubbed in all five categories it was nominated for.
Seeing Gerwig surrounded by her sunshine-yellow friends put things back in perspective, in a way; who needs largely arbitrary institutional approval when you have the support of your closest friends?
We caught up with Ellen van Dusen, the Brooklyn designer behind the Dusen Dusen looks the women wore, to find out how the moment happened:
How did it come about that you dressed Greta's crew?
These are Greta's best friends from college. I know one of the girls, Ana, through a friend, and she came to me looking for something special for all of them to wear that would send a cohesive message. I was beyond thrilled when she told me she wanted them all to show up all in the same pattern. There's something very funny and very sweet about best friends showing up to a party wearing the same thing on purpose. A true testament to friendship!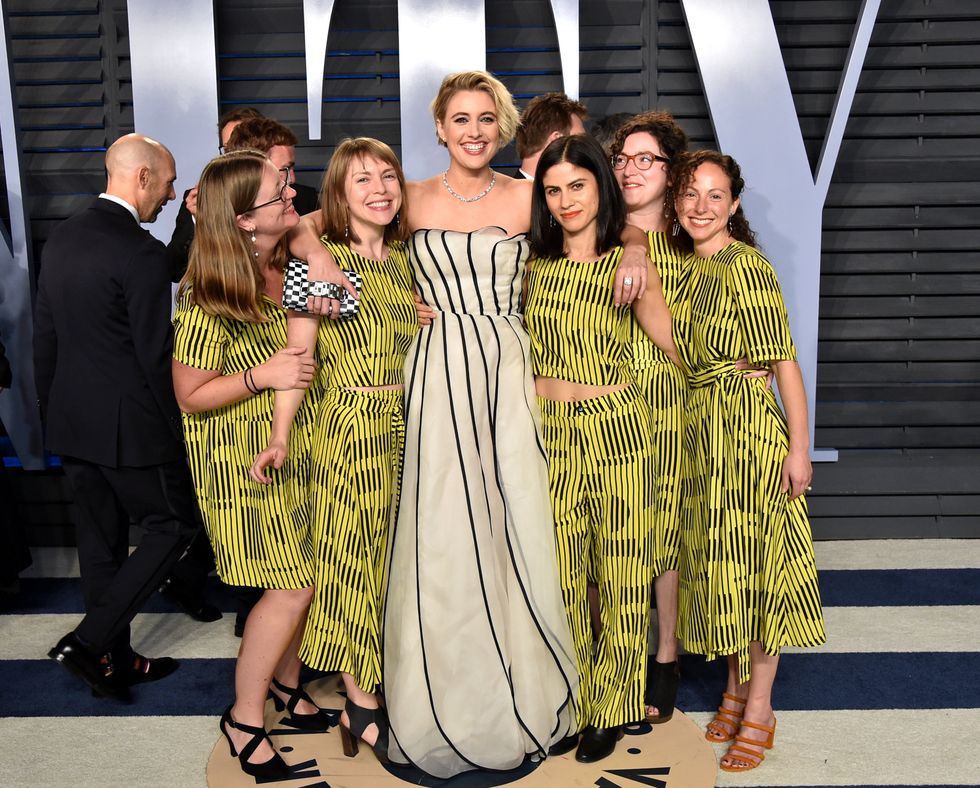 How did you decide on the designs to use?
Two of the ladies (Ana and Sarah) came to my studio and we looked at a lot of different options. They decided very quickly on the blinds print, which was serendipitous because it is my favorite print from my new collection. I'm in a true yellow moment right now, but I know it's a tough color for a lot of people, so was super stoked that they collectively decided head-to-toe yellow was the way to go. One we landed on a print we worked out which silhouettes would work for each person.
What was it like to see them all wearing it?
I loved seeing them all together in the same print! It's full impact times five. My favorite outfits are always matching sets, so seeing five of them fully outfitted together was a treat. They sent me a bunch of pictures of the group in a cultish formation which I loved. A cult I would happily be a part of.
Did you see Lady Bird?
I did and I loved it! I laughed, I cried, I think Greta has such a special voice. I like to imagine the 2018 version of her characters wearing my stuff in the real world.
What was it about dressing this group of women that appealed to you?
I loved this particular group of women because they were all so different — living all over the country, working in totally different fields but still so close and supportive of each other. The kinds of friendships all people want to have. The kind of friendship they make movies about.
Image via Getty