The MAN show in Fashion East's incubating platform for rising designers kicked off London Fashion Week: Men's, and with it a runway moment that rivaled top model Naomi Campbell in an unusual, but refreshing way.
During Rottingdean Bazaar, the provocative brand from designer duo Luke Brooks and James Theseus Buck, a man walked out wearing a skimpy, disheveled cocktail dress with a cut-out of Campbell taped to his body.
Related | Naomi Campbell Remains On Top After 30 Years
Cheers erupted from the audience as if Campbell herself were present, and the model delivered his best LFW strut — one he admits Campbell would likely have critiqued.
We caught up with the unlikely fashion star to learn more about his iconic LFW breakout, and how he fell "arse backwards" into modeling.
Introduce yourself.

Hi, I'm Harry Freegard or "Harrie Bradshaw," and I'm a countryside girl who lives in London.
What do you do?
I study Fashion at Central Saint Martins, but I get about a bit. She likes to boogie, but she loves to intern.
How did you get connected to Rottingdean Bazaar?
James and Luke were always friends of friends, but I only really met them properly when I was assisting on a shoot they were doing for Man About Town. London is only bijoux, so we are forever crossing paths.
What attracts you to their work?
I love the humor — witty, genius and genuine.
How was the (iconic) Naomi Campbell cut-out decided upon?
Originally she was supposed to be zooming down the catwalk on a remote controlled car — a genius idea thwarted by the natural enemy of the remote controlled car, the stair case, so I became her vehicle. Just a couple of simple english girls enjoying a well lit stomp.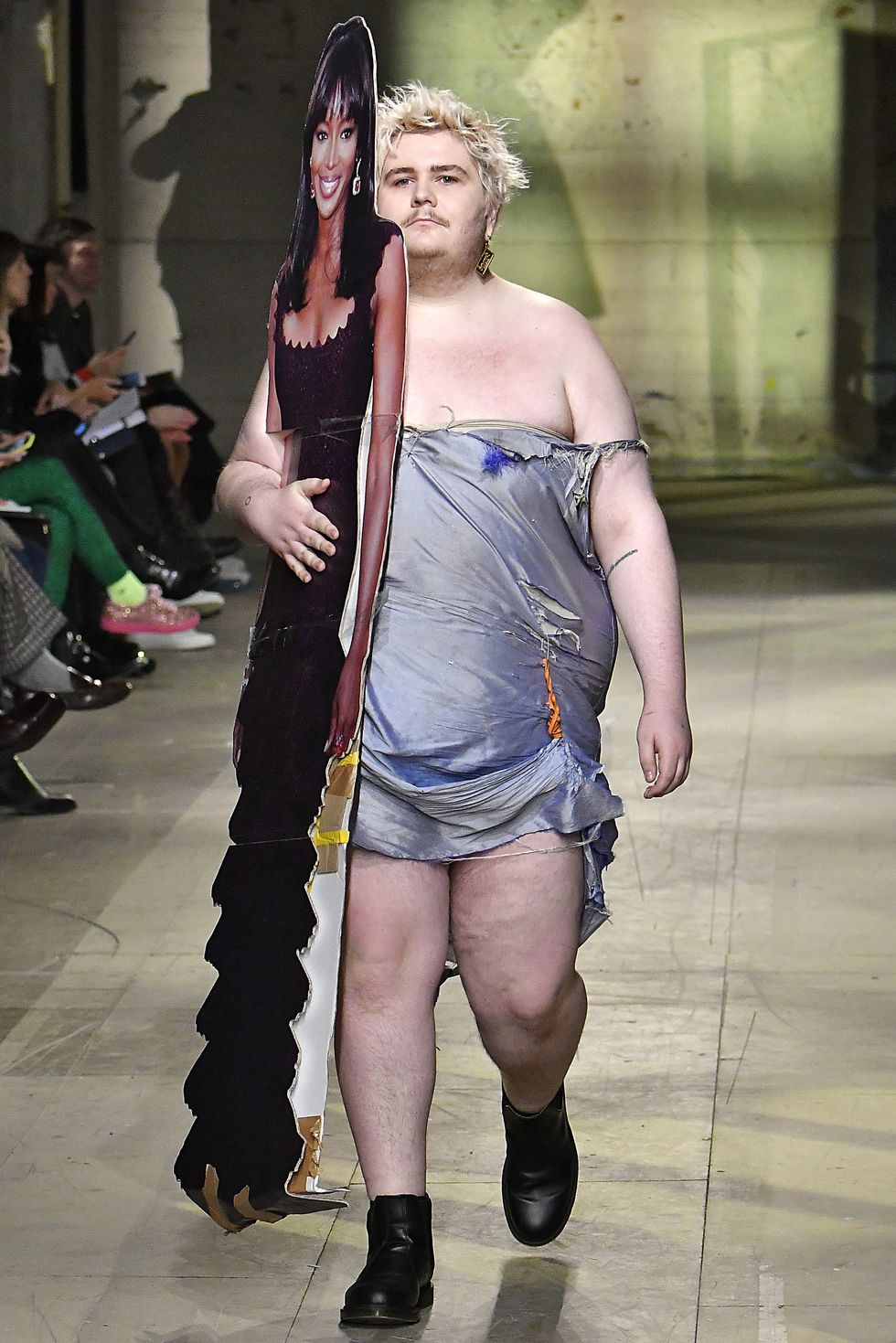 Photo via Getty
How did it feel wearing Naomi on the catwalk?

I've been fully obsessed with Naomi for a while — especially her stance on colon health, so with every step I was just thinking about my colon but most importantly, Naomi's colon.
What were people's reactions like?
There were actual cheers from the crowd, and even backstage, people were obsessed. Even in cardboard form, [Naomi] has a hypnotic, horcrux-esque presence.
How do you think Naomi would've critiqued your walk?
She would laugh like she did at those poor girls who deserved it on The Face, then she'd send it to the group message she has with Pat McGrath and Diet Prada so they could all laugh together.
What do you love most about fashion, right now?
HUMOR!
What do you hate most about fashion, right now?
COPYING!
Related | Vivienne Westwood's Latest Collection is a Call-To-Arms
You're also in Vivienne Westwood's new campaign — how was that experience?
Yes! Dame Viv! for some reason they trusted me to style myself so I just spent hours playing dress up. Love viv, I'm a massive fan of a safety pin.
Did you pursue modeling or did you stumble into it?
Totally fell into it arse backwards. I kind of hate modeling, but it's nice to have pictures to show my mum, [and] it's fun to pretend to be glam.
What do you hope will come from all this visibility?
Industry-wide, I hope this spurs wider representation and more diversity. Personally, more pictures to show my mum and more opportunities to talk about Naomi Campbell's colon.
Follow Harry Freegard on Instagram @harrie.bradshaw.