The Oscars last night offered a messy mix of regressive nonsense, and powerful moments of recognition. One of the most exciting and satisfying of these moments took place when Hannah Beachler and Ruth E. Carter won Oscars for their technical work on Black Panther. Beachler won for production design, while Carter won for the costume design, bringing home two of the film's three total wins, out of its seven nominations.
Black Panther's technically rigorous, transportive costumes and sets were the obvious picks for these categories. However, you may or may not be shocked to hear at the 91st Academy Awards, Beachler and Carter were not only the first Black women ever to win in these categories, but the first Black women to win any non-acting awards since 1984, when Irene Cara won best original song for co-writing "Flashdance... What A Feeling."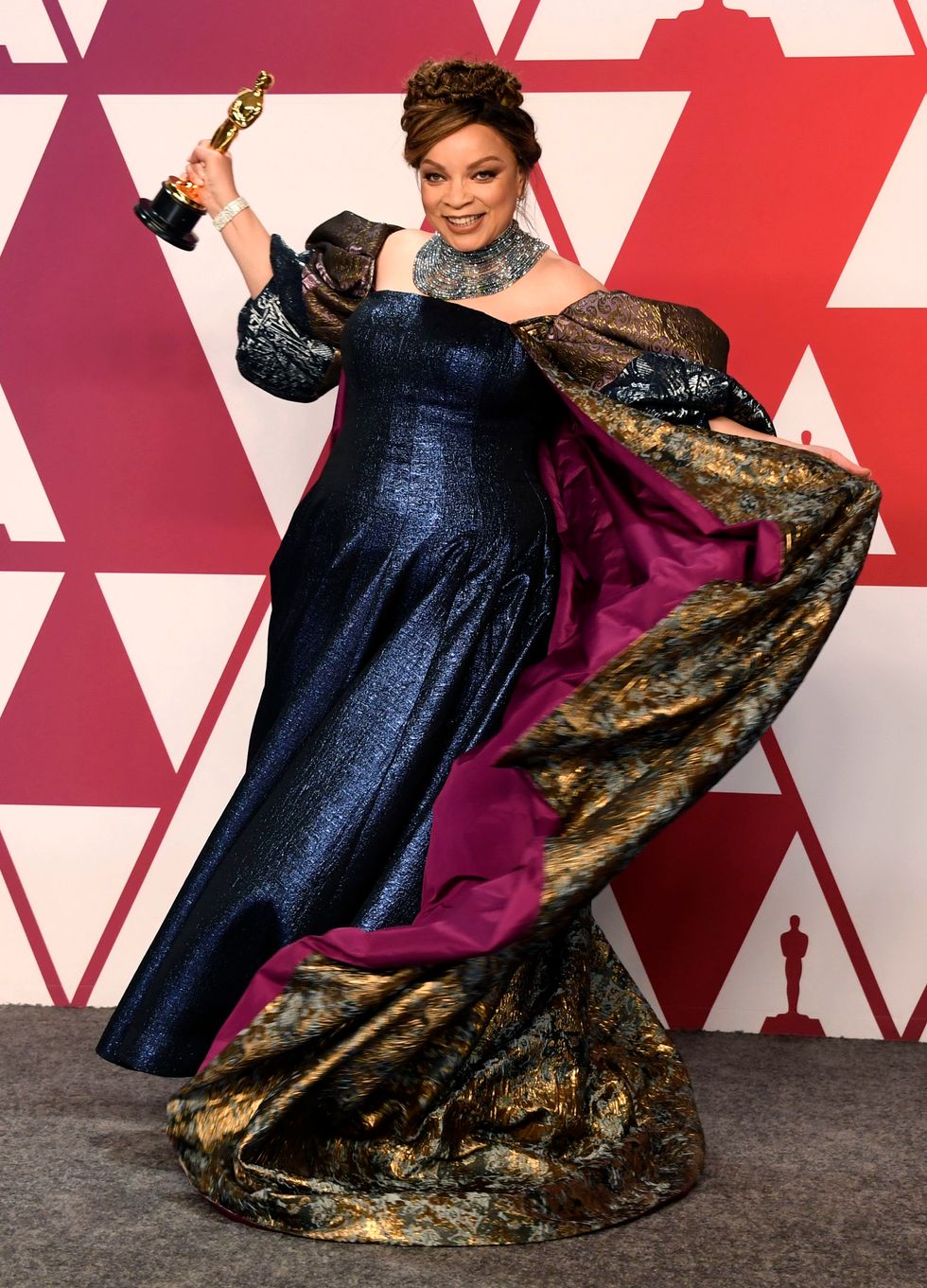 Ruth E. Carter, after winning for Production Design for Black Panther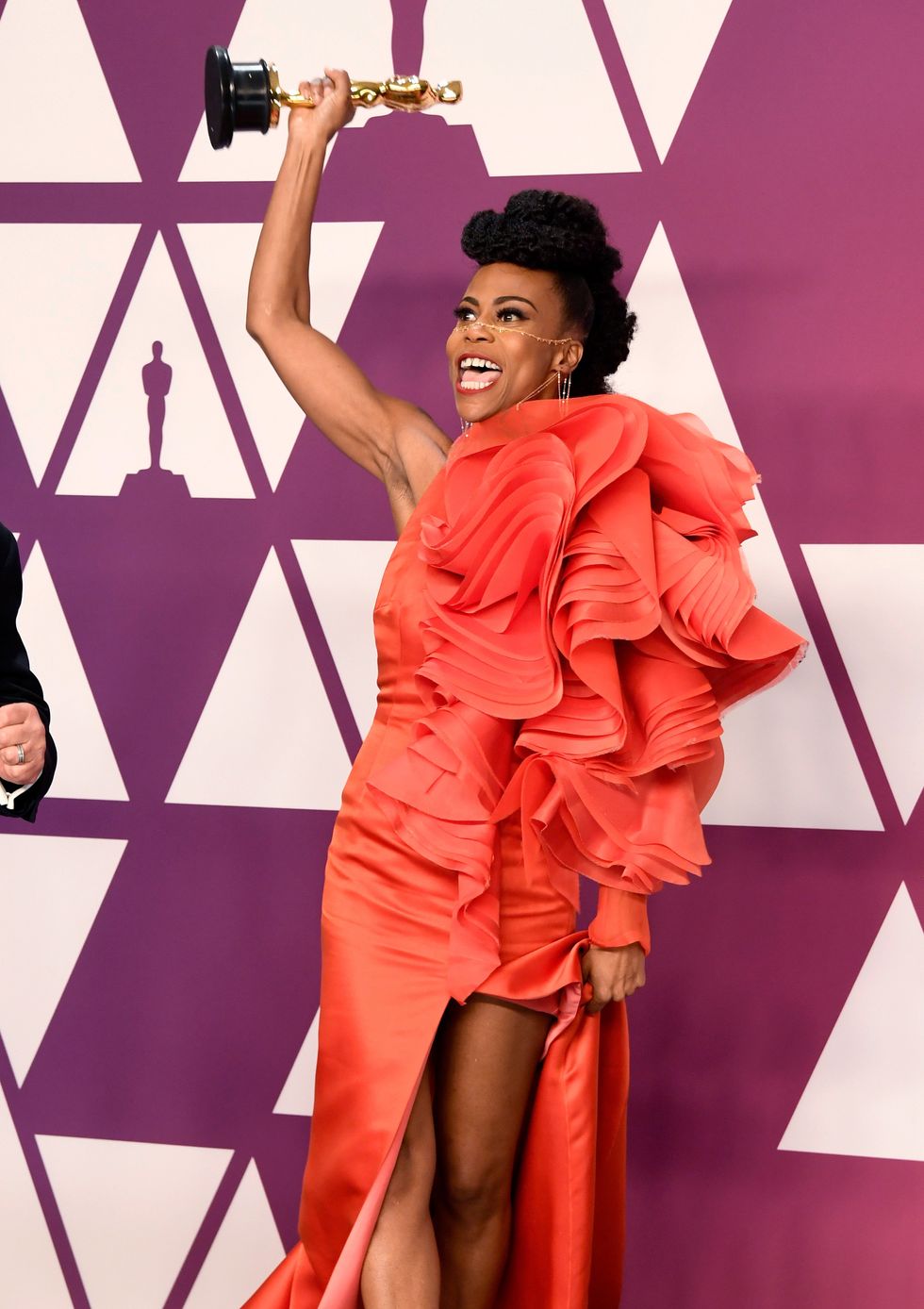 Hannah Beachler, after winning for Costume Design for Black Panther
Before she won, Beachler's Black Panther nomination also made her the first Black woman to ever even be nominated for production design. It's historically a male-dominated category, though a number of white women have won, including Sandy Reynolds-Wasco (La La Land), Lisa Thompson (Mad Max: Fury Road), Anna Pinnock (The Grand Budapest Hotel), and Catherine Martin and Beverly Dunn (The Great Gatsby).It's hard to say if it feels worse to to realize that Black women have been shut out so completely in male-dominated set design, or that a Black woman had still never won in a category where (some) women have historically been granted more recognition.
Because, while Beachler and Carter's firsts are exhilarating, they're also depressing. The fact that only three Black women have been rewarded for their off-screen contributions to cinema in the last century should be an embarrassment for the Academy. But the Oscars aren't the root of the problem. Their firsts reflect a larger trend of how representation, in practice, so often means gatekeepers making space for marginalized people in high-visibility, low-influence spheres as performers and entertainers, while holding tight to creative leadership and decision making power. From the revelation of this void to Green Book's Best Picture win, last night was full of all-too familiar examples of how Black talent and stories are most often rewarded in terms of white people's entertainment.
Even if they bring an ugly truth into focus, Beachler and Carter's wins also gesture to how things are changing, and specifically, just how radical and wide-ranging Black Panther's impacts on Hollywood promise to be. Like any of its other firsts, who knows how long it would've taken to break these records without Black Panther.
The Oscars remain a fundamentally white institution, but the success of POC-dominant films like Black Panther, Crazy Rich Asians, If Beale Street Could Talk and Sorry To Bother You is exploding the opportunities (and opportunities for recognition) of marginalized creatives in technical, executive and off-screen spheres, outside the limited reach of self-congratulatory institutions and Hollywood's white gaze. These films give a platform to the role models that are crucial to empower marginalized artists to go up against the still significant obstacles in their way. Beachler and Carter's firsts should be shameful to Hollywood, but their incredible work and their recognition for it means more Black women will be able to see themselves as the minds behind a feat like Wakanda. And that matters.
"I give the strength to all of those who come next, to keep going, to never give up," Beachler said through tears, ending her acceptance speech. "And when you think it's impossible, just remember to say this piece of advice I got from a very wise woman: I did my best, and my best is good enough."