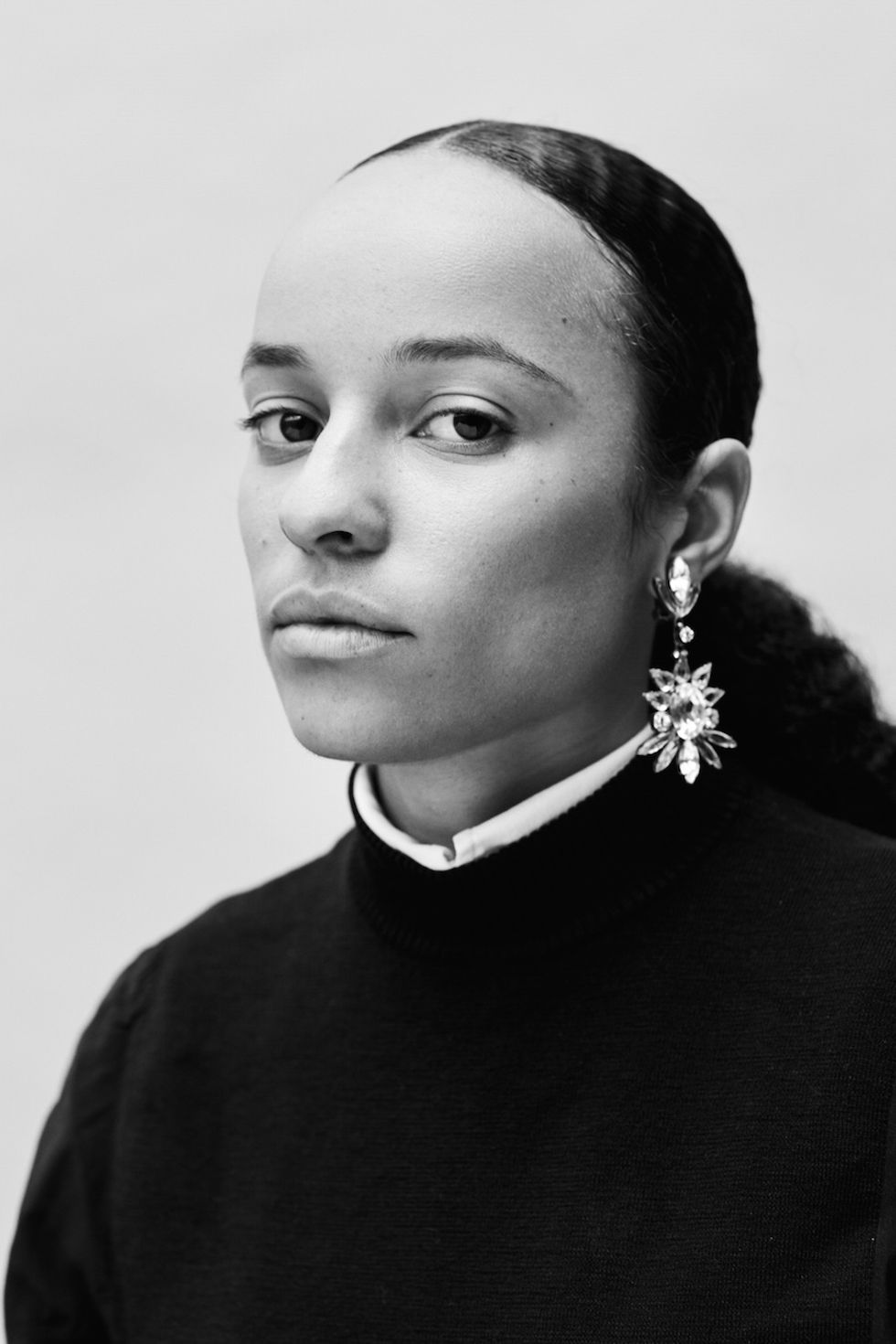 Photograph by Jamie Morgan

Grace Wales Bonner's ascent in the men's fashion world has been electrifying. In only six seasons, the British designer has established a clear vision for her namesake label Wales Bonner, one that thoughtfully examines questions of identity, race and gender, particularly as it applies to men of color. Her interpretations of these interrelated ideas are often inspired by distinct historical figures, ranging from 20th Century Ethiopian Emperor Haile Selassie to Malik Ambar, a 16th Century Ethiopian slave who became a ruler in India. Many of her designs embark on fresh ways to consider masculinity and menswear, featuring detailed embroidery and embellishment as well as tailoring that blends masculine with feminine and European with African and South Asian silhouettes. Her work has not gone unnoticed; one year after graduating from Central Saint Martins, she took home the Emerging Menswear Designer award at the 2015 British Fashion Council awards, following that up a year later with the prestigious LVMH Prize. She recently collaborated with Dover Street Market on a curated space within their London Haymarket store, and here she talks more about that experience, her relationship to DSM's Adrian Joffe and Rei Kawakubo and what her own retail space may one day look like.
What was it like working with Dover Street Market to create a space of your own?

It was great to create a space with them and find a way for me to represent the collection physically. The space was an attempt to give a broader insight into my inspirations and references, like the writers that had inspired me -- I included quotes on the wall by Amiri Baraka and Sun Ra. I was thinking about arranging the clothes as if they were in a contemporary gallery space, trying to create a balance between craft and minimalism. The main inspiration for the design was Four Decades, the David Hammons show at Mnuchin Gallery I had seen earlier in the year.
What did the experience teach you about what you may (or may not) want to do if/when you open your own store?
It is interesting to think about how you can tell your story to the customer, and I feel like there is a lot to learn through testing things out in the space. DSM feels like a very open environment for experimentation, which will help me to fine-tune how I would like to present Wales Bonner. I always love the feeling of discovery in the store, and with my own projects I feel like it's important to be able to communicate the depth of the story in the space, so people can engage with it on different levels.

Looks from Wales Bonner's Spring/Summer 2017 collection; photos by Mitchell Sams

Can you share more about your relationship to DSM and also to Adrian Joffe, Rei Kawakubo and Comme des Garçons?

I met Adrian and Rei after my second collection when they came to the showroom in Paris, which was quite a surreal moment for me. Dover Street Market have been incredibly supportive since then. It is a ground-breaking store, so it is an honor to be part of it. I feel they are very nurturing and understanding of new talent and are willing to take risks. They have also built a visionary team. Adrian has also been personally very supportive -- he is very low-key and accepting, but also very precise and considered. He really understands positioning and how you can connect to your customer in a very authentic way.
When was the first time you remember coming across their work? To what extent have they influenced/impacted you while coming up in fashion?
While at Central Saint Martins, our teachers would always encourage us to visit DSM as much as possible. I would often visit the store and obsess over the finishings. The space became a great source of inspiration and gave me confidence that there could be an audience for what I was doing. Comme des Garçons is a brand that shows me how far you can go, and how conceptual you can be with fashion. I am also interested in the way they balance creativity and commerce in a way that doesn't compromise their values and identity. It is essential for me to have that example in mind when I am developing collections.
You May Also Like