In the summer of 2016, G-Eazy appeared to attempt a kiss with collaborator Britney Spears. The opportunity presented itself during a steamy performance of the pair's track "Me, Myself & I" at the MTV VMAs, and Spears had just grabbed G-Eazy's crotch. The performance was a career-defining moment for Gerald Earl Gillum, the 28-year-old Oakland rapper who has risen to become one of most-recognizable names in music. If you watch the video closely, you can see G-Eazy gently grip Spears' neck and lean in, while the superstar ever-so-slightly shakes her head. Speculation began almost instantly. Were the pair dating? Was Spears in on it for publicity? Are we all just victims of reverse celebriphilia... did G-Eazy even really try to kiss Britney Spears at all?
He did, G-Eazy says — at least he thinks so. You see, Kanye West is actually to blame.
"I walked out and saw Kanye and everybody in their seats staring up at me, I'm not going to lie, I got nervous as shit." G-Eazy explains from the salon chair in a downtown New York barbershop. I kinda blacked out. I forgot a word or two in my verse, I got thrown off. When I went for it I should have just fully gone for it. But you know, that's that."
Related | An Afternoon Off With PnB Rock: Philly's Rising Hip-hop Star Doing it For the Ladies
G-Eazy's relationship with fame is at the forefront of his new album, The Beautiful & Damned, named after F. Scott Fitzgerald's famous novel about a couple's obsession with decadence and high societal-validation leading to their moral degradation and eventual mental decline. The rapper says it took him the better part of six years living out Hollywood's best-known cliché (sex, drugs and rock 'n' roll) to realize he was facilitating his own demise. He was drinking too much, drinking before his shows to get in the zone, drinking after his shows to celebrate, drinking in the studio to aid his creative process. Waking up soon became a tax and he found himself becoming dependent on the substances surrounding him. Eventually, he could no longer recognize "Gerald" in G-Eazy.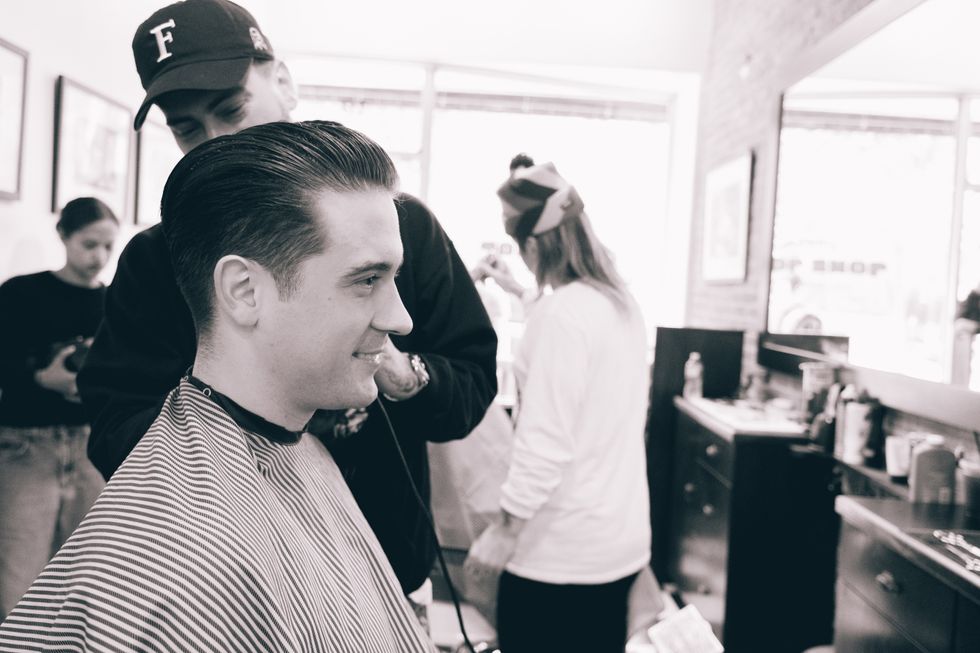 "You look in the mirror and you're like, 'Holy shit am I the same person that I was six years ago, have I maintained my integrity and sense of self, or am I lost in the sauce?'" He says of the fame roller coaster. "I've been chasing for years of making it in music and the whole celebrity aspect, then arriving and asking myself, 'Is this what I thought it would be? Did I take a wrong turn somewhere and become somebody I didn't want to be?' There is some self-destructive behavior that has gotten me here."
G-Eazy's long-time, live-in barber is trimming his remarkably perfect young Johnny Cash-esque quiff in the very barbershop where the two met. His presence is much softer, rougher than his motorcycle jacket-wearing, "bad boy" exterior indicates. He speaks quietly and intently, forcing those around him to pay close attention. Cloaked in an umbrella cape and at his hairdresser's mercy, the 6'4" superstar seems small, although G-Eazy has arguably never been bigger than he is right now. He's six weeks out from releasing his fifth album. He was recently awarded "Favorite Rapper" at the MTV European Music Awards. This morning he bought himself a new Ferrari. Oh, and he's dating America's sweetheart, singer Halsey — a match truly made in publicist heaven.
The rapper won't say how the he and the 24 year-old New Jersey-native, formerly Ashley Nicolette Frangipane, first linked ("at a party, I'll leave at that"), but he can't help himself from gushing over the pop sensation. The two relate on "almost every single level," he says, mentioning that they share a similar work ethic and both came up off the Internet. She cooks him Italian. While he knows "no one fully gets what it's like to be inside of another person's skin," Halsey, he says, comes pretty close.
Related | Halsey is Coming Through Loud and Queer
"We could talk for hours endlessly. She's been through a lot in her personal life, in her professional life. It shocks me all the time that she's as young as she is, because even I'll forget sometimes and think she's my age and forget that she's five years younger."
G-Eazy is likely referencing Halsey's hospitalization as a teen after a suicide attempt, which led a bipolar diagnosis — something the singer speaks candidly about. In a world of FaceTune, filters and media training, Halsey is a rare breed in that she's entirely unafraid to present herself as she is. Earlier this year Halsey made headlines after announcing she was "disappointed" in the American Music Awards for the lack of female representation among the 2017 nominees. It's this authenticity that G-Eazy finds so attractive — and what he believes is at the root of Halsey's success.
"People relate to artists when they're being honest and when they are being vulnerable," he says. "I don't think people know how human I am or how vulnerable I am. I think they see this image of whatever and think I'm some kind of way. I'm just as unsure of myself as everybody else is. I have days where I don't feel good, I'm not okay. It's okay to not be okay sometimes. I get super low. I get down on myself too and question everything."
Mental health is among the most prevalent themes on the album. G-Eazy raps about his demons on the title track — about his own split personality. It makes me wonder if he's ever sought professional help, but he tells me music is his therapy ("it can be a great escape"), or interviews like ours.
"I'm talking to you like I'd talk to a therapist, the difference is this is going to be shared publicly. I get anxiety talking on the phone in public places because I don't even like people listening to what I'm saying, so imagine me telling you this and then knowing a bunch of people are going to read it."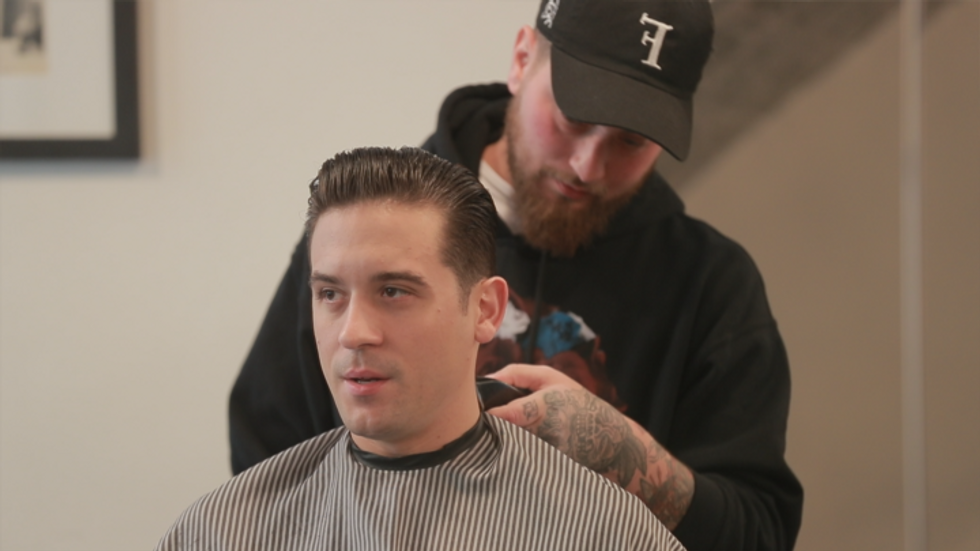 G-Eazy's year-long creation of The Beautiful & Damned saw him finish with over a hundred songs, which he managed to narrow down to the final 20. This was a culmination of months dedicated to the studio. There isn't an "ounce of chill" in G-Eazy's body. He hates time off. Plus the groove came easily when he began to embrace music as catharsis. He claims the album gives a glimpse into the colossal disappointment he's felt after finally living out his fantasy and realizing in the glitz and glamor of celebrity-dom he's lost Gerald. It was never his intention for the album to seem "preachy" he says, but it a direct denouncement of all of his vices. So what are they?
"Sex, drinking and drugs. All of it. All three, you know. You wake up one day six or seven years later and you're like, 'Fuck, I've been doing this every day for all these years, do I need these things? When is the end point?' What does this yellow brick road lead if I keep doing this everyday?' You start to feel like you're dependent on certain things to do your job. I still use these things, but I'm just trying to get a grip before it's too late. You're not superhuman. None of us are. We're just people, but that takes a toll on the artist. Mental health, sanity... when you're putting yourself out there like that. With rap you have to have this persona and maintain the image. It's a lot of pressure."
Much of that pressure comes from the fact that G-Eazy is a polarizing artist. He spent almost four years in the process of breaking out, gaining traction with mixtape-hit "Runaround Sue" and as the opening act for artists like Drake, Snoop Dogg and Lil Wayne. It wasn't until These Things Happen, his 2014 album, that the pace started to pick up. The visual for "I Mean It," his fifth single from the project shows Gillum as a charismatic news anchor, interviewing his leather-clad alter-ego, G-Eazy. The video now has almost 300 million views, and proved G-Eazy's commercial viability as a rapper. Suddenly pop was pounding G-Eazy's door for features. Music's biggest stars — Bebe Rexha, Britney Spears — were recruiting the rapper for a verse. It was his collaboration with Rhexa that G-Eazy claims changed his life on a "commercial level." "Me, Myself & I" stayed on the Billboard Hot 100 for 37 weeks, peaking at No. 7, and Gerald Earl Gillum, of the Bay Area, became an international celebrity and, in the process, somewhat sacrificed respect from hip-hop's old-heads.
"I've never been critically acclaimed and I've had to accept that myself. But it's like journalists and critics don't have the power that they used to. It really is the youth who's dictating what's relevant and what's not. If Rolling Stone gives you a bad review, or XXL gives you three mics instead of five mics — it's not what it used to be."
But appeasing the youth is often just as difficult as catering to critics. The choice to straddle the pop lane is just as a perilous path to tread for hip hop artist attempting to maintain their credibility with fans. Kendrick Lamar's appearance on Taylor Swift's "Bad Blood" felt jarring and Katy Perry's recruit of Migos for "Bon Appetit" was just as bizarre.
You work hard your whole life to put yourself in that position and taking an opportunity like that could elevate your whole shit," G-Eazy says agitatedly. "How could you say no to doing a song with one of the biggest pop stars of all time? That's a huge opportunity that you worked hard to even be able to do. It's just a balance and I think at the end of the day it's all about staying true to yourself."
The rapper pauses as his barber snips at his expert fade, before asking for more length off the top.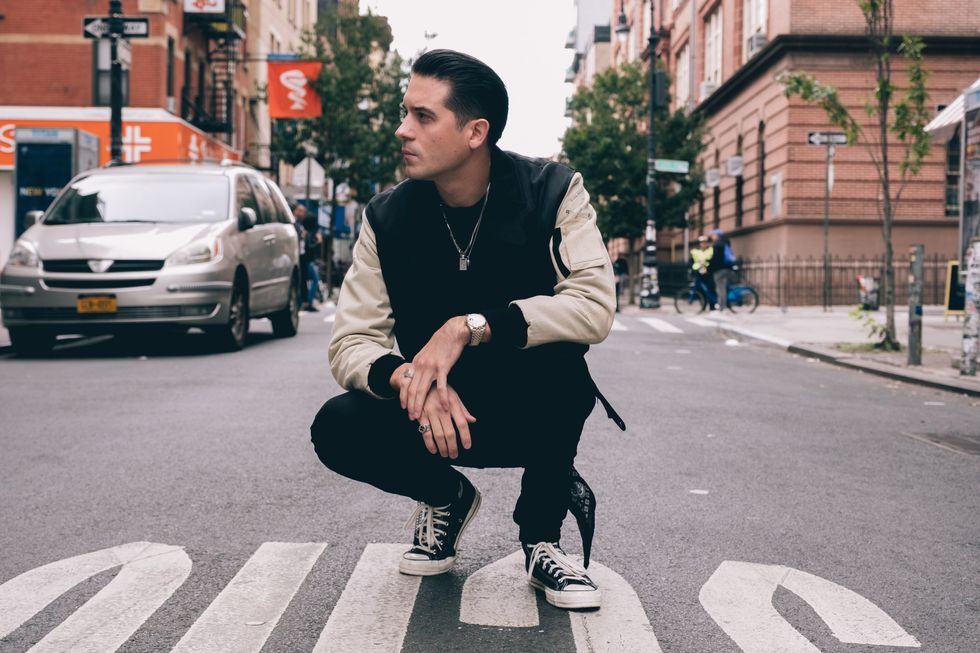 "There are people who love me and people who completely hate me," he continues. "If I took it all personally I would hate myself. I would feel suicidal every day because people can say crazy shit on the internet and then get away with it. You can't try to make everybody happy. I think that just comes with the territory. You can be the biggest thing in the world, you can be Kanye, Jay Z, and you're still going to be polarizing to an extent."
Related | A Night Off With Amine: the Reluctant Rap Star Who Remains Unfiltered
Unlike Kanye West, however, G-Eazy's relevance hinges on his visibility — features, new projects, red carpets. "You can't just move to the mountains and disappear," he says, referencing West's rumored shift from the spotlight to Montana to complete his latest project. The world's attention span is decreasing by the minute, the rapper claims, and as a result audiences are looking for who's next — not who's already here. He's right. While aforementioned pop princesses Katy Perry and Taylor Swift's recent releases weren't exactly sales flops, there seemed to be far more cultural interest in the up-and-comers who were appeared organically ubiquitous, that is, sans the immense marketing teams constructing their success. G-Eazy isn't exactly calling the paparazzi to be seen on the scene, but he feels he needs to be accessible enough so that he isn't forgotten.
"This is my only job, this is my entire being and existence. When you start to feel like you're losing that, starting to losing your relevance or taking a step backwards, that's not a bad day of work, that's an existential crisis. I don't have anything but this."
G-Eazy was 15 years old when he began experimenting with making beats and rapping, hitting the refresh button on MySpace over and over to check the plays on his songs, before moving to New Orleans to study music and business on a scholarship at Loyola University. He wanted a career in the industry "so badly" — it's a dream he's been chasing for as long as he can remember, and now he's living it. Although with gargantuan success comes pitfalls of similar proportions. The rapper claims he has all but forfeited his privacy. It "drives him up the wall" to hear people whisper as he walks into a party, and feel strangers frantically Google him on their phones, looking up at his face, then back on their phone. He's since learned to manage his anxiety, but he mourns his anonymity daily.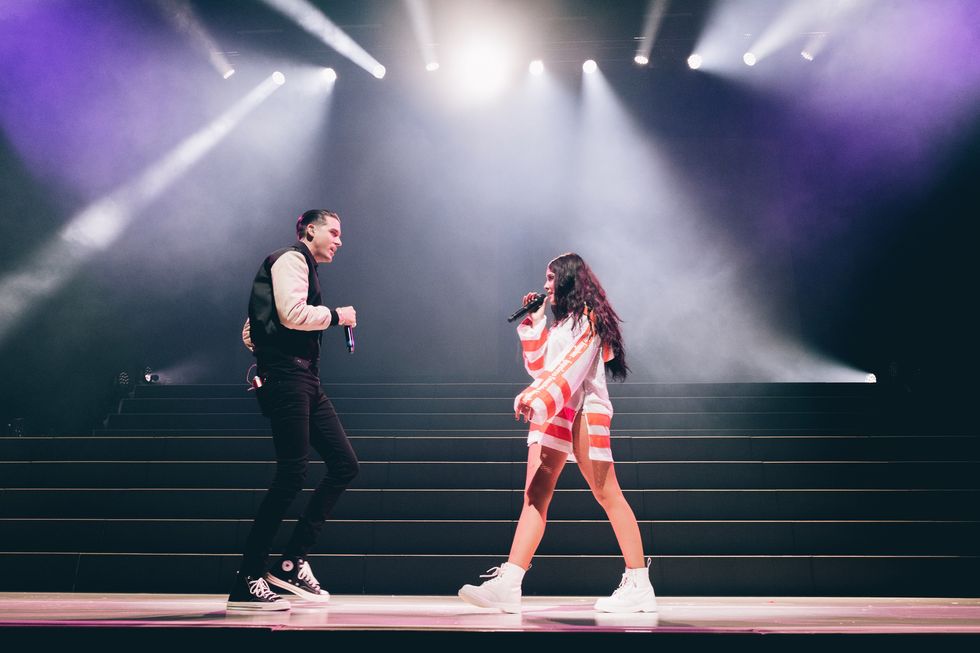 Perhaps for this reason, G-Eazy has never sought to be rap's number one. He also has too much respect for those competing for that title, prefering to tip the hat to Drake ("one of the greatest of all time") or Kendrick, who is among his favorite artists to "ever contribute to this game." When he met Q-Tip at a Grammy Party, the A Tribe Called Quest member had to calm him down after he melted into an obsequious mess. It was Marshall Mathers, however, the first white rapper to really earn hip-hop's respect, that had G-Eazy bleach his hair in 5th grade. After listening to Eminem on repeat in his mom's Saturn, he had decided to pursue a creative career. Eminem's renaissance has been particularly exciting to G-Eazy, particularly his recent cypher at the BET Awards, in which saw the rapper went after Donald Trump. "I can't say enough how incredible that was," G-Eazy says, growing animated. "Him using that platform, him saying what he said, and saying it with that amount of passion and intensity. I mean it was articulate."
Despite the prospect of alienating fans, G-Eazy similarly refuses to shy away addressing America's current political climate. The Beautiful & Damned sees him rap about women's reproductive rights, the impotency of our current president. "Silence is violence," he says, declaring speaking up to be his "civil duty." Growing up in the Bay Area with two artists for parents, G-Eazy explains he only recently learned the real America is "Walmarts, amusement parks, and Trump supporters." What impressed him most about Eminem's offering is that the rapper definitively drew a line in sand, telling fans of Trump they cannot be fans of his too.
"If you support this man who is this bad of a person and is using hatred and bigotry to create divide our country, doing such a bad job at running our country...if you support that kind of guy, then I don't need you as a fan." G-Eazy says. "I have enough — I feel like I'm famous enough. If it makes me a smaller artist or I play smaller shows because Donald Trump voters aren't coming to my shows then I don't care. I'm not losing sleep over that and I'm not going bankrupt over that. I have enough fans who are good people and who understand how bad of a person Donald Trump is. This shit is terrible."
That's not to say G-Eazy is planning to veer away from his lifeblood: club bangers. Only yesterday they released a star-studded visual for his track with A$AP Rocky and Cardi B, "No Limit," which is currently sitting at No. 7 on the Billboard Hot 100. G-Eazy is particularly proud of Cardi B, who sent him back her verse the same day he reached out with the record. He believes her rise says a lot about the way the rap landscape has opened up. It again comes back to "the youth," who he credits for the way a track like "Bodak Yellow" or an artist like NAV, has resonated. Are they untraditional? Sure, he says, but now these artists are hip hop's staples.

Related | Beautiful People: Cardi B Is Still Real
The barber whisks off his cape. Gerald Earl Gillum is G-Eazy again, as slick as he just walked off an MGM set in the '50s. He's immediately handed two separate iPhones and starts fielding a swarm of messages, every bit the hit-pumping, pop star-dating, and Britney Spears-kissing megastar.
"It's literally climbing a tree," G-Eazy says of success. "The higher you climb the more visible you become, then the branches get thinner and the more-wobbly the tree gets, and the more people there are standing under that tree waiting for you to fall."
But what does one do when they reach the top? And, more importantly, how do you stay there?
"Shit," G-Eazy chuckles, shaking his head. "Hold on tight."
Photos Courtesy of Will Nichols