"He only ever pees in Gucci," PnB Rock admits as his bulldog puppy Bankroll urinates on the Gucci store's carpet, "It's embarrassing." While the 25 year-old Philadelphia native (born Rakim Hasheem Allen) moves to try on a $680 polo (preferably extra small if possible, the lanky star requests), a member of Rock's cohort, Travis, confirms this insider information on Bankroll's excretion habits. "I don't know why, but he never does it in Louis Vuitton or Prada." he says, nonplussed. "There must be something in the air here; he feels at home."
It's the day prior to the release of PnB Rock's new album, Catch These Vibes, his second full-length offering of 2017. Earlier this year he dropped critically-acclaimed GTTM: Goin Thru The Motions — the project that skyrocketed Rock's career. Assisted by the likes of Quavo, Wiz Khalifa and Ty Dolla $ign and GTTM showcased his ability to oscillate between singing and rapping, and turned him into highly coveted feature in his own right.
Today the singer is standing in a dressing room in the 5th Avenue Gucci on a particularly cold November afternoon, asking to expedite the alterations to an embroidered jersey jacket (there were no extra smalls). The Italian seamstress informs him the standard wait time is two weeks, which is not soon enough for Rock. He humbly informs her he has spent roughly $70,000 in Gucci in the last three months. Well then, the seamstress chuckles, perhaps the team can move a little faster this time.PnB Rock is as magnetic in real life as on stage. He's both earnest and silly, approaching each item in the store with a kind of childlike fascination that's endearing in its purity. As she pins, the seamstress compliments PnB Rock's tattoos, particularly the musical notes on his neck, and asks if they hurt. "I don't know, I was smacked," PnB Rock replies, with a cackle. The seamstress joins in on the laughter as Bankroll nips at her heels.
Bankroll and PnB Rock, the latter informs me, both love the ladies. Most male artists in hip-hop are unashamed or unwilling to acknowledge their female fan base, but PnB Rock embraces it wholeheartedly. In his eyes, women are the gender in the front seat controlling the auxiliary cord, not men. His crowds are still largely female and Rock is not mad at it. It's something that he learned from uber-successful melodic rapper Drake, who Rock considers an idol — in fact, the two have been texting. He's amusingly enamored discussing the Canadian superstar ("that's my guy"), that hearing him talk about Drake's first message to him is like watching someone describe their first interaction with a crush.
"Out of nowhere I'm on stage, I saw a text on my phone," Rock says of hearing from Drake for the first time. "It's like two in the morning, and my friend is like, 'This nigga Drake wants me to give you his number.' I know it's not a lie because I know they know each other. So I'm like, "What happened and what made him want to give me his number?" And he said they were talking about new artists that's coming up and he mentioned me, and Drake was like, 'he's fire.'" [Drake] literally said that he didn't know how I made a RnB super-hit."
At the time of our interview PnB Rock reveals he and Drake haven't yet met in person (something that has apparently been rectified), which means the music mogul may not yet know he was the reason Rock started experimenting with music to begin with. While in juvenile detention for robbery at age 17, Rock first heard "Best I Ever Had" on Top 40 radio — a song he still claims to be the "sound of my era" — and something clicked.
"This is some different shit. I never heard anybody sing, rap, and making it smooth for the girls. If I had a choice to only make one type of music it would be some melody shit. I'm melodic. I give you personal shit. I give you a lot of stuff for the ladies. People don't understand that they're the ones who really control everything. She's the one in the passenger seat with the aux chord telling you what's new and hot."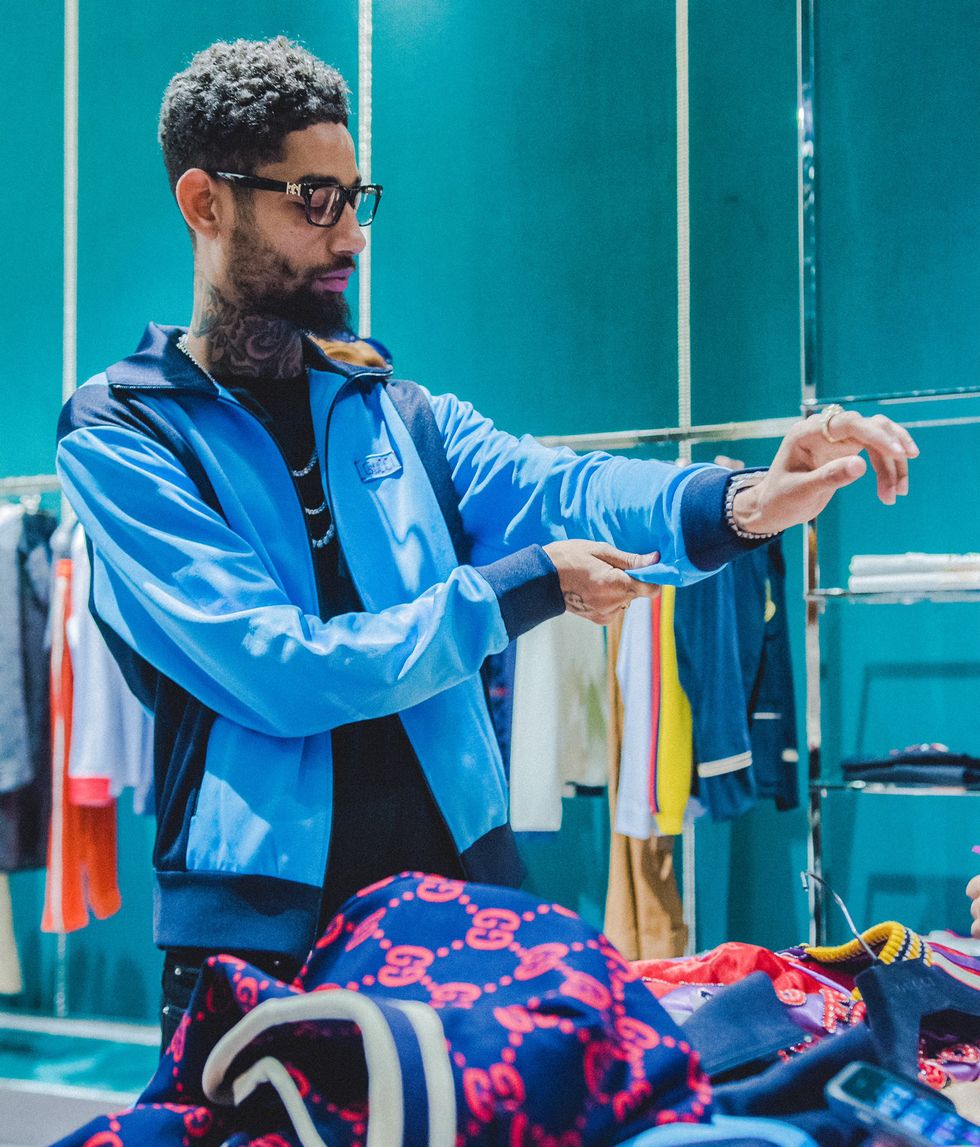 But it wasn't until Rock heard Take Care Drake (specifically the rapper's pleading drunk call "Marvin's Room") that he started writing music. He was 19 and in prison for what he describes as "robbing, stealing, drilling" — a cycle he was so desperate to break. After being moved to a prison in upstate Pennsylvania for a 33-month stint, Rock managed to get his hands on a keyboard. He was inspired by older inmates, who he describes as "real street" guys, singing about their struggle. They weren't rapping, he says, about their grandmother falling ill or how their brother had been shot and killed, they were putting their pain to melody.
"They wasn't singing Ginuwine or none of that shit — they were giving you their side of the shit... I was sitting up there and I was just fucked up. I didn't know what the fuck I was going to do. I don't want to do these chains and shit. It's like I keep doing the same shit over and over I don't know what to change. I always knew I had a good voice. I really took what they were doing and put my own little swag on the shit and made it catchy."
When the singer was let out of prison he was greeted by an onslaught of fans, literally. Exiting the prison gates, kids from a nearby school ran over to him and began chanting "P-N-B." Some fans were crying — Rock thought they had the wrong guy. He was surprised to learn his following on Instagram had grown by 30,000. Now, much like Ty Dolla $ign or Chris Brown, PnB Rock is a music multi-hyphenate and another of hip-hop's go-tos for a catchy hook. He was featured in XXL Freshman Class with 2017's biggest rap stars, an accolade he's immensely proud of ("it was like an official stamp"), but also fears might pigeonhole him as another rapper.
"It's like what do you label yourself, when you still infuse rap into your shit," he says of his sound. "People can't say I'm a rapper, but I don't feel like I'm a singer either. I'm not hitting super high notes and going crazy. I can't give you Chris Brown singing. I just got good melodies."
Catch These Vibes was dropped in conjunction with the XXL nod, and while it's being marketed as an album, Rock says he intended it to be more of a mixtape. Either way, releasing two full-length projects in the same year is no small feat. It's this work ethic and ability to churn out hit records — even Rock's remixes garner tens of millions of views — that has hip-hop's hottest falling over themselves to collaborate with PnB Rock, but he hasn't forgotten how he was rejected by those very same artists when he was coming up.
"People always be like, 'I need one of them "Too Many Years," I need one of them "Everyday We Lit"s,' Rock says, naming several of his biggest hits, "and a lot of times it's people that I used to want to work with. There would be a point when I wanted to do such and such with a person, we had the opportunity to do it, and they was on some shit like, 'You not really lit like that.' Now those same people be calling me asking for hooks and it be feeling so good to dub them."
Although Rock now acknowledges collaborations aren't just about the music anymore, they're a demonstration of who you're "fucking with." Given our online call-out culture and the current white-hot spotlight on sexual misconduct in entertainment, artists are now forced to factor just how a peer's extra-curricular activities will affect their own image before they choose to build with them. Breakout sensation Noah Cyrus came under fire recently for working with rapper XXXTenacion, who is embroiled in an ongoing domestic violence case involving his ex-girlfriend. The Florida-native is PnB Rock's long-time friend as well as his XXL Freshman classmate and thus, despite X's denigrating image, Rock refuses to avoid him, or any artist because they're considered controversial.
"I already knew what type of situation [X] was," Rock says, remembering their first meeting. "I'm not the type of person that's going to judge a motherfucker. If I fuck with you, I fuck with you. It doesn't matter how people look at you or none of that shit, but if you did some shit that I totally disagree with or I'm not really fucking with, I'm not going to even be in the same room as you. So if I do a song with you it was because it was meant to happen and I wanted it to happen. I wouldn't even be talking to you if that situation mattered to me."
We're interrupted by a store employee, who comes over to greet the young star. Turns out PnB Rock is a regular at Gucci's midtown location. The retail assistant, we'll call him Brad, wants Rock to be aware of his potential for longevity in music. Rock thanks him profusely so Brad, emboldened by the appreciative response to his taste-making abilities, continues. Brad isn't going to name drop, he says cryptically, but he much prefers the Philly artist to a certain Miami rapper with a "crazy hairdo" — an artist whose biggest hit is inspired by the very label we're shopping right now. The artist throws his head back in laughter. "I know who you mean," he says. Rock turns back around and lowers his voice, addressing me as a co-conspirator.
"Lil Pump," he says.
This is not the first time Rock has been pitted against another hip hop heavyweight. The day before Rock and I met, a friend told me she couldn't bring herself to accompany me to the Catch These Vibes listening party because of her loyalty to Lil B. The incident she's referring to occurred at the Bay Area's Rolling Loud festival when the revered San Francisco rapper went onstage to reveal PnB Rock's close friend and collaborator, A Boogie wit da Hoodie, along with his crew, had jumped him earlier and stolen his gear.
"I said something about Boogie's music," Lil B told the crowd, "and they all got mad and they jumped me about that so it's all good. I'm still here. I got jumped by like 10 motherfuckers... Me by myself."
Shortly after the rapper's announcement, a video emerged of a whole group of young men taking on Lil B (who stands at 5"6) with PnB Rock visible in the background, fresh off the stage. The attack was apparently in response to Lil B's comparison of A Boogie and the New York hip-hop scene to Atlanta rapper Dej Loaf, known for her soft, melodic style. Lil B's long-established fan base was quick to react, indicting A Boogie and affiliate PnB Rock for assaulting an artist famous for preaching peace and love. Rock, for legal reasons, isn't supposed to talk about what went down, but he does, simply because he still doesn't really know.
"He wasn't talking to me," he says of Lil B's comments, visibly frustrated. "That had nothing to do with me. I'm not from New York and I didn't even see that tweet. I seen all this shit after the fact... It was because I was with A Boogie. I was with him. I was in the video running around and shit. I just seen people fighting. I was just trying to see where my people was at. I didn't know what the fuck was happening. I was sitting there having an interview, then we just heard tussling and shit. I see my people involved and I'm like, "Oh shit," but I got security guards holding me."
So he couldn't even jump in if he wanted to?

"No. Lil B will tell you. I ain't hit Lil B. I didn't touch him."
That's not to say Rock doesn't have his own enemies. The prefix PnB (an acronym for the Pastorius and Baynton intersection in Philadelphia's Germantown), much like Harlem's A$AP, describes a whole collective of young creatives — which means adopting a lot of individual beefs. While Philly is known for its fierce love for homegrown talent à la Meek Mill, Rock says he gets his fair share of hate for his past and associations, which makes returning home bittersweet.
"Everybody love me, but a lot of people hate me too," he laughs, shaking his head. "Before this shit I wasn't the perfect person. I was out there doing shit and people don't forget. Now with those people, I be feeling like they teamed up."
As a result, his security and crew are often on high alert. It's Rock who has to ask them to simmer down, or as he phrases it, "fucking chill, because it's not that deep." PnB Rock is not scared of fame, despite the fact he can no longer go to the store without being recognized, or that girls scream, cry or both when they come into contact with him. It's all satisfying, he says, all a testament from how far he's come from having nothing. For that reason, Rock promises he will never allow himself to become disconnected from his fans.
"There are a lot of assholes that are like, 'Fuck out of here I'm not taking no pictures right now,'" he says. "That's some weird shit for me. These are the people that got you here. They're the ones who's buying the tickets to come to my shows and making me the money. I wouldn't be getting booked if they weren't coming."
Much like his wildly successful predecessors, Gucci Mane or Jay-Z, PnB is committed to putting new talent on. He scours YouTube, typing "PnB-type beat" in the search bar, to find the next PnB Rock. To him, the younger generation is not a competition, but an opportunity. Nonetheless there are a whole heap of hoops to jump through in order to become a successful recording artist, and PnB Rock doesn't plan to hide the politics that comes with this career to his protégées. PnB Rock says he agrees with label mate Lil Uzi Vert's tweet earlier this year advising rising artists against signing with a major label.
"That's a fact. I agree. People won't tell you that shit and I don't know why people won't tell you that shit. I'm the type of person that will tell you. Just wait it out and see what you can do for yourself. I fucking went broke doing this shit. Cashed out everything I ever had just to be able to perform at SXSW. When you get to the point where your back is against the wall, still wait it out. If you know what you have, you just have to go hard with the shit."
This self-imposed pressure for Rock to prove himself won't change anytime soon, no matter how far he advances. As we move to the Gucci checkout, he expresses his disappointment in not having time to run to the ATM in order to assemble a few stacks to impress me, though he needn't have worried. PnB Rock, the self-made rap-singer who rose from the streets to become one of the most sought-after RnB artists in the industry, doesn't need to produce evidence that he's on the precipice of becoming one of the biggest artists in hip hop — it's self-explanatory.
PnB Rock loads up his purchases. He's taking the altered jacket. He's throwing in the polo. Bankroll's earlier mishap is but a dark stain on the carpet. Rock's total is a few thousand, and the rest of the store, it seems, he already owns.
Listen to PnB Rock's latest, Catch These Vibes, below.
Images supplied.