On December 14, 2011, a video from a still relatively obscure, mystery-shrouded, mid century-inspired alt-pop singer appeared on streaming platforms. It was the accompanying visual to the titular track of her debut album, Born To Die, and in it, Lana Del Rey appeared on a cathedral's throne, flanked by two tigers with a single accessory decorating her golden locks: a flower crown.
The rise of flower crowns coincided with the prevalence of the term 'basic bitch,' a reductive descriptor referring to a certain type of woman. 'Basic' became synonymous with superficiality and homogenous tastes. The basic bitch was almost always white and one-dimensional, so impressively unaware of her own privilege that she was often appropriative, and nestled so comfortably in her lack of responsibilities that her primary objective was to stay atop trends and have fun. She probably came from money. She might've been in a sorority. She definitely attended all-ages festival, Coachella, regularly, for which she would almost certainly supplement her outfit with bindis, tassels and, you guessed it, the flower crown.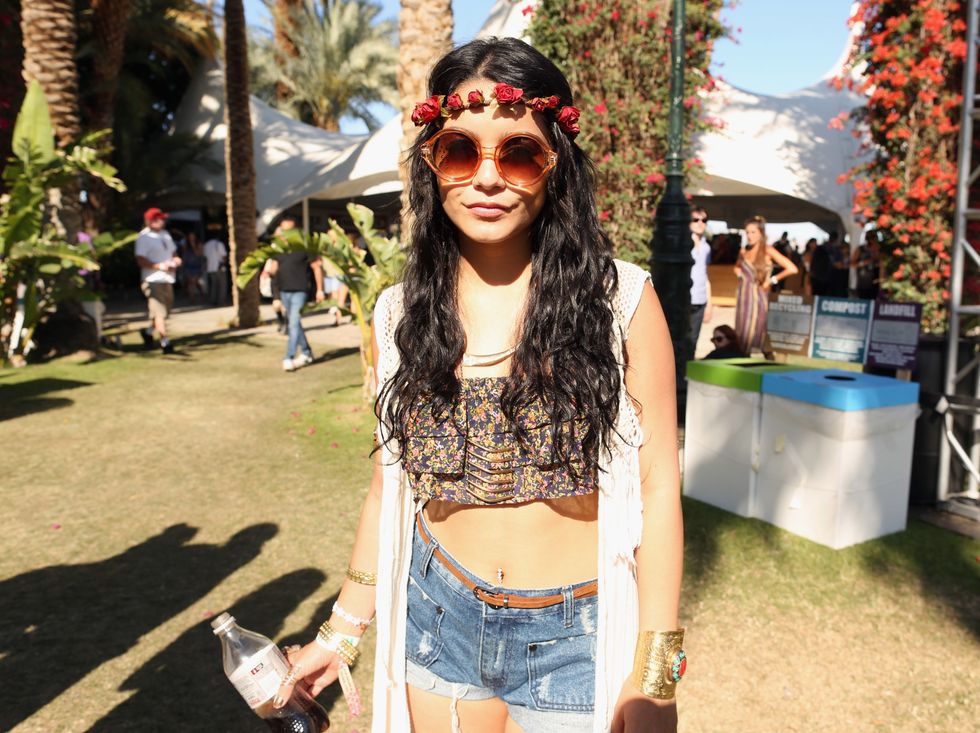 Flower crowns became an embarrassing blip on many fashion aficionados' radars. If a friend was to resurface old photos of one with the floral accessory on Facebook, there was little option other than to dutifully defend the sartorial choice with the claim they bought the headpiece off Etsy "before they were a thing." They came in many different forms: elastic bands of faux flowers, head-perching wreaths, thin leather straps with tiny rosebuds dispersed frugally — no two flower garlands were the same, and yet...they all were. As chain stores caught onto the trend, the flower crown was swiftly directed to join its other previously-esteemed bohemian-chic sisters, the lace duster cardigan and the suede crop-vest, in fashion purgatory. While the flower crown once conjured images of woodland nymphs, 70s supermodels and general femininity at its purest, it soon became considered the least-imaginative of adornments.
Related | Finally, Your Stupid Coachella Flower Crown Can Get You High
That is, until, this month. Perhaps unwittingly, British and American Vogue selected two of perhaps the most influential women on the planet on the most important issue of the year with flowers encircling their respective visages. In various garlands by Japanese floral sculptor Makoto Azuma, Rihanna's hair was completely obscured and woven with blooms in true 2012 Lady Gaga fashion. Similarly, Beyoncé was allowed only two escaping tendrils beneath a helmet of pink-hued flowers. The covers were revealed within days of each other, and carried with them one resounding declaration: like UGGs, ballet flats and Juicy Couture tracksuits, flower crowns have returned, and we must re-embrace them.
But in what capacity? Should we simply re-weave the flower arrangements into our bridal mood board, or are Beyoncé and Rihanna ushering in something bigger, something much more sinister — the full-fledged return of Woodstock-inspired attire? Are only fresh flowers permitted, or can we once again incorporate imitations into our look? Perhaps the resurrection of the bright, carefree and counter-culture originated flower crown is exactly what we need to protest and alleviate us of some of the weight of today's ever-darkening political landscape, in which case, will Forever 21 catch on? One thing is for sure, prepare for Coachella 2019 to resemble that of yesteryear.
Up next: fedoras.
Photo via Vogue/British Vogue/Getty
Sign Up for the Morning PAPER