Stephanie Roy-Heckl and Danilo Giordano, friends and co-founders of New York-based footwear label Dahlia Selva, met at Ralph Lauren in 2008. Despite their contrasting personalities and opposing skillsets (Giordano was VP of design for women's footwear while Roy-Heckl's background is in wholesale) the pair instantly connected. In the years that followed their initial meeting, fashion began moving away from sensuality, adopting a more serious, minimal, art-lady tone. Sensing this shift, the duo began flirting with the idea of launching their own, unabashedly feminine collection. Ten years later, that idea materialized into an assertively frilly, confident line of shoes inspired by dance.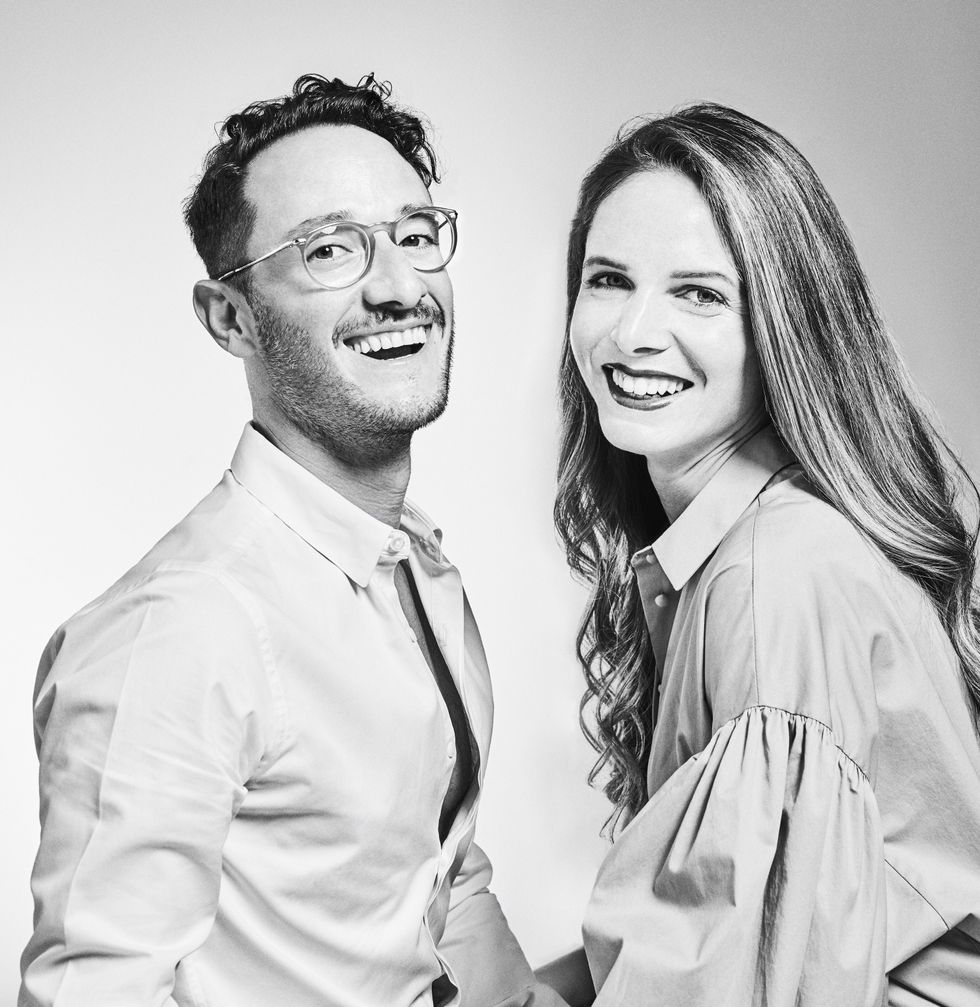 (from left) Dahlia Selva Creative Director Danilo Giordano and CEO Stephanie Roy-Heckl
Photo Courtesy of Elizaveta Porodina
Born and raised in Vienna, Roy-Heckl began frequenting the Austrian capital's theaters and the operas at a young age sparking her love of ballet and modern dance. A young Giordano, on the other hand, recreated the theater at his childhood home in Southern Italy by mimicking the gests of ballerinas to his musician father's Tchaikovsky records. Their mutual love of classical performing arts manifests in the collection's dramatic ruffles and velvet laces that imitate the satin ribbons of ballet flats.
Festooned with floral motifs and crafted with rich suede and elegant lace, the duo's designs are prim at first glance, but reveal an undercurrent of strength upon closer inspection. "Women should be encouraged to embrace their femininity," Roy-Heckl asserts citing that feminine style is often regarded as frivolous. "We want to inspire women to find their sensuality, to make it a force of empowerment." Aptly, the brand's Italian moniker, which also incorporates the initials of the pair's first names, translates to "savage flower" in English.
Their mission to celebrate femme-expression isn't just limited to women. "We believe sensuality is about being who you want to be," Giordano says."It's about embracing ambiguities and replacing judgment with celebration." In keeping with that motto, the duo asked male Hungarian dancer Làszlò Major to front their brand's first campaign. Fascinated by the juxtaposition of Major's powerful body moving delicately on stage at Les Ballets Trockadero de Monte Carlo (a farcical drag ballet), Giordano saw him as an embodiment of the Dahlia Selva spirit. In a series of seductive images, Major is photographed alongside models Bruna Tenorio and Heidi Mount with a full face of makeup. While the images may give the impression that Major is a woman, a closer look reveals he's not—serving as a reminder not to judge or stereotype.
As the brand grows, the pair hope to add larger sizes so that more people can participate in Dahlia Selva's unapologetically feminine aesthetic. "Laszlo would totally wear our shoes," Giordano says. "but we don't have his size just yet!"
Photos courtesy Dahlia Selva
Music
Story by George M. Johnson / Photography by Mason Poole / Styling by Shiona Turini / Hair by Nakia Rachon / Make-up by Rokael Lizama / Creative direction by Andrew Makadsi