Among the many mashup of references Christopher John Rogers has used throughout his career — '70s West African photography, crumpled garbage bags, Paul Gauguin paintings — clown archetypes have always been a constant.
He leaned into that even more so for Collection 11, not just with literal touches like red clown noses, Harlequin prints, balloons and towering party hats but with the playful, exuberant and whimsical energy his brand is known for (see the rainbow hole punches, jumpsuits that look like bulbous dresses and his signature colorplay on stripes).
Even some of the models' makeup seemed to reference the '80s sad clown posters from illustrator Mira Fujita, as vintage dealer Blythe Marks astutely noted.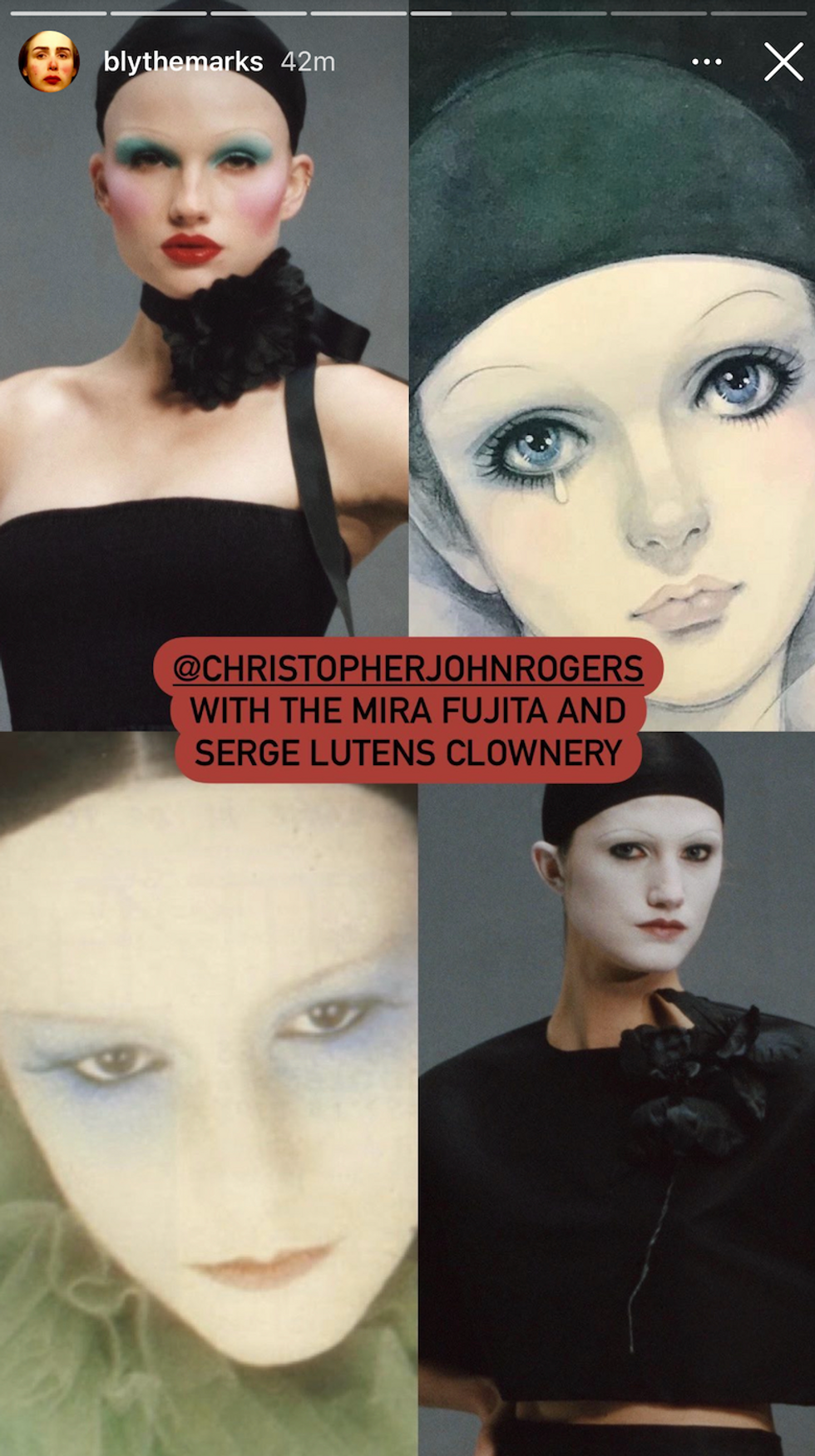 Photo via Instagram/@blythemarks
"Ever since I've started designing, I've always been inspired by the archetype of the pierrot and associated clown-like aesthetics (large jumpsuits, ruffles, graphic stripes and checks, etc.)," John Rogers previously told i-D. "It's therefore something that's always in the back of my mind every season."
Indeed, he once described Collection 5 as being about "clowns on vacation" where he looked at characters that make you laugh like Italian and French Pierrots. The last look of that show, a white Pierrot collared gown covered in crystal dots, made a return of sorts for the one he launched today in Look #6: a silk balloon jumpsuit with flowers embroidered where pompoms would be.
The multitudes of CJR's clowns (more affectionally known as "squirrels") are evident in the full spectrum of wardrobe options: sumptuous off-duty knitwear, daytime tailoring, cocoon dresses and, of course, his statement eveningwear. Collection 11, in the gallery below, is available for pre-order now until January 20 at ChristopherJohnRogers.com.